What is one supposed to do when stuck in Key West for an extra day?
Some may hit the beach or get a bite to eat, but not TODAY staffers! They decided to take advantage of the extended stay and get their ears pierced.
After exploring the Everglades and Biscayne National Park in honor of National Park Service's Centennial Anniversary, Natalie Morales and Jenna Bush Hager were planning on heading home when they encountered issues with their plane.
Natalie thought it'd be a great opportunity to fulfill a dream and get her cartilage pierced. Jenna was happy to join in on the fun and get a third piercing herself.
RELATED: Did Tamron Hall just get a nose ring? Al Roker has the best reaction
They even peer-pressured producer Rachel DeLima into getting a second hole.
"She was like, I don't think so, I don't think so,'" Natalie said. "We kind of strong-armed her."
As if one rebellious TODAY anchor wasn't enough, Tamron Hall got a third hole pierced as well.
"This is so weird. We've spoken over email, but haven't seen each other. I saw your Instagram feed of you getting your ears pierced," Tamron said. "Let me show you what I was doing at the same time."
To pay tribute to her longtime friend Prince, she considered piercing her entire ear cuff, but opted to go with just a third hole instead.
"Prince liked ear cuffs, so in honor of him, I was going to get my whole ear pierced all the way around," Tamron said. And once she caught a glimpse of Al Roker's skeptical face, she added: "I know there are other ways to remember someone you loved, trust me."
RELATED: See the viral photo reigniting the baby ear-piercing debate
This isn't the first time Tamron tried out a "piercing." Back in October, she tested out the septum ring trend with a faux nose ring on air, gaining a similarly silly reaction from Al.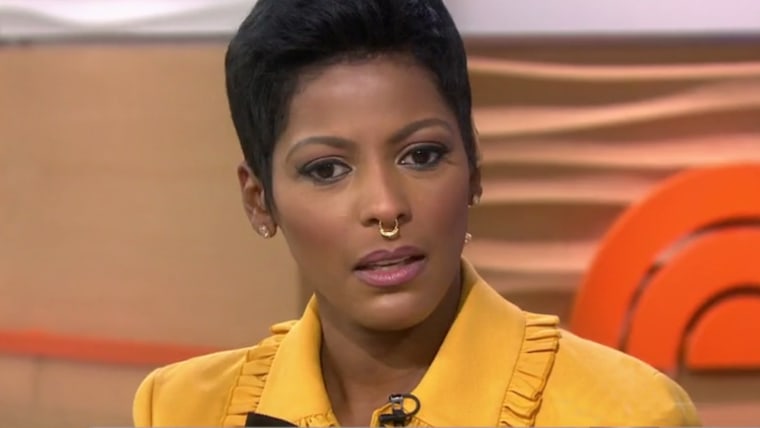 And apparently, the latest piercing trends don't stop at the face. The man who pierced Tamron's ear revealed a surprising bit of knowledge: Women in their 40s are, ahem, pumped to pierce their chests.
"So when I saw your Instagram and that we had gone just for the ear lobes, I thought, that's my girl!" Tamron told Natalie with a laugh.
Meanwhile, Al's facial expressions said it all.