The fashionable Duchess Kate, 31, has been influencing maternity style around the globe since her pregnancy was first announced in Dec. 2012. And now, after Tuesday's royal baby unveiling, the public can even look to the little prince himself for some sartorial inspiration. From Prince George's first throne — his car seat — to Kate's polka-dot frock, here are the products the public is clamoring for as the royal baby interest continues.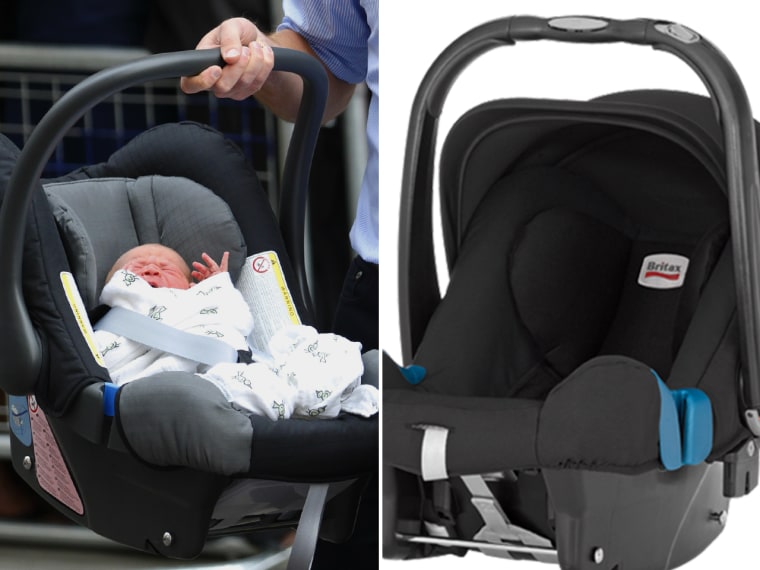 The royal car seat
Prince William carried his newborn out in a Britax car seat, and so far "the response has been tremendous," according to the company's president, Jon Chamberlain. While this specific car seat, known as the "baby-safe" model, is only available in Europe, Americans can purchase a similar model, called the "B-Safe," online for around $135.

"Britax seats throughout the world are designed to meet and exceed government standards to keep all babies — royalty or not — comfortable and safe," Chamberlain told TODAY.com.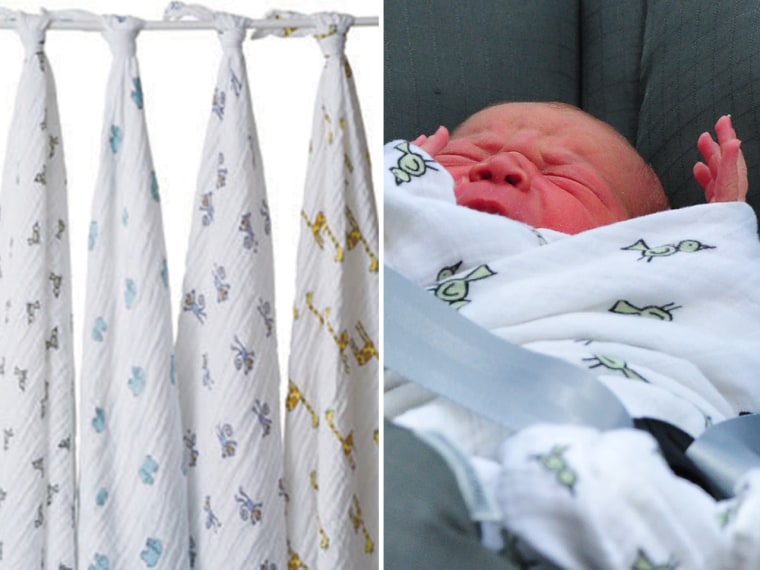 The prince's blanket
Prince George made his world debut swaddled in a "jungle jam" collection muslin blanket from Brooklyn-based company Aden + Anais. Spokesperson Kristina Godfrey told TODAY.com that since the royal family was not accepting gifts for the baby, the company's employees were "totally surprised" when the little prince appeared in the birds-print blanket, which is still available as part of a four-pack for $49.95 on the company's website.
'He's got her looks, thankfully': Will, Kate show off royal baby
Aden + Anais "has been slammed" all day, according to Godfrey. "Site traffic was about double today — actually causing it to crash — compared to what we normally see, and [we saw] the highest number of visits recorded for one day in company history," she said.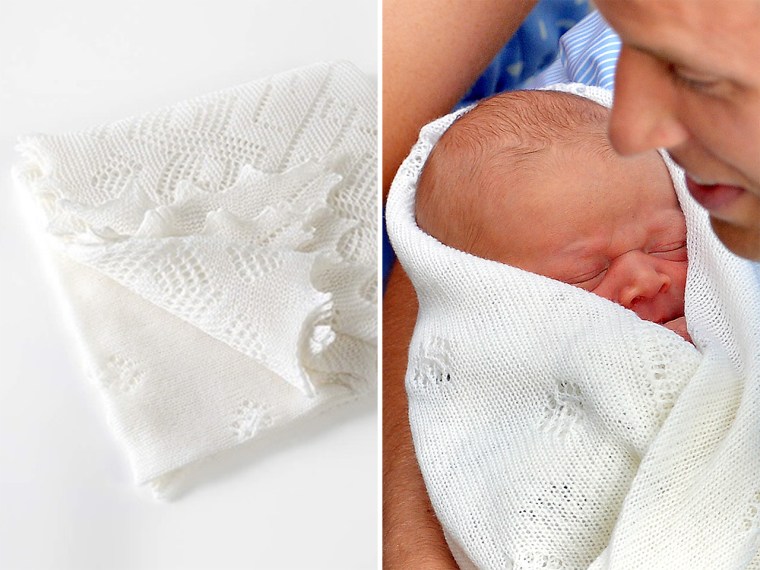 The royal shawl
Before the royal baby donned his playful bird blanket for the car ride home, the little prince appeared in simple white shawl made by British knitwear company G.H. Hurt & Son, according to a Kensington Palace spokesman. The cozy shawl is crafted from soft, super-fine merino wool and finished off with scalloped edges.

"The company has a long-standing connection with the royal family," the spokesman said. "Other members of the royal family have been presented with these shawls in the past and the Duke of Cambridge had a similar shawl when he was a baby."
While the royal "christening shawl" is still available on the company's website for £45 ($69), prepare to wait longer for it than usual. According to the product's online description, "demand for this item has increased. Lead times may be slightly longer with this beautiful shawl, but we are doing our very best to deliver to time."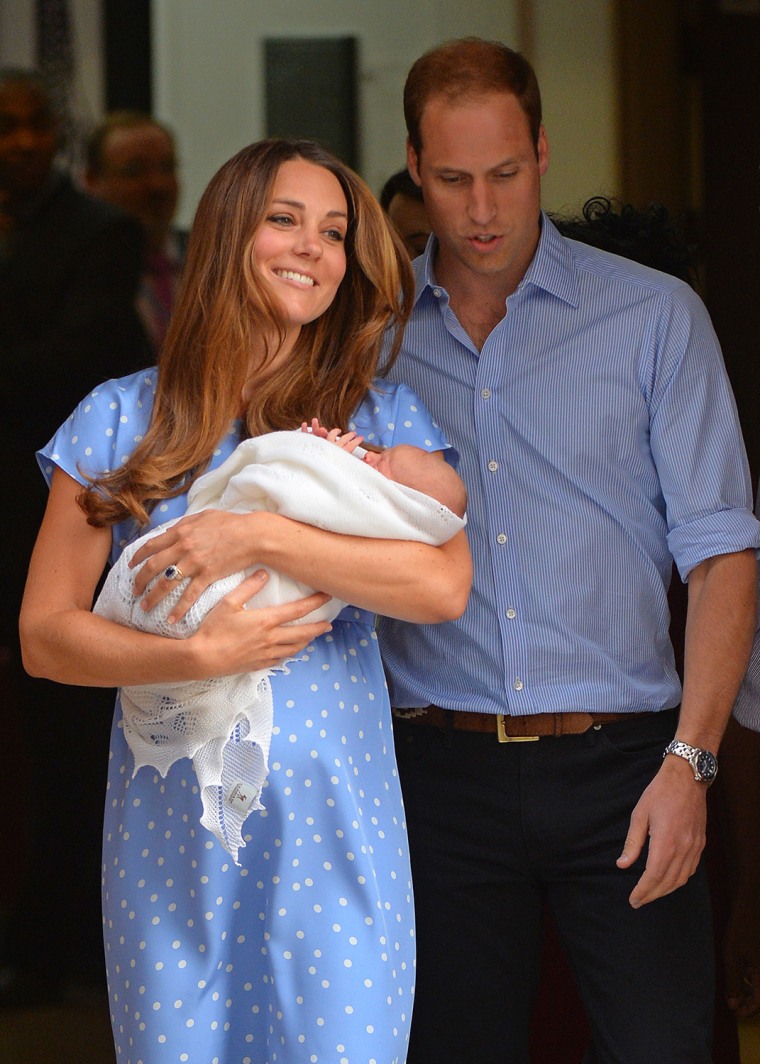 Duchess Kate's dress
Kate's powder blue polka-dot dress — reminiscent of Princess Diana's first post-birth outfit — was custom-made by British designer Jenny Packham, whose designs she's worn several times before. But admirers wishing to take the much-buzzed-about look home will be disappointed to learn that this crêpe de chine dress is literally fit for a royal: the design is "bespoke, made specially for the duchess," according to Jenny Packham spokesperson Blaire McColl.
Of course, these aren't the first royally-worn products to create a public stir. When Kate was photographed leaving U.K. luxury baby boutique Blue Almonds with a white wicker Moses basket in June, her fans took notice and interest in that particular basket "definitely increased," according to the store's founder, Izabela Minkiewicz.
Duchess Kate echoes Diana in polka-dot dress for royal baby debut
As Prince George continues to grow up in the public's eye, experts say moms will continue to be influenced by the royal baby's style.
"Mothers will rush to copy what Kate chooses for her baby," Pauline Maclaran, a professor of marketing and consumer research at the University of London, told TODAY.com in June.
From the moment the royal couple announced in December 2012 that they were expecting, the world has been captivated by Kate's many maternity looks.