/ Source: TODAY contributor
New airport regulations are making it harder to take your products on the plane.  And if you don't want to check luggage, you need a solution to your liquid dilemma.  Luckily, some of the best products around are now available in travel-friendly containers.  Whether you're planning a girls' getaway, have a frequent flying family, or are taking care of your traveling man, Bobbie Thomas, TODAY Style Editor and author of the Buzz for In Touch Weekly, can help you find great grab-and-go kits for your vacation needs.
Glow on the go
Vacation is all about abandoning your routine in favor of pure relaxation.  And while the thought of leaving behind your beauty regimen may be tempting too, you still want to stay breakout-free as you break out of your everyday life.  Luckily, these travel kits make it easy for you to stick to a skincare plan — even during the most laid-back getaway.
Lisa Hoffman's Night and Day Skincare collection was designed specifically for travel, and offers a week's worth of product featuring yellow suns for day and blue quarter moons for night ($29.95; lisahoffmanskincare.com). Dermalogica has pieced together product "prescriptions" based on skin type, and stuffed them into a reusable clear bag ($30 per kit; dermalogica.com), while Boscia's Passport to Beauty kits ($42; sephora.com) are stocked full of mini products that will last you up to 30 days — just in case your getaway gets extended.
Or you could bring a Hollywood skin guru's secrets with you, thanks to Sonya Dakar's three new Jet Set kits in FAA-approved packages ($72; sonyadakar.com). Toss in the Drying Potion, her "miracle product" for blemishes, which is tiny enough to take on board too, and you'll be sure to avoid any emergency landings ($25; sonyadakar.com). Celebrity favorite Proactiv Solution is clearing the road for acne-prone travelers with their Mini-Maintenance System, a 1-oz. version of their 3-step program ($16.95; proactiv.com). And just in case you left your stash behind, it's actually sold at vending machines in airports across the country!
Lastly, for those who like to pick and choose their products, Kiehl's offers the option to order free samples when you purchase full-size bottles, so you can literally create your own travel pack (kiehls.com).  Bobbie's Buzz: In case your favorite brand doesn't make mini-me kits, Clear Bag System's toiletry case meets the 3-1-1 liquid and gel regulations and comes with five airless pumps that will hold your must-take products ($24.95; clearbagsystem.com).
Hit the road, Jack
Boston this week, Tokyo the next? Or just a modern man who has embraced the term "metrosexual"? These all-in-one kits will help cut his packing time (or yours) in half.
From cleanser and shampoo to shave cream and astringent, Anthony Logistics Grab + Go kit has all his basics in just one bag ($35; Anthony.com).  For the sleep-troubled traveler, the mini-kit from Menscience contains earplugs and a sleep mask, in addition to deodorant, aftershave and other grooming essentials ($78; skinstore.com). Jack Black's On-The-Road Travel Pack is designed to hang from the door, leaving the ladies with plenty of counter space. But hey, you may actually want to consider dipping into his beauty bag — unscented products like the Industrial Strength Hand Healer and Intense Therapy Lip Balm are not only travel-friendly, they're female-friendly, too ($56; getjackblack.com).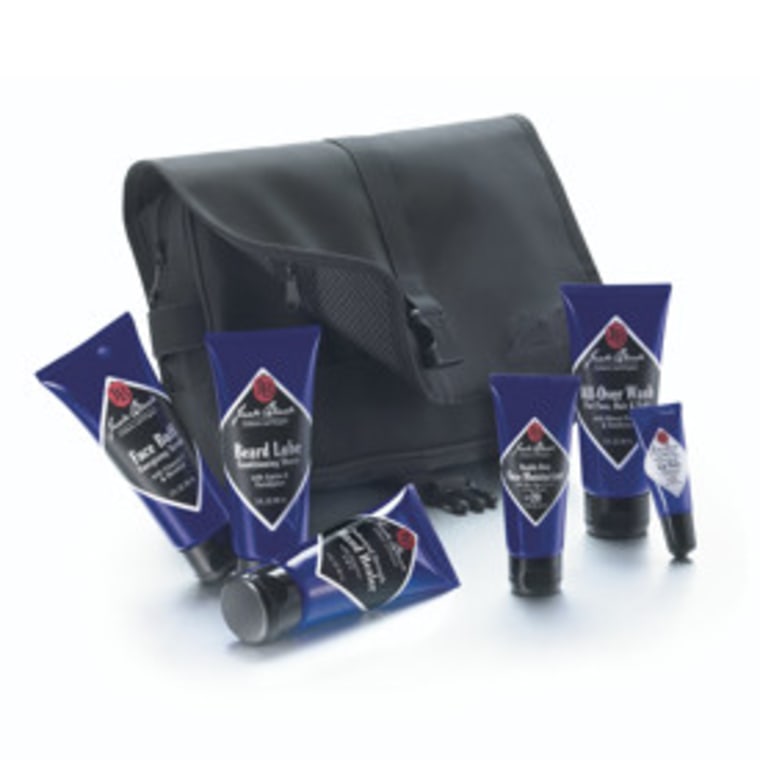 And for the man who wants to bring a bit of luxury on the go, Molton Brown's New Age Traveller comes in a leather bag and features ten "journey therapies" for skin, body and hair.  Standout products like the Re-charge Black Pepper Body Soother, Easygroom Wuilaja Texturiser and Amino-Therapy Eye Treatment are sure to save his skin from any bumps along the way ($100; moltonbrown.com).   Bobbie's Buzz: Say buh-bye to musty hotel-room scents with the Mini-Incense collection from Space NK ($40; spacenk.com).  The compact set of 60 sticks even has its own incense holder for all-in-one access.  Fragrances of Mediterranean Evening, Bathing in the Woods or Behind Closed Doors are right at your fingertips. Talk about setting the mood…
Indulge yourself
Whether you want to cut the costs of pricey spa treatments, or see your trip as the perfect time to pamper yourself, these travel products will remind you just how fabulous it feels to truly relax. 
You don't have to be in Napa to enjoy the fruit of the vine. The wine connoisseur will feel right at home with Caudalie Vinotherapie's scrubs, which are now available in travel sizes. Plastic jars filled with Cabernet, Merlot and Sauvignon scented skin treatments will help protect skin, diminish redness and fade lines, all before you can toast to your travels ($32 for the set of 3; Sephora.com). And the Spa Retreat Traveller set from Elemis is a vacation in itself.  This deluxe kit contains 10 decadent skincare products and thoughtful extras like emery boards, Q-tips and a travel candle ($125; Nordstrom.com).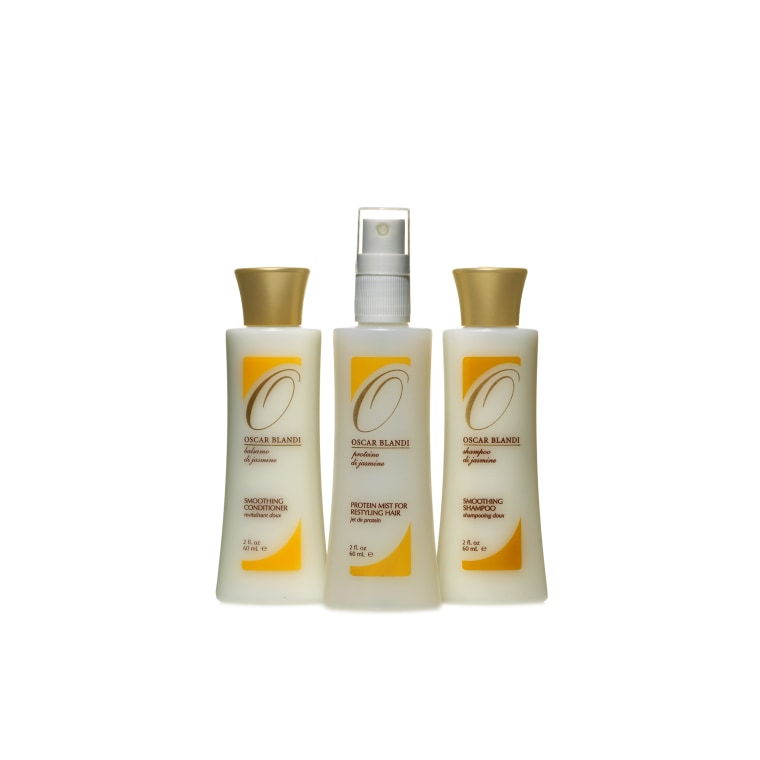 Whether your feet are travel-tired or they're just tired of running errands, the Weekend Spa Box from Apivita Express has a rejuvenating leg mask that is sure to turn you into a twinkle-toes ($20; apivita.us). SheerinO'kho's First Class Flight cream may fly solo (without an actual kit), but it must not be overlooked.  Created to protect skin against the stress of extended travel, and small enough to stick in your pocketbook, this is pure luxury in a bottle ($105; spacenk.com). And for the frequent flier who isn't afraid of adventure — even it means getting a little bit dirty — Tocca's Travel Laundry Delicate makes cleaning your clothes a pleasure. With four fragrances and a lacy lingerie bag, this set will wash away all your packing worries ($48; tocca.com). Bobbie's Buzz: A tried-and-true traveler knows never to neglect her tresses. Davines offers Essential Weekend Travel Kits for four different types of hair — dry, frizzy, curly or colored ($14-$22; davines.com) — while Oscar Blandi's La Jasminetta Jasmine Travel Set contains a trio of shine-enhancing hair helpers ($28; sephora.com). And Philip B.'s Mini Jet Set Precision Control Hair Spray helps ensure that even when you travel, your hair stays in place. ($18; philipb.com).
All aboard
You're all packed, but that was the easy part.  Getting the little ones together is a lot more challenging. Take the stress out of stocking up on minis for your minis with these all-inclusive travel kits for kids.
Erbaviva Baby Travel Kit is safe even for newborns, and contains Diaper Cream, Baby Soap, Baby Lotion and Shampoo ($29.50; babystyle.com). Little Twig's Organic Travel Basics Kit will keep kids occupied during bath time with its Scrubby Bug Mitt, while useful products like body milk, baby wash, baby powder, diaper cream and a reusable bag will make mom a happy camper, too ($17; drugstore.com). Your child's travel hair-care needs are in good hands with So Cozy's Mini Sampler Pack. Tear-free shampoos, ultra-gentle formulas and a delicate detangler are just a few of the products that will keep kids' tresses under control ($22; socozy.com).  And just for fun, So Cozy has teamed up with Essie to create small-size nail polishes in exclusive colors like "School Girl," "Pink Poodle," "Cotton Candy" and "Ruby Slippers" ($5 each; socozy.com). We won't blame mom if she sneaks them in her suitcase to touch up her own nails and toes!   
Those who are "expecting" can still enjoy a trip! The Mini Mama Mio Kit contains the best of the brand's pregnancy skin-care range in convenient miniature sizes. After all, you know better than anyone — good things come in small packages! $35; www.mamamio.com