The 2018 Golden Globes red carpet was covered with A-list actresses wearing black.
Eva Longoria, Gal Gadot and more celebs wore black to this year's annual awards ceremony to unite in protest against sexual misconduct and discrimination.
But the monochromatic movement goes far beyond the red carpet — and Hollywood.
Longoria and Gadot are among the 300 high-profile Hollywood women who recently launched Time's Up, a coalition created to combat sexual harassment, assault and discrimination in workplaces across every industry.
Eva Longoria
"This is a moment of solidarity, not a fashion moment," Longoria, 42, explained to The New York Times, adding that the protest is meant to take the focus off actresses' looks and redirect it on their message, which is one of equality, fairness and safety.
"For years, we've sold these awards shows as women, with our gowns and colors and our beautiful faces and our glamour," said the pregnant "Desperate Housewives" alum. "This time the industry can't expect us to go up and twirl around. That's not what this moment is about."
America Ferrera
"It's so incredible to look around and see everyone in solidarity, ready to really address the issues that exist in our industry and across all industries," Ferrera said on the red carpet. "It's our job — right now, the time is now — for us to do the work that will make women and all people more safe and more equal in their workplaces and in their lives."
Debra Messing
On Sunday's red carpet, "Will and Grace" star Debra Messing told E! News host Giuliana Rancic she was wearing black to honor the brave women who came forward with their stories of sexual abuse.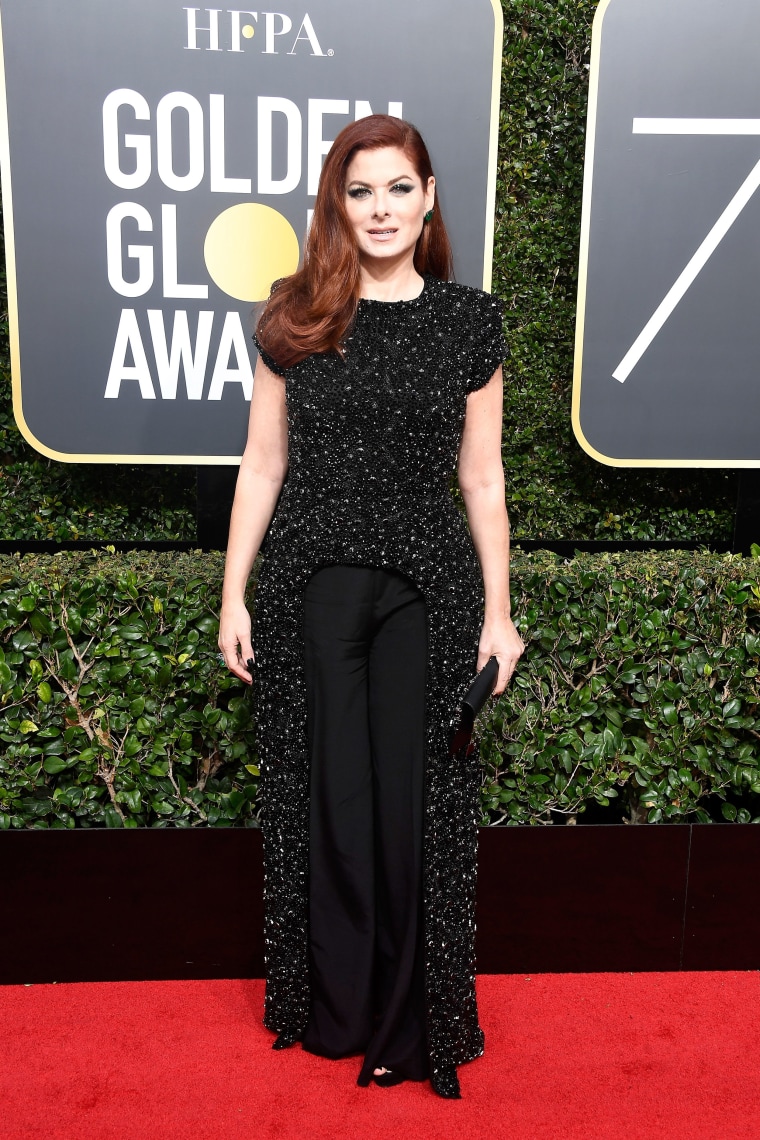 "I am wearing black to thank and honor all of the brave whistleblowers who came forward and share their stories of harassment and assault and discrimination. To stand in solidarity with my sisters all over the globe. And I'm here to celebrated the rollout of this initiative, Time's Up. We want diversity, we want intersectional gender parity, we want equal pay," Messing, 49, said.
Meryl Streep
Actress Meryl Streep was one of several stars who walked the red carpet accompanied by activists in an array of fields.
Streep, who arrived with Ai-jen Poo, the executive director of the National Domestic Workers Alliance, told an interviewer, "I think that people are aware now of a power imbalance. It's something that leads to abuse. It's led to abuse in our own industry and led to abuse across the domestic workers field of work. It's in the military. It's in Congress. It's everywhere. And we want to fix that! And we feel sort of emboldened in this particular moment to stand together in a thick black line."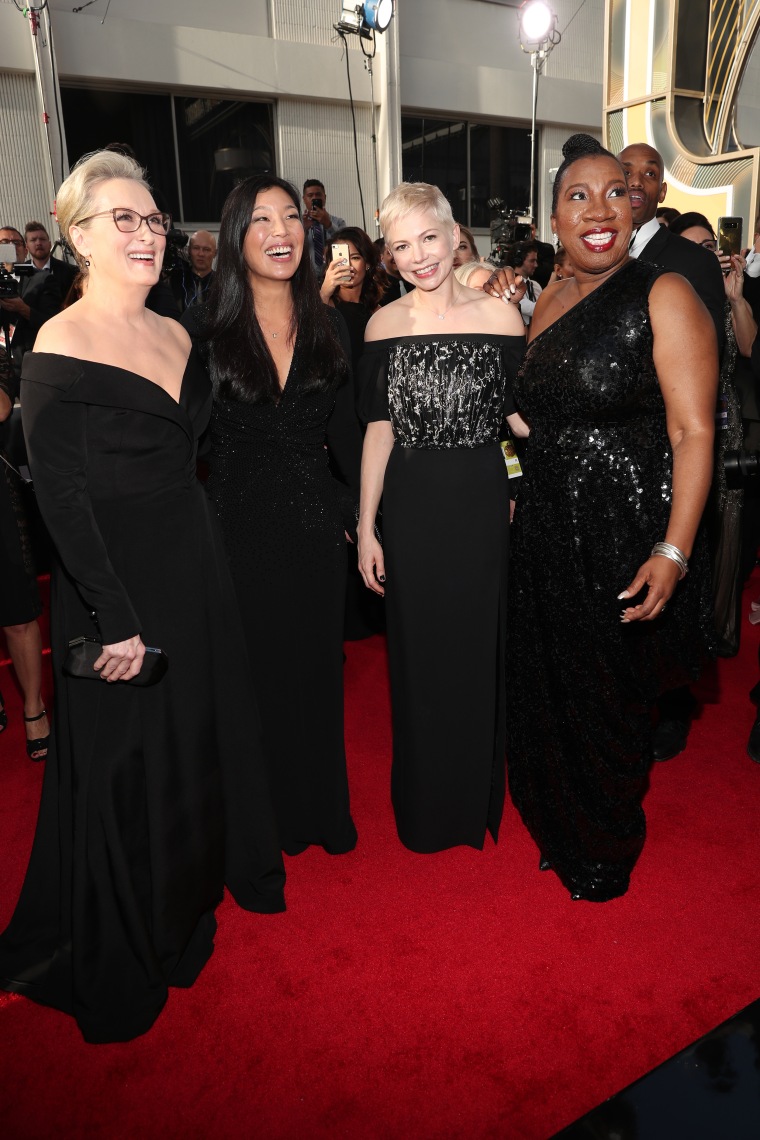 Michelle Williams
Michelle Williams, who attended the ceremony with #MeToo movement founder Tarana Burke, told E! News' Ryan Seacrest her mission at the Globes was to give a spotlight to Burke. "You might think I'm here because I was nominated for something, but that's really not the case," said Williams, 37. "Tarana started a movement. She planted the seed years ago and it's grown on and caught fire."
The mom-of-one added, "I thought I would have to raise my daughter to learn how to protect herself in a dangerous world and I think because of the work Tarana has done and the work that I'm learning how to do, we actually have the opportunity to hand our children a different world."
Sarah Jessica Parker
"Divorce" star Sarah Jessica Parker told Seacrest that the night's red carpet fashion solidarity, "speaks to the appetite, to the climate that exists."
"This is a conversation that, as complicated as it is, it seems to be very welcome, by everybody," said Parker, 53.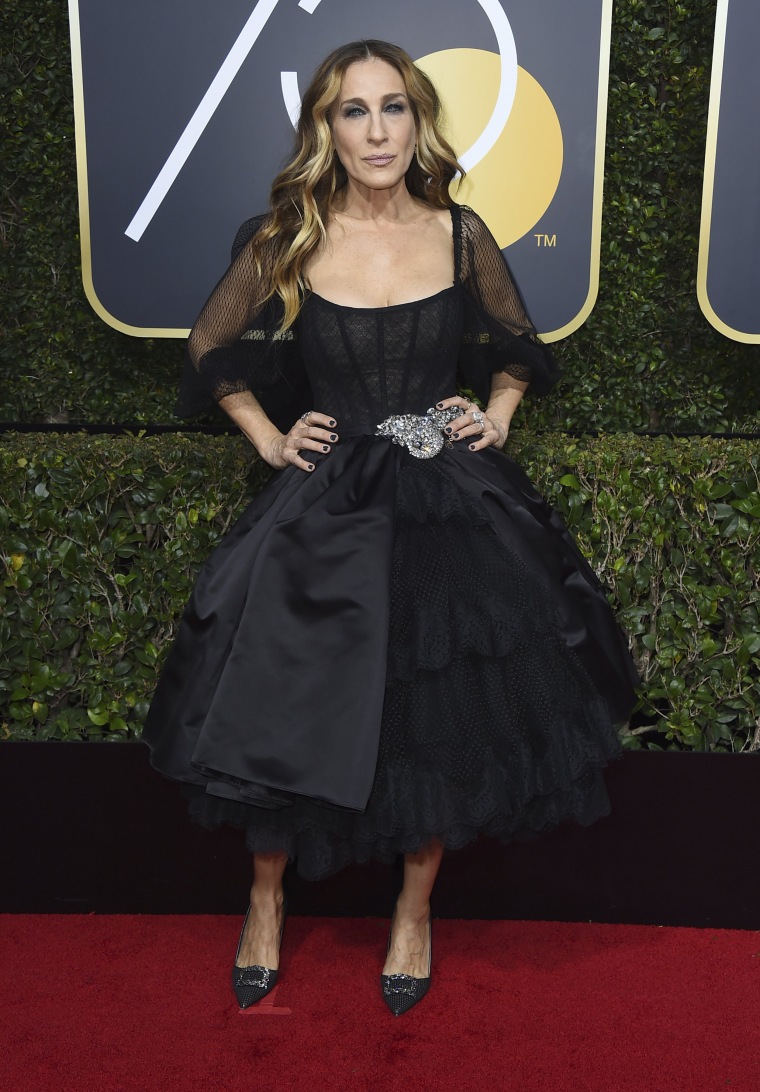 Tracee Ellis Ross
"Blackish" star Tracee Ellis Ross, wearing an exquiiste black gown and head wrap, kept her red carpet message succinct. "Time's up on a lot of things," the 45-year-old actress told an interviewer while raising her fist in the air.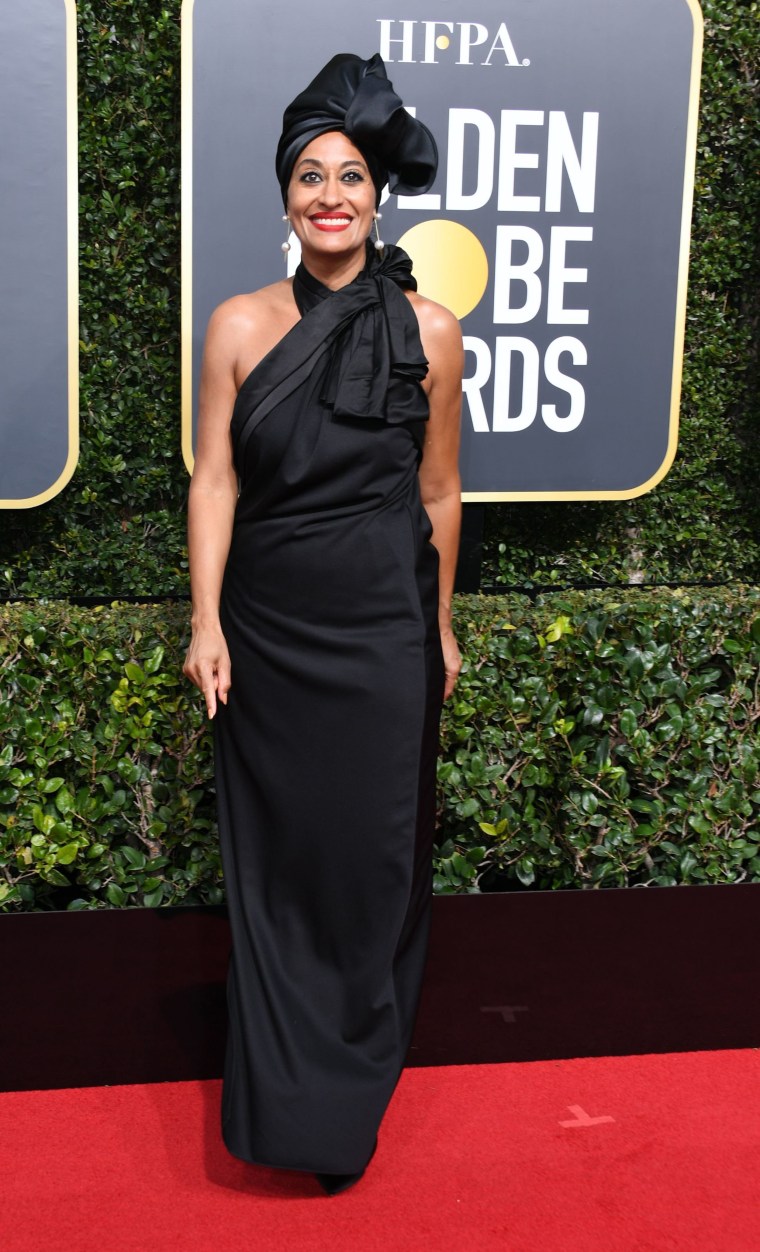 Saoirse Ronan
"Lady Bird" star Ronan, 23, nominated in the best actress in a musical or comedy category, was one of several actresses — including "Wonder Woman" star Gal Gadot and "Get Out" star Allison Williams — who spoke to W magazine before the awards show to confirm that they'll be wearing all black.
"The relationships between women are so strong when you have them and it's about time that we get to experience that in our industry, too, you know?" Ronan told the magazine.
Allison Williams
"I can't imagine a better time to stand in solidarity with our fellow actors and actresses," Williams, 29, told W.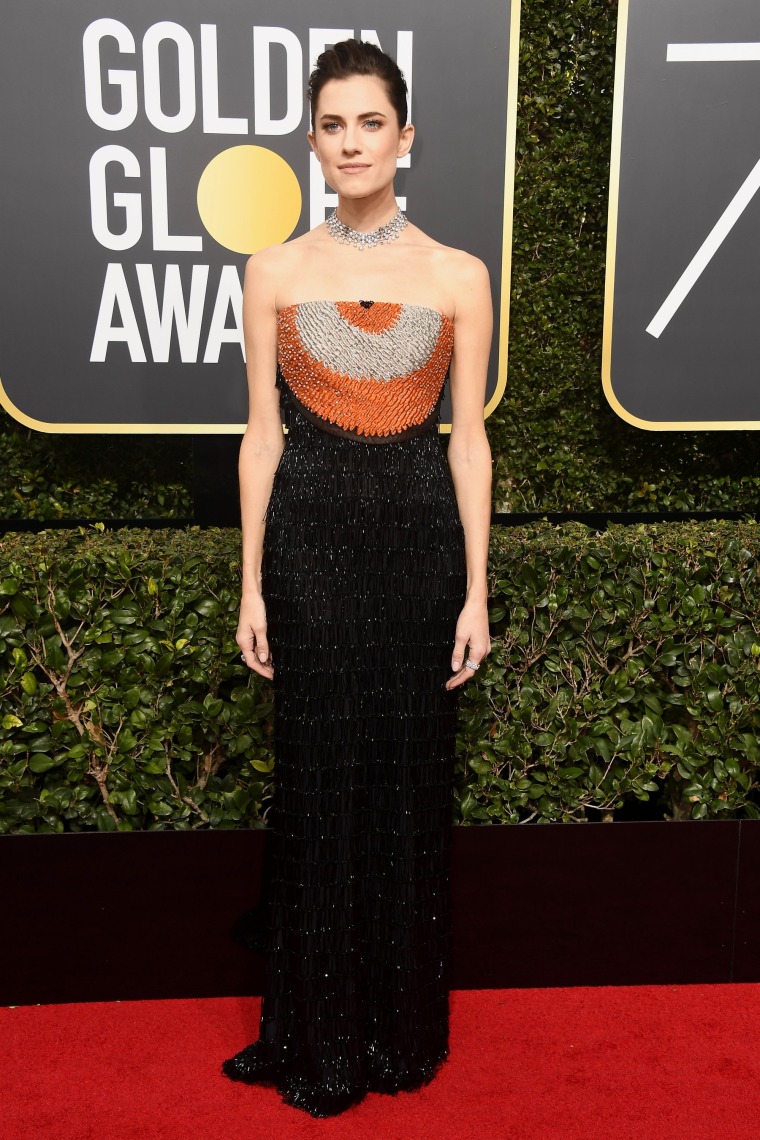 Rashida Jones
"Angie Tribeca" star Rashida Jones told InStyle magazine that the all-black protest is part of the group's call for justice. (A newly released Time's Up pin is expected to be Sunday night's most popular accessory.)
"We wear black to stand in solidarity with our sisters and to say time's up on this imbalance of power and the abuses that come with it, regardless of what industry you work in," said Jones, 41. "It's time for every workplace to look more like our world, where women have equal representation."
Allison Janney
"Mom" star Allison Janney, another of the night's nominees, says she's more than ready for the show of sisterhood — both on and off the red carpet.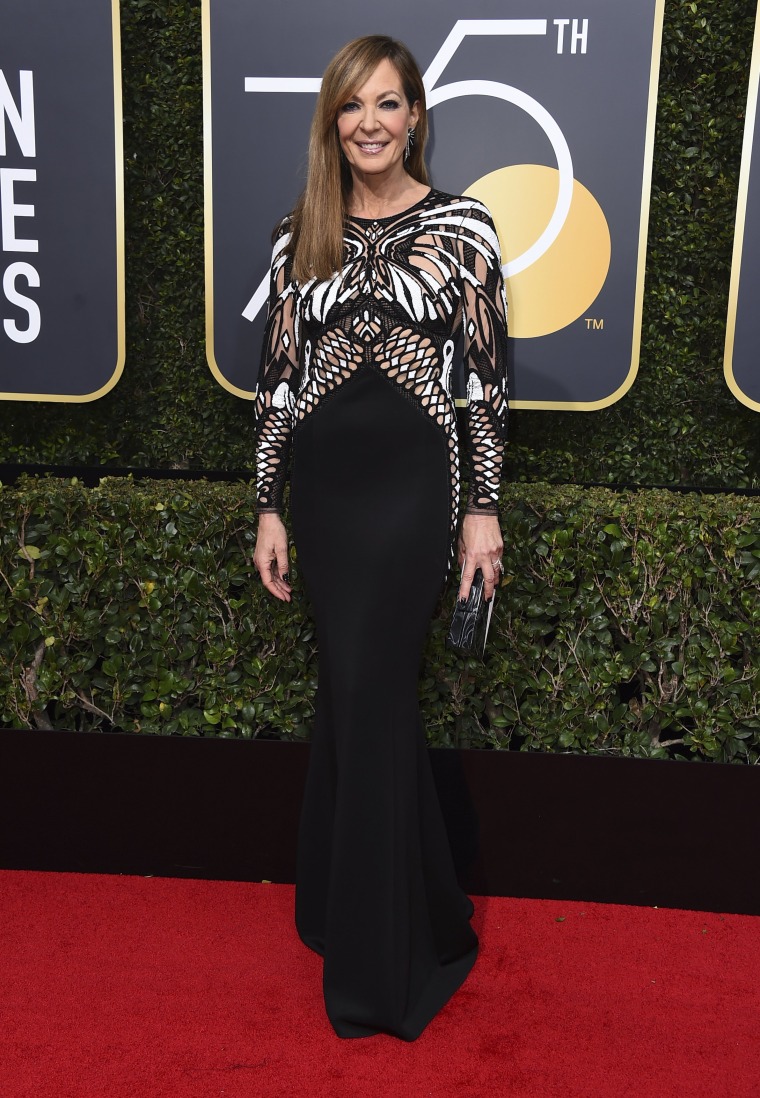 "It's an incredibly exciting, powerful, positive moment for our culture moving forward. It's one I never thought I'd see in my lifetime — us really dealing with the issue of harassment and inequality," Janney, 58, told the Los Angeles Times.
Mary J. Blige
Singer and "Mudbound" star Mary J. Blige, who competes against Janney in the best supporting actress category, agrees that the actresses' black-clad solidarity will be powerful.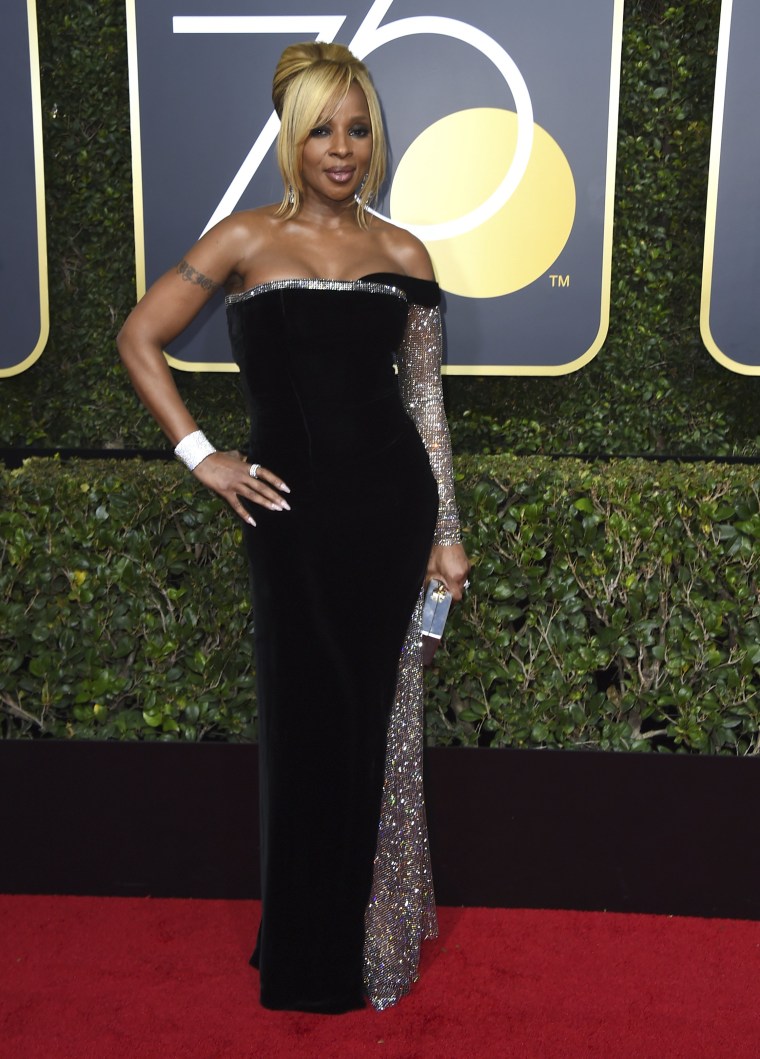 Blige, 48, told W magazine, "This Sunday it's all about thinking positive, standing with all the women there and being beautiful from the inside out."
Natalie Portman
"We wear black because we're looking forward to a new day where the powerful do not exploit others," Portman said on Instagram stories, as part of her new account.