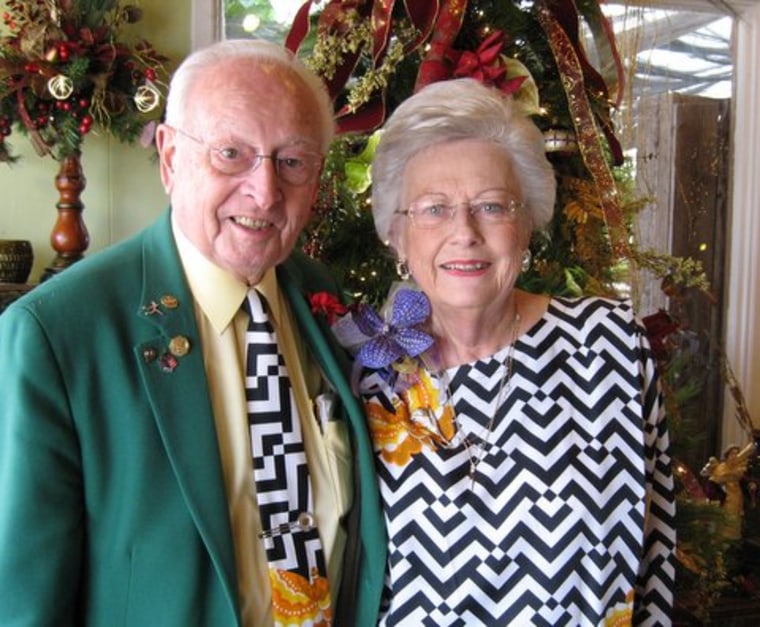 By Jillian Eugenios
Mel Schwanke, 86, and Joey Schwanke, 81, of Fremont, Neb., have been married for 64 blissful years, and they say that part of the secret to the happy longevity of their marriage is in their 146 custom-made matching outfits. 
KOMO News first reported on the happy couple and the story has since gone viral. The couple calls all the attention "fun and overwhelming." 
Joey told TODAY.com that wearing matching outfits is part of a daily cooperation. "I've always fully respected him and he's fully respected me," she said. "We've had to work together on things like that. And in the morning we say, 'Well, what do you feel like wearing?'"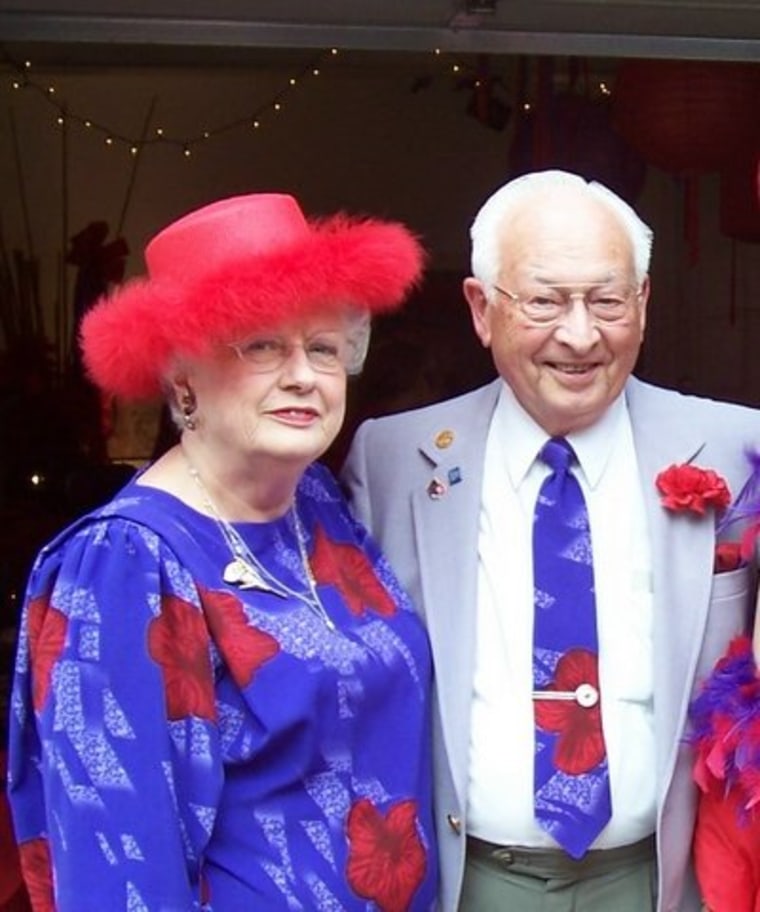 Mel's 146 ties are cut from the same fabric as Joey's 146 dresses. The pair can't pinpoint the exact date they began matching, but they say it has been decades. It's Mel who has always had an eye for fabric, and throughout their marriage he would pick up patterns for her dresses from his travels. "He would get 3 ½ yards every time," said Joey. "That's enough for a dress and a belt." Then, Mel alerted Joey that he didn't think the belt flattered her, telling her it "kind of cuts you in the middle." Her dressmaker, abhorrent to fabric wastage, made Mel a tie instead of making the usual matching belt. That's all it took for the tradition to begin. Mel not only wears a tie to match Joey's dress every day -- he also makes sure to top it off with a fresh red carnation in his suit pocket. 
Flowers mean a lot to the happy couple. They've run the family floral business from the beginning of their marriage, a business that has been going since the late 1800's. The two still work in the shop. "We deliver to all the churches and the mortuaries and so forth and do the Saturday delivery so the weekly man can have his Saturday off," Joey said. "It keeps us active."
The flower shop is just next door to the couple's house. Their daughter Cindy runs the business now, living in the house that's been in the family since 1896. According to Joey, it's the oldest home in Fremont still occupied by the same family. 
"We lived in that house for 36 years, and then about 22 years ago we built a new geothermal house next door to it," she said. Mel, a Marine in WWII, was wounded by a hand grenade. "It was 14 months putting him back together," she said of his recovery during the war. He was starting to have trouble with his injury a few decades back so the couple built a new, modern house for themselves that doesn't have the accessibility issues of the two-story family home.
Joey and Mel say that people are always asking them about their matching outfits. "They almost always notice the tie first. Our dressmaker for many years would be so particular about his tie. The flowers had to be right in the right place and they had to be stem down."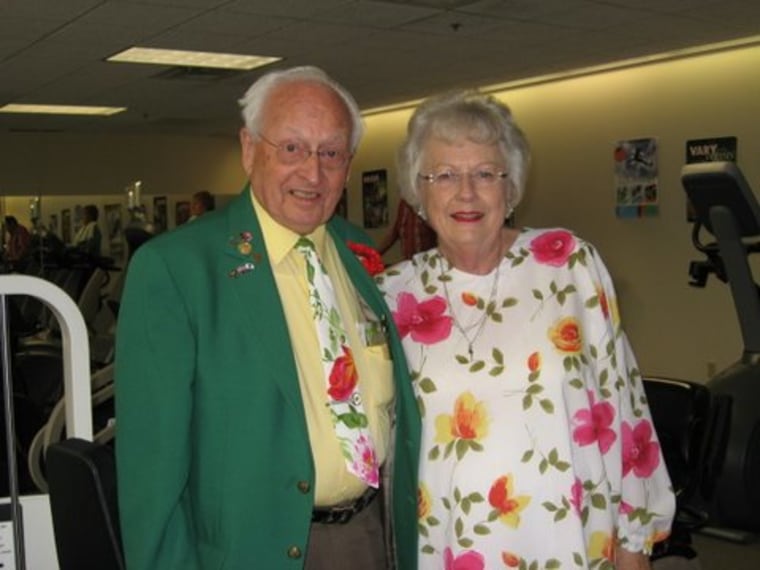 Joey says Mel always looks rather dashing, and both of them make sure to leave the house every morning perfectly coiffed and groomed. "I have never seen him with a day-old beard," Joey said. "He shaves every morning, wears a coat and a tie and pressed trousers. He doesn't let his trousers get real long and real baggy at the bottom -- he uses a tailor. I dress every day too; I always wear hose and do my hair really nice and it's just one of those things."
Mel added, "When you live with the most beautiful woman in the whole world, you've gotta keep looking good."
More from The Look: