The clean-shaven look is out and the burly beards are in!
Especially if were in Brooklyn this past weekend when the borough hosted the 2015 National Beard and Moustache Championships. The event benefited the Fire Department of New York, who received $5,000 in celebration of its 150th year.
Bearded bros from around the country lined up at Brooklyn's King's Theatre to have their bushy chins and pointy 'staches assessed by a zealous crowd and an astute panel of judges.
RELATED: Growing a beard? Science explains why men are fond of facial hair
Scott Metts, a "beardsman" from Orlando, Florida, took home the grand prize, for the "Full Beard, Styled Moustache Category," winning a trip to next year's championship event.
According to judge Allan Peterkin, a psychiatrist and the author of several books on men's grooming including The Bearded Gentleman: The Style Guide To Shaving Face, Metts had the winning combination of wonderful whiskers and debonair charm.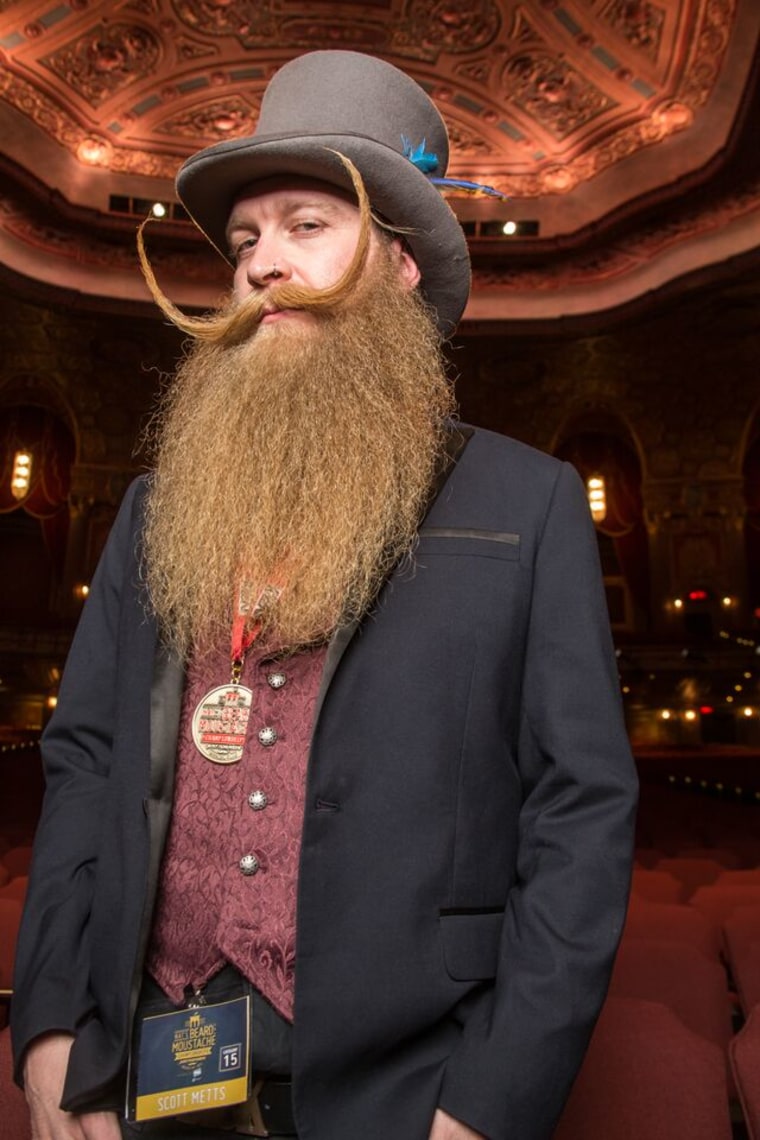 "[As judges], we're looking to answer: does the guy meet the criteria? How does he carry [the facial hair] off and does his personality shine through?" Peterkin told TODAY.com.
"[Metts] was the clear audience favorite," said Peterkin, adding that the judges made their final decisions based on an 'applause-o-meter' that gauged the audience's reactions. "Scott Metts had such a wonderful beard, and the [results] were obvious."
Peterkin noted that second in place for the grand prize was a "nurse who had a great white, bushy beard and was also a bodybuilder. He took off his shirt and posed with his muscles."
There were 18 winners all in all, among a variety of categories including, in the moustache group: Dali, Hungarian, Imperial, Freestyle, Natural, and English; in the partial beard group: Natural Goatee, Fu Manchu, Imperial, Musketeer, Sideburns, Amish, and Freestyle; and for the full beard group categories: Natural, Full Beard, Styled, Verdi, Garibaldi, and Freestyle.
In attendance to hand out the prize for the "Just Because" award, named for the event's main sponsor, Just For Men, was beard enthusiast Eric Brooks. The 26-year-old Dad from Fort Collins, Colorado had a magnificent "beard cage" designed just for him and his legendary whiskers.
"The cage was a prop that was connected to my hair," Brooks told TODAY.com. "It was made to wow the crowd to make then re-think what they can do with facial hair."
Brooks added that the hairstylist Adam McClay created the prop over two weeks using prosthetic hair that matched Brooks' perfectly.
For the record, his is the kind of beard-creation that would fall under the Freestyle category.
"Freestyle means anything goes," elaborates Brooks. "A lot of the freestyle guys make intricate patterns and loops which wows the crowd."
RELATED: Beard envy? Hipster trend sparks interest in facial hair transplants
Peterkin, who has steadily researched men's facial hair for years, asserts that beard trends "come in cycles" and that currently, we're seeing a trend toward big, burly beards.
"We're seeing what I call 'the mountain man beard," said Peterkin, noting that this look is especially popular in urban areas, particularly among younger men. "Young guys with baby faces have big huge beards, which makes for a striking contrast," said Peterkin.
Peterkin has found that the most common facial hair look, however, is still classic stubble.
"Stubble is the look that most guys look good with," he asserted, and suggested that this may be on the rise, once the mountain man look has gone out of fashion, which it is bound to do.
"Once something becomes too ubiquitous, it loses its rebellious edge," Peterkin said, noting that the bushy beard is on its way to becoming so commonplace, that it will only be another "five years or so" before it's shaven clean. "That's just the way history works," he added.