By Justin Fenner, Styleite
Black hair and white hair are often two incredibly different tonsorial propositions — and perhaps no one understands that fact better than black women. Especially ones, like "Mission: Impossible II" actress Thandie Newton, who have felt the pressure to alter their hair to make it look more "normal" — or more white. In a long-ranging interview, the biracial Brit explains her decision to let her hair go natural again.
Newton told longtime friend and makeup artist Kay Montano that she let her naturally curly hair come back into full force because "I didn't want my daughters to judge their beautiful curls." She lets their hair grow naturally, and decided not to give them chemical relaxers after seeing Chris Rock's movie "Good Hair", where she learned that the products most black women use to straighten their hair contains enough lye to dissolve a Coke can. Newton's own mother only started doing it to make Thandie feel comfortable and help her fit in.
I remember when I was 7 at my convent school, it was school photo day so all the kids came looking their best. Mum did my hair in 20 or so 'corn rows' with green wooden beads on each end to match my school uniform. The nuns were appalled, they wouldn't let me have my picture taken. I felt embarrassed, disappointed, ashamed. Can you imagine how my mum must have felt? There was a mild ruckus and the next day I had my picture taken. But then I read this year a piece in The Independent about a student who appealed against not being able to wear his hair in (what the school felt was a hoodlum style) braids, and he won. That's 30 years since the nuns dissed me… This s**t keeps going round and round.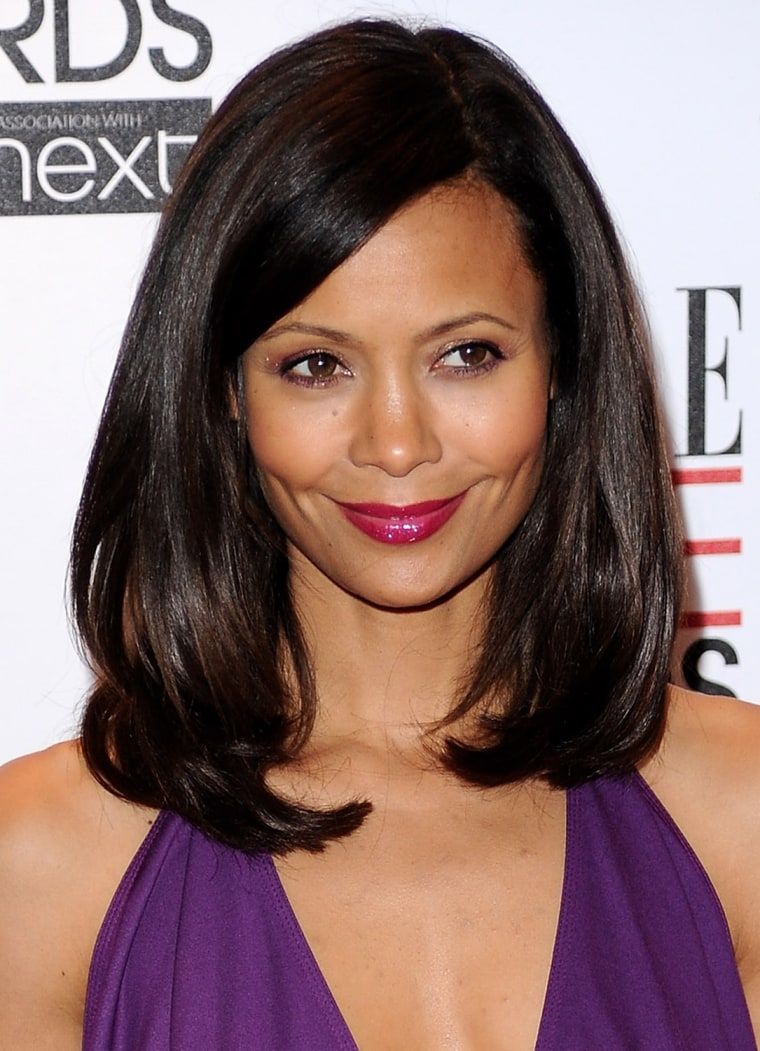 Newton says her decision to go natural is a small attempt to change the perception of natural hair as something undesirable, and we applaud her efforts and her candor — and her ability to get right to the heart of this issue.
Ultimately, the goal is to be free to do whatever you want with your hair. But what we 'want' is influenced by so many factors. When I was little I insisted my parents stopped calling me Thandie because it was so 'different,' my desire was influenced by a community where the way I looked was not celebrated, where my uniqueness was seen as suspect. Whatever we are repelled by, or don't want — right there is the bud to a root we need to dig up and investigate.
Preach, Thandie! You can (and should) read Montano's full interview here. Check her out in her new film "Good Deeds", which will be in theaters by the end of the month.
More: Boy Turned Away From School For Wearing Cornrows
Sony Song Compares Black Women's Hair To Dish Rags
Unapologetically Racist Nivea Ad Seeks To 'Re-Civilize' Black Men