Sylvie Goldner was shocked when she learned that many of her classmates at her prestigious New York City high school had no idea how to swim.
After all, Goldner, 16, is a competitive swimmer who recalls loving the water as a baby. She started taking swimming lessons in the second grade and is now a member of a club team in Manhattan.
"I just assumed that everyone knew how to swim," Goldner said.
So when a few classmates asked her if she was willing to teach them, she said yes. And earlier this year, Goldner launched an after-school program called First Strokes to make it official. She rents lane space at a fitness center near her school and offers free swim lessons to New York City students — so far, most of them are her classmates, but Goldner hopes to soon expand throughout New York City and eventually to other cities, too.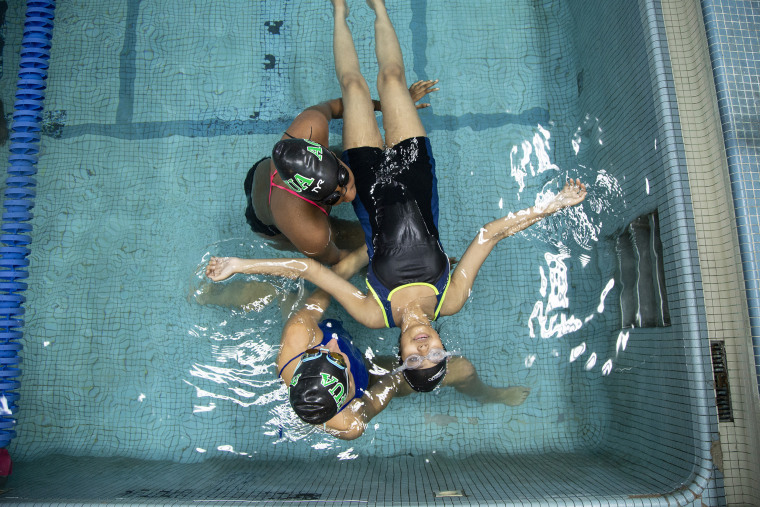 For many of her peers, the idea of taking swim lessons with little kids is embarrassing. So Goldner's classes are exclusively for high school students, and they're taught by high school students, too. "Because I'm their peer, it's much less intimidating," she said. (Goldner is the primary teacher, but some friends from her swim team are starting to help, too.)
More than a quarter of New York City students said they don't know how to swim, according to the latest city data from 2017.
Goldner, who spoke to TODAY Style as part of our Groundbreakers series for International Day of the Girl, knows that socioeconomic status plays a factor. Swimming lessons are expensive. Black and Hispanic children are less likely to know how to swim than white children, according to a 2008 survey from USA Swimming.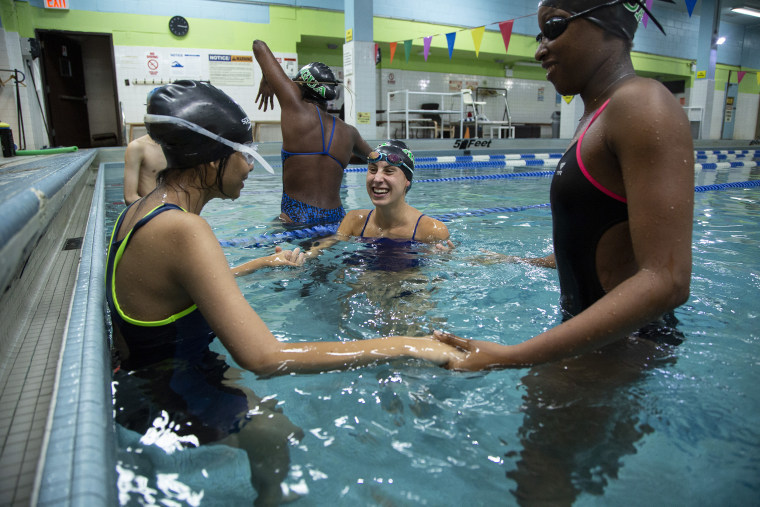 "I go to a super diverse public school and a lot of the kids, their parents are immigrants and they've never learned how to swim, so they never teach their kids how to swim and this fear is passed down," Goldner said.
"There's water surrounding us everywhere and to not have water safety skills is ridiculous, and it's a real hazard," she added.
For many of the teens she teaches, learning how to swim is a particularly special achievement. The same way many of them will be the first from their families to go to college, they'll be the first to learn how to swim, too, she said. Goldner has only been teaching lessons since March, but she's already seeing success stories. One of her students had never been able to join his friends in the lake at the camp he goes to every summer. But this year, after Goldner taught him how to swim, he got to swim with his friends for the first time, she said.
While Goldner doesn't have any previous teaching experience, she's logged plenty of hours in the pool and is a certified lifeguard.
"I did get a book all about how to teach swim lessons, but just being in the water every day, it comes super easily," she said.
She starts by addressing her classmates' fear of the water.
"I had a few students who started shaking and trembling the first time they got in the water. It's scary for them!" she said. "So in the beginning, it's all about showing them how the water is a place of fun and there's nothing to be scared of. Then we start getting into skills."
Earlier this year, Goldner raised more than $7,000 through a fundraising website to pay for lane space at the fitness center and purchase caps and goggles for her students. Her goal is to offer lessons every day of the week, but she knows she'll need more teachers and more money to do so. Her parents have been helpful, and so has her school — her principal sends email blasts to make sure students know about the lessons. Goldner has also reached out to the New York City Department of Education to inquire about potential funding and partnerships.
But for now, she'll start her next session in October, teaching one class a week. And she'll keep trying to spread her love of the water to other young people, one stroke at a time.