A Florida teen who battled cancer twice recently violated his high school's dress code by wearing a Relay for Life "survivor" T-shirt.
Tyler Powers, 16, told TODAY he was pulled out of class this week at Ridgewood High School in New Port Richey, Florida, when a teacher told him the American Cancer Society emblem on his shirt did not follow the dress code, which states that logos cannot be larger than the size of a quarter.
"I was doing my work; I was causing no disruption whatsoever," Powers said.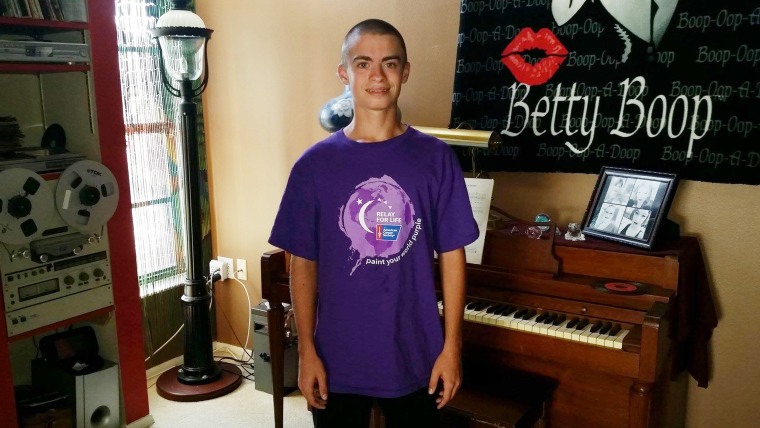 He was told he could spend the day in ISS (in-school suspension), call his parents for a change of clothes, or change into a shirt given to him by the school, Powers said. He chose to change into a new shirt, a blue Ridgewood High School T-shirt.
RELATED: 'This isn't the 1950s': See the school dress code that's stirring controversy
Now, his story has gone viral and some parents and students are outraged he was targeted for a shirt spreading a positive message, especially given his backstory. One student angered by similar incidents reportedly wrote an open letter to the school's principal to protest the dress code, which is new and was introduced when the school year started in August.
"It's disturbing," Powers' dad Tim Powers told TODAY, adding that his son is the junior class president and had never been in trouble before. "There's nothing about the shirt that was demeaning or hateful. It's a positive message."
The teen, who also takes classes at a nearby college, was diagnosed with acute lymphoblastic leukemia when he was 5 years old and cured at age 7; he later relapsed and was cured again at age 10.
"We've been through all of this, we've lived this," his dad said. "When kids are proud of accomplishments, they're a positive influence on other children. There are kids who look up to him. When something like this happens, it's almost like a slap in the face."
RELATED: School bans students from homecoming for wearing dresses above the knee
The school district said the teacher who approached Powers was simply following the rules.
"She never noticed what was on his shirt and he ever mentioned anything about being a cancer survivor," Linda Cobbe, spokesperson for Pasco County Schools, said in an email sent to TODAY. "If he had said something, she would have listened empathetically and explained to him how the logo size limit applies to all shirts and that they can't discriminate by allowing one student to wear a special shirt."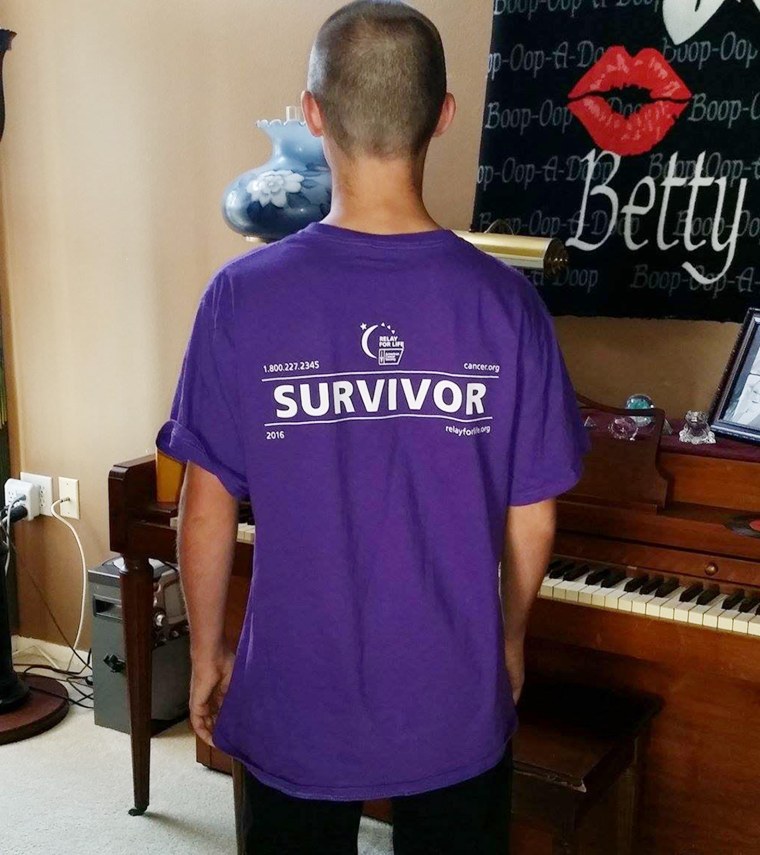 The new dress code is part of a pilot program aimed at improving academic and discipline problems at the school, including poor test scores, attendance rates and gang activity.
"The bottom line is that the school needed to take steps to get students engaged in their learning and focused on academic improvement," Cobbe said. "Their goal is to prepare students for college, career and life, and part of that is learning that they will have to conform to dress codes established in every type of business and in every branch of the military. They looked at what schools with similar situations in nearby districts had done and found positive results in several that implemented modified dress codes."