An Illinois teenager who was told the shoulder-bearing sweater she wore for her senior portrait was inappropriate for the yearbook is putting a twist in the debate over school dress codes.
Grace Goble, 17, started an online petition to get her school to "end the over-sexualization of young women's bodies" after a yearbook company told her that her photo wasn't allowed because it violated her high school's dress code.
"I couldn't believe it was an actual issue that I was wearing a sweater that showed the top of my shoulders," Goble told TODAY. "It was incredibly frustrating."
Goble learned about the violation Monday when she reached out to the photography studio that in June took shots of her wearing a yellow sweater that dips just below both shoulders.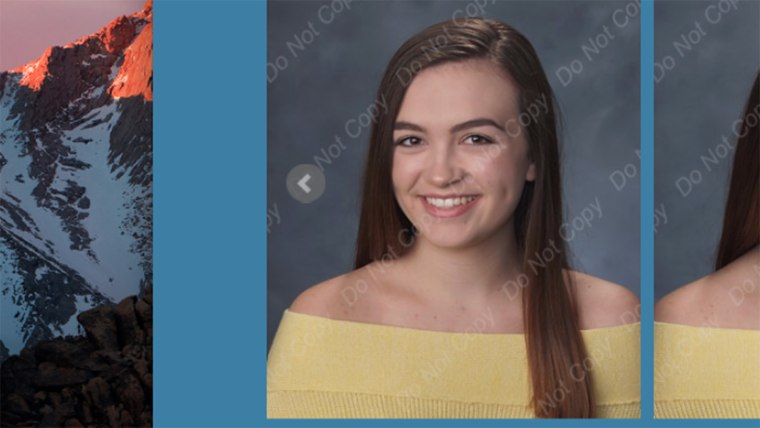 "It's my favorite sweater and whenever I've worn it to school, people have complimented how it looks and the color," she said. "So, I thought, 'OK, I'll wear it."
But when she went through proofs several weeks later, she discovered that none of the shots were cleared for approval. After she reached out to the studio and learned why, Goble immediately sent an email to her principal and vice principal at Maine South High School in Park Ridge, Illinois.
"I included a screen shot of the photo and asked them if they really thought it was inappropriate and shouldn't be allowed in the yearbook," she said.
She then created an online petition on Change.org, proposing to change her school's dress code to either revoke or amend a requirement for students to wear clothing that "covers them from shoulder to approximately mid-thigh."
"I have spent a good majority of my life wondering why exactly women's shoulders are so offensive. It is ridiculous that young women aren't allowed to wear the clothing that they wish to wear simply because it could possibly distract someone," Goble wrote.
"Shaming women for wearing the things that make them feel comfortable and happy in their bodies is horribly sexist, and leads many girls to grow up believing that if another individual cannot control their actions around women, that the woman was at fault."
"Why must young women be denied the ability to express themselves through their fashion simply because there may be a few people out there who cannot control themselves?" —Grace Goble in her Change.org petition
Goble expressed frustration over the fact that school dress codes and their uneven enforcement continue to come up for debate throughout the country. She noted that at her school, boys can wear tank tops without reprimand.
"But if a girl wears a tank top, she has to leave class to go change into her gym shirt so that no one is distracted by her shoulders," she told TODAY.
Goble said her school's principal responded to her email Monday with a phone call that evening to let her know he planned to reach out to the photo studio and resolve the issue because "he didn't see anything wrong with the picture."
The principal also pledged to form a student task force to review the dress code and revise anything outdated or unfair.
Rod Halterman, vice president of operations for HR Imaging/Root Studios, which handles senior photographs for Maine South High School and more than 100 others in the Chicago area, said telling students they need to get their portraits retaken is an annual issue.
"We service two customers — we service the student and the parents, and we service the school district, and all schools provide us with a dress code for what they want in their yearbook, and we abide by that," he said.
"What's happened in the past, the real issue, is that someone shows up wearing something that makes them look like they're topless because of how it (the photo) is going to be cropped. That's what many schools are trying to prevent."
David Beery, communications director for Maine Township High School District 207, which includes Goble's school, said the photo studio did its best to act on the school's behalf.
"This is an off-the-shoulder sweater, but the photo is clearly fine. There's nothing at all inappropriate about this for a senior year photo," he said. "It's just a case of somebody making an interpretation that we at the school and the district would not have made."
Beery called the matter an "isolated incident" but one that will lead to many conversations, including those about the school's dress code policy.
"I think it's important to review policies. Styles change and times change. And Grace talked about the importance of gender neutrality and that's one of the lenses we'll be looking through when we discuss this," he said.