One woman is calling out a major brand for inconsistent sizing in a viral Facebook post, alleging that the confusing sizes can send the wrong message to girls.
Missy Rogers posted a photo of two pairs of shorts, claiming that both were purchased at the store American Eagle Outfitters, and writing that while the shorts appear similar in size, one pair is a size 4 and the other, newer pair is a size 10.
"The only difference is the year I bought them, length, and slightly different style," Rogers wrote in the Facebook post, which has been shared nearly 70,000 times. "How is it that what was considered a size 4 is now the same dimensions of a size 10? How small has a size 4 become?"
RELATED: Man wears girlfriend's clothing to call out body-shaming sizes: 'Straight up sexism'
Rogers, 19, pointed out that her problem isn't specifically with American Eagle — she's fed up with how inconsistent women's sizes are across numerous brands.
"Going out to find two pairs of shorts could take all day between finding something that looks cute on the rack, trying the clothes on, running back out to find a different size, and then waiting again for a fitting room that only allows so many items in at a time," she told TODAY in an email.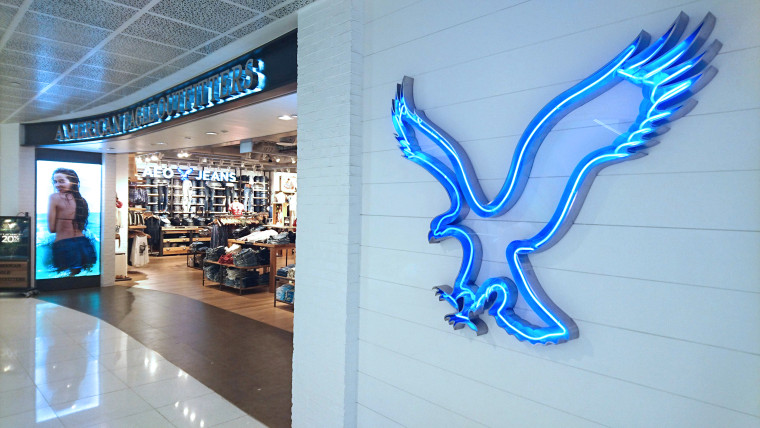 The problem isn't just that the confusing sizing makes buying new clothes difficult, though. Shrinking sizes might also be sending a dangerous message about having a "perfect" body to younger shoppers, she said.
RELATED: Aerie by American Eagle wins praise for featuring curvy swimsuit model
"Although it may just be a number, we grow up under the perspective that anyone who fits in the smaller sizes is more beautiful and closer to being 'perfect' than those in the larger sizes," said Rogers, who's from New Jersey but is a student at Jacksonville University in Florida. "This is the mindset that causes eating disorders and low self-esteem. Isn't it more important to look after the physical and mental health of the population rather than printing a random number on a tag?"
One oft-cited solution might be to size women's clothing the same way that men's clothing is often sized: by measurements, which would remove some of the guesswork, Rogers said.
RELATED: ModCloth removes 'plus size' section for 'a more inclusive shopping experience'
In response to the teen's post, American Eagle stressed its body-positive ethos.
"We agree fully with Missy that women are so much more than numbers, which is why we are so strongly committed to body positivity," Chad Kessler, the company's global brand president, said in a statement sent to TODAY. "Like every retailer, we strive for consistency and clarity to help our customers make decisions. We've reached out to Missy to get her feedback on her shopping experience and look forward to engaging in a discussion around this important issue."
As for Rogers, she's thrilled her post struck a nerve and hopes it serves as a reminder for women and girls that they're more than a number on a clothing tag: "If it positively impacted even just one person, then it was well worth it," she said.