A med school hopeful who has battled with bulimia. An Army soldier with tattoos. A 20-year-old with Tourette syndrome. A vocalist born without her left forearm. These are just a few of the ladies who will take the Miss America stage in Atlantic City on Sunday night to vie for the crown. 

This year's 53 contestants will bring more than well-coiffed hair and sunny smiles to the annual beauty pageant, which kicked off in 1921. Several women are sharing their diverse, sometimes challenging, life experiences with the world, and using Miss America as a platform for bringing awareness to causes close to their hearts. Health, in particular, is on many contestant's minds: Their platforms range from cancer advocacy, to HIV/AIDS education, to childhood obesity prevention. 
As the contestants finish up the competition's preliminary rounds in Atlantic City and head to the finale, which airs at 9 p.m. on ABC, here are four candidates with particularly inspiring stories to tell.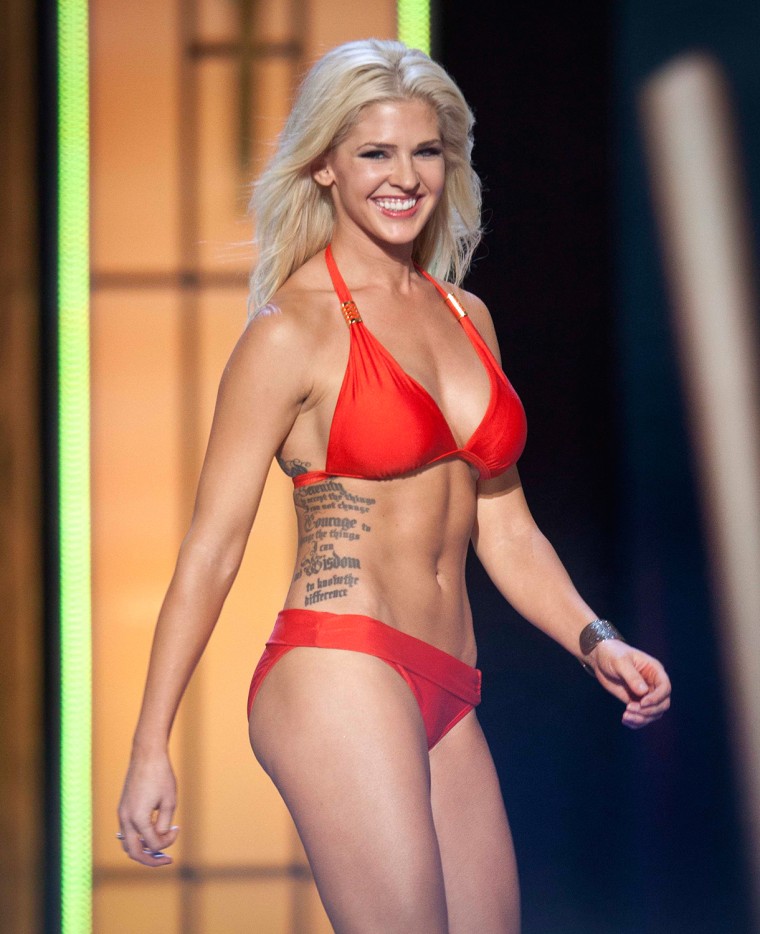 First to flaunt tattoos
Twenty-two-year-old Theresa Vail is breaking the Miss America mold as the first contestant to make her way down the catwalk with visible tattoos. She says that showing off her tats, which include an inscription of the Serenity Prayer and the military medical insignia, fits in with her platform of "empowering women, overcoming stereotypes and breaking barriers." 

"What a hypocrite I would be if I covered the ink. With my platform, how could I tell other women to be fearless and be true to themselves if I can't do the same?" Vail wrote in a blog post on Aug. 22. "Now, had my platform been something entirely different, maybe the tables would be turned. Maybe. But I am who I am, tattoos and all."
But tattoos aren't the only thing that make Vail an atypical contestant. She's also an archery expert and, as a National Guard sergeant, she's the second military servicemember to compete for the crown. In the future, she hopes to become a dentist for the Army.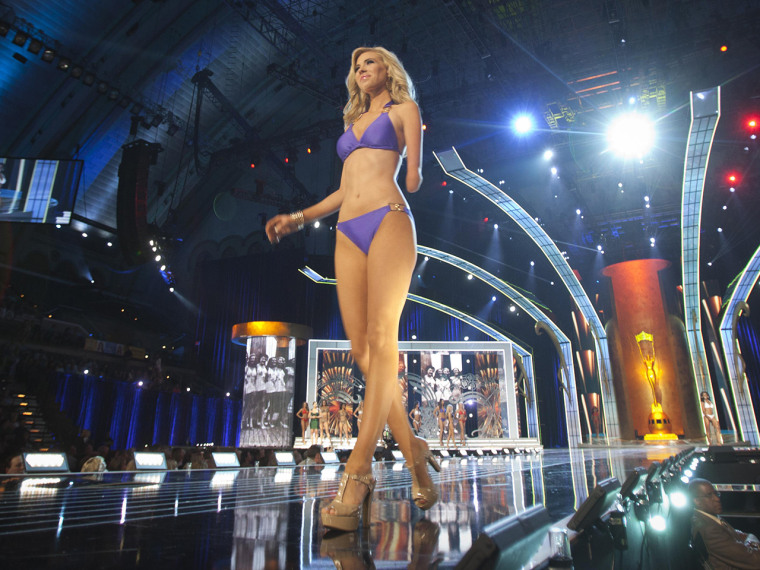 Born with a birth defect
There's been much buzz about Miss Iowa Nicole Kelly, a 23-year-old born without her left forearm. Kelly has never let her condition prevent her from living a normal, active life: Growing up she played baseball, swam and danced. And while she hopes to use the pageant to advocate for people born with disabilities, she says her birth defect is not the reason she's made it this far. 
"The reason I'm here is not because I'm a public interest story," Kelly told The Associated Press on Monday. "I'm here not because I look different but because I have the intelligence, I have the ability and all the things that Miss America needs to have."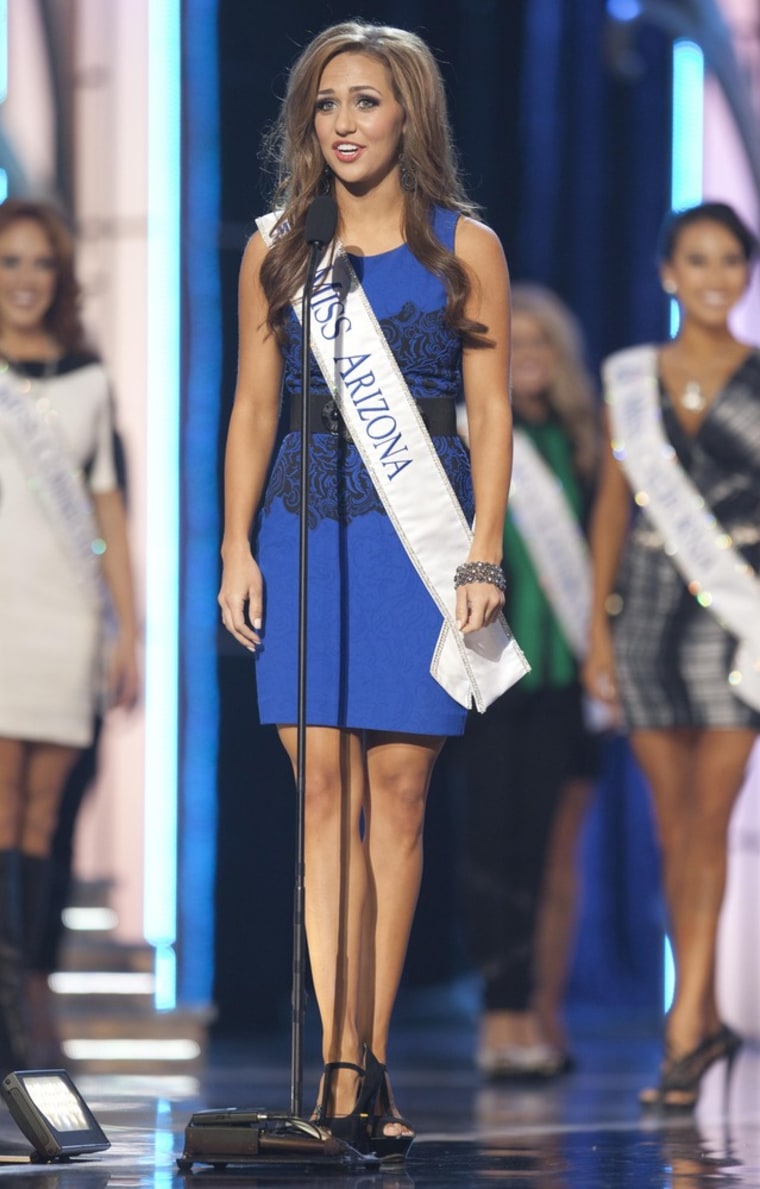 Overcame Tourette's
Miss Arizona Jennifer Smestad, a 20-year-old college student at Grand Canyon University, was diagnosed at the age of 10 with Tourette syndrome, a neurological disorder that causes involuntary movement and speech. According to her Miss Arizona profile, Smestad found a successful treatment for Tourette's five years after she was diagnosed, and now works to educate other children and families about the condition. 

"I am beyond blessed to be able to spread awareness and educate others about something that is so personal to me," she wrote on Facebook after visiting an elementary school class on Aug. 24. 
Smestad's platform is "Tourette Syndrome Awareness and Advocacy." In the future, she hopes to obtain a master's of science in exercise and wellness and use that degree for a career in media.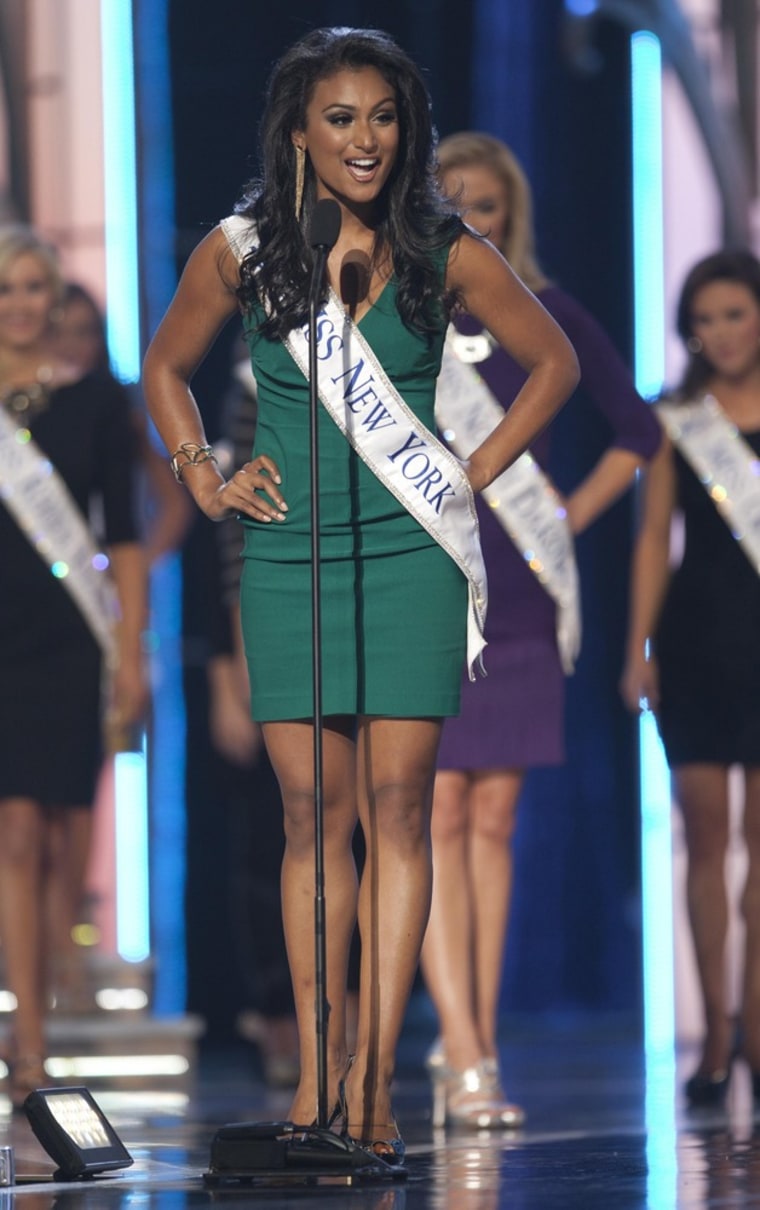 Battled with bulimia
Just two days before the pageant, contestant Nina Davuluri was still making headlines. An article published on Friday in the New York Post's Page Six column claimed that shortly after being crowned Miss New York, the 24-year-old was caught on tape calling Mallory Hagan "fat as f---." Davuluri and Miss America representatives denied Page Six's claims.
The first Indian-American to win the Miss New York title, Nina Davuluri recently opened up about her own battle with bulimia during her final semesters of college at the University of Michigan. "I had bad asthma, I gained a lot of weight, and I stepped back and thought: I'm not going to live long unless I change," she told Syracuse.com. 

She soon transformed her lifestyle by starting an exercise program and following a healthy diet. Now she wants to attend medical school to become a physician, according to her Miss America profile. 
Davuluri will also share her Indian heritage with viewers on Friday: Her talent is "classic Bollywood fusion" and platform is "celebrating diversity through cultural competence."
In honor of the upcoming 93rd annual Miss America pageant, take a look at the lovely ladies who have seized the coveted crown since the competition's start in 1921.