Parents around the country are praising Target's new addition to their kids line. The "Strong Like Mom" slogan T-shirt is a hit both in the stores and online, even earning its own hashtag on social media.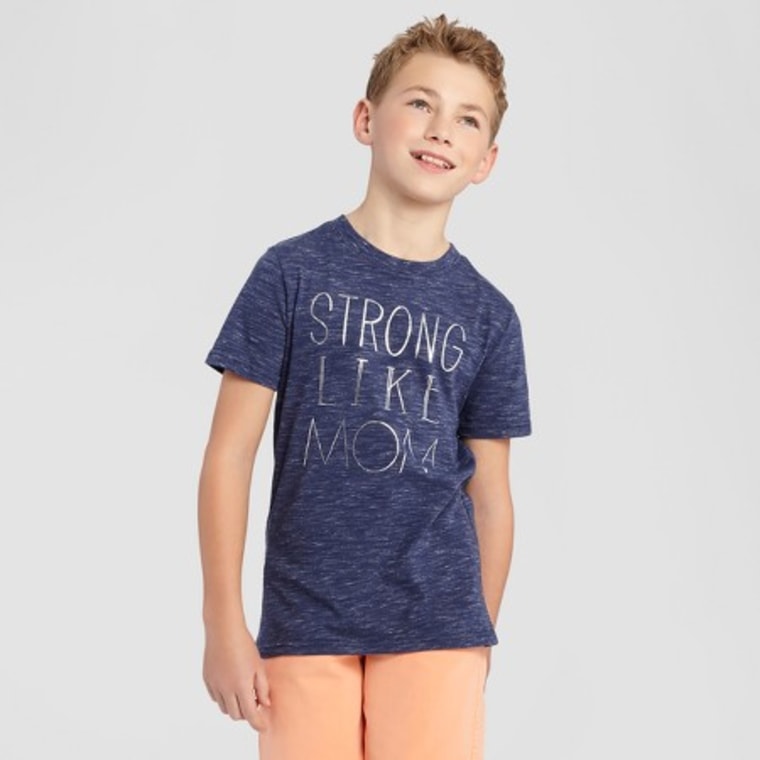 "The shirt makes me really happy because it sends the message that moms are strong," said Katie Reyes, 29, of Sacramento, California, a mom of two and author of the blog, KatieDidWhat. "Of course, dads are strong, too, but sometimes the message (in society) is that moms are less strong; that we're just supposed to be pretty and nice."
Reyes told TODAY that the "Strong Like Mom" tee has caught on like wildfire in her circle.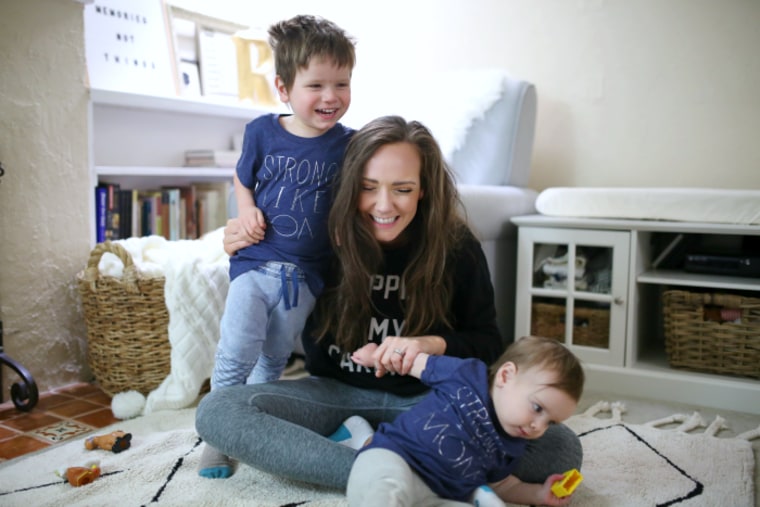 Reyes and her friends loved it so much, that they took a group photo with all of their kids wearing the same design.
On her blog, she wrote, "I just love that this shirt is available and is sending the message, to both little boys and little girls, that moms are STRONG! And that deserves all of the high fives!"
The Cat & Jack line for Target, which launched in June 2015, has items designed specifically for boys and girls as well as apparel that could interest either, such as these graphic tees (which retail for $6). Clothing is available in sizes 4-18 and 2T-5T, with the baby collection including sizes 0-24M.
"When Target's internal design team set out to develop the line, we spent many hours talking with real families," company spokesperson Sarah Zeman told TODAY. "Parents said they're looking for something nice, that's high quality, but also available at an affordable price. For kids, it's all about expressing themselves in a way that shows off their unique personalities."
While "strong like dad" and "brave like daddy" are common slogans for kids' T-shirts, the "Strong Like Mom" message is more rare.
Consumers say the line has caught on because they're tired of the presumption that girls only want pink, purple or "girlie" graphics like flowers or ballerinas. Boys, on the other hand, are offered shirts with tanks, trucks, fighter jets or "macho" messages.
"We feel like we are sharing the voices of real kids," said Zeman.
As a mom to two daughters, Madison, 8, and Mia, 4, Michelle Rivera, founder and editor-in-chief of MommyhoodtoHollywood, is also a fan of this new slogan.
"I find Cat & Jack to be very refreshing," she told TODAY. "What a wonderful concept to have stylish T-shirts that can be worn by both girls and boys, while also including empowering, positive and inspirational messages on them. I love the message, 'Strong Like Mom,' which is not only targeted for the girls to wear, but is for boys to wear, too."

Lisa Hamer, a certified personal trainer in Northbrook, Illinois is already familiar with the slogan. In fact, her three sons bought the domain name "Strong Like Mom" as a 55th birthday gift in 2014 so that she could share her fitness tips and tricks. She didn't think much about the wider sociological implications of the message at the time, she told TODAY.
"It was all about moms exercising," she said. "My sons knew they had a strong mom who's dedicated to working out."
Zeman said that they hear parents loud and clear: "Moms and dads have told us the clothing allows kids to be who they are and to be proud of that."