No matter your shape or size, you should be able to rock a swimsuit with confidence.
That's the message Target is spreading with its #NOFOMO campaign, which has women sharing their swimsuit selfies online, as part of an effort to encourage body positivity. The company said the campaign is "all about shaking off body insecurities and not letting anything get in the way of having fun in our swimsuits."
Target, which also earned praise last week for its new "Super Hero Girls" collection with DC Comics, teamed up with Barbie for the campaign, explaining that the Mattel icon fits in perfectly with their vision — especially now that she's available in curvy, tall or petite sizes.
RELATED: Teen with rare disease shows off bikini body to inspire others
"We were really excited to learn of Barbie's evolution," Jeff Jones, executive vice president and chief marketing officer of Target, told TODAY in a statement. "She's had an undeniable impact on our culture for decades and now is helping to evolve the conversation about inclusivity. Given our belief in every body, we loved the idea of working with Mattel to find a way for Barbie to join our swim campaign."
The company even dressed Barbie in mini versions of its new swimsuits.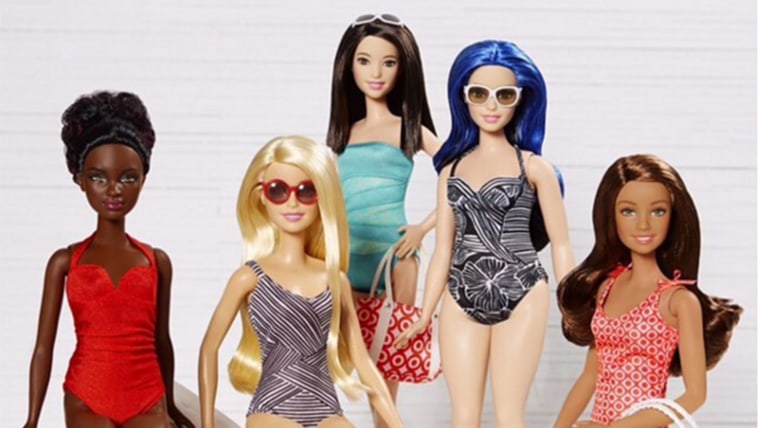 The campaign also promotes Target's latest swim collection, shown off in a range of sizes.
RELATED: Aerie by American Eagle wins praise for featuring curvy swimsuit model
"We've seen tremendous strength in our swim business, which has been driven by assortment, presentation and our approach to marketing," Jones said in a statement. "Our work celebrates the fact that people come in various shapes and sizes, and it's ignited a meaningful conversation with our guests. There's no perfect body type, but we believe, and want to celebrate with our guests, that there is the perfect swimsuit for every body type, and that's where Target has you covered."
It's a message plenty of women are taking to heart, sharing their own photos and inspiring messages with the world:
Target has a long history of promoting diversity in body types — in December, Target Australia was praised for featuring curvy models alongside thin ones in another swimwear campaign.