Former Olympic figure skater, Tara Lipinski, and her fiancé, Fox Sports producer Todd Kapostasy, held an engagement party to end all engagement parties at Mr. C Beverly Hills.
There were Coolhaus ice cream sandwiches for all. There were red velvet baked goods and cake pops and dancing. And Johnny Weir, of course.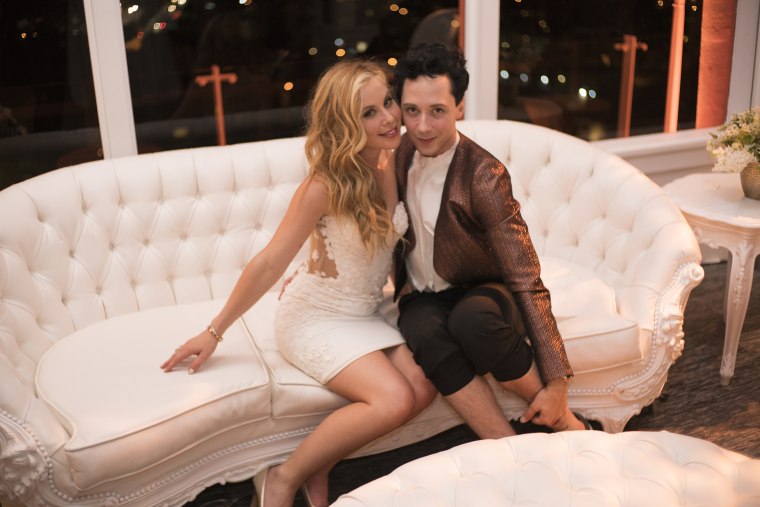 But what made the event most memorable of all (at least to us!) was the stunning, detachable skirt on Lipinski's dress, which she was able to remove to create a sleeker line for her nighttime dancing look. Los Angeles-based designer Mark Zunino made the whole concept come to life.
"The dress really made me feel special and like a bride-to-be," Lipinski told TODAY in an email. "The best part was knowing I had this other secret dress underneath the full skirt to reveal later in the night."
RELATED: At Home with TODAY: Peek inside Tara Lipinski's 'cozy' living room
Best of all, the day-to-night change didn't require much time at all. "Mark made the detachable skirt so easy to put on and take off, that it didn't take any of my time away from the fun of the party."
In other words, it was totally possible for Lipinski to have her (engagement party) cake and eat it, too.
"I could not decide if I wanted a simple, more fitted dress or a fuller skirt, but Mark told me he thought both were possible."
Lipinski wasn't the only one happy with how the night turned out. Hubby-to-be Kapostasy posted his own photo on Instagram to commemorate the fun night, along with the caption, "@taralipinski and I had an amazing time partying with family and friends last night to celebrate our engagement. One of my favorite nights ever. I'm so appreciative that people traveled across the country to be there. I'm one lucky guy."
RELATED: Tattoo engagement rings are the latest wedding trend for couples
Here's hoping these two have a long and happy marriage — and we can't wait to see how they top the fabulous details of this engagement party at their actual nuptials!