Heading from the beach to a night out on the town? Turns out you can do it just by adding a few items to your beach bag. Style expert Lilliana Vazquez and celebrity hairstylist Sarah Potempa joined Kathie Lee Gifford and Hoda Kotb Tuesday to share easy tips that will transform your look in less than 60 seconds.
The tuck and roll: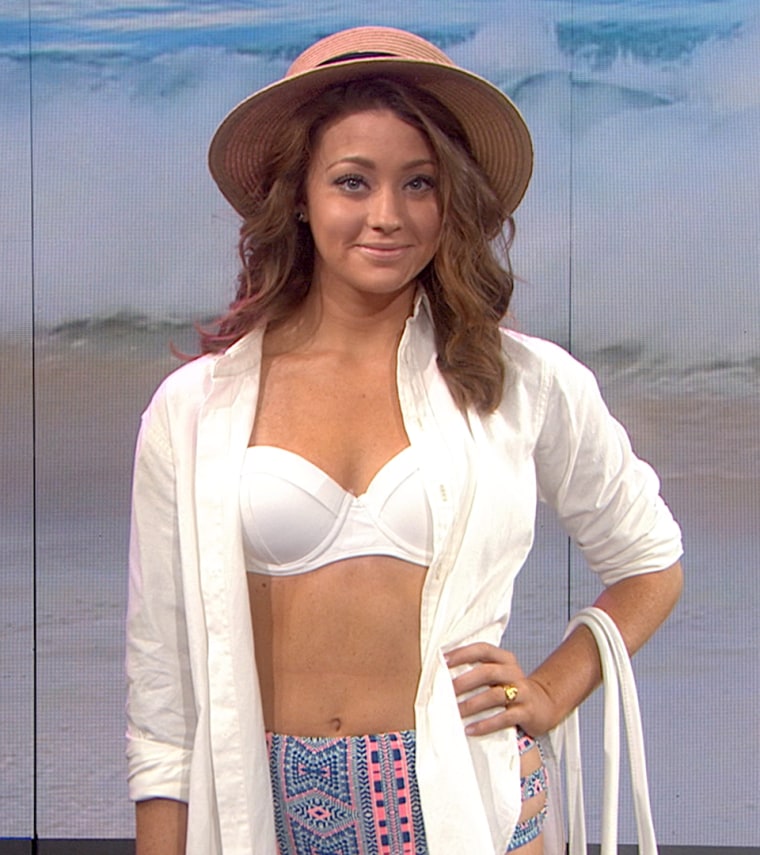 Madison is featured here wearing a bold-patterned, high-waisted bikini bottom, which is great for covering any problem areas around the mid-section. She kept it simple with a white bandeau top and paired it with a classic white men's shirt as a cover-up. A cute sunhat and straw bag finish off the daytime look.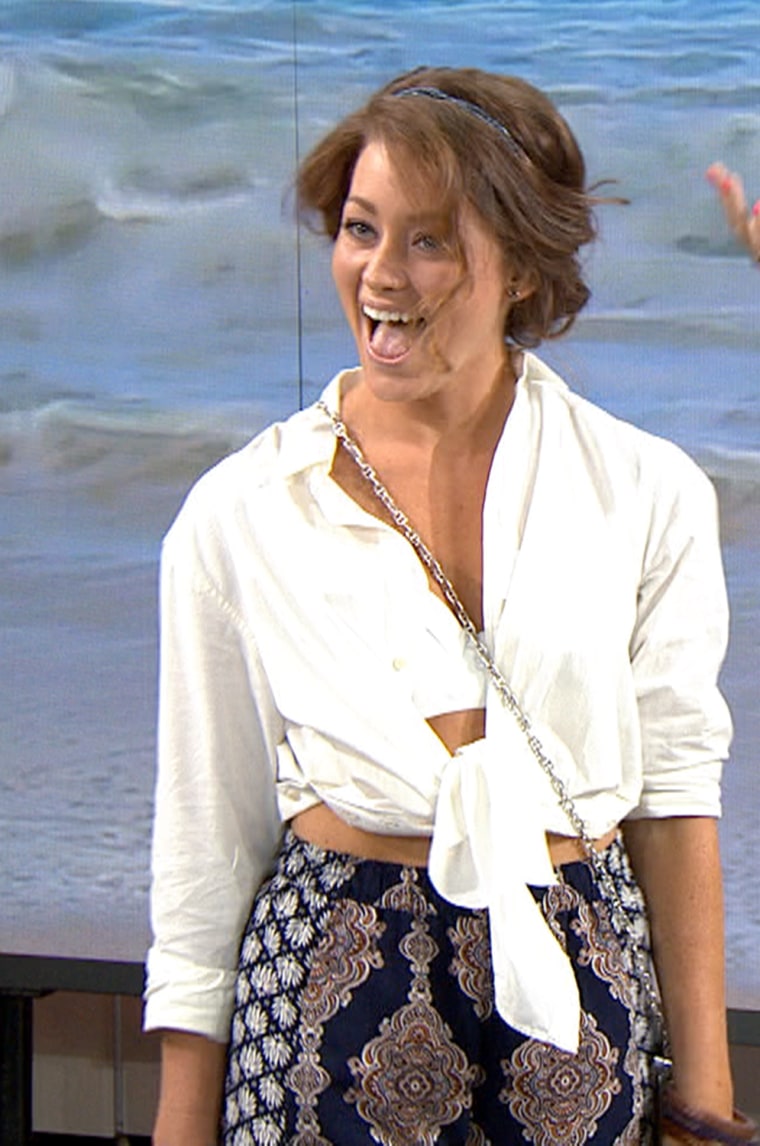 When the sun sets, Madison can add a pair of printed shorts with an elastic waistband and tie the shirt at her natural waist, tucking the rest of it in at the back. Vazquez suggests wearing a metallic slip-on espadrille and a white cross-body bag to add a little flare. To polish the look, Madison added a metallic headband, which she places over her hair. Then Potempa advises tucking those beach waves into the back of the headband to create a textured up-do without the fuss of bobby pins or hair elastics. In 60 seconds, Madison is ready to hit the town in her beach-chic outfit!
(Button down, Madewell.com, $59.90; Swimsuit, PacSun.com, $24.95; Beach bag, Marshalls, $29.99, Shorts, H&M, $24.95; Bag, Stella & Dot, $49; Espadrilles, Lord &Taylor, $60)
The fringe and flare: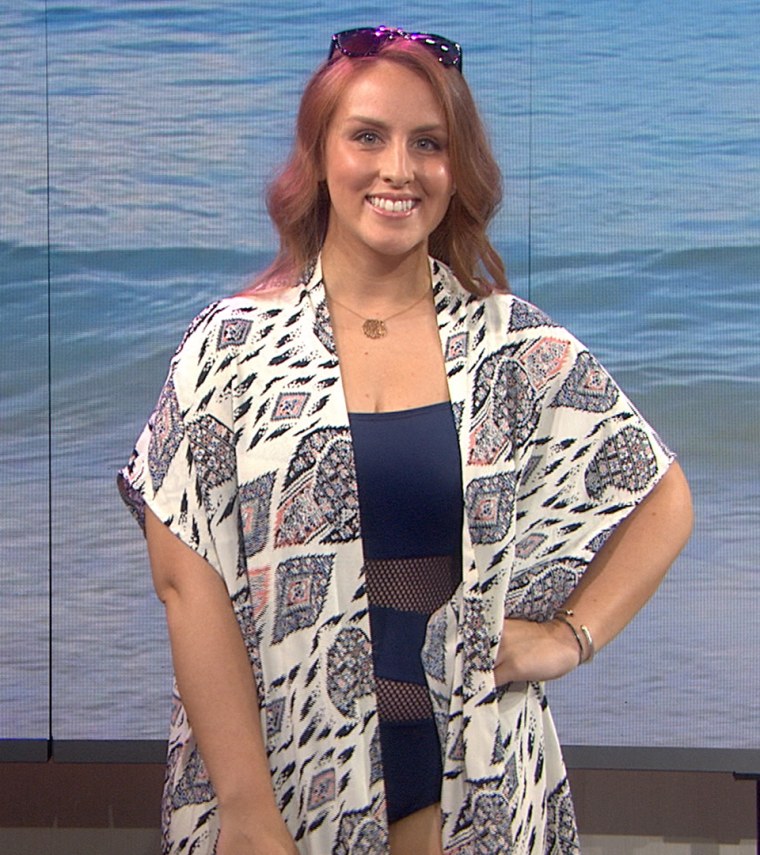 Brianna is sporting a navy blue one-piece swimsuit with mesh accents. For the beach, she added a black-and-white fringe kimono as a cover-up and some flip-flops.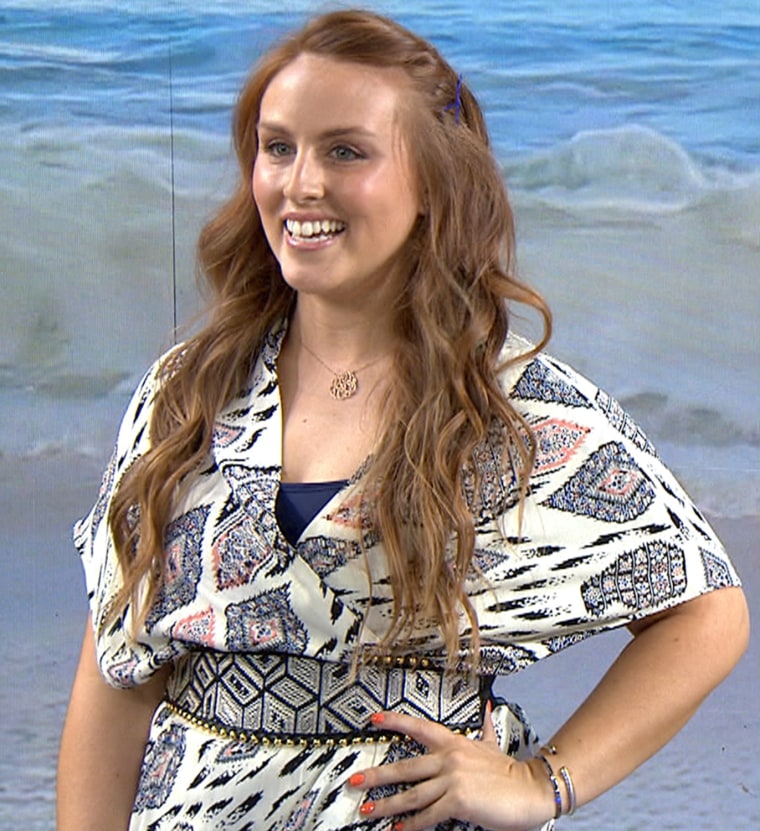 What's great for Brianna's look is that it can transition by just changing her accessories. She added white mules, a big trend for spring, which complement the kimono. Then she pulled the kimono to the front to create a wrap dress. Adding a wide belt secures the look in place. Vazquez suggests going for a belt with snaps instead of buckles to make it super-easy. Add a simple black clutch to create an elegant evening look. For hair, it's all about embracing those natural beach waves. To refresh your locks, Potempa recommends creating a mist at home with a combination of hair gel, water and any essential oils like coconut. Bottle it up and throw it in your bag. Then Brianna created a two-strand twist in the front with two bobby pins. Now, in less than a minute, she's ready for a formal dinner.
(Fringe Kimono, VinceCamuto.com, $129; Swimsuit, Macy's, $78; Sunglasses H&M, $9.95; Belt, Nordstrom.com, $40; Mules, Target.com, $29.99)
The two-in-one: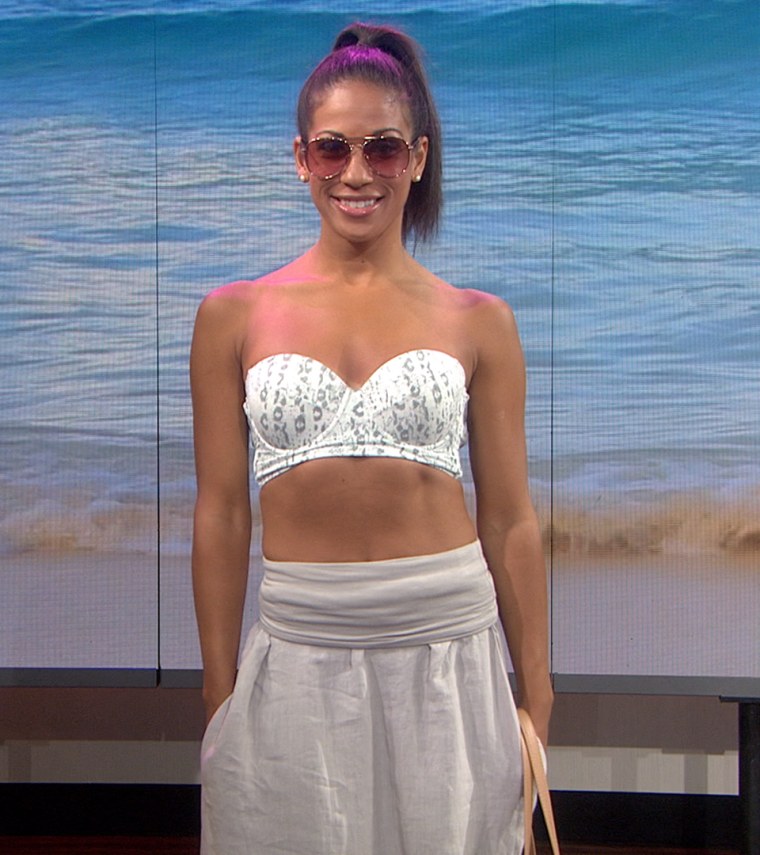 Bri's balconnet-printed bikini top is a new style for summer. It gives her coverage yet is still flattering. She adds a maxi shirt with a fold over waist in a gray color to complement the animal style print of her top. Adding aviator sunglasses, a tight braided pony tail and a black and white stripped beach bag give the look some extra style.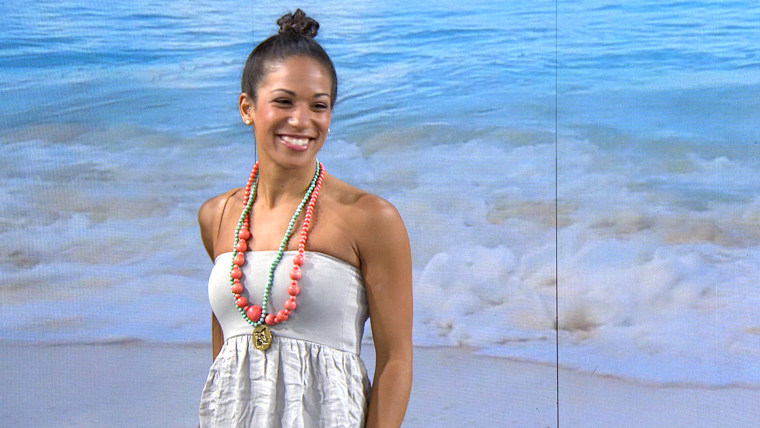 After a day in the sun, Bri can quickly change into a casual-yet-stylish evening look that's great for meeting friends. She slides on comfortable wedges, giving her some height. Then all she has to do is release the fold from the skirt and slide it up to create a sleek strapless dress. The balconnet bikini top is the perfect style to wear underneath since there are no straps. Vazquez gave her a textured tan fringe crossbody to give the look texture. A few wooden necklaces accessorize the look and accent the boho vibe. The tight ponytail braid can quickly be transformed into a classic topknot. Pancaking the braid, as Potempa calls it, which is basically just flattening and pulling it out, loosens it, giving the hair texture. She then wrapped the braid around into a bun and fastens the extra strands with a bobby pin. Bri's quickly ready for sunset cocktails in town.
(Maxi skirt, Century 21, $34.99; Swimsuit, JCPenney.com, $16.49; Wedges, Payless Shoes, $15; Fringe bag, Kohls.com, $34)