A model who walked the runway in a Sports Illustrated swimsuit show is making huge waves for the way she owned the catwalk: She did it while breastfeeding her baby daughter.
Mara Martin strut down the runway Sunday night in a metallic gold one-shoulder bikini while nursing her 5-month old daughter, Aria. The baby wore noise-cancelling headphones and a diaper inside her own bikini bottom.
"She was a little hungry. It was her dinner time and the show kept getting pushed back," Martin, 30, told TODAY in an exclusive interview. "Honestly, I didn't even think twice about it because I do it every single day."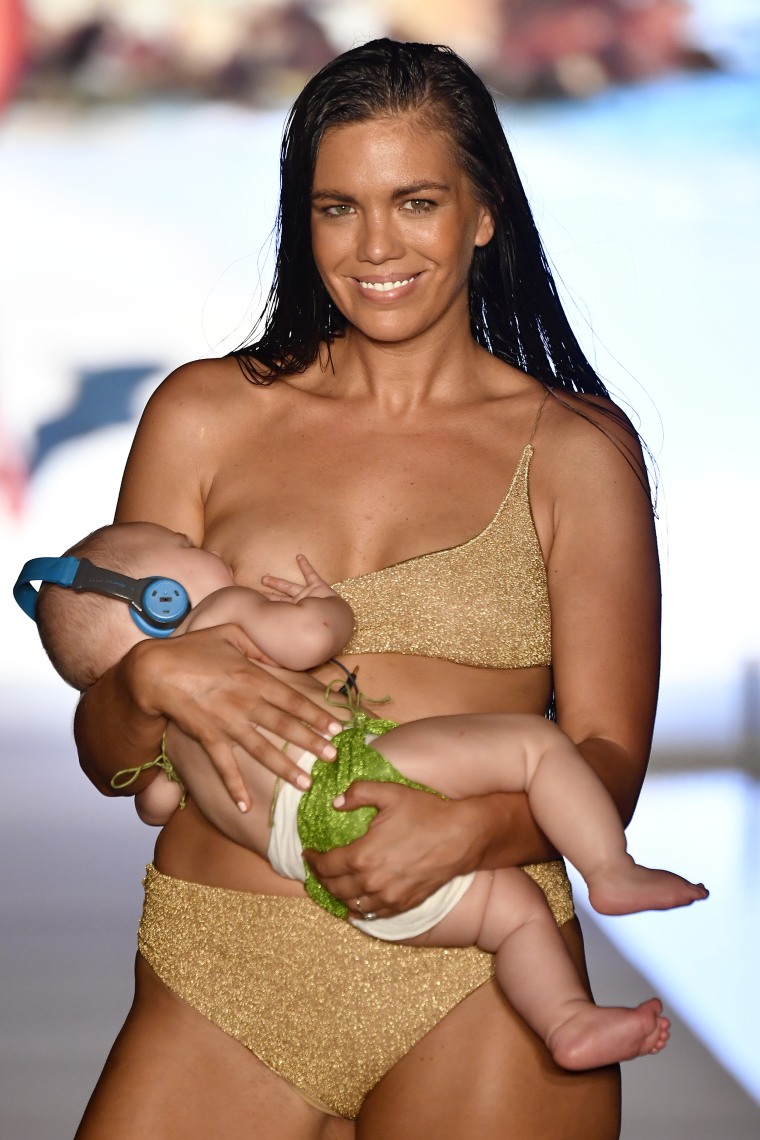 MJ Day, editor of Sports Illustrated's swimsuit issue, said the scenario came together naturally.
"Mara was holding her baby and was nursing her. I was like, 'Do you want to just nurse when you walk down the runway?'" Day said. "She was like, 'I would love to do it that.'"
Martin was among the 16 finalists chosen by the magazine in an open casting call for Miami Swim Week. Before the show, she uploaded an Instagram photo of herself with her happy baby and expressed gratitude for the opportunity.
"I'm so so so thankful for the entire team at Sports Illustrated for picking me," she wrote.
As mother and daughter later walked the runway, the audience cheered the duo on. The pair also received broad support on social media. Television producer Shonda Rhimes was among the fans, tweeting, "Love this."
It's not the first time the fashion world has celebrated motherhood. Dolce & Gabana dedicated one of its ready-to-wear collections to moms three years ago.
For her part, Martin is surprised that doing something as natural as feeding her child has raised such media attention. The day after the show, she posted a note on Instagram describing the experience as humbling and unreal.
"I'm so grateful to be able to share this message and hopefully normalize breastfeeding and also show others that women CAN DO IT ALL!" she wrote. "But to be honest, the real reason I can't believe it is a headline is because it shouldn't be a headline!!! My story of being a mother and feeding her while walking is just that."
She told TODAY that she would love to see the day when nursing a child doesn't become a news story.
"I think a woman should be able to feed their baby when, where, how they want to feed them and shouldn't be a topic of discussion," she said.
"I'm just grateful to be a part of it and that they chose me to represent a mom, which is exactly who I am."