There's a certain type of "Fifty Shades" merchandise you expect (use your imagination). But wine, cookies and teddy bears … really? Here are some of the most absurdly wonderful Christian Grey cross-marketing we've seen so far — plus a few movie-inspired items we submit to wanting.
Teddy bear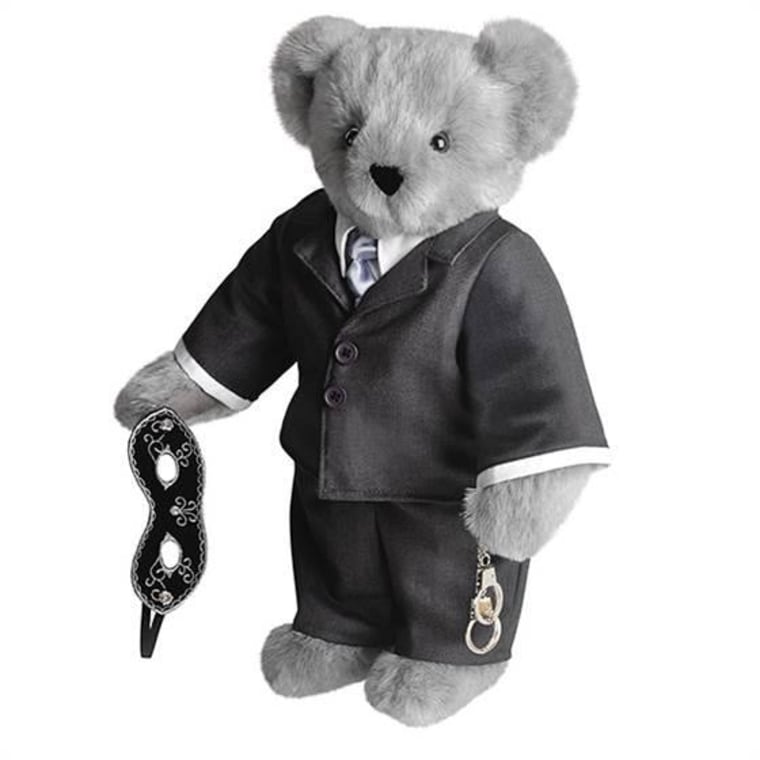 Let's start with what's perhaps the most scandalous stuffed animal in history: The Vermont Teddy Bear Company's Christian Grey bear, complete with his own mini handcuffs. Is he creepy? Is he cute? Is this a really expensive gag gift? The jury's still out, but we're keeping him far away from our precious childhood teddy. ($89.99, vermontteddybear.com)
Verdict: Not likely. This gives new meaning to the term "sex toy."
Wine

We'll admit, this merchandising makes sense if you've read the book, and E.L. seems to know her wine. Choose from the "Red Satin" Syrah blend or the "White Silk" Sauvignon Blanc blend. ($17.99 per bottle, fiftyshadeswine.com)
Verdict: The perfect bottles to bring to a bachelorette party.
Music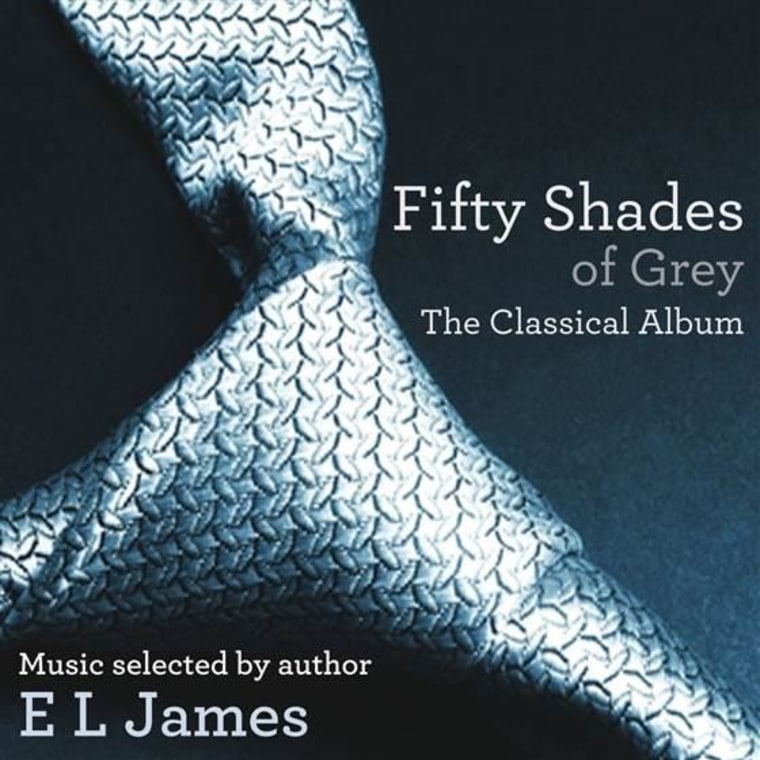 "Relaxing," "hauntingly beautiful" and "totally awesome." Most reviewers of Fifty Shades of Grey: The Classical Album have great things to say about this compilation of moody pieces mentioned in the book. Piano music—Christian Grey's forte—features heavily. More of a Beyonce/Rolling Stones type? Wait for the official movie soundtrack, out February 10th.
Verdict: Maybe we'll have a listen ($9, amazon.com).
Cookies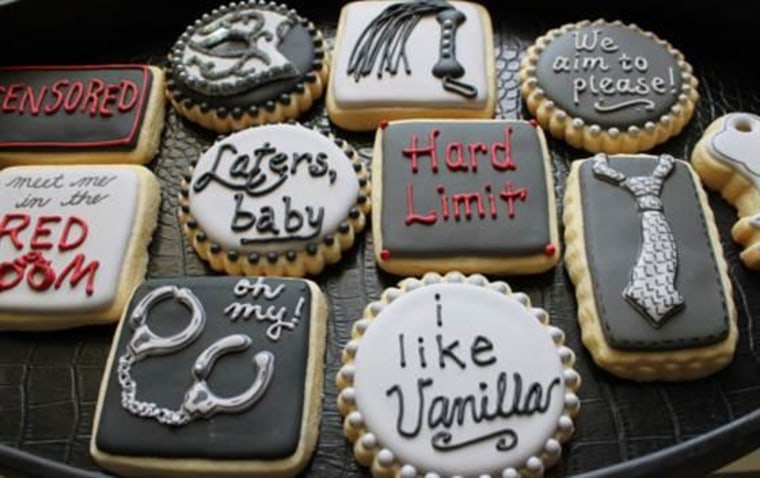 Even the innocent-seeming crafters and bakers of Etsy are getting on the bondage bandwagon. Perhaps our favorite item: These custom cookies created by Didi of For the Love of Cookies.
Verdict: Totally fun for sneaking into the movie theater ($39.99, etsy.com).
Blush kit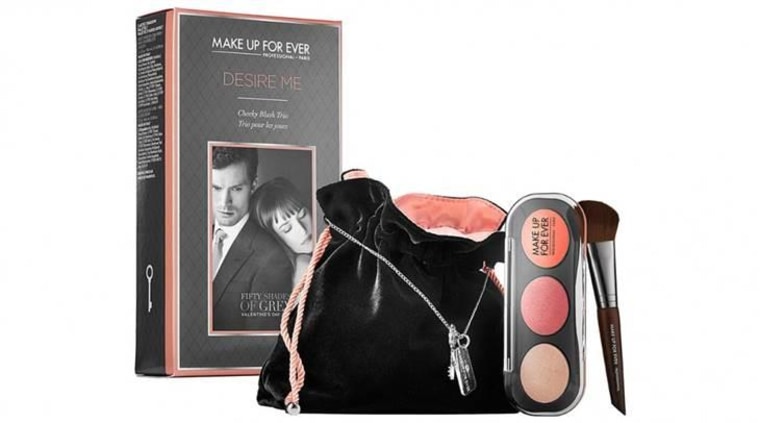 We love the colors intensities, pigment quality and fluffy angled brush included in this Make Up For Ever kit—all perfect for creating the multidimensional flush that's so big right now. Cheeky, not cheesy. (Make Up For Ever 'Desire Me' cheek set, $49, sephora.com)
Verdict: Our most-likely purchase.
Shot glass
Decided to read (or reread) the books? This shot glass, full of your favorite tequila, is a nice accompaniment. ($9.99, amazon.com)
Verdict: Fun—and we can always hide it in the back of the liquor cabinet.
Boxer briefs
While the ones that say, "Please call me sir" seem to be sold out, there are still plenty of licensed Fifty Shades men's undies to be had at British retailer Tesco. ('Laters Baby' striped trunks, about $13, clothingattesco.com)
Verdict: Not a bad Valentine's gift, depending on the recipient, and the cost of international shipping.
Candles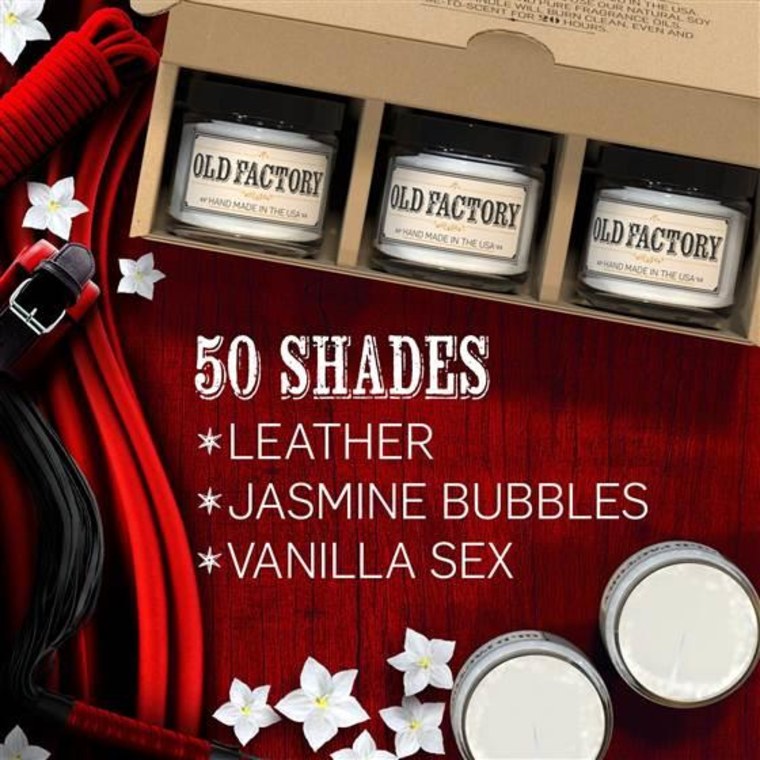 Could this Fifty Shades-inspired set be the key to getting our guy to not hate candles? With scents like "leather" and "jasmine bubbles," they're perfect for burning in the boudoir. (Old Factory Candles, $25 for a set of three, amazon.com)
Verdict: Curiosity compels us to want a sniff.
Sparkly necklace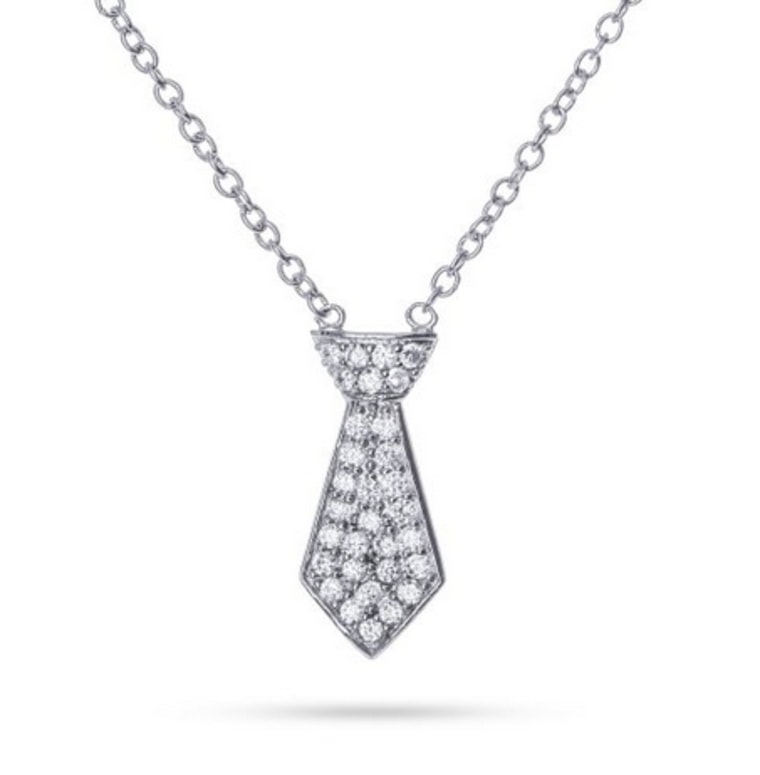 A subtle nod to the Fifty Shades phenomenon, this delicate necklace is an homage to Christian's multitasking tie. (CZ necklace, $29, evesaddiction.com)
Verdict: Cute, but a bit too tween.
Nail polish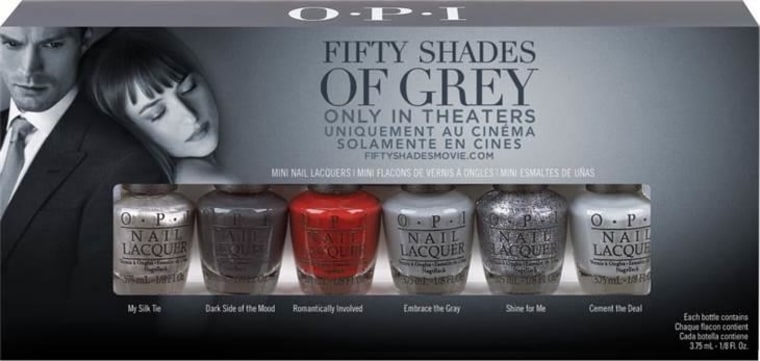 Coming up with nail polish names always seemed like a fun job—even more so if you're brainstorming OPI's Fifty Shades six-polish collection. We fancy "Dark Side of the Mood," a brooding charcoal, and "My Silk Tie," a dimensional, almost ombré silver. (OPI nail polish, about $9.50 at drugstores)
Verdict: Buy. A silvery manicure sounds perfect for spring.
Nightgown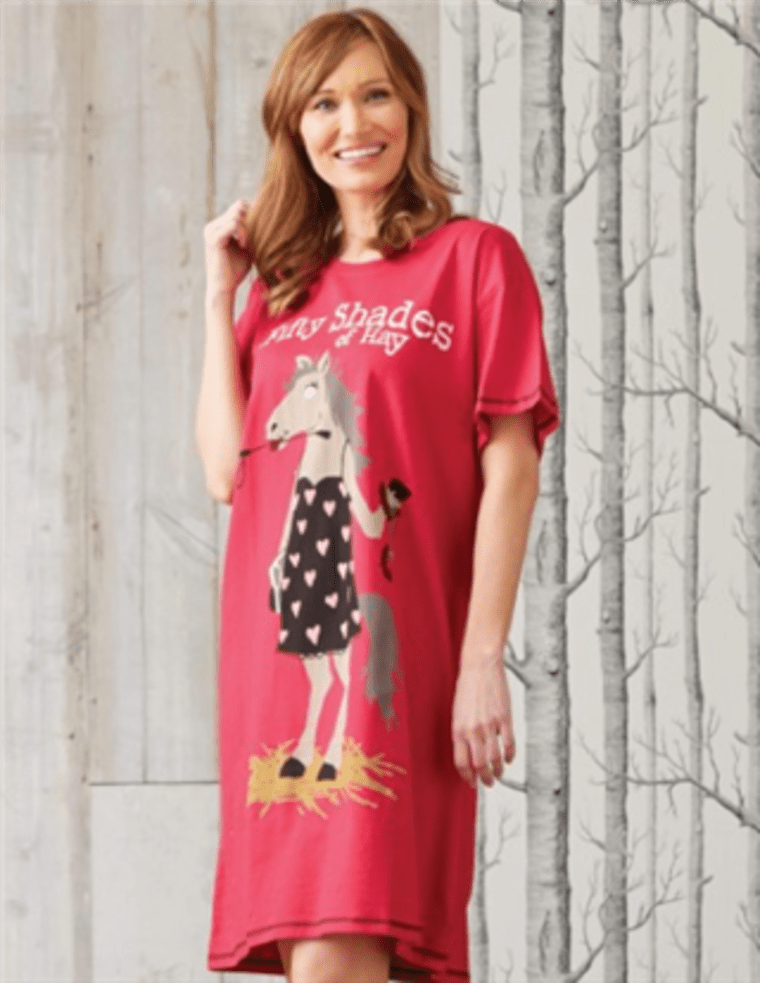 Hatley's hilarious "Fifty Shades of Hay" line has been so popular, it now includes a mug, pajama pants, phone case and stationery. But it's the nightshirt that best captures our "over it" attitude. (Sleepshirt, $29, hatley.com)
Verdict: Already added to cart.