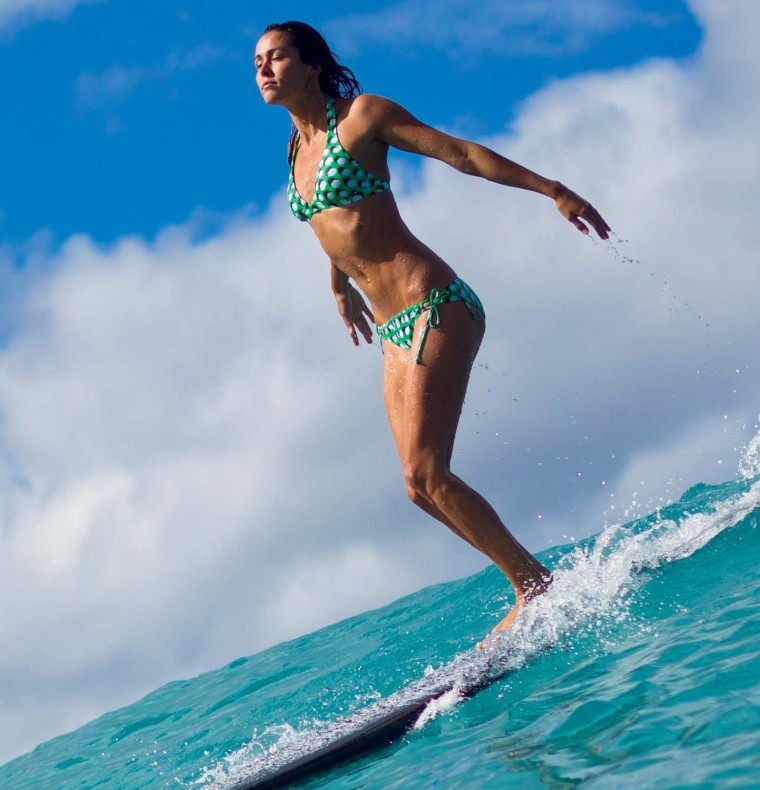 "It's like the mafia," pro-surfer Kelly Slater once said of his challenging sport. "Once you're in — you're in. There's no getting out."
It seems the same goes for fashion, where designers have been dipping their toes into surfing-inspired apparel for the last two seasons. Michael Kors, Alexander Wang and Cynthia Rowley have each infused their recent runway collections with neoprene materials, neon-colored zippers and other cheeky surfer girl details.
But the trend seems to have hit an all-time high with actual surf apparel and gear hitting stores, items which were once solely reserved for sporting retailers — and which often came in dull, basic monochromatic styles.
Diane von Furstenberg partnered with Roxy on a new spring swimwear line meant for active, adventurous ladies to wear in the water — and it's so adorable it might sway you to pick up a board. "The collection is playful and fun... we wanted to empower women to go for it and ride the wave!" Furstenberg said in a statement about the DVF Loves Roxy line, available today at stores like Bloomingdale's. More than just bikinis, you can snag board shorts, rash guards and beach bags in the designer's trademark graphic prints.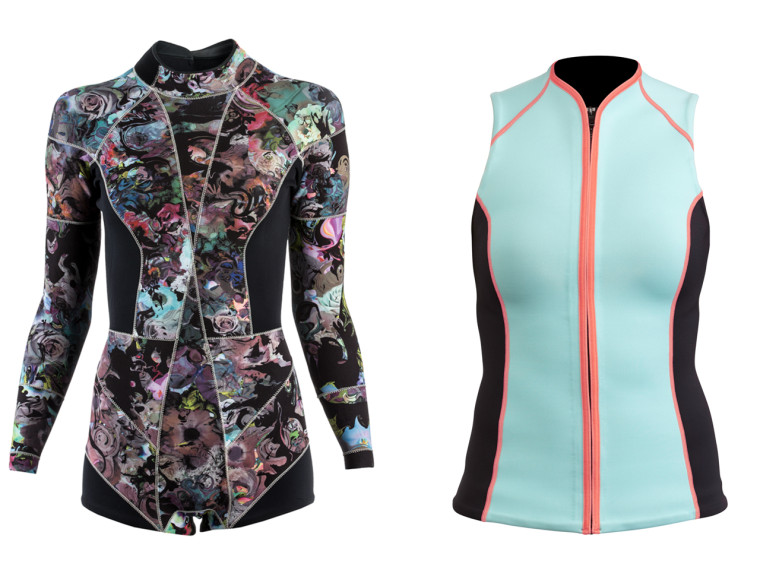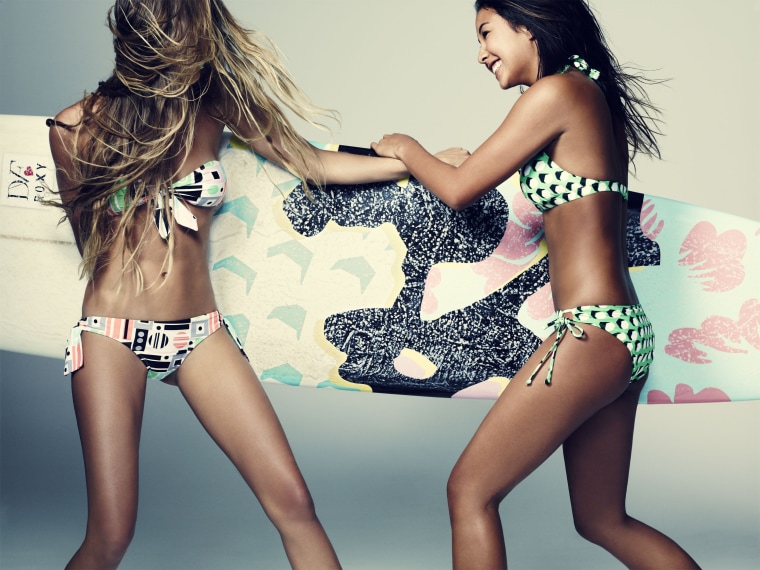 You can now even open up your J. Crew spring catalog and spot a cute striped rash guard, or find a chic, seahorse print option from American preppy favorite Tory Burch. Accessories are also taking cues from the Malibu pastime, with Baggu releasing a wetsuit bag and the new Birki's surf line, a member of the Birkenstock family, made with florescent neoprene.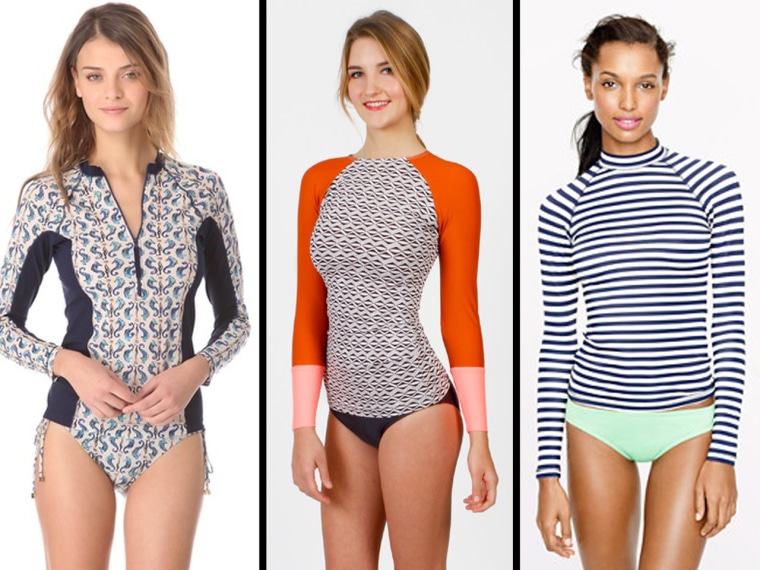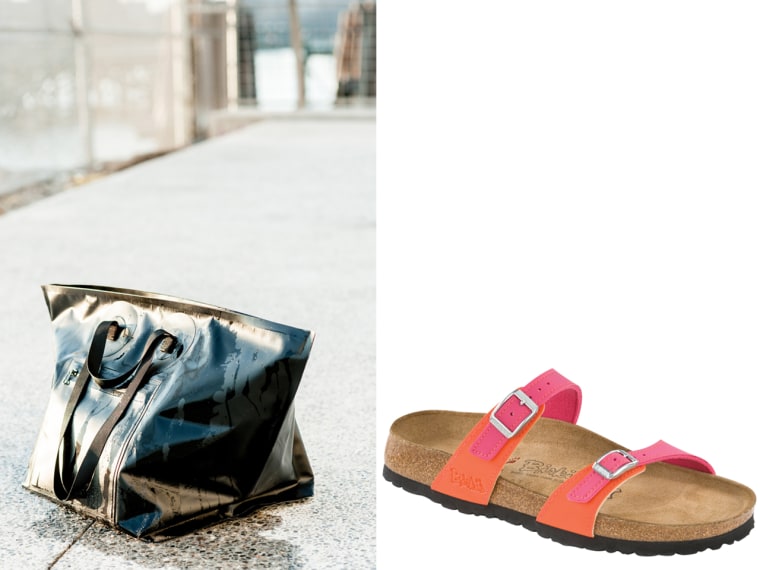 Could these items be popping up because surfing, in itself, is becoming more fashionable? (Not that it was ever out of fashion.)
"I'm not a pro, but I'm totally addicted," designer Cynthia Rowley, who sells a collection of colorful wetsuits, told TODAY.com. "I kept seeing more and more women surfing and I couldn't believe no one was making gear for us."

TODAY style editor Bobbie Thomas recalls that even just two years ago, her friends were griping about the limited swim options for women who were interested in water sports. "Aside from Speedo racerbacks, you were left with black spandex one-pieces or matronly tankini-skirt suits unless you dared to wear the sea of sexy cut-outs or string bikinis," she said. "All in all, true style embodies confidence in conjunction with expression, and a modern gal loves fashion with function."
The latest collections offer something once sorely missing in sporty swimwear — design. "There was a lack of surf wear for the woman who wants to look like a girl while competing with the boys — women who are active but love fashion too," said Pret-a-Surf co-founder Jillian Demling, who had trouble finding rash guards that weren't splashed with logos or made for teenagers. Pret-a-Surf, which debuted its first line in 2010, is now available in high-end stores and via e-retailers such as Net-a-Porter and Shopbop. Complete with metallic rash guards and star-print bikinis, it's the sort of swimwear you'd sooner spot on Beyonce than say, Gidget.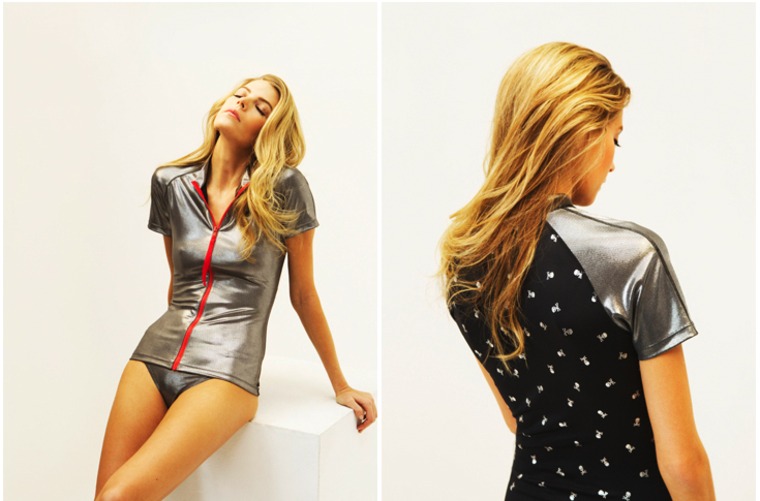 And it's not just couture houses and expensive boutiques that are eager to cater to beach-loving go-getters. There are also several affordable lines, such as The Seea, which sells rash guards and surf-ready one-piece bathing suits starting at $60. Many of these lines are counting on more ladies taking up the sport, especially since they won't have to worry about sacrificing style.
"Surf culture has always had an influence on fashion, especially in the summer, and its popularity continues to grow," celebrity chef Katie Lee told TODAY.com, who takes to the water regularly. "I live in the Hamptons and five years ago I never saw people surfing. The last two summers, I have seen so many cars with boards strapped to the top and our local surf school is more popular than ever."

Indeed, the surf craze extends beyond the sewing machine and has even become a fitness fad, with new indoor fitness classes that allow aspiring surfers to pop up, paddle and balance on a board as they watch a screen displaying kitschy surf flicks (in lieu of real sand and waves).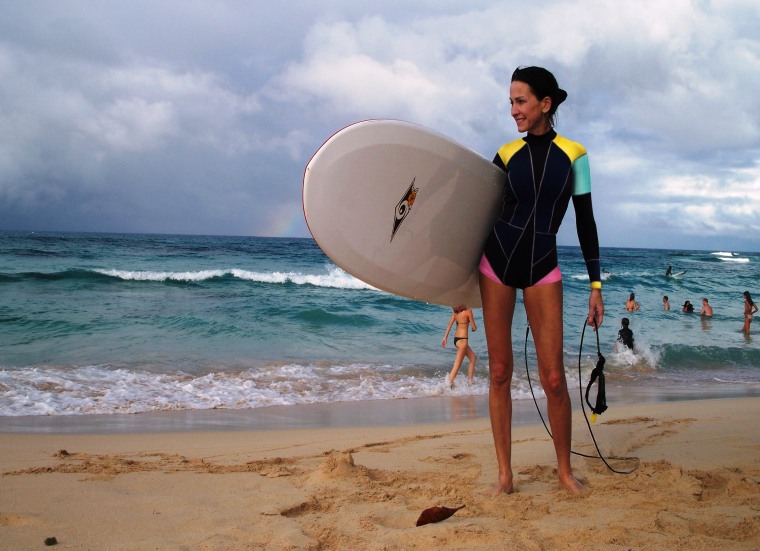 But don't worry about stylish surf wear simply being a fad: the fashion world seems highly invested in it for the long haul.
"We're committed to growing our surf gear collection for the long-term," says Rowley. "I think a lot of people are wearing our wetsuits not only for water sports but also just to wear on the beach."
That's right – you don't even need to ever get in the water to get in on this trend.

Rina Raphael is senior TODAY editor (and Witch's Rock Surf Camp alumni) who admits her interest in surfing was purely inspired by a desire to buy Cynthia Rowley's colorblock wetsuit.
More from TODAY:
Woman wears wedding dress around the world
Too stylish, too soon? Kid fashion blogs draw critics