Ever wonder how shampoo-commercial hair always looks so epic? The gorgeous, flowing locks on models, actresses and celebrities appear nearly otherworldly.
Or what about that shiny and silky color? Could we ever achieve that in real life?
We may never know how the ads above achieved those beautiful looks, but what are some techniques used in the industry?
TODAY Style decided to investigate and ask a few hair experts to share the secrets they've witnessed on set of various commercials.
Smoke and mirrors
Hairstylist Damon Givens has seen endless photo-shoot hacks. "Some examples include stapling hair into place, spraying hairspray on the brush instead of directly onto the hair, inserting Styrofoam balls to create shape, mixing glitter with gel to enhance light reflection and create the 'shiny hair' look, crinkling foil with heat to add texture or even using wooden sticks or textured cardboard to shape a bun," he shared.
RELATED: How to get the most asked-about hair on TODAY — in just 10 minutes
And that boxed hair color? The results aren't remotely as instant as they may seem. "I personally have experienced boxed hair color productions where a colorist spends 2-5 hours making the color perfect," said Miguel Angarita, master colorist at mizu new york salon, who worked with a name-brand hair line on their commercial.
Hairstyle geography
Pay attention to shot positioning. "When a shampoo commercial model is laying on the ground and it appears as though she's got tons of hair, there is typically a large piece of cardboard attached to the middle of her head with extensions taped on," shared Sheenon Olson, celebrity stylist and creative director for ATMA Beauty.
RELATED: Style your hair while you sleep and look good in the morning
That scene may be getting even more additional assistance. "This is often shot in front of a green screen while a guy in a green suit comes in and essentially moves the model's hair around to make it appear bouncy or windblown," said Olson.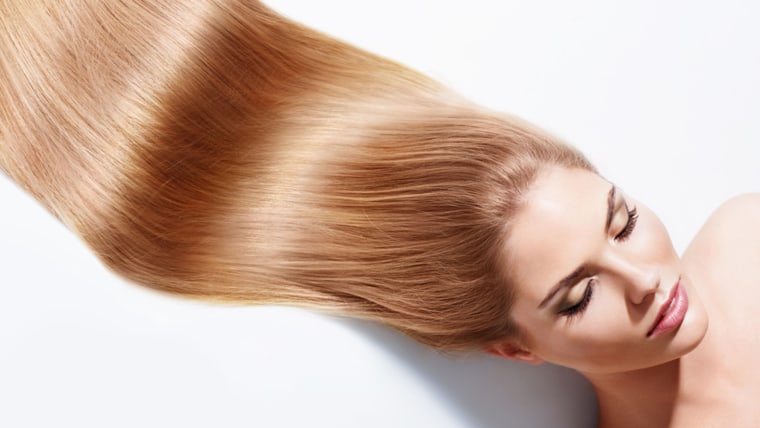 And those slow-motion flips take more than just fancy video editing. "In many shampoo commercials, a custom piece (that looks similar to a hockey stick) is used when the shampoo-commercial model is shot from behind flipping her hands through her hair," said Olson. "In the second before she puts her hand through her hair, an assistant will quickly flick the hair back with this piece — essentially ensuring that the hair moves evenly in a rounded shape, which is most attractive!"
The Beyoncé effect
"During hair commercials, the illusion of movement is faked by using huge fans. We call that the 'Beyoncé effect,'" said Angarita. Similarly, Angarita added, well-placed spotlights help create extreme shine and enviable light reflection.
RELATED: Royal hair! Get Duchess Kate's signature blowout in 8 steps
Body
The volume and body you see in commercials may not have been created with any hair product at all!
"One secret I have been using for years is to rinse hair with rice water," said celebrity hair stylist Peter Lamas.
To make the rice water, Lamas said he boils 2 cups of rice in 4 cups of water for about 15 minutes before removing the rice and saving the water in a bottle. Allow the water to cool completely before use. Squeeze out any excess rice water out, then apply a hydrating oil to damp hair. Dry it with a hair dryer, focusing on the roots using with a large round brush to create more volume, he advised
"The rice water is filled with vitamins and proteins and the natural starches act similarly to a setting lotion without weighing hair down," Lamas explained.
And that's not the only pantry item on set. "Olive oil spray is often used to make the hair really shiny," Olson said.
So, it seems like some on-set secrets can be used in real life ... if you don't mind using a salad-dressing ingredient in your hair.
RELATED: People and TODAY Beauty Awards 2015 reveal the hair product winners