When Iris Apfel enters a room — or a Zoom in this case — she commands attention.
The 100-year-old fashion icon is sharply dressed in an aqua and green jacquard suit with pea-pod embroidery that includes pearl peas — a look from her new H&M collection. In classic Apfel style, her neck is draped with multiple beaded necklaces (some shaped like her trademark oversized glasses) and there's bangles upon bangles on her wrists.
Noting that she's cold as she gets settled, a bright orange feathered coat is draped over her shoulders — the perfect piece to bring together her colorful ensemble. The beloved centenarian hasn't stopped working and was eager to talk about her latest project with the Swedish clothing company.
"I'm excited myself. I think H&M did such a splendid, superb job in translating what I had in mind," Apfel told TODAY during a video interview about the collection that celebrates "a century of personal style."
The new line embodies everything that Apfel stands for: mixing textures and patterns, bright and bold colors, and taking risks with over-the-top silhouettes.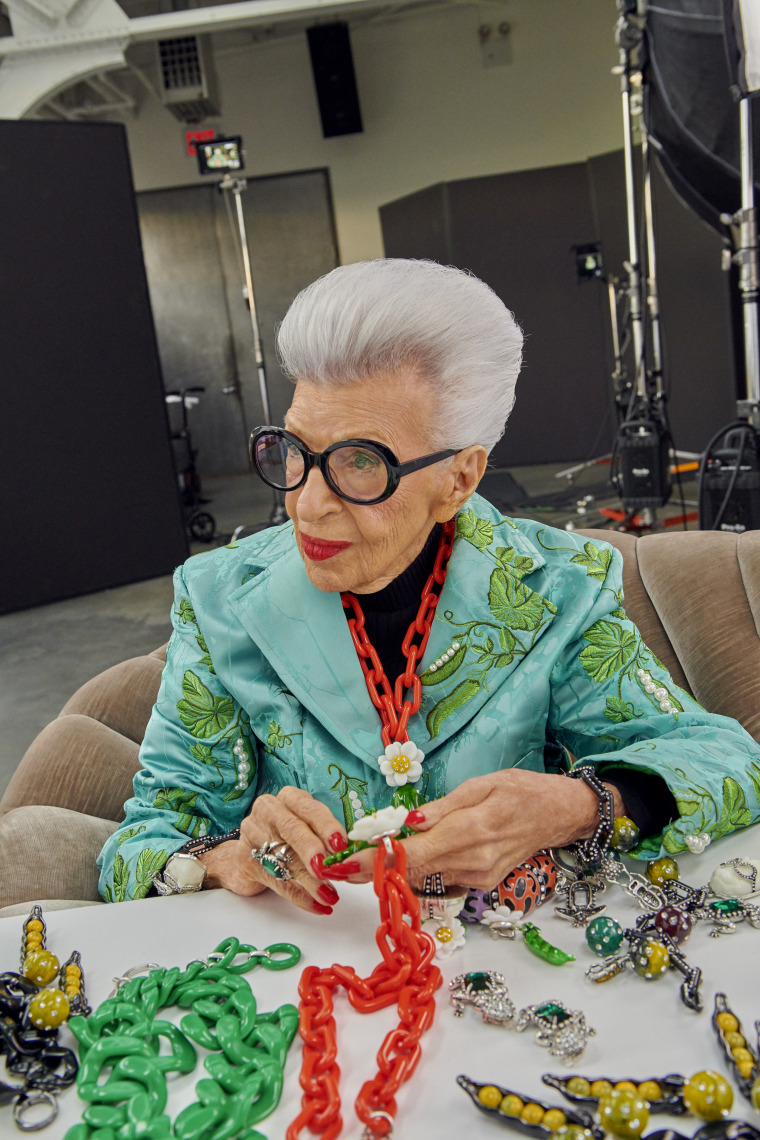 With something "for everybody young and old," as Apfel described it, the "playful" and "very happy" collection includes statement pieces like a billowing violet jacket made from tulle swirls, a floral print tiered maxi skirt with a matching blouse, and a yellow-and-purple lounge set with fringe detailing. There's also bright mini dresses, flowy kaftans, a swimsuit that pays tribute to her signature spectacles and 100th birthday. 
Of course, it wouldn't be an Apfel collection if there weren't dramatic accessories and slippers that matched the suits.
"I don't know where my inspiration comes from. I'm experimental, I'm curious, I like to try new things. I do what feels right. I improvise," Apfel said in response to her inspiration on designing the collection. "Sometimes it works, sometimes it doesn't. But it's always exciting."
And exciting it is. The collection, which dropped April 14 in the United States, sold out overseas after its March 31 release. (By the time of publication of this article, most of the line was already sold out stateside as well.)
"Oh, I couldn't believe it! Every time they call me and say, 'Lines around the block, five minutes all sold out.' Wow," Apfel expressed putting her up and clapping with joy.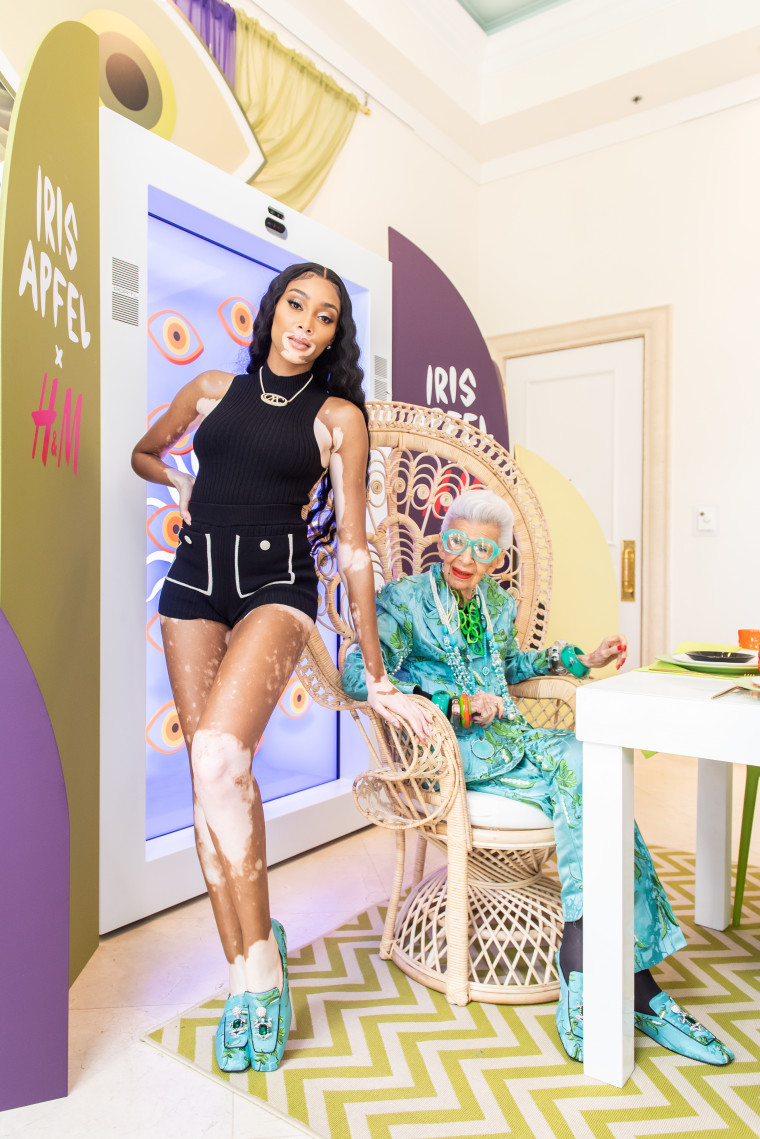 An 'accidental icon'
One could say the response is just what is expected for the New Yorker, born on Aug. 29, 1921. Apfel calls herself the "accidental icon" — that's also the title of her 2018 biography — but there's no denying that she's made an impact in the fashion world.
Over the course of her 100 years, she's held many roles and job titles. Her love for textiles began when she was a young girl playing with leftover fabric scraps while at her grandparents' home, per CNBC. She credits that time for helping her hone her artistic eye.
Apfel has been a copywriter for "Women's Wear Daily" and in 1950 founded the textile firm Old World Weavers with her late husband Carl Apfel, who also lived to be 100. She's also been an interior designer for nine presidents from Harry S. Truman to Bill Clinton, a model and author.
Throughout it all, she's never shied away from being her true self and wearing outfits that make her stand out from the crowd.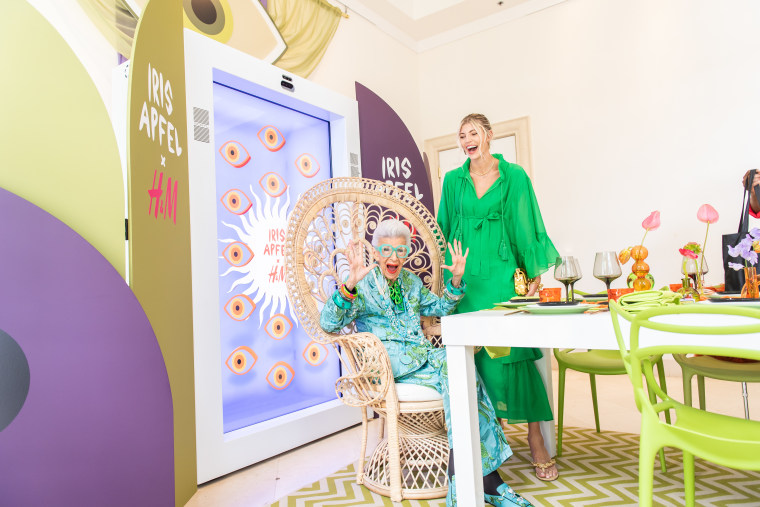 Her life motto when it comes to her career and look is: "I just do what I feel."
"I don't verbalize it. I just feel it. If it feels right here," she continued, pointing to her heart, "then it's right."
Apfel strives for individuality, dislikes trends, and believes the biggest fashion mistake one could make "is looking in the mirror and seeing somebody else."
"It happens so often," she said. "People just don't know who they are and they try to be like everybody, and it's very sad."
And that's why she thrives in a creative space because she's always wanting to "keep it fresh and exciting."
"Oh, I love to work. It's fun because I enjoy it," Apfel stated. "And then I can help people. I can give employment. People tell me I inspire them. So many good things come out of it. I think retiring at any age is a fate worse than death. Just because a number comes up doesn't mean you have to stop."
"Just because a number comes up doesn't mean you have to stop."
IRIS APFEL on why she'll never retire
Certainly turning 100 last August didn't stop her from continuing to share her artistic talents with the world.
"I didn't change overnight because the number changed," she boasted about her lifestyle. "I want to keep on working and doing different projects. I'm going back to doing some things for the home. I'm doing some more charity things."
She added, "I love giving back. If God is good to you, you have to give back."
'I hope everybody likes them'
Whether it's through charitable work, her numerous brand partnerships or the flamboyant H&M collection, Apfel is giving fashion lovers the chance to step into her world. She hopes people can get their hands on at least one item before it inevitably sells out again.
"I love every piece for different reasons. There are jackets you can't compare to pajamas. I mean, they're all different for different purposes and I like them all," she said of her favorite pieces. "I hope everybody likes them. Obviously they do because they're flying out (the door)."
With already so much success with the overseas launch, Apfel wouldn't be opposed to doing another collection. She noted that she designed more items that didn't make the final list.
"My two wonderful ladies who take care of me keep looking (online) because there were different pieces that they had their eye on that weren't made yet," she said. "So if they would make them it would be lovely."
When told that her next project could be owning her own clothing brand, she laughed and replied, "Oh I could, but I'm a little old to start a business."
Many would disagree.