For Los Angeles residents Jessica Izzi and Brian Reiter, incorporating personal style and music into their wedding wasn't so much a choice as much as it was an extension of themselves.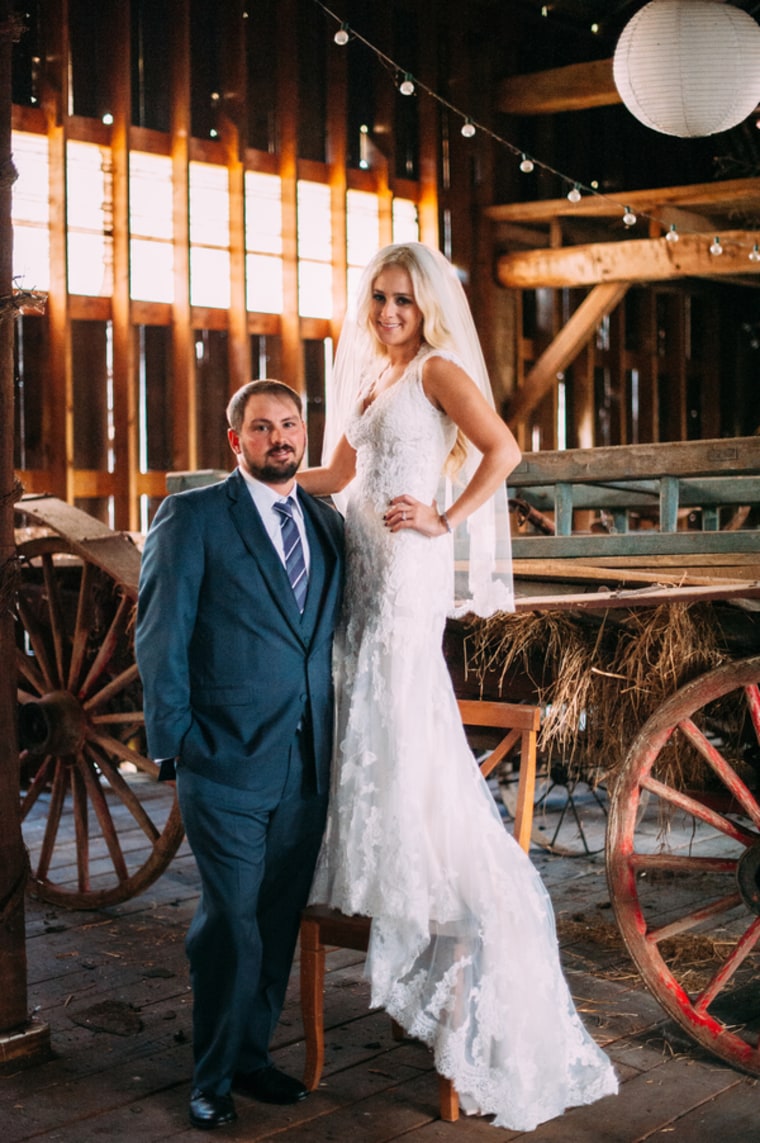 Izzi, a wholesale fashion sales representative, and Reiter, a show department manager for the live-event production company Centerstaging, met in 2005, when Izzi visited Reiter's roommate in L.A.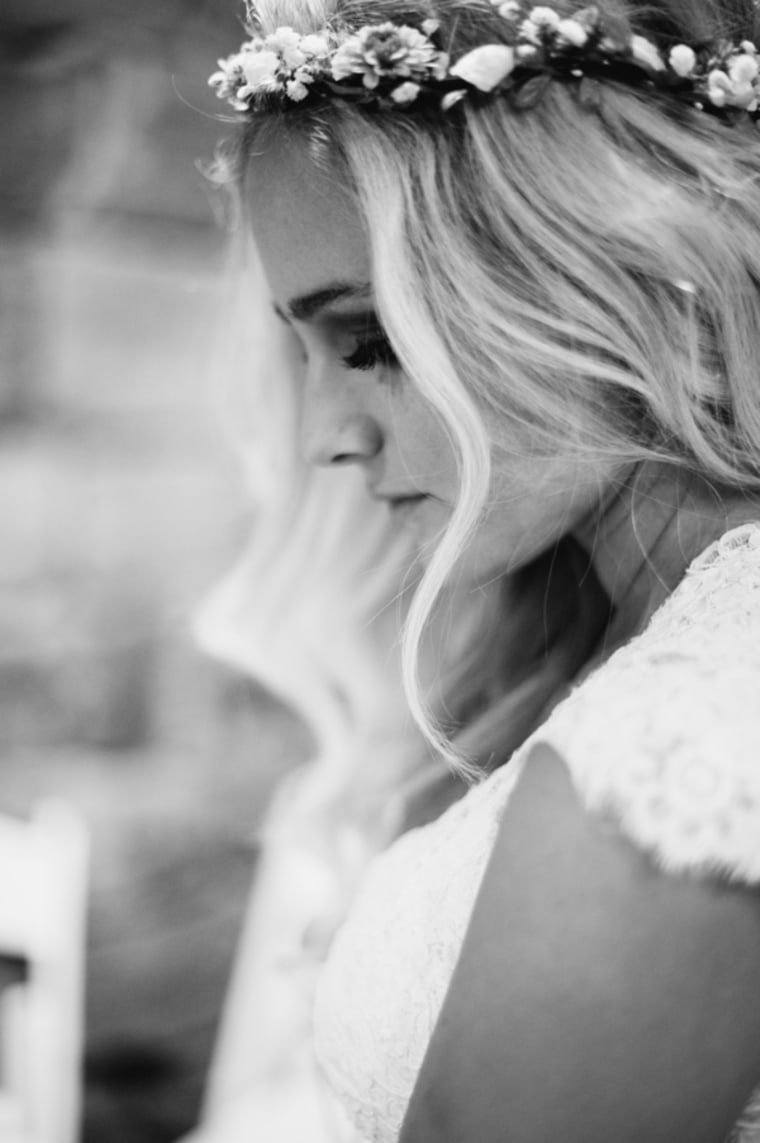 "I thought she was stunning," Reiter, a 31-year-old Chicago native, recalled via email. "The most beautiful girl I have ever laid eyes on."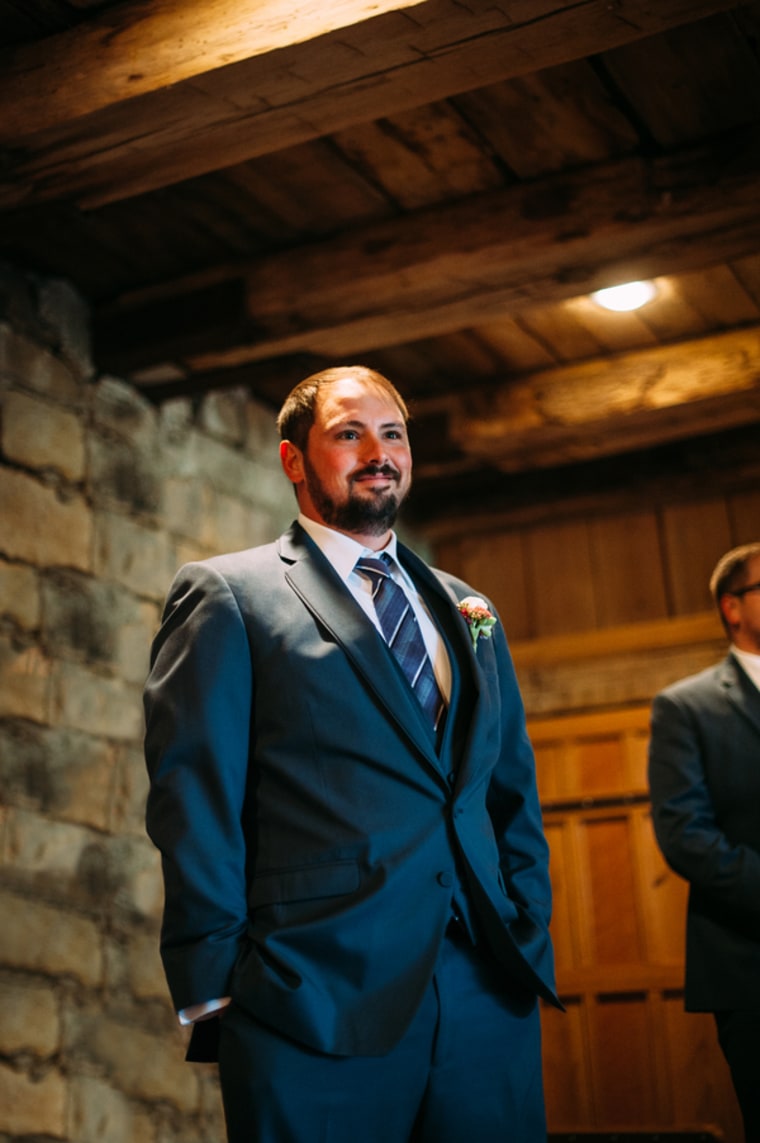 They became acquaintances, but when Izzi returned to L.A. in 2008 for a senior-year internship at a music management company, they discovered next-level harmony. "We did the long-distance thing for a year," Izzi, 27, said. "Then I was right back out here, three days after I graduated."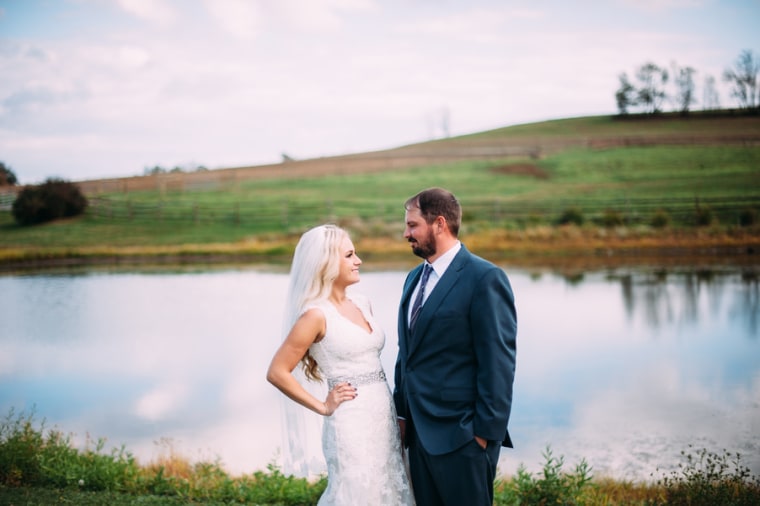 Reiter proposed in Burbank Dec. 14, 2012 – the day before Izzi's birthday. "I never expected a proposal [near] a birthday or a holiday," she said. "We went to this restaurant [The Castaway] that overlooks the San Fernando Valley. You can see the planes flying and everything. That night happened to be really rainy and cold. We sat out back, by a fire pit, and he had wine waiting, and I was like, 'I know something is up.'"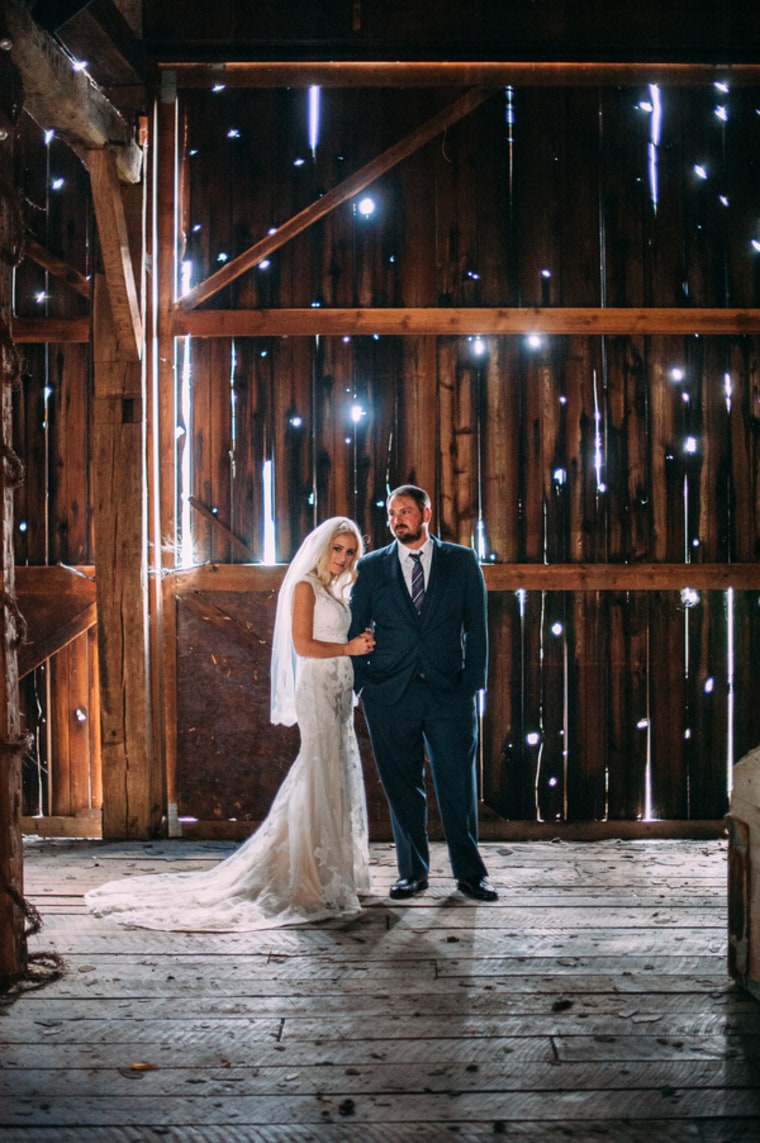 Reiter said he was nervous about how everything at the restaurant would be set up, but he was confident about one thing: "I knew she would say yes."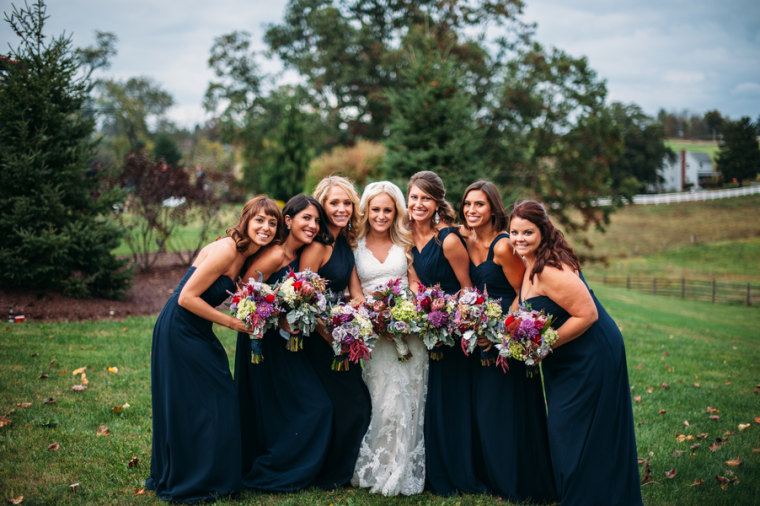 Izzi was rather certain about the wedding dress she wanted: a Maggie Sottero gown she'd bookmarked in a bridal magazine and finalized soon after trying it on.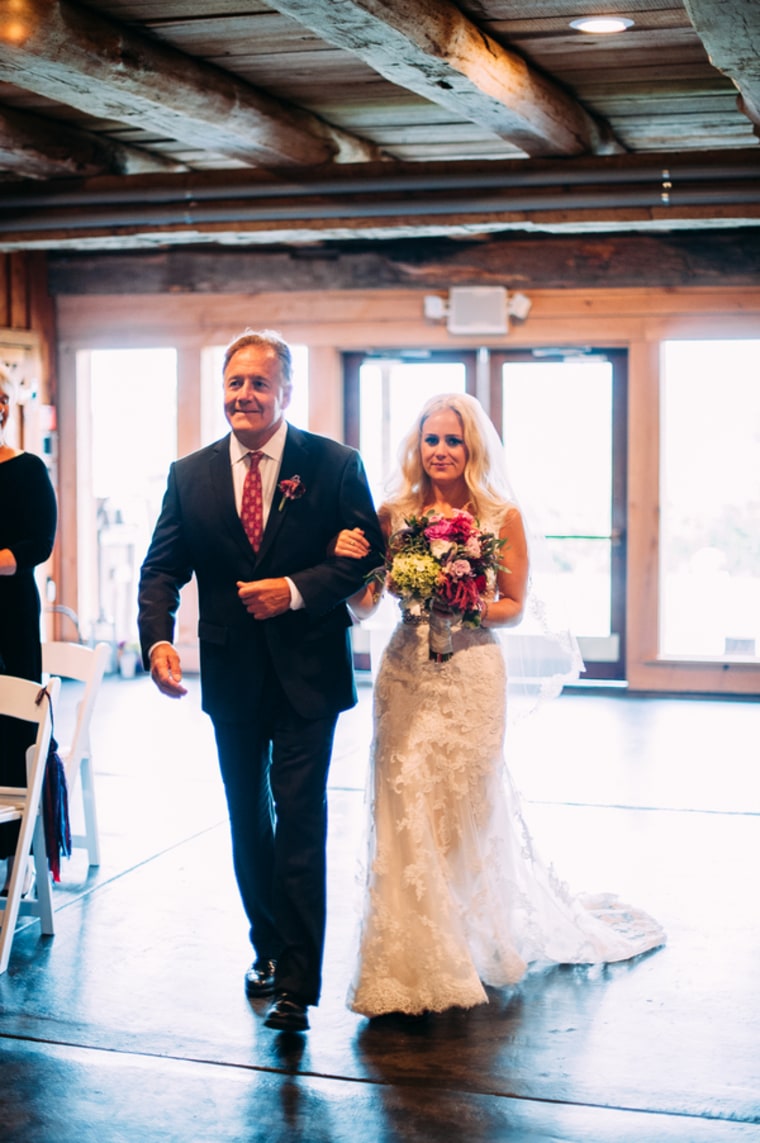 "It was all lace, really vintage-looking," she said. "And one of the best things about it was when I put it on, I was really comfortable."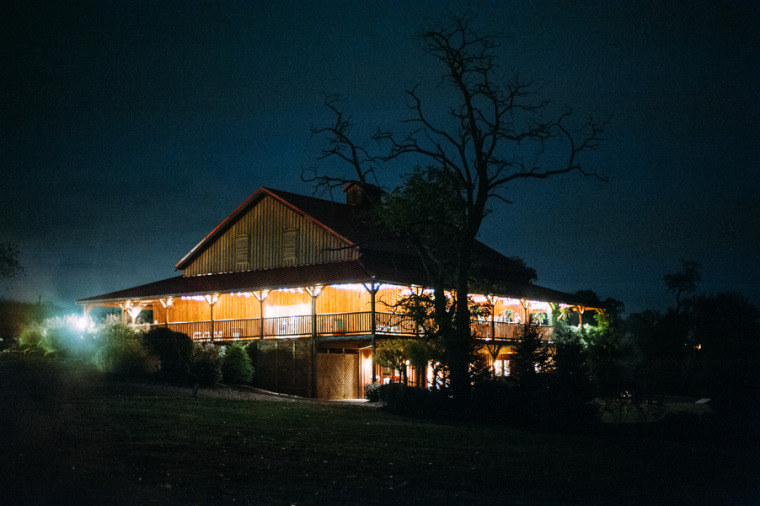 The couple held their wedding ceremony and reception Oct. 4 at the Fieldstone Venue of Armstrong Farms in Sarver, Pennsylvania – about a 40-minute drive from Izzi's hometown of Pittsburgh. "We chose that because it was easy to do all of it in one place," she said. "I wanted to find something a little bit unique."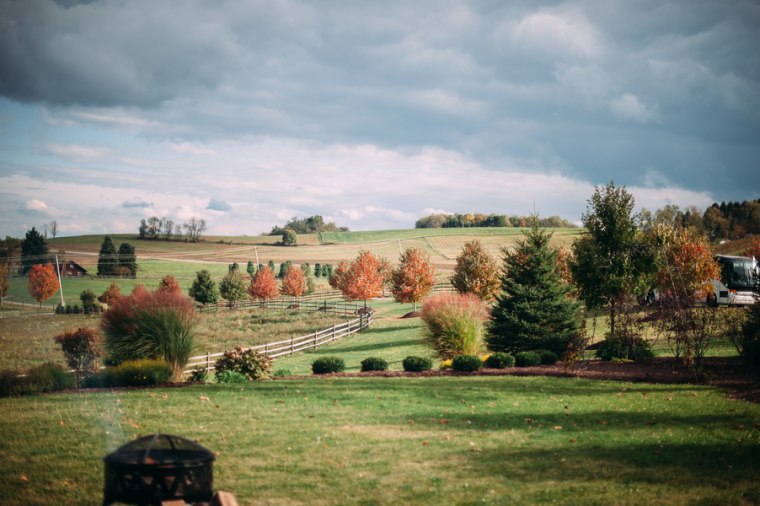 Reiter also praised the location for its "beautiful landscape."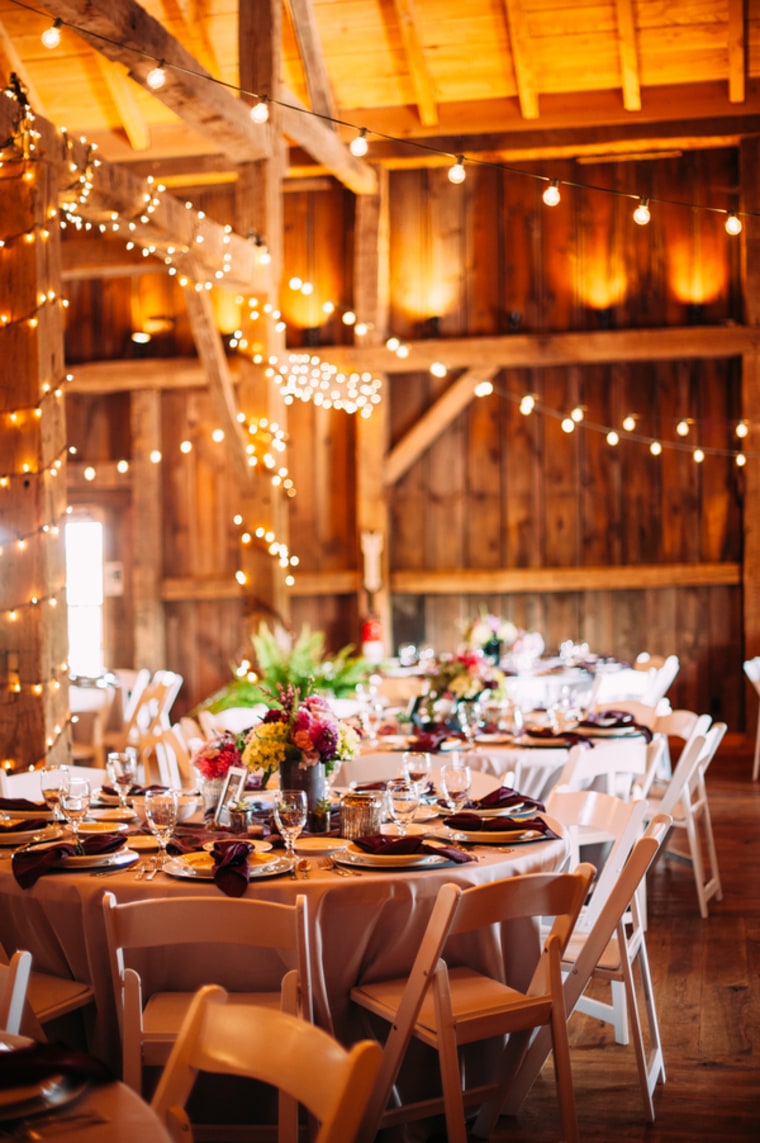 For décor, Izzi brought plenty of do-it-yourself ideas to the table – and to everything else inside the barn. "I wanted it to be vintage, but with a little edge to it," she said.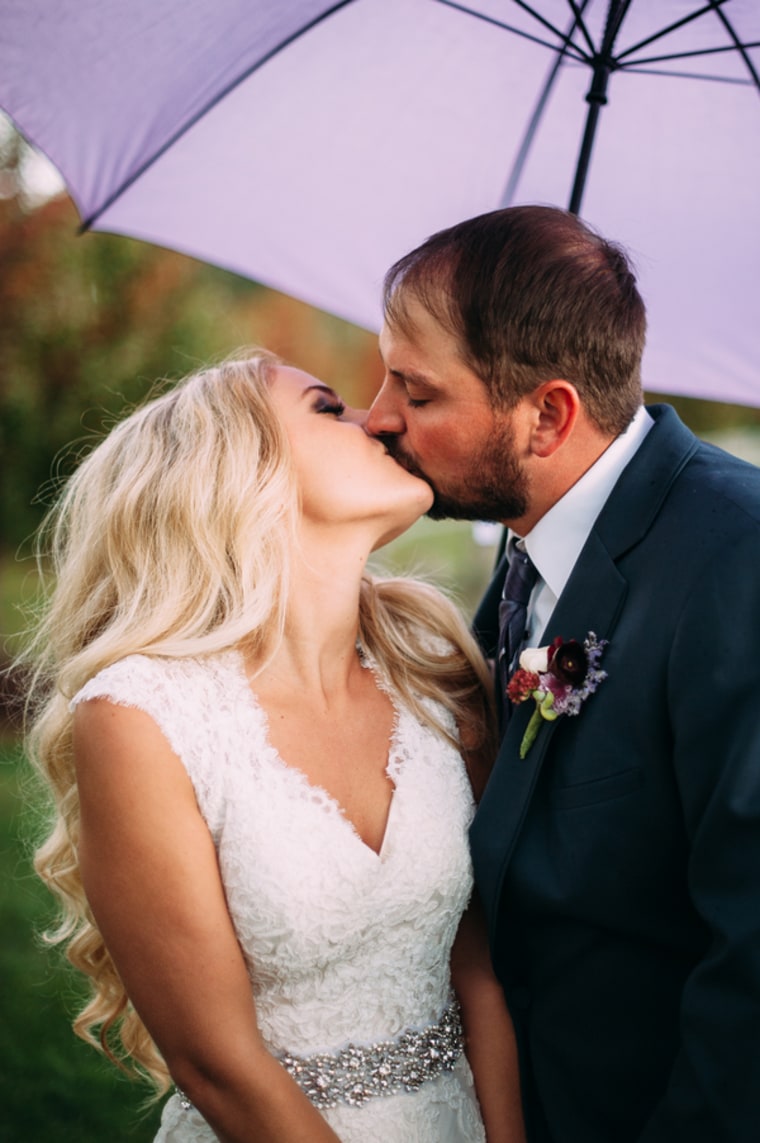 She also wanted it to be colorful. "I love purple," she said. "My husband was initially against it, but he came around when he saw what I was doing. I told him we were doing navy blue, too, so, he said, 'Oh, OK.'"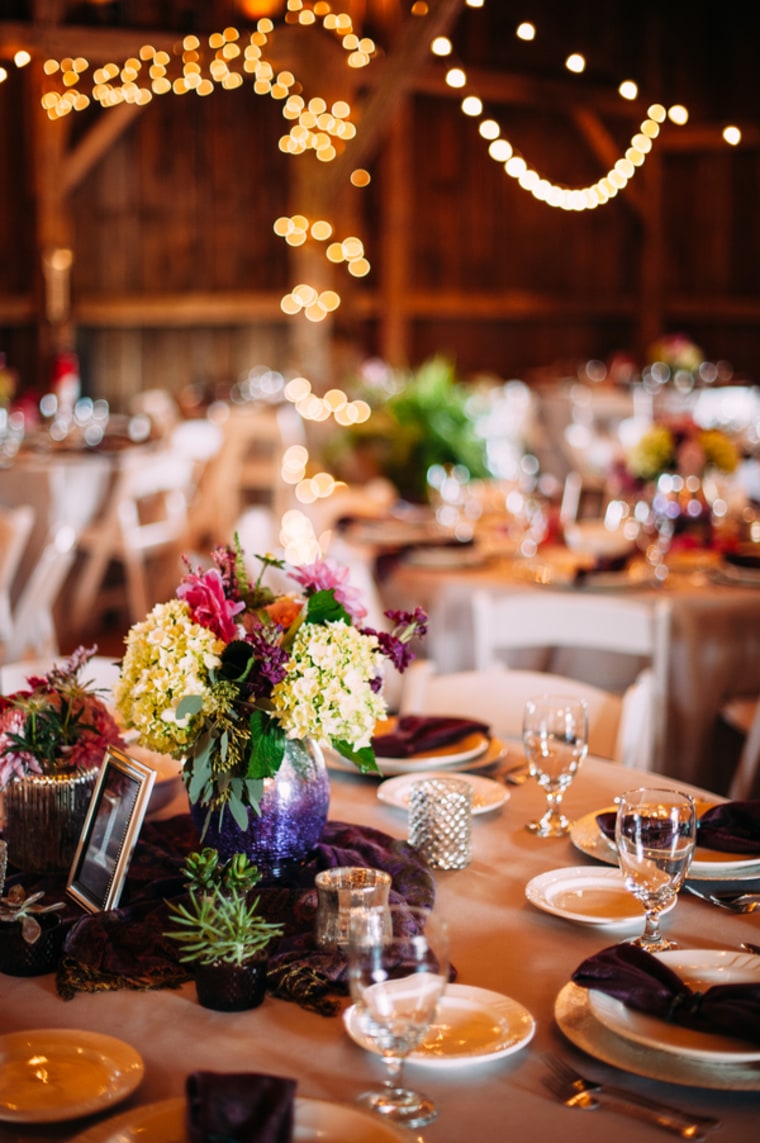 Izzi and her mother searched everywhere from the Rose Bowl Flea Market to discount department stores to find all the votive candles and vases that gave each table a unique look.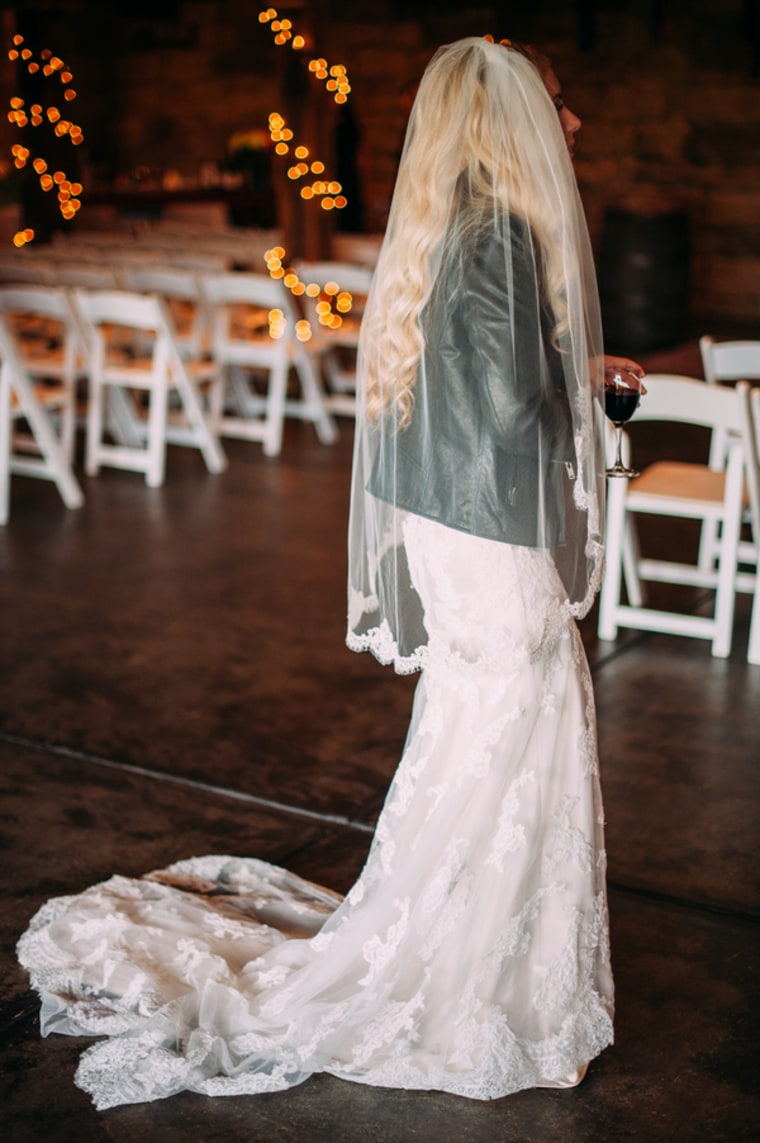 Although the weather had cooperated all week, it rained the day of the wedding, chasing the ceremony indoors.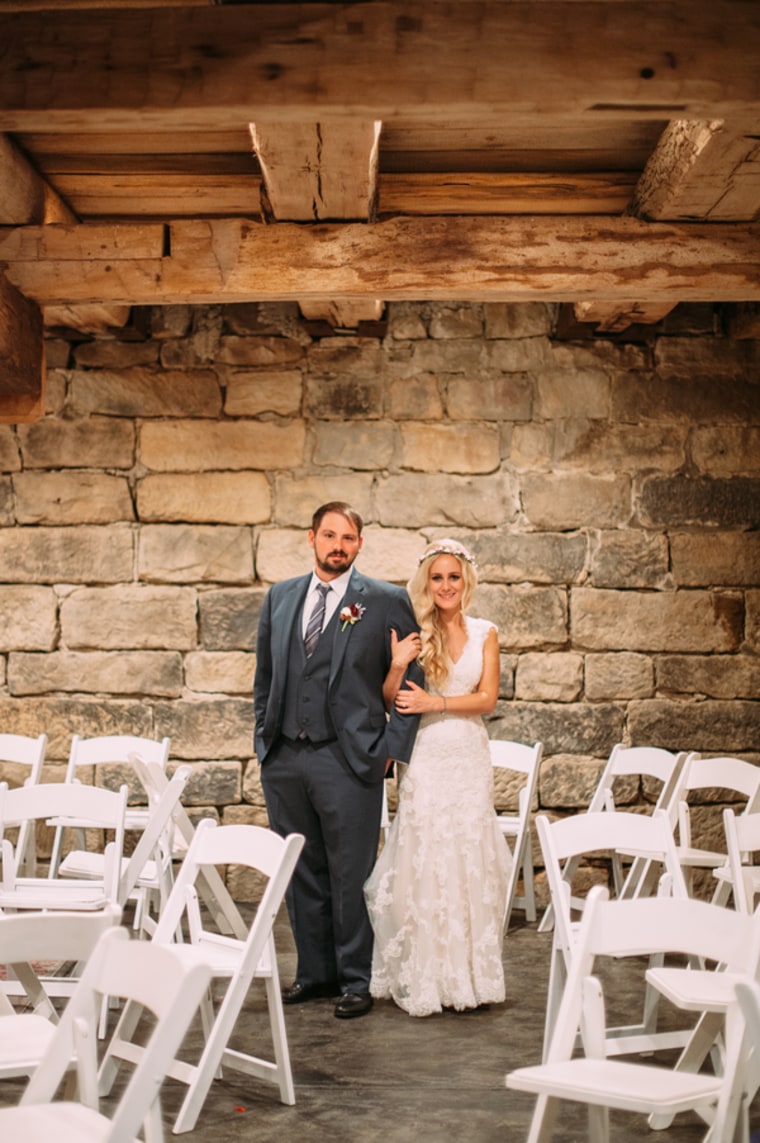 In honor of the couple's shared appreciation for music and an Izzi wedding tradition, the event encouraged audience participation.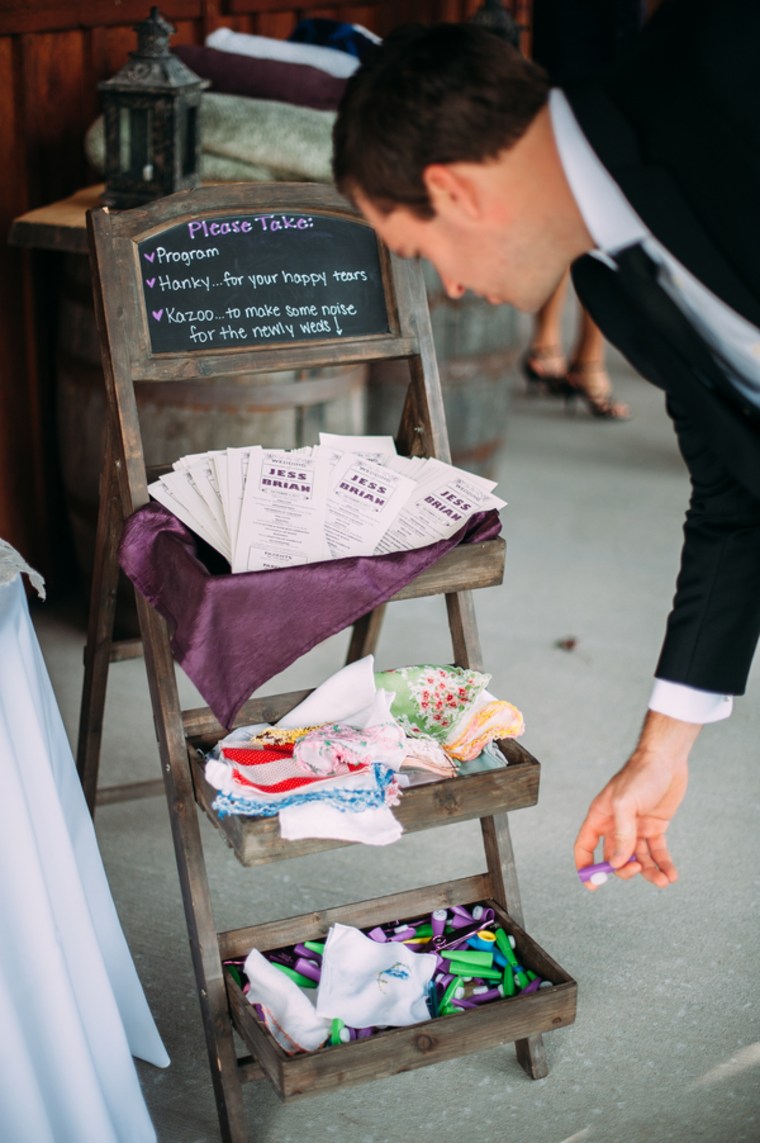 "Once we kissed, they played, 'All You Need Is Love,' and everyone played kazoos to it," Izzi said. "At my parents' wedding reception, my grandfather brought kazoos, so, I wanted to honor that."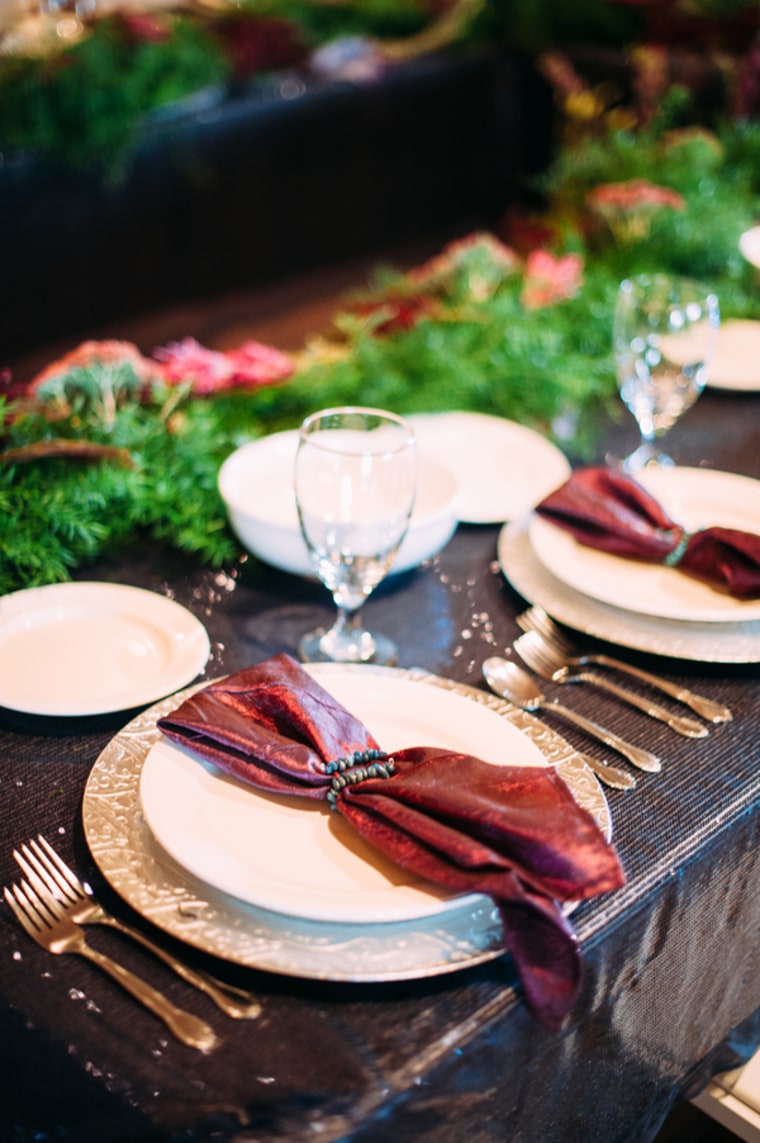 Izzi's mother and sister chipped in to make the reception's napkin rings accented by gemstone slivers, ranging from amethyst to turquoise. "Everyone wound up wearing them as bracelets, all through the night," Izzi added.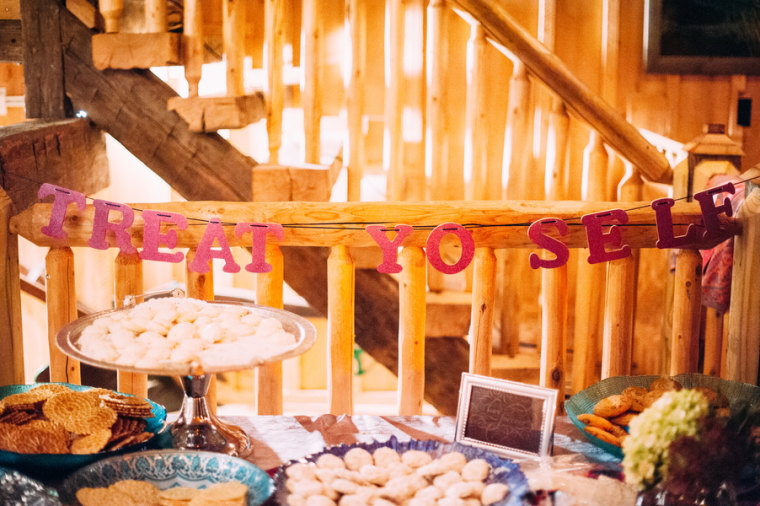 For the "Treat Yo Self" dessert table, she found block letters at local craft stores and made them sparkle with a little help from Reiter, who drilled holes into them so that they could be strung together.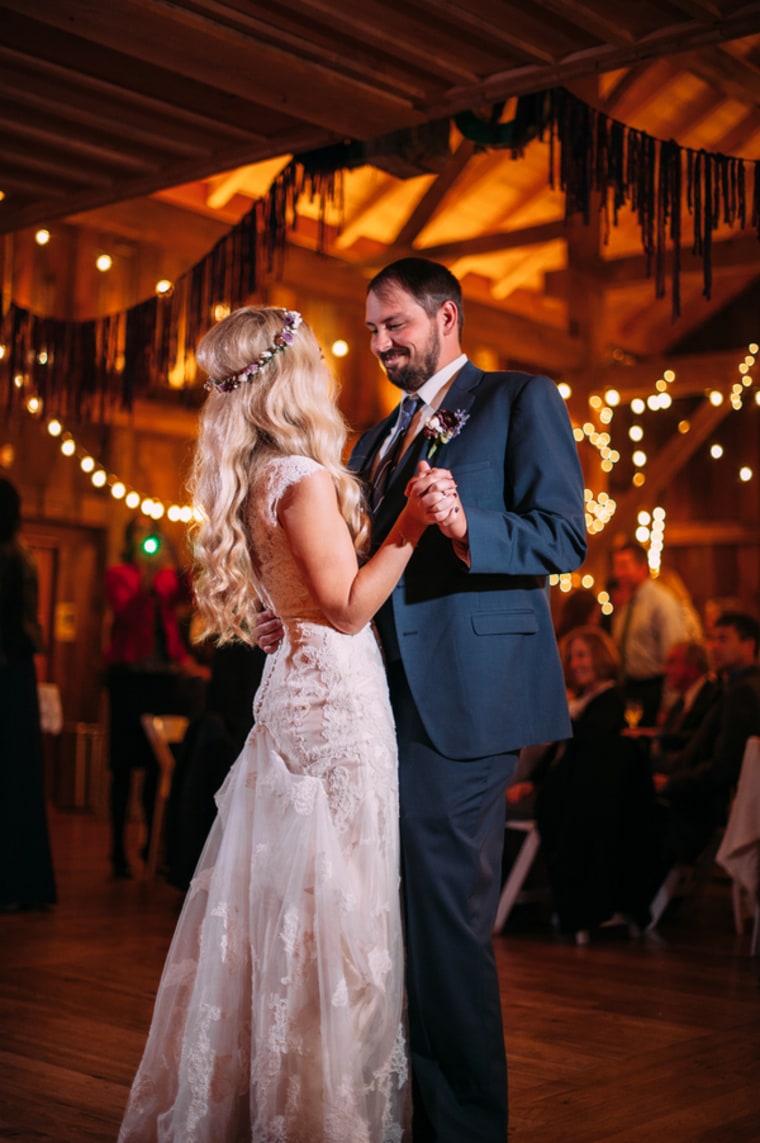 Izzi even finished one D.I.Y. project within hours of her own ceremony. "There was a long tassel garland that hung from the balcony, and I actually made that the morning of the wedding," she said.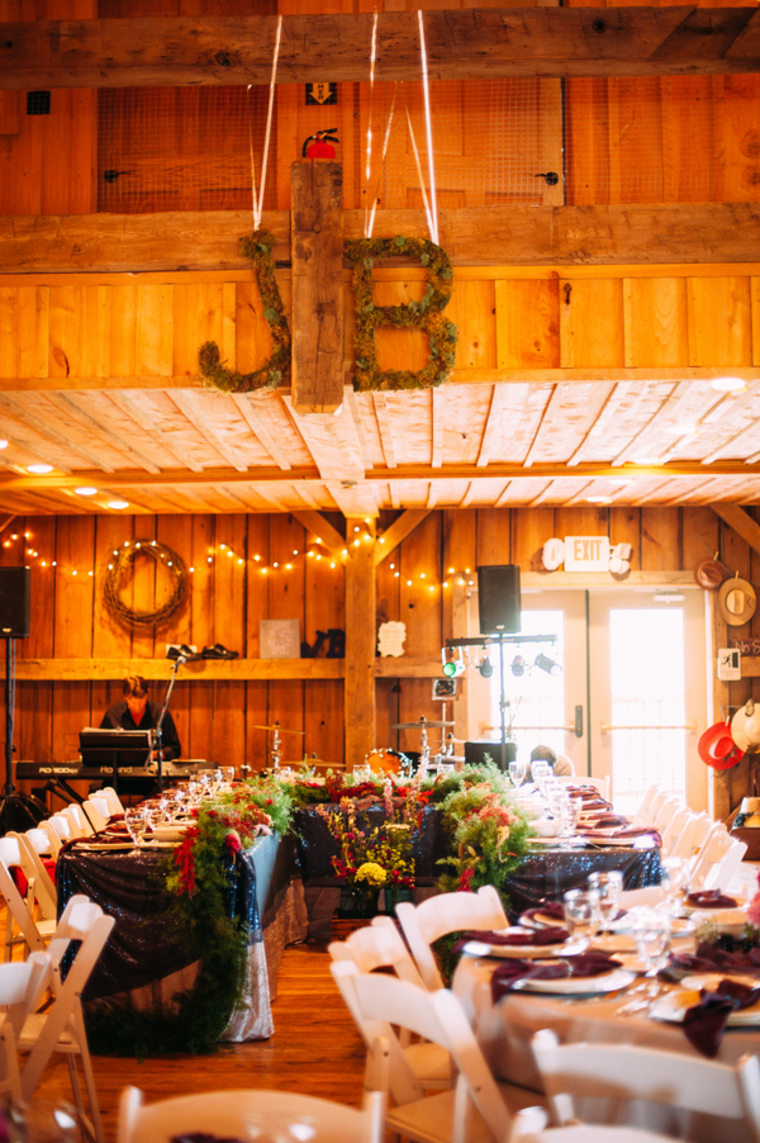 Bringing live music and DJ skills to the event was Joel Lindsey, who played plenty of classic-rock and pop hits that attracted many of the event's 140 guests to the dance floor. But for the couple's first dance, Lindsey played "All Over Again" by Sharon Jones and the Dap-Kings.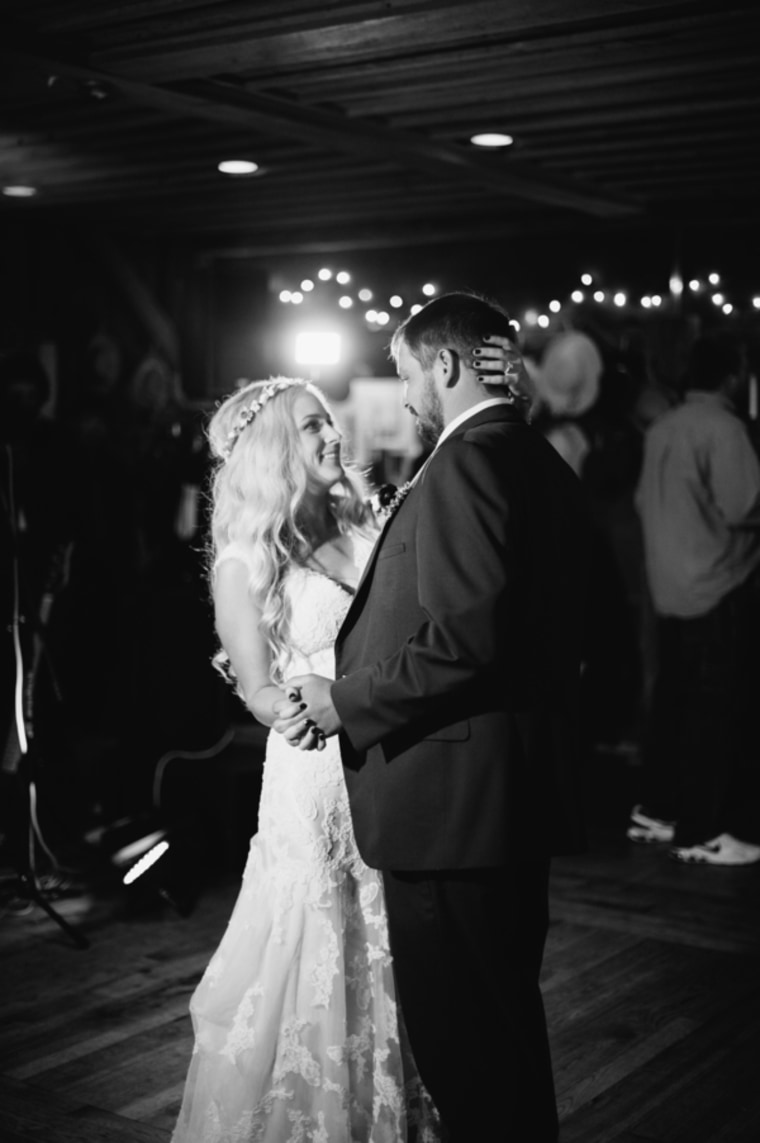 "When we were first dating, that summer, we saw them at the Hollywood Bowl," Izzi recalled. "We both loved her so much. … It means a lot to us, because the day after [Reiter] said, 'I love you,' we went and saw that [concert]."
As a fashion enthusiast, Izzi gave her guests a chance to strut with the chapeau of their choosing. "Originally, I planned to have my wedding at my cabin, which is in the middle of Pennsylvania, but it's just too hard for people to get there," she said. "So, to bring the cabin to the venue, we did a hat wall. At my cabin, we have this hat wall, and you basically choose a hat for the weekend, and that's the one you wear — and they're all funny hats. So, we did a hat wall at the venue. When people were dancing, they had all these funny hats and wigs to put on."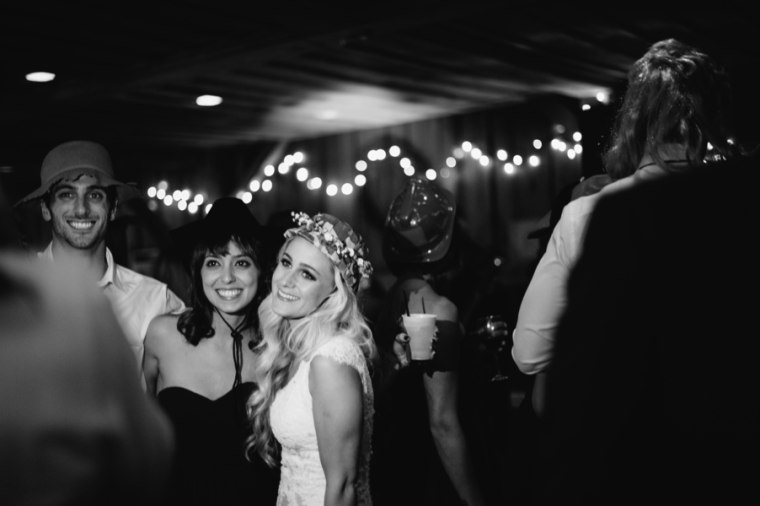 Attendees may have appreciated all of the nuanced details and personal touches, but the couple's top priority was making sure the night itself topped the charts.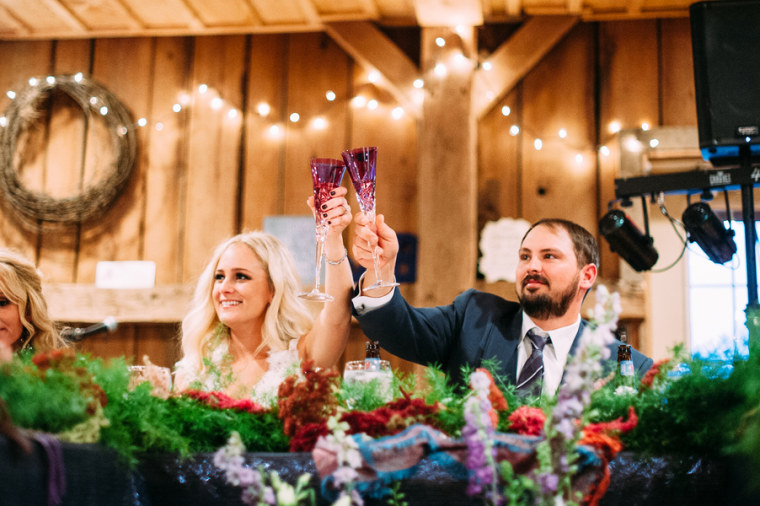 "I wanted a big party," Reiter said, "and not an uptight wedding where people pretend to have fun."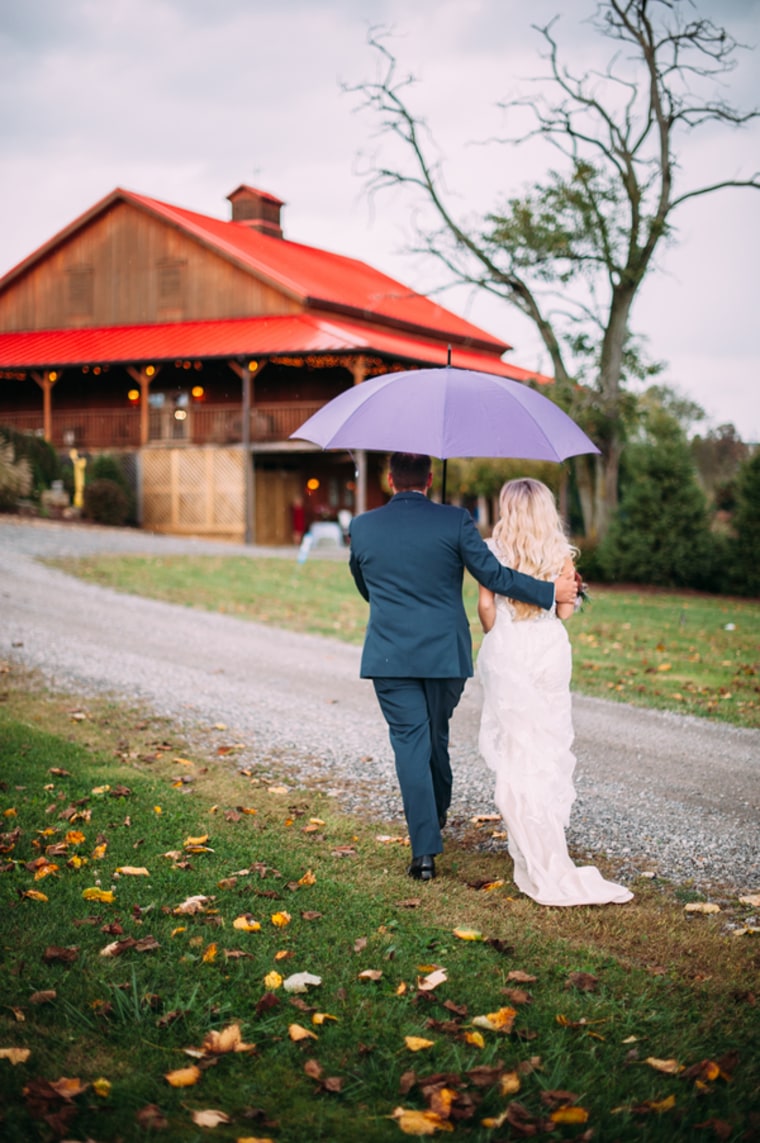 All photos provided by Veronica Varos Photography. Check out more TODAY real weddings here. Follow TODAY.com writer Chris Serico on Twitter.