Monday night's Emmy Awards will bring a flurry of discussion over not just the nominees and winners — but also, what they wore. And there's at least one actor set to walk the red carpet who's hoping his outfit will be the talk of the town.
"I'm super, super stoked to dress up (for the Emmys), but what I'm doing is I'm actually going to be wearing sneakers with my suit," Gaten Matarazzo of "Stranger Things" told TODAY in an exclusive video. "There's a reason for this!"
Matarazzo, known as Dustin on the hit show, will sport sneakers that have the label "CCD Smiles" as well as a giant smiling face — the name and logo of a nonprofit that helps children with a rare genetic disorder called cleidocranial dysplasia, which the actor himself has.
The disorder affects the development of a person's bones and teeth. When he discussed it in 2016, Matarazzo revealed he was born without collarbones, had to undergo several surgeries and still had his baby teeth at age 14.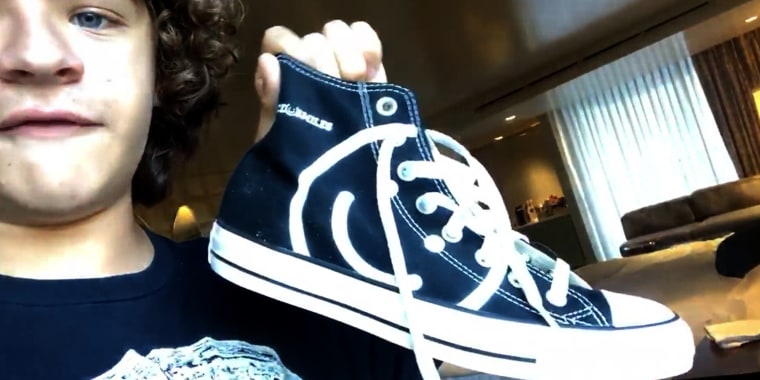 "That is the logo and name of my charity organization that helps people with cleidocranial dysplasia," the actor, now 16, says in the video. "The organization is to help people who can't afford the medical procedures they need to be done because of the condition."
According to the National Institutes of Health, cleidocranial dysplasia occurs in approximately 1 million people worldwide and often goes underdiagnosed. It can be costly to treat, researchers say.
"I'm very, very excited that I'll be wearing these, representing my organization at the Emmys," he adds. "So I hope you guys tune in!"