/ Source: TODAY contributor
The world we live in is full of creativity — and crazy concepts! From unexpected fashion to technologically advanced beauty, I've taken note of today's most interesting trends.
Whether you're inspired to hop on board Hollywood's bunny-ear bandwagon or are simply intrigued to learn women aren't the only ones buying body-shaping clothing, these ideas are bound to pique your interest and leave you with plenty to talk about!
Hollywood's haute earsCelebs are hopping around Hollywood in bunny ears! From the lacey Maison Michel headbands that the Olsen twins and performers Lily Allen and Lady Gaga wore to Madonna's Louis Vuitton rabbit ears, stars are embracing this playful haute hair accessory.  And if bunny ears are too avant-garde for your everyday look, perhaps these designer creations may inspire a fashionable Halloween costume — just pin the tail!
Savvy solutionsThese innovative products had me saying, "I wish I had thought of that!" On the Cuff's sponge bracelets ($7.99; onthecuff.net) stop water from running down your arm when you're washing your face, doing the dishes or cleaning the car, while Shadow Shields will help you to apply eye makeup like a pro ($9.99; beauty.com).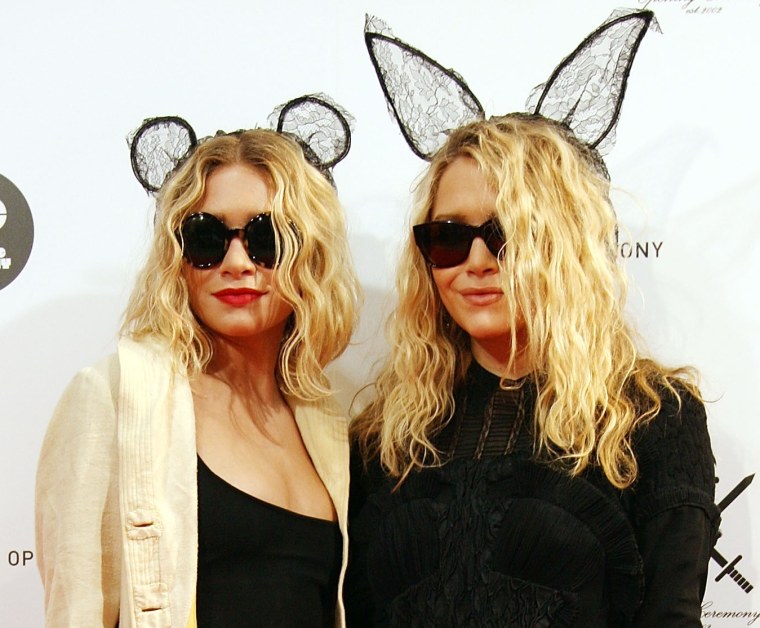 Chest-A-Peel's pillow pads aim to prevent creasing and reduce wrinkles while you sleep ($34.99; chestapeel.com). Ja'Maal Buster's Placement Tool will help you apply false lashes perfectly that will look as flawless as the ones on his famous fans ($10; JamaalBuster.com). And for a perfectly groomed bikini line, Peeka Bu Mirror makes it easy to see what you're doing down there ($35; peeka-bu.com).
Nail newsIt seems our fingertips are the hottest accessory imaginable these days! Trendsetters such as Rachel Bilson and Alexa Chung have been making beauty buffs everywhere green with envy all summer long when stepping out in Chanel's Jade nail polish ($25; Chanel counters). The lacquer made its debut during the label's runway show back in February, and is now finally available in stores. And Chanel's upcoming charcoal-gray color already has a strong buzz, even though it's not set to debut until later this fall.
Aside from color trends, OPI is playing with texture. The brand took favorite shades from the past and gave them matte finishes. And the same six shades will be available in suede starting this month as well ($8.50; opi.com). And what's my personal favorite choice for nails right now? Hello Kitty nail stickers, of course.
Fancy feetEmbellish your simple stilettos or basic boots with Litter's "shoe jewelry." This new line of adornment popped up just in time to kick off a fabulous fall season of fun footwear trends. Consider it a great way to temporarily transform your plain pumps into edgy eye candy using chains, studs and spikes ($70-$245; littersf.com).
Smart makeup trend
Top designers at New York Fashion Week Spring 2010 sent down an array of unique, odd and downright bizarre styles.
While the beauty industry is struggling, big brands are coming up with innovative ideas and technologically advanced products to keep consumers interested. Revlon's Beyond Natural Skin Matching Makeup ($12.99; drugstore.com) and Almay's Smart Shade Makeup ($13.99; walgreens.com) are taking some of the guesswork out of matching your makeup to your skin tone. Both come in just a few base shades and are designed to blend into your skin and adjust to your natural pigment.
Smashbox's O-Glow and O-Gloss claim to be "intuitive" products that react with your personal skin chemistry. O-Glow turns your cheeks the color you blush naturally, while O-Gloss transforms into your own custom shade of perfect pink ($22-$26; smashbox.com).
And while it isn't in stores yet, be on the lookout for Lancome's Ôscillation Powerfoundation, which launches in October. This mineral foundation vibrates at the press of a button, breaking down the powder into micronized particles that blend seamlessly into the skin ($48; lancome-usa.com).
Style secrets for menLadies have depended on padded bras, Spanx and platform shoes to help flatter their figures for years — and now guys are getting in on the action. Hollywood hunks such as Tom Cruise, Shia LeBeouf and "Entourage" stars Jeremy Piven and Kevin Connolly are wearing LiftKits shoe insoles to get an extra two inches of height ($20-$25; myliftkits.com).
Beyond a boost in height, men are also looking for a little help when it comes to their shape. GearCom provides waist-slimming boxers that help conceal love handles, while Calvin Klein ($15-$22; cku.com) and Go Softwear feature products with extra padding to help round out a flat rear and even fill out a T-shirt ($19-$35; Gosoftwear.com)!