Fourth of July is right around the corner, which means it's time to prepare our wardrobes for stylish and patriotic looks. But how do you join in on the fun without looking like a walking flag? Two words: nail art!
Nothing says, "happy birthday, America" quite like a set of festive digits. We've rounded up six of some of the best options out there.
Classic Americana
The first choice is always be classic Americana. You can never go wrong with a simple red, white and blue palette! To get really trendy, add some glitter or stars to brighten up an accent finger.
RELATED: Nailed it! Presidential campaign nail art takes off on Instagram
Wonder Woman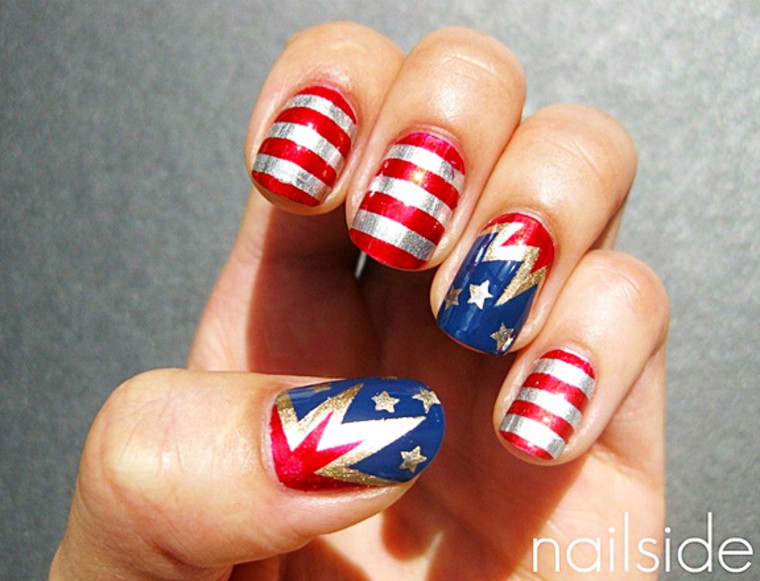 The Wonder Woman theme isn't just reserved for Halloween parties or comic book conventions. Show off your super powers with this comic book-inspired design.
Stars and stripes
This DIY nail art is adorable! You never can go wrong with a classic, flag-inspired design for the Fourth of July.
Star-Spangled fingers
Glitter, glitter, glitter! This shiny color is especially fun when it's in honor of the stars that were gallantly streaming!
RELATED: 11 nail art designs, tips and ideas that will make you love the look
"Gel" bless America
Gel may be the nail industry's greatest creation, so what could be better than patriotic-themed gel nails? This polish will give your nails some extra shine and a refined finish.
Ombre stars
Everyone knows that ombre looks great hair, but what about nails? Use combinations of red, white and blue to get the full patriotic effect.
Low-key nautical
Nautical stripes are never a bad idea for summer. Wear them as a salute to the marines or an ode to America's storied past on the great seas.