Newlyweds Mike Able and Laura Gibson had known each other for six years before they had their first real conversation. But after that, things moved pretty quickly.
Though the couple went to college together, their first real chat didn't happen until they ran into each other at a friend's party. Over chips, dip, and the roar of a college bowl game in the background (North Carolina versus Tennessee, as Laura recalls), it became clear to Laura that Mike had his priorities straight: family first, then football.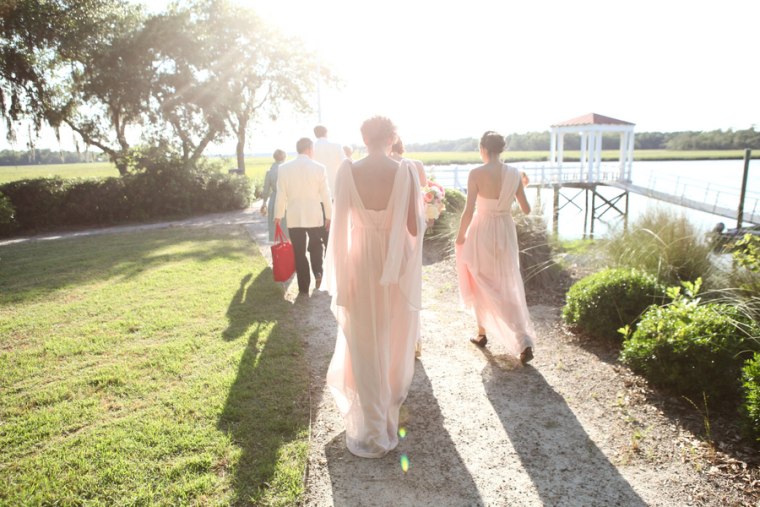 "That was the first time we'd sat down and talked," she says. "I saw his closeness to his parents. And I love to talk about college football, so that kind of solidified it for me. He still jokes that I'm way more of a football fan than he is."
Before that moment, however, things between the two hadn't exactly been warm.
"If you ask him, he'll say I hated him," Laura says with a laugh. "I didn't. But, to be honest, he was dating someone I knew really well, so I only heard the bad side. If you'd told us then we'd be married, neither of us would have believed it."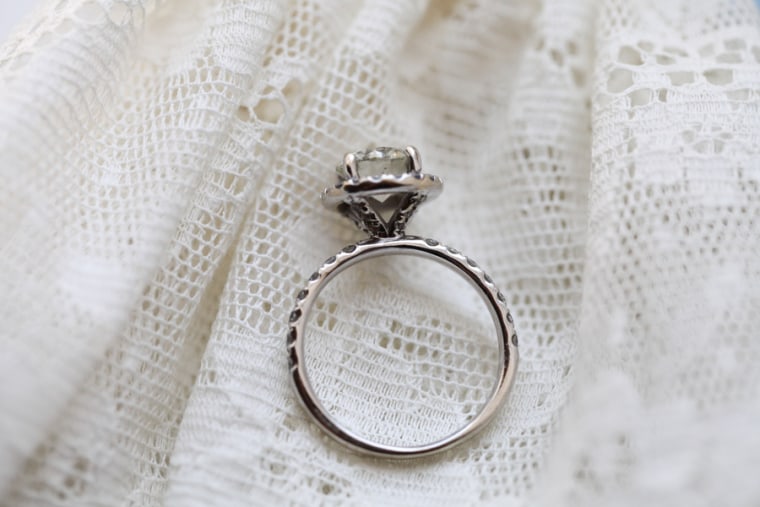 "I really didn't think she liked me," Mike confirms. "At all. In previous years, we'd run into each other at parties, but when we ran into each other this time, she wanted to talk to me. And she was just the kind of girl you could settle down with."
It wasn't long after that fateful bowl game that it became clear to both of them: There was no one else they'd rather spend the rest of their lives watching football with.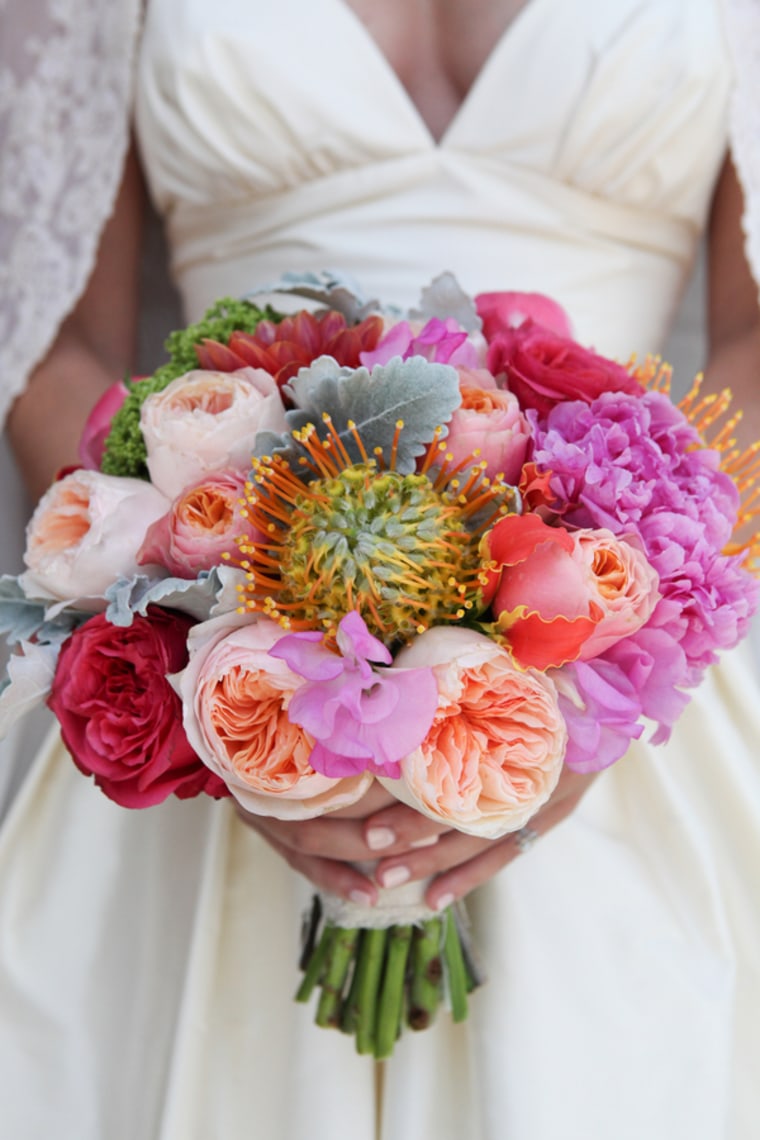 Laura invited Mike over to her place in Charleston, South Carolina a week later to watch the Super Bowl with a group of friends, and the rest is history.
After three months, Laura told Mike she loved him and Mike started thinking about a ring. While Mike jokes that he regrets not popping the question on the 50 yard line in honor of their courtship, his carefully orchestrated proposal — a total surprise to Laura — was certainly one for the record books.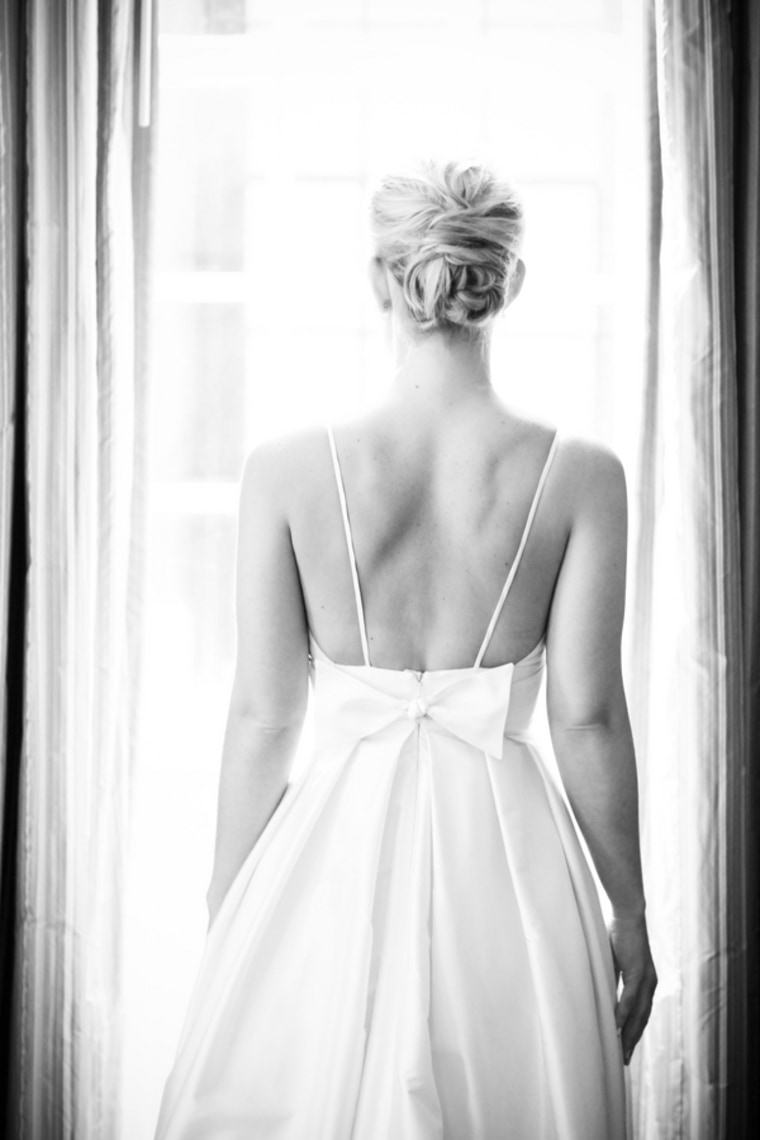 "We weren't talking marriage, but we talked about what we'd want in our future," Laura says. And, yes, they'd inadvertently ended up looking at rings in a little antique shop in Savannah, Georgia while celebrating their one year anniversary.
That might have tipped Laura off, except that Mike had already thrown her off his trail by insisting they get their financial ducks in a row before getting married. Three weeks later, while she least suspected it, he ordered her favorite ring from the shop and began to put his big proposal plans in motion.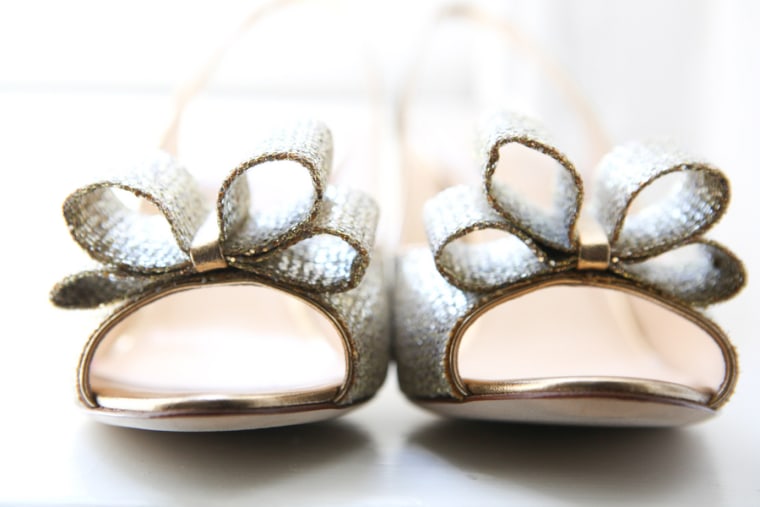 "I'm sneaky," Mike says. "I like surprises."
"It was a complete shock," Laura admits. Which makes sense, as Mike truly pulled out all the stops.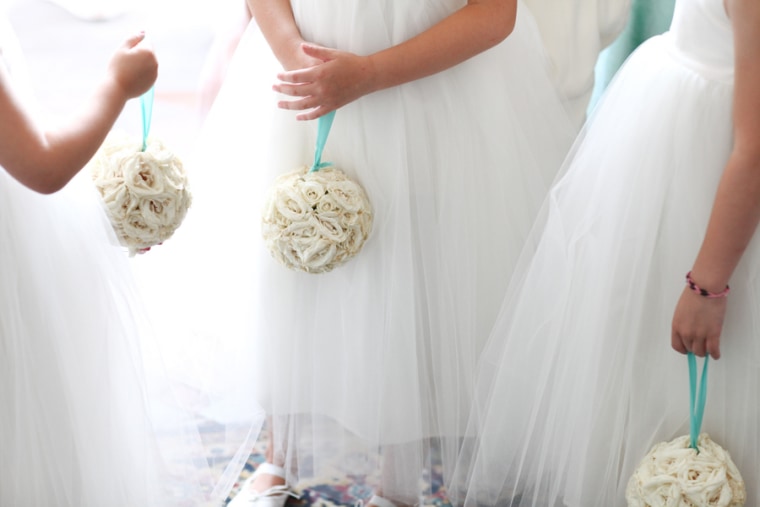 He scheduled a date night for the two of them at the local marina, but refused to give Laura any details about the evening. He prepared his boat with flowers, wine, and a custom fishing rod for her that read "Be My Catch Forever" in silver. When Laura arrived at the marina that night (with their black Labrador in tow), Mike asked if she wanted to go on a picnic and started the boat off for Crab Bank Island.
"He was acting kind of on edge," Laura recalls. "He had all these sandwiches and desserts. He kept asking if I wanted another sandwich. I remember, in my best clumsy moment, I spilled wine on my pants. Then he asked if I wanted to go on a walk."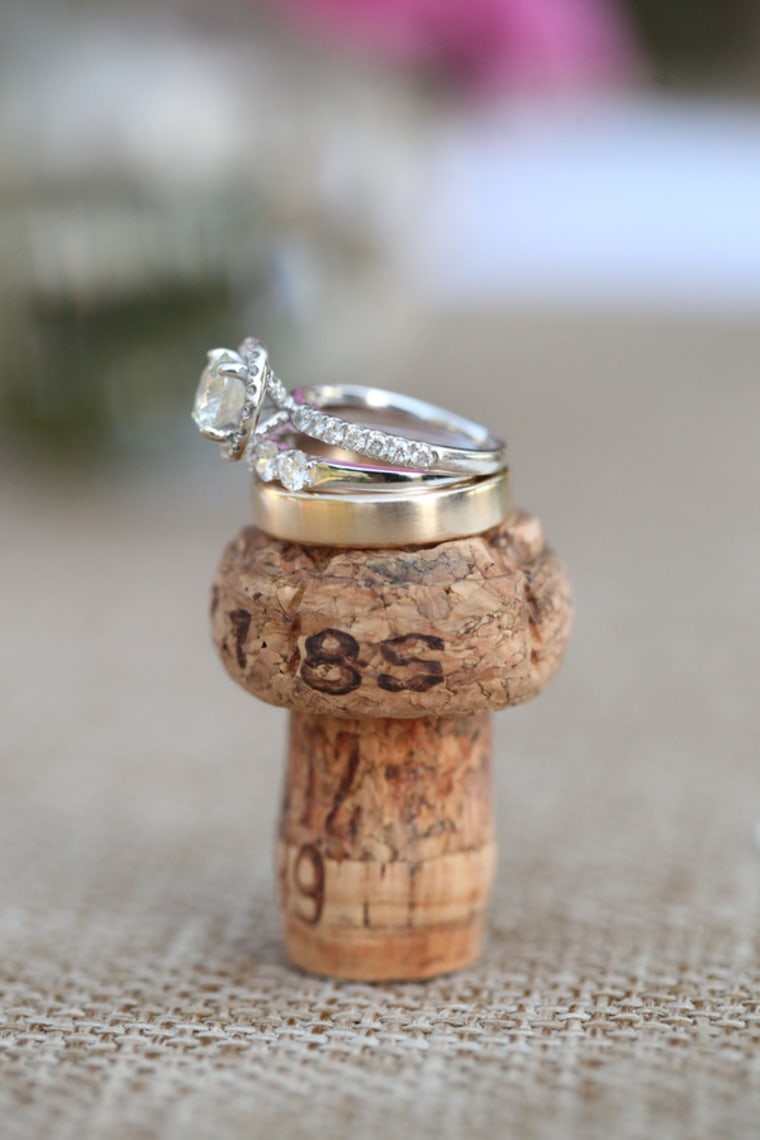 Crab Bank Island, also a seabird sanctuary, made for one anxious walk. "I hate birds," Laura laughed. "I thought they were attacking me and I started running and he just grabbed my hand."
Suddenly, the birds hardly mattered.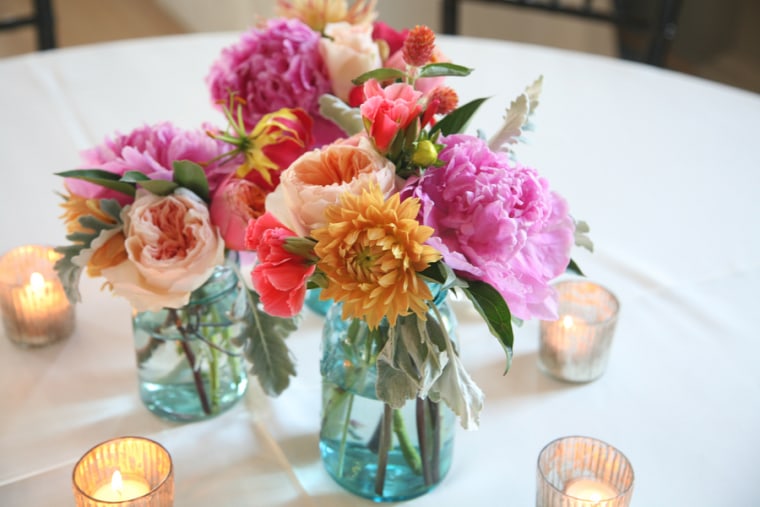 Mike popped the question, and 14 months later, the couple tied the knot at their church in Charleston, the historic St. Michael's Episcopal Church.
"We both felt like, the meaning behind why you get married is very much rooted in religion," Laura said of their choice of venue. "You're also making a religious commitment."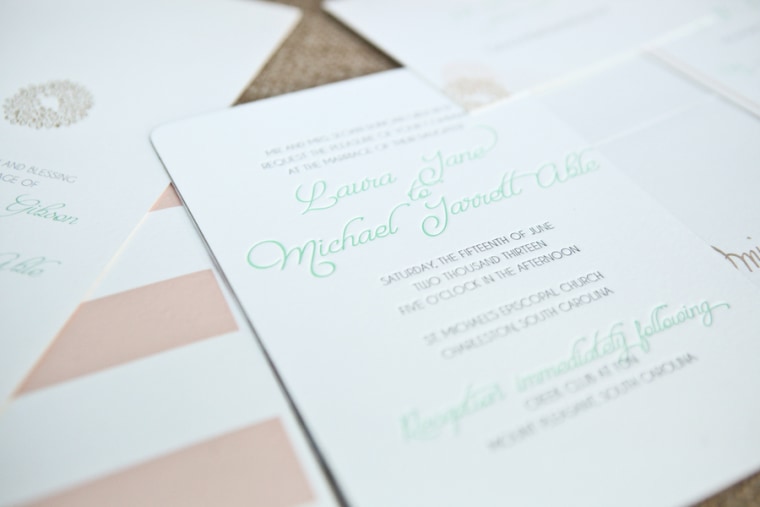 While there was no question where the couple would say their "I do's," locking down a location for the reception proved challenging.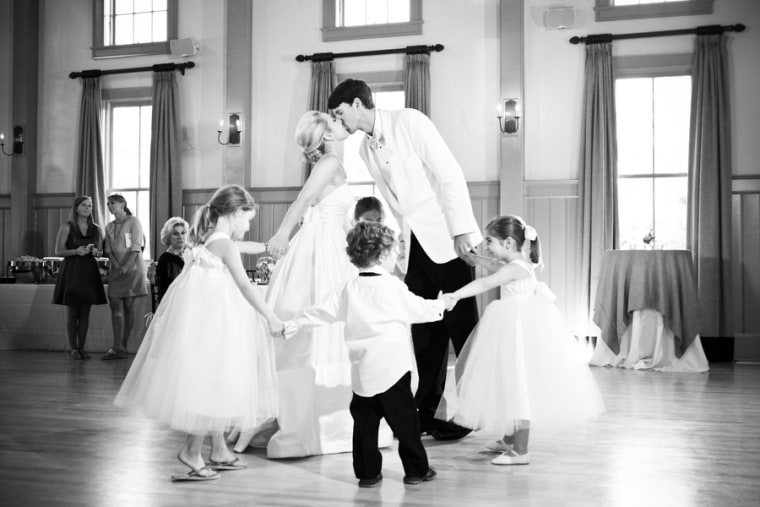 "Charleston is the number one wedding destination in the country," Laura noted, "so it's really hard to get a venue in spring and summer. We know the area really well, especially Mike, who was born and raised here, and it was really important that we have the reception somewhere we hadn't been to at 20 other weddings. We also knew we wanted something on the water, because that's a big part of who we are."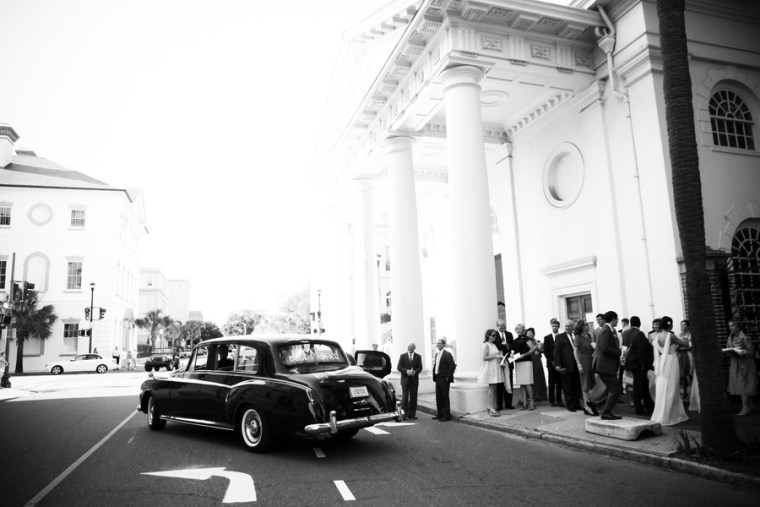 Without much shopping around, they settled on The Creek Club at I'On in Mount Pleasant. "The Creek Club is very casual, very Charleston, and on the water," Laura said.
Because they loved the venue so much, they stayed flexible on the date, taking whatever was available. "We wanted April, because of the heat, but instead, we got three days after my birthday in June," Laura said.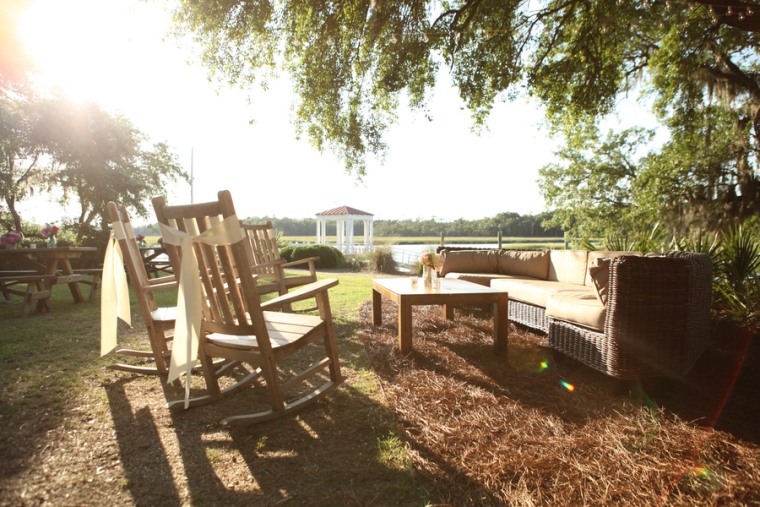 As it turned out, the weather was ideal — no rain and no humidity.
"It was the most perfect day," Laura said.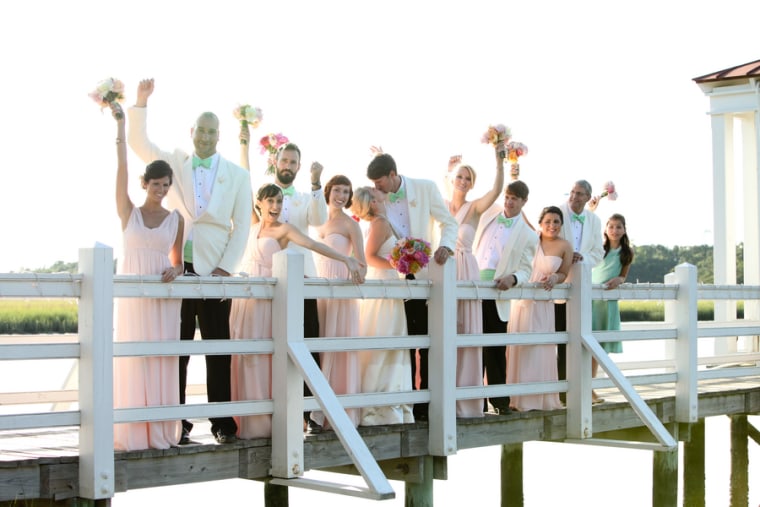 Second only to making sure there was a large religious aspect to the ceremony, the couple focused most on guaranteeing that the evening was a blast for friends and family.
"It was an indoor-outdoor reception," Mike said, "and we had games outside like cornhole. We had a band and a photo booth."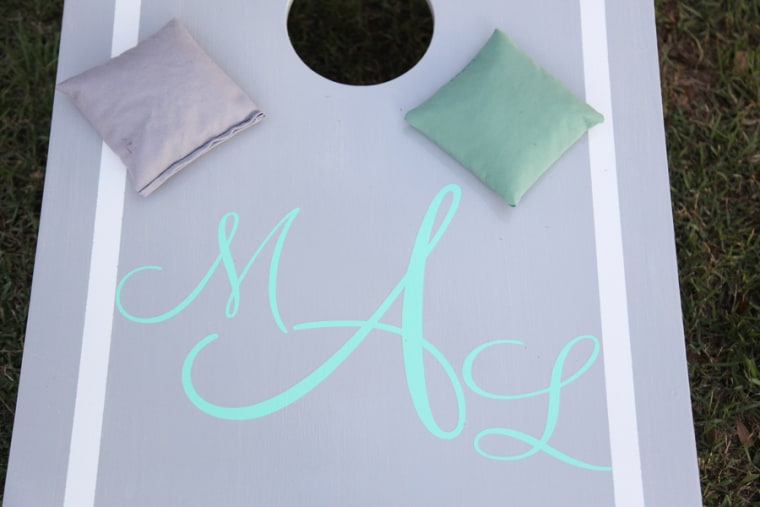 "People could bring their dogs," Laura adds. "And part of our favors to guests were dog treats, another was custom coozies. I also ordered a lot of stuff off Etsy — all of our paper lanterns, the bright tissue pompoms hanging from the rafters, the jewelry dishes for the bridesmaids. We had a small business right here make our formal sets."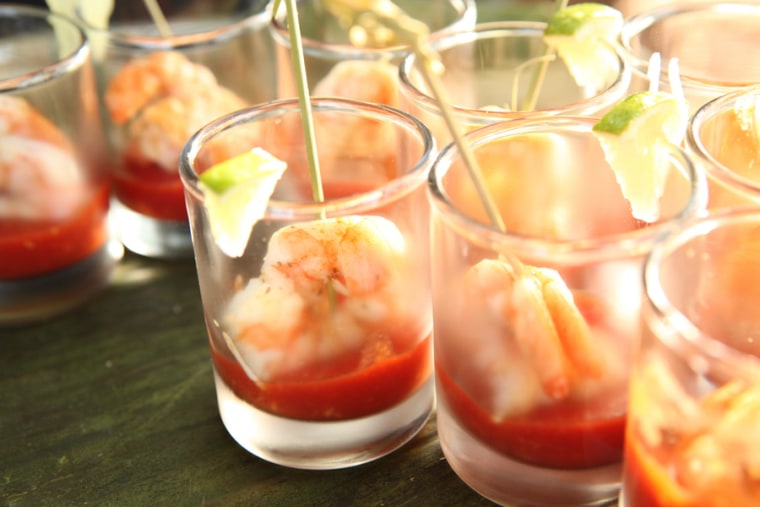 The food was Southern and seafood-centric, with shrimp cocktails and mini crab cakes. 
The couple's 160 guests also nibbled on passed appetizers like mini Kobe beef burgers and pimento grilled cheeses before hitting up food stations with Parmesan-encrusted grouper and BBQ later in the night.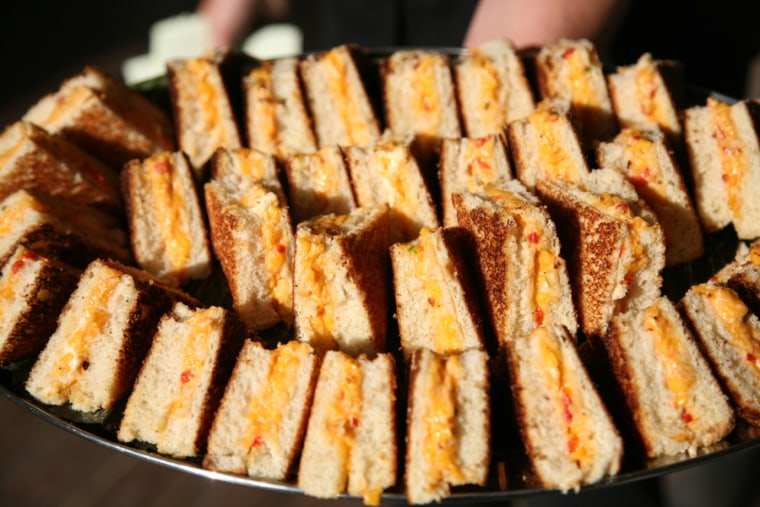 As for sweets, there was a dessert table with mini cookies, cupcakes and tarts from local favorite Sugar Bakeshop and a small, 6-inch chocolate and buttercream cake for the couple's cake cutting.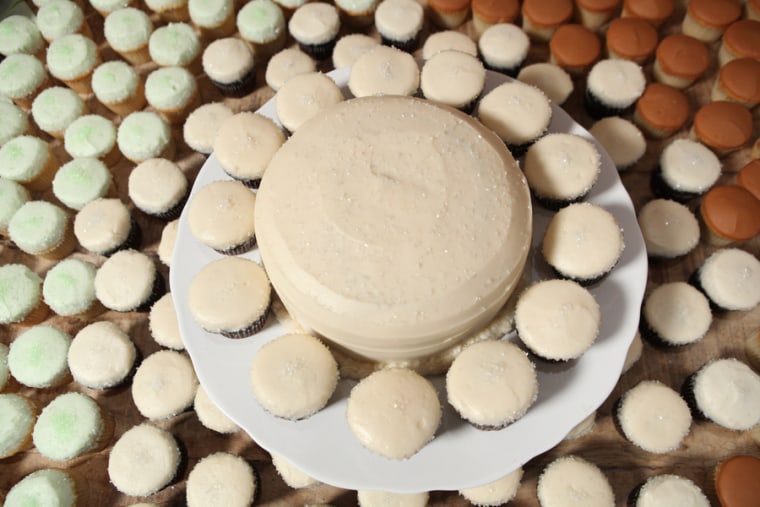 The inspiration for the bursts of color in the decor came from a picture of a vibrant, almost wild-looking bouquet Laura had found on Pinterest: "I took it to our florist and said, 'I want this for my bouquet' and I took it to our wedding planner and said, 'Run with this.'"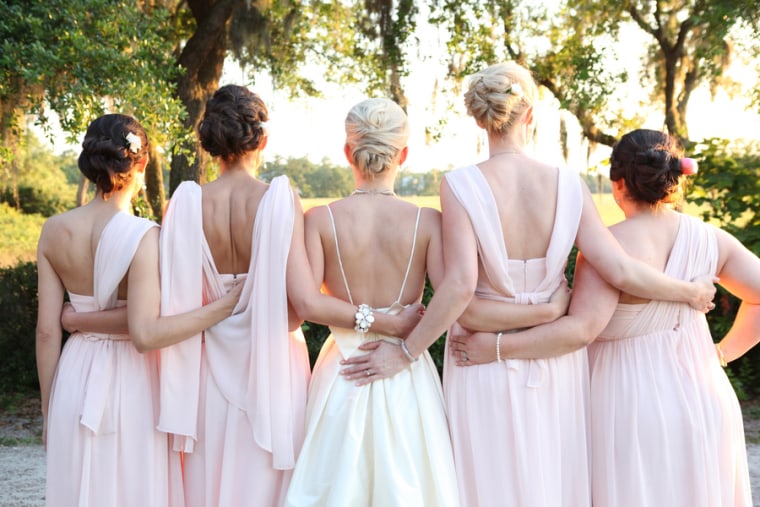 The bridesmaids wore a soft rose hue and the flower girls, dressed in bright white, carried balls of cream colored roses, dangling like purses on bright blue string. The groomsmen were decked out in Southern white dinner jackets and the groom himself wore a seafoam green bow tie.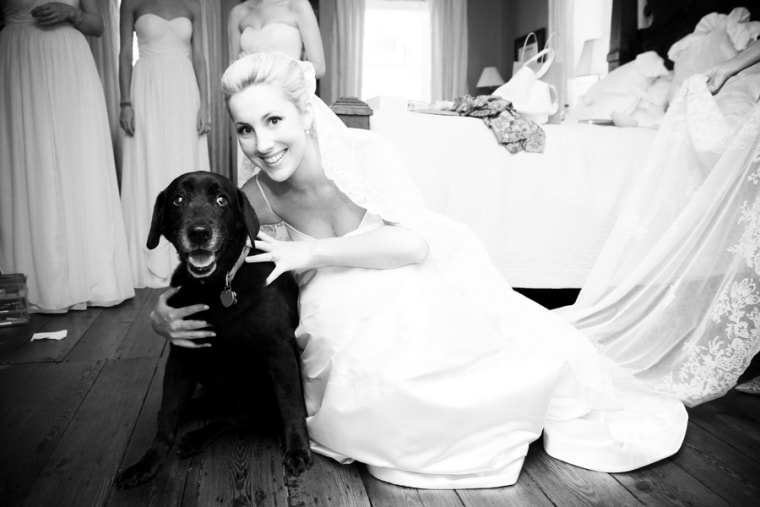 The bride's look, naturally, was not without a few special touches. Her classic two-tone gown, which she described as "just the right amount of Southern and fun," had thin straps, a plunging neckline, and its own bow tie at the back. It was also, by the way, the fourth dress she tried on and the only one that made her dad tear up. But the icing on the cake was her aunt's stunning cathedral-length, Venetian lace veil.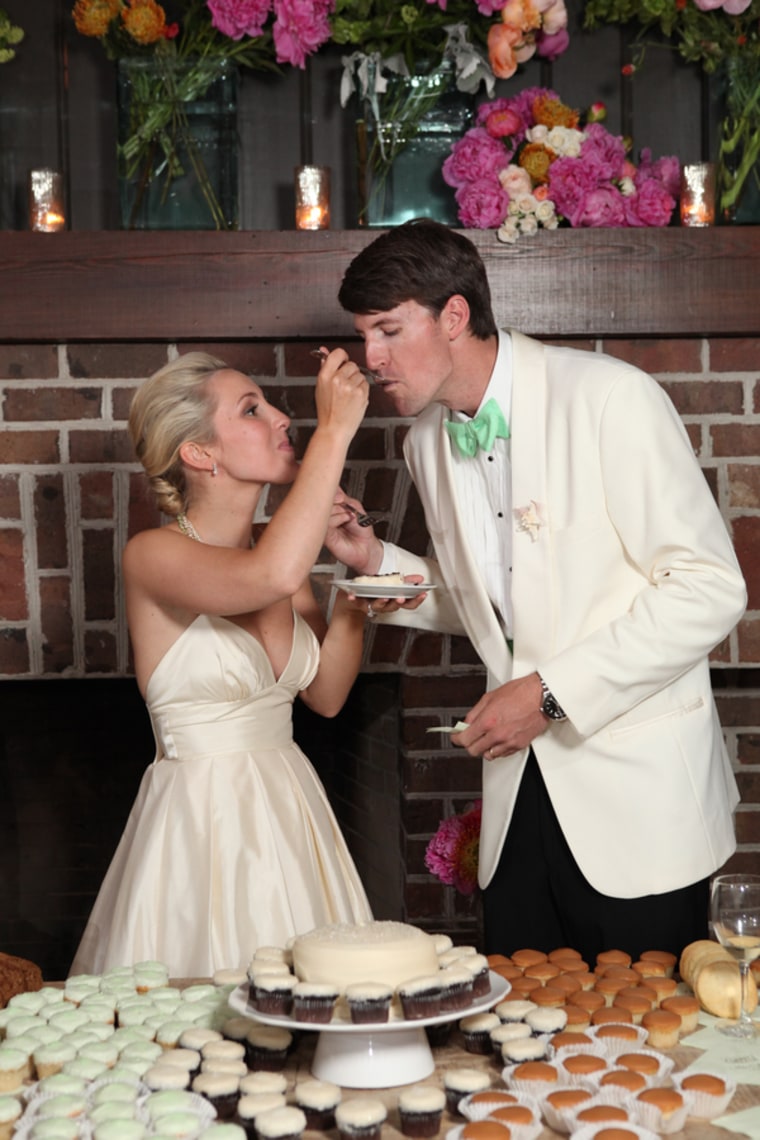 "I've always known that I wanted to wear my aunt's veil," she said. "She was married 45 years ago and it had not been taken out of the box since it was preserved after her wedding. It was a really meaningful thing for her and for me, not just to wear such a gorgeous piece, but something that was part of my family."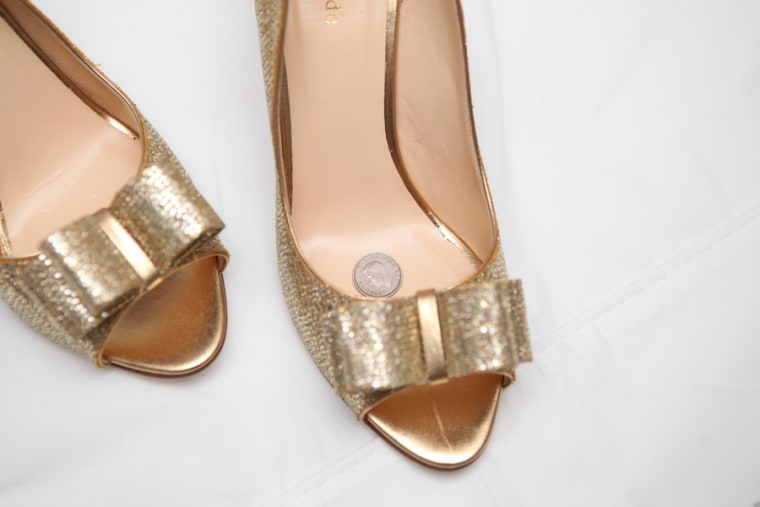 The familial touches didn't stop there. Laura's garter was made locally using her grandmother's lace and pearls, and the sixpence she wore in her shoe once belonged to her great-grandfather.
The overall results were Southern, chic and relatively casual, which was important to the pair.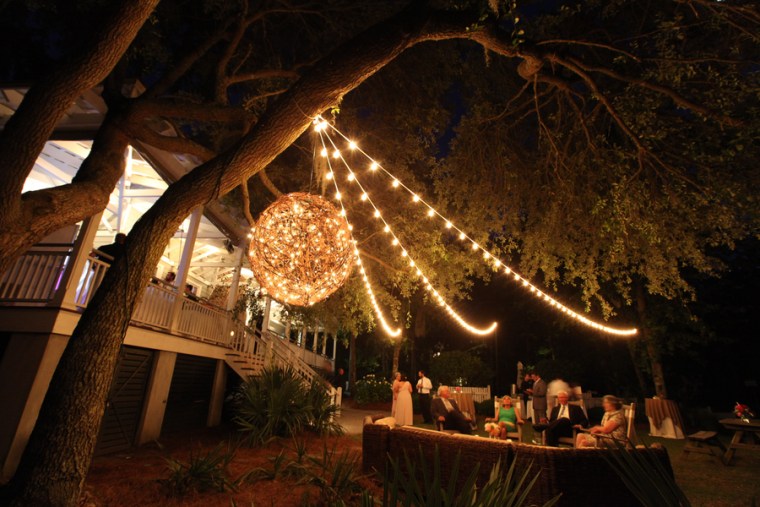 And it was this laid-back atmosphere that made the whole affair so downright fun — fun enough, in fact, for Mike to end up in an all-out dance-off during the reception.
"That was everyone's favorite moment," Laura reflected, to which Mike added: "I was trying to keep that part on the hush."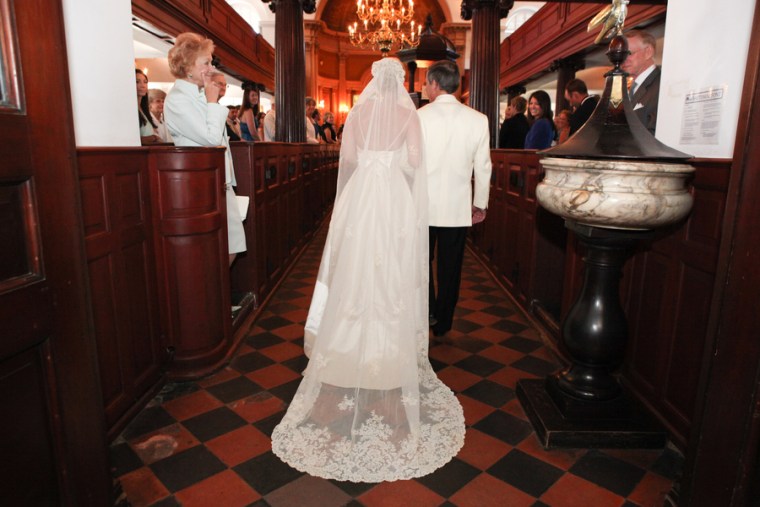 Still, for the bride, the day's highlight came early: "Having my dad walk me down the aisle and the idea that he was walking me to Mike." For the self-proclaimed daddy's girl, nothing that came later could top walking in with her dad and leaving with Mike.
And Mike agreed: Nothing could beat the ceremony itself.
"We did a first look, so I'd seen her, but I just remember leading up to it, waiting, and then seeing her walk down the aisle," he says. "She was so beautiful. I don't think I stopped smiling for days."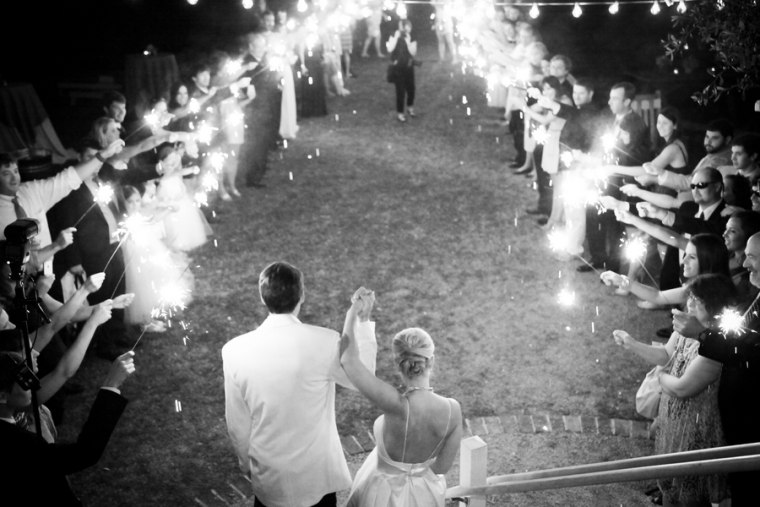 All photos provided by Jennifer Bearden Photography. Want to submit a real wedding? Send us the details here. Check out more TODAY Real Weddings here.
A happy pair share details of their chic yet relatively casual garden wedding in South Carolina for TODAY's Real Wedding series.