What smells do you associate with major league baseball? Off the top of my head I come up with Budweiser, hot dogs and pine tar, but whoever concocted the New York Yankees men's scent launching soon in New York Macy's stores thought of bergamot, coriander, sage, geranium, patchouli, sandalwood, and suede. Just the way a guy wants to smell when he's heckling A-Rod from the cheap seats.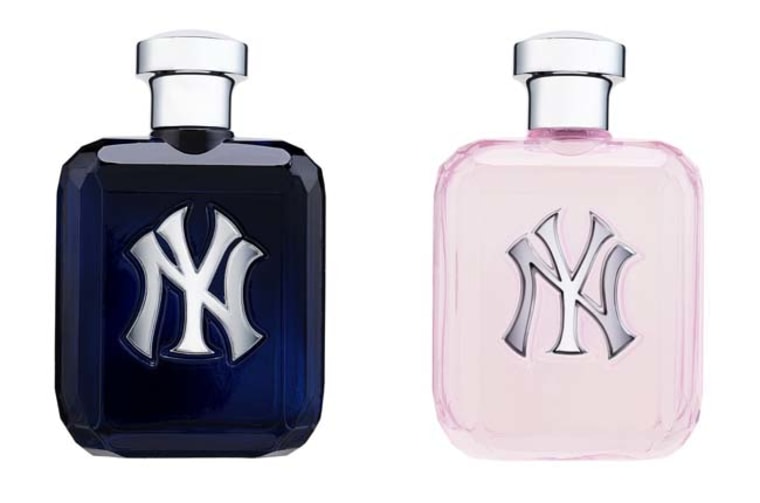 The new Yankee concoction was described in WWD as a "sporty, woody eau de toilette," according to Styleite, and comes in the team's signature navy color. There's a New York Yankees for Her, too, described as an "alluring, flirty, playful" blend that includes guava, plum, apricot, strawberry, sandalwood, vanilla and musk. Ladies, dab a little of that on your throat before you dash off to a glamorous evening in the Bronx.
Here's a thought: Maybe the umpires ought to splash on a dab of the men's scent at the start of a long nine innings. Imagine how much more pleasant a grueling duel with a relief pitcher might be if you're inhaling a bracing fragrance while swinging at the ball.
Not to mention how much nicer the comments from the stands might be. "Hey, ump: You're blind, but the way you smell makes me feel like I'm frolicking barefoot in a field of wildflowers!"
The New York Yankees fragrances will come to Macy's in late April and are expected to later roll out worldwide.
Rick Schindler is a Mets fan who is excited by the smell of pizza.
DKNY Unveils $1M Perfume Bottle
Dakota Fanning Fragrance Ad Banned For 'Sexualizing A Child'
WATCH: Ellen And Keith Urban Create The Ultimate Celebrity Fragrance Ad