Like many brides-to-be, Jan Hernandez felt stressed during the months leading up to her wedding. On top of planning the event, she and her fiance, Adrian, were in the middle of buying a new home. So when it came time to write their wedding vows, they wanted some extra help.
And that's how they found Lindsay Rolfson of Perfectly Noted, who writes vows, speeches and thank you notes for weddings.
"People want to write their own vows, and they think this is the easiest way to do it," Jan said. "I don't see a lot of people doing traditional vows anymore."
This wedding service is reminiscent of the futuristic movie "Her," in which lonely writer Theodore Twombly (played by Joaquin Phoenix) makes a living by penning heartfelt letters on behalf of other people. While reality isn't quite there yet, there are now several online companies that offer brides and grooms an opportunity to outsource their sentimental vows and thank-you notes, including Vow Muse, Ghostwriter Central and Yours Thankfully.
Some couples have very specific requests, like Stacey Whatley and her husband, who asked Ghostwriter Central if they could create vows using their favorite movie quotes. Others have a vaguer notion of what they want their vows to say.
With Perfectly Noted, Jan and Adrian got started by filling out a questionnaire with simple facts about themselves, like how they met and what activities they enjoy together. Rolfson also asks clients if there are certain sentiments or quotes they'd like to weave into the vows or speeches. Brides and grooms can specify if they'd like to sound serious or add humorous touches.
"Everyone said our vows were great," Jan said. "They didn't even know that we went through someone. My husband was like, 'it seemed like she knew what I wanted to say.'"
After the wedding, Rolfson wrote up three kinds of the thank-you notes for the couple, who only had to add names and include specific gifts. "I didn't feel like I had to have a hard time fumbling with that," Jan said.
A strong writer, Lindsay Rolfson has always helped out friends and family members with their words. When she noticed that more friends wanted assistance with their written wedding materials, she decided to start a business as a side project in 2005.
"Sometimes you have all of these ideas, and I really just help them organize those thoughts," said Rolfson, who also works as a public relations director at a technology company. "There's just so much to say, so we edit things down and put it together in a way that flows more easily."
Oftentimes, Rolfson will work for the whole wedding party, writing speeches for the maid of honor and father of the bride as well. Occasionally, even grooms will come in on their own, seeking help with their vows.
Rolfson said there's been more of a demand for her services in recent years, though many brides and grooms aren't necessarily eager to share that they've used them.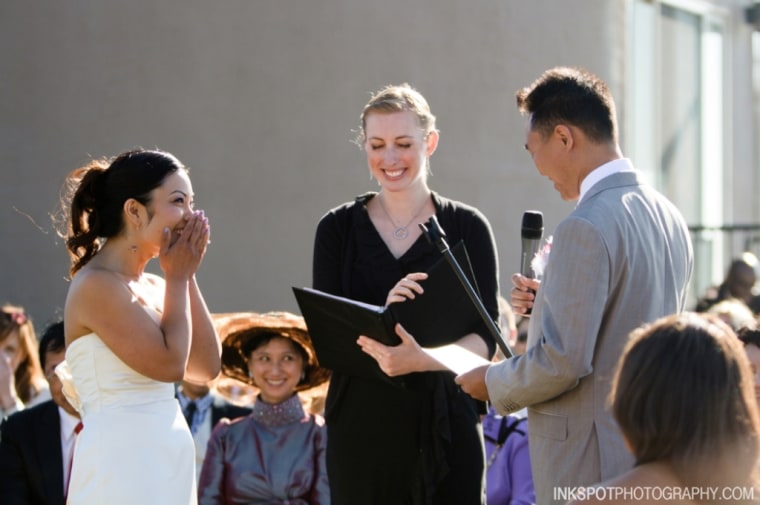 But others are happy to let soon-to-be married friends in on the secret. Like Lauren Van Mullem, who makes a living as a writer but finds it difficult to put her personal feelings on paper. She worked with Vow Muse — a business that crafts wedding websites, speeches, vows and ceremonies — to write her vows and create an entirely original ceremony.
"I'll never forget our ceremony, or our vows," Van Mullem told TODAY.com. "We laughed, my bridesmaid cried so much I had to give her the tissue I'd stuffed down my bodice, and the feeling of love in that room was so powerful. I don't think we could have gotten quite that effect with a traditional ceremony."
Lindsey Ascher also worked with Vow Muse to craft her vows, Skyping with co-founders Alicia Ostarello and Angie Sommer throughout the process. She believes that more brides will turn to services like this in the future, though she doesn't know of any friends who have just yet.

"The vows are so important and by using a vow writing service, you can plan ahead with your vows and ensure that they are perfect," she said. "As opposed to waiting until the last minute and having to rush to throw together something."
While she was pleased with the result, she's not so sure she'd ask for help with her thank-you notes. 
"I would worry that a thank-you note service would just generate generic notes without any input from the bride and groom, and I don't think that is proper," she said. "You want to give your guests a heartfelt 'thank you' for the gift that they gave."