A company says they're selling a "skinny mirror" designed to make you look five to 10 pounds thinner. They're selling it to customers and now even to clothing stores, boasting it will boost retail sales by 18 percent.
"Retailers will use skinny mirrors to deceive customers into looking a certain way when they try on their clothing," explained retail expert Andrea Woroch. "The better they look, the more likely they are to buy something."
Setting up cameras with a skinny mirror at Habit in New York City, Rossen Reports asked women to try something on and see how they looked. Several said they noticed the difference; one said she looked "longer and slimmer for sure."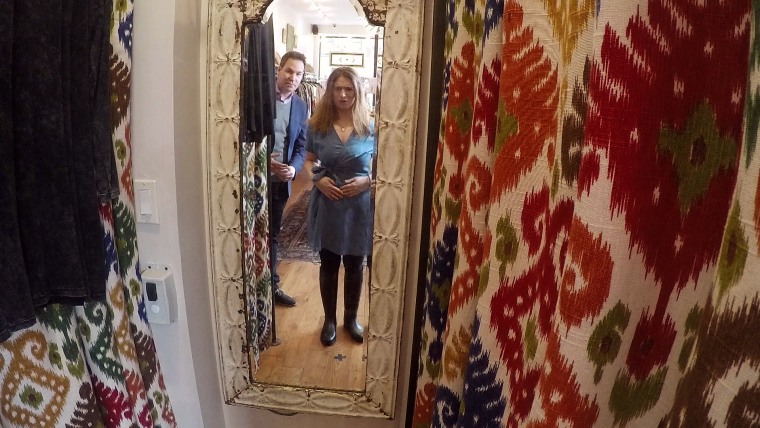 But is it fair? TODAY national investigative correspondent Jeff Rossen spoke to Belinda Jasmine, owner of the Skinny Mirror company. "It's actually not about making people look good; it's about making them feel good," she said. The Skinny Mirror website says "it gives users the instant visual gratification of a 'slimmer you' while educating that how you choose to feel about your body has nothing to do with your actual shape, size or weight."
Jasmine said that "if the mirrors are not mounted properly, every single mirror in each dressing room is going to be different" and claimed that "a normal mirror actually makes you look five to 10 pounds heavier than you do in real life." But physics experts tell NBC News that's not true: Regular, flat mirrors shouldn't add weight at all.
Jasmine's husband, who helps make the mirrors, interrupted the interview several times, urging Jasmine to "stand up for yourself." The couple told Rossen the Skinny Mirror was not misleading, just clever marketing.
The company also makes the point that they put a logo on every mirror so you can tell it's a skinny mirror — but the logo is all the way in the bottom right corner, the size of a pinky fingernail. The company says they originally designed the mirror for consumers to use at home, but retailers started calling, wanting to put them in stores, so they filled those orders too.