To cut your hair or not to cut your hair? It's the recurring question we've all pondered, and it's often met with a touch of excitement and a dash of anxiety.
Making a change to your hair — whether big or small — is an emotional decision, but it's definitely not one you have to make alone.
To help combat haircut confusion, TODAY Style consulted the experts to figure out if you're really ready for a cut and color. We're also serving up some sassy hair trends to give you a bit of inspiration!
Signs it's time for a change
When you sit down for your routine haircut, does your stylist automatically ask you: "Want the usual?"
It's so easy to fall into a hair pattern and ignore new styles entirely. After all, a new hairstyle requires a bit of research at the least or a whole lifestyle change at the most.
If you're struggling to decide if it's time for a hair change, start by asking yourself the following three questions:
Do you wear your hair up all the time?
Does your hair take forever to dry?
Have you worn the same style since high school?
If you answered "yes" to one or more of the above, it's time to switch things up!
"You know it's time for a change when you can only recognize yourself with one particular haircut and/or style," said celebrity hairstylist Michael Duenas. "Mix it up! It will change your entire attitude."
According to Katie Manselle, Oribe educator and owner of Culture Hair Studio in Durham, North Carolina, every woman has a hair "sweet spot" and once you hit it, you're typically showered with compliments on your 'do from both friends and perfect strangers alike. Once the compliments stop flowing in, it may be time to revisit your current style.
"Hair is fun! It is the ultimate accessory. You don't have to make a major change, but if you are feeling even just a little curious about what it might be like to do something a little different, my belief is — it's time!" Manselle said.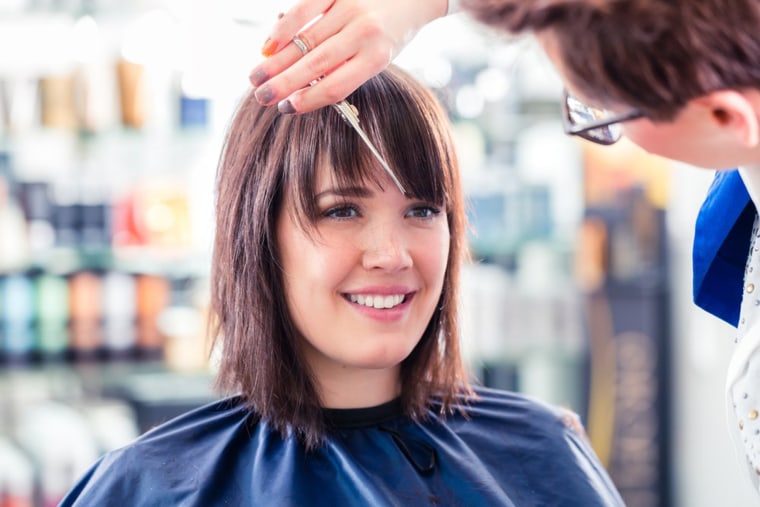 Questions to ask yourself
Sure, you might be contemplating a hair change, but the real question is: Are you truly ready for one? If you're hesitating even a little bit, it's time to have an honest conversation with yourself and ask a few hard-hitting hair questions.
For starters, if your new style requires more frequent upkeep (think bobs or pixies), are you OK with visiting the salon more often? How often are you willing to style your new look?
If you're aiming to make a drastic change, will your new style complement your lifestyle? And is the style you're considering compatible with your hair texture and face shape?
Taking the time to ask yourself some difficult questions can help ensure you get a haircut you'll love. It also helps to consider what is or isn't working with your current cut and the last time you had a similar look (if ever). Another question to ask: Are you acting on impulse after an emotional event (like a breakup)?
"Ask yourself: 'Why am I cutting my hair?' Without a strong answer to this, you may realize you shouldn't proceed with the haircut," said celebrity hairstylist Alexander Armand.
The bottom line? New hairstyles can breathe new life into your world, but just make sure you're ready before making a huge change!
Hair-cutting tips
Even after you've made the decision to make a hair change, there are still a number of confusing questions that can arise en route to the salon and even afterwards. How often should you get it cut? Do you need to wash your hair before heading to the salon? How much should you tip?
It can all be downright confusing, but it doesn't have to be!
Your ideal time between haircuts really depends on your hair's texture, style and length, but most women can easily go six weeks before heading back to the salon. Some hair types require a bit more or less maintenance while short cuts, like pixies, can require a trip to the salon every four weeks.
Longer styles work best when trimmed every two months (depending on your hair's density) and shorter styles are best maintained when trimmed every six weeks. But curly hair is in a league of its own.
"Curly hair can go a bit longer, sometimes even three to four months before needing a cut. Since your hair is curly, it grows 'around' and not down, so your hair getting longer isn't too noticeable," Duenas said. "As long as you keep it healthy, you can keep pushing that haircut aside."
Just keep in mind that the average person's hair grows about one to two inches a month, so frequent trims can help keep your style looking fresh. "If you are growing out your hair, a haircut every two to three months is OK if you aren't putting a lot of heat on your hair," celebrity hairstylist Sunnie Brook added.
What about washing your hair before a haircut? Is it socially acceptable to show up to the salon with second-day hair? Turns out, it's totally OK! In fact, it can help your stylist get a better idea of how you typically wear your hair.
"I highly recommend your stylist sees your hair in the style you typically wear it so they can assess what your hair needs. If you always blow your hair out, but wear it natural to your appointment, that doesn't give your stylist the full picture," Giovanni Vaccaro, Glamsquad creative director, said.
Showing up with dry hair can also help your stylist see growth patterns more easily. If you feel strongly about showing up with clean hair, though, don't feel like you can't wash before a haircut. "If there's a real need to see its behavior just cleaned, I encourage clients to come that way. There is always a story from the guest's standpoint as well as the hair's," Manselle said.
You might also be wondering if there are specific times when you really should get a haircut. Two easily come to mind for Vaccaro:
If you're prepping for a big event
"I style a lot of brides and I always recommend having a fresh cut three weeks before her big day. That allows the stylist to customize her cut based on the hairstyle chosen for her wedding," Vaccaro said.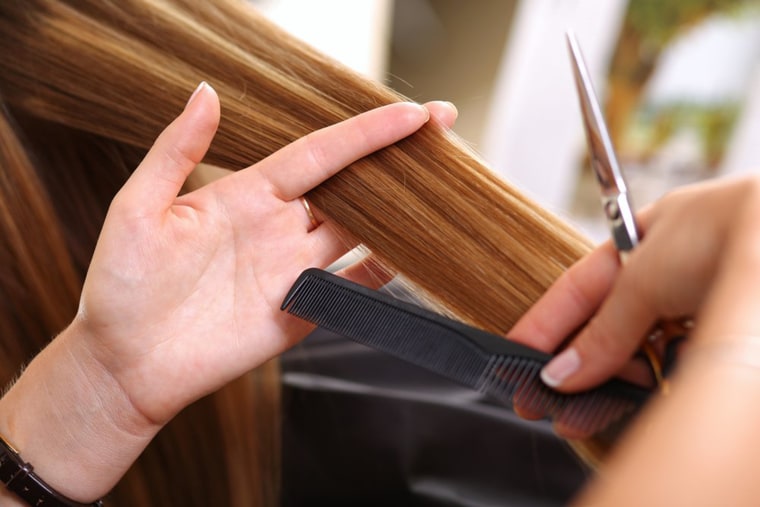 Hot hair trends
Looking for some hot hair trends to try before heading to the salon? Well, you're in luck! There are plenty of gorgeous styles to consider this season.
To nobody's surprise, bobs are still a big trend. The key to making your version feel current? Keep it blunt!
"Blunt or very slightly layered bobs are all the rage right now. They work with almost every face shape," Duenas said. "Just play with the length — just past the shoulders, up to just below the jawline — it will work with every face shape and hair texture."
Want some celeb inspiration? Just look at Noah Cyrus's sassy bob, Emma Stone's graduated bob or Rita Ora's sweet French-inspired bob.
"Blunt bobs are a pretty universal cut that can work for most faces depending on the parting and length," Brook said. "If you have a longer face, opt for the side part and go cheekbone or jaw length to shorten the face. If you have a more round face, opt for the collarbone-grazing length and middle part to elongate the face."
Pixie cuts aren't going anywhere either. "Androgyny within haircuts is also trending. Grown-out pixies are highlighted, along with modern bowl cuts," Manselle said.
Bangs are another hot look du jour, and '70s-inspired Bardot bangs and heavier blunt bangs are definitely trending. "The curtain fringe has been a huge trend this year. This is by far the hottest request I am seeing from my clients," Vaccaro said.
Looking for the right bangs for your face shape? Square shapes look great with swoopy bangs, whereas oval shapes can be more versatile and rock several different bang styles.
On the hunt for a universally flattering 'do? Try a shoulder-length style! "I love adding face-framing layers to soften the face. This cut allows for many styling options," Vaccaro said.
Lobs and center parts will also flatter round faces (think Adele and Emma Stone). If you have a square face, seek out styles that give the illusion of a slightly rounder look.
"There are two ways to approach your hair and your face shape. One is to use your hair to balance your face shape," Manselle said. "Another approach is to accentuate the interesting aspects of your face shape. For example, if you have a long oroval shaped face you could cut a microbob (super-short bob) and this would not hide your long face shape; rather, it would accentuate it. What makes you 'you' is this aspect and if a person can own it, it becomes an interesting asset."
The moral of the story? Do your research, think ahead, but most importantly — have fun!