After winning a gold medal in the shot put at the Summer Olympics in Rio — the first in the sport for an American woman — Michelle Carter is just about ready to shift focus to her other passion: makeup.
But first, she has a few more track meets to get through. Not that the 30-year-old Carter, who also runs a beauty business in Texas, minds. After all, she's still riding the high from her performance in Brazil, when she hurled the shot 20.63 meters, breaking an American record in addition to clinching the gold.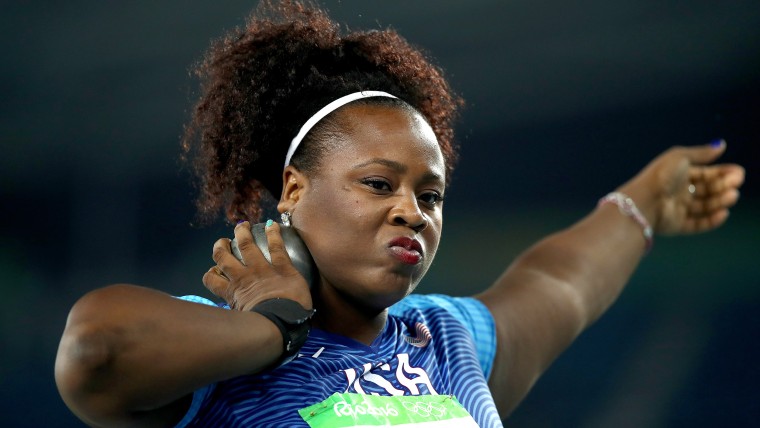 "It's still surreal," Carter told TODAY by phone from New York, where she was catching a flight to Europe for the Diamond League meet. "Every time I look at (the medal), I can't believe it's mine. It's something I've dreamed about for so long."
RELATED: From hair secrets to wedgies, the answers to all your Olympics style questions
Carter is hard to miss on the field, and that's not because of the athlete's imposing stature. Instead, it was her cherry red lips, perfectly groomed brows and flashy jewelry that caught fans' attention in Rio. As she tells it, it's simple: If she looks good, she performs well. And Carter's not alone — from gymnast Simone Biles' glitter eyeliner to runner Shannon Rowbury's fuchsia lipstick, many Team USA stars used makeup as a form of self-expression this year, and a way to stand out in the sea of red, white and blue.
"I think it's important to do whatever makes you feel your best," Carter, from Red Oak, Texas, said. "For some people, being bare-faced is wonderful. Others like a little bit of mascara and eyeliner. Others want a full face (of makeup)."
Plus, it's her (other) job: Carter runs a business called Shot Diva, which is also her nickname, in Texas.
"I've always loved makeup and hair, since I was a child," she said. "In college I would do my teammate's hair and their makeup sometimes. I did a friend's makeup at the 2008 Olympics and she said, 'Have you ever considered taking classes?' For some reason, it had never crossed my mind."
RELATED: 7 of the most memorable moments from the 2016 Rio Olympics
But it did spark something in Carter. Once that season ended, she returned home to Texas and signed up for cosmetology classes, and then launched her business. Through Shot Diva, she does hair and makeup for weddings and other events, and hopes to soon start her own cosmetics line.
As a "diva" in a sport that's long been stigmatized as unsexy, Carter is challenging the stereotype head-on, and proving that shot put athletes can also be feminine.
"At the end of the day, we're women first — we just also happen to be great athletes," she said.
That confidence is something Carter hopes to impart on a younger generation through the sports camp she runs, You Throw Girl. She coaches girls on the physical aspects of sports such as the shot put, but also how to balance that with becoming a woman.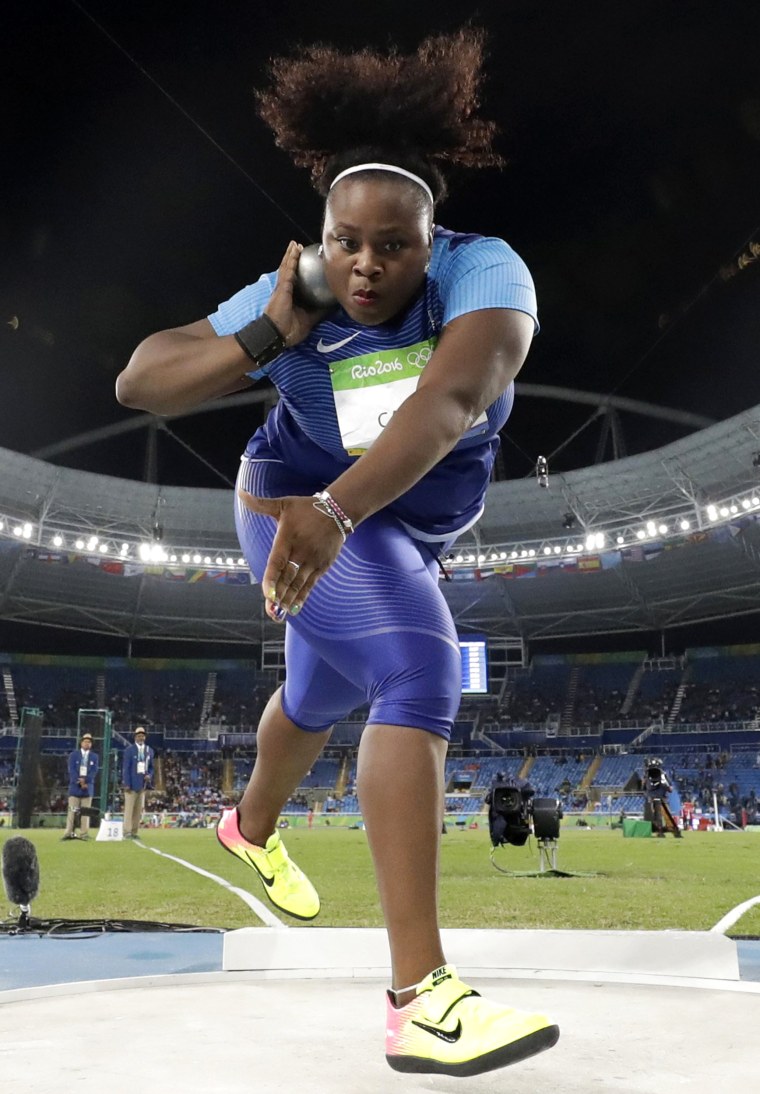 "We want them to take care of themselves, feel their best, eat healthy and understand that it's OK to have muscles — because in some sports, you need those muscles," Carter said. "We want to make sure the female athlete as a whole is taken care of. We don't want to put them in a box. We want to take away the box so they can be all they can be."
RELATED: 11 Olympic nail art designs that deserve a gold medal
Carter's goal is to teach young girls not only the strength it takes to heave a metal ball across a field, but also how to accept the body that gets them there.
"They look to people who are in the limelight for that inspiration," she said. "Being a female athlete, sometimes your clothes don't fit right, if you have a small waist and broad shoulders, or strong hips. And it's OK to embrace that."