It was a drizzly and damp fall day Thursday, but the Plaza was still packed with fans vying for their chance to get an Ambush Makeover.
Our crack team, celebrity hairstylist Louis Licari and fashionista Jill Martin, found two lovely ladies looking to spruce up their looks, and enlisted the help of our glam squad to do just that.
Sharon Allen, 64, was in town celebrating her 34th wedding anniversary with her husband, Don, and said she was ready to change up her 'do. Don asked our Ambush team to help Sharon channel her inner Sandra Bullock.
So did they deliver on her request?
"Who's that?" Don said upon seeing his wife.
"I don't think I'm the same person!" exclaimed Sharon after her big reveal.
"She looks like a movie star," said Sharon's daughter, Kelly, about her mom's new glammed-up look.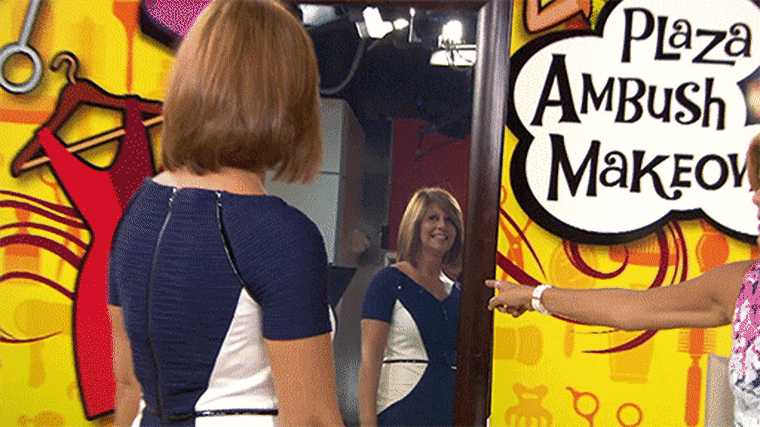 RELATED: Husband moved to tears: Wife's Ambush Makeover 'takes me back 20 years'
Meanwhile, Trudy Dewey, 60, was eager to give herself a fresh start after having two surgeries this year.
The Wal-Mart employee and mother of three, who recently turned 60, wanted to start off her new decade feeling fabulous. And what better way to do that than with a glamorous look?
"Oh jeez!" said Trudy's husband Steve when he saw his beautiful wife. "Wow!"
"Oh it's beautiful!" Trudy said when she saw herself, putting on her glasses to make sure she was seeing correctly.
RELATED: Ambush Makeover: Breast cancer survivor goes from gray to gorgeous
These two gorgeous ladies are ready to enjoy life in style thanks to their new makeovers by our Ambush team and glam squad!