With summer fast approaching, it's time to prep our bodies for the beach. And that means all kinds of waxing, shaving and laser options before us — but which to choose?
Follow our expert guide below to find which option is ideal for you.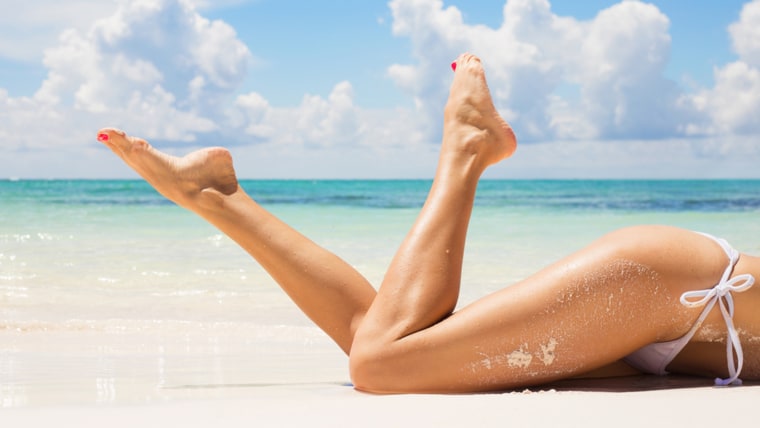 For busy beauties — try shaving.
Shaving is often a go-to option when it comes to removing unwanted hair — it's quick, easy and can be done just about anywhere. "However, you must repeat it often and it can cause ingrown hairs and also irritate skin, especially if you have sensitive skin," says Dr. David E. Bank, author of "Beautiful Skin: Every Woman's Guide to Looking Her Best at Any Age." "It only removes hair from the surface of the skin, [so] it doesn't treat the follicle directly, which is why you have shave very often." He also says to avoid shaving before you go swimming since chlorine and salt water can sting freshly shaved skin.
Gillette Venus dermatologist Dr. Jody Levine says it's extremely important to wait a few minutes after you step into the shower before shaving. This step hydrates your hair, helping make it softer and easier to cut with the blade.
If you're worried about razor burn or ingrown hairs, try an exfoliating pad after you shave. It'll also help your shave last longer!
For those looking to slow growth — try waxing.
Stunting hair growth is the ultimate goal of all hair removal and when it comes to that, none of the other options can compare to waxing. Consider using it to shape your eyebrows to perfection. "Waxing produces a gradual slowing of hair follicle, which is perfect for creating a clean shape without the commitment required for permanent solutions, like laser. Re-growing hair allows your waxer to customize your brows to the latest trends or compliment your face as it changes over time, leaving room for you to change your mind and your style," says Exhale Spa's director of waxing, Di Medlock.
You may want to try waxing for your bikini line as well — especially if you're going Brazilian. "Your hair will become lighter and thinner with each session, just like brows," says Medlock.
If your suntanned skin feels even more sensitive to facial waxing, a soothing and hydrating rollerball that's small enough to throw in your bag.
For DIY divas — try depilatories.
At-home chemical depilatories like Nair and Veet are quick, painless and come in different formulations based on the body part they serve (i.e.: face or body), says Dr. Bank. These remove hairs below the skin's surface and should keep skin smooth for about two weeks. If you have sensitive skin, acne, sunburn or hives, exercise caution when using depilatories as the chemicals can cause a mild reaction in cases with very sensitive skin.
If you're worried about the unpleasant smell, fear not! Technology has come a long way from rotten-egg stench. Try a gel-based cream with a fragrance for the best-smelling option to date.
For strays on the loose — try plucking.
The ideal time to pluck unwanted hair is after a warm shower when skin is softer making it less painful and easier to pull, says Dr. Bank.
If you're concerned about the resulting pain from plucking individual hairs, try a numbing topical cream to help reduce pain.
For specific problem areas — try laser treatments.
Laser treatments work wonders on areas that are sensitive, says Medlock. The intense beam stunts the hair follicle, which reduces ingrown hairs and irritation. Smaller areas usually come with a more attainable price point as well. This could make it a good option for underarms, for example, but should also be considered for lips and chins. "As we age, individual dark hairs start to sprout up on the upper lip and under the chin. Waxing takes all of the hair from the areas where it is applied, sometimes leaving a line of demarcation. The laser is made to seek out the dark hairs specifically, clearing the hair without making it obvious," says Medlock.
The more contrast you have between you hair color and your skin tone, the better the laser works. If you have light hair with light skin or dark hair with dark skin, you may not be a prime candidate for laser.
If you're feeling especially adventurous, try an at-home laser hair removal tool.
For brave bodies — try at-home waxing strips.
At-home waxing can be intimidating, but armed with the right knowledge and user-friendly products, your experience is sure to go smoothly!
Try to wax in the evening, giving your skin all night to calm down, suggests Fardad Moayeri, Parissa CEO and waxing expert. For optimal results, Moayeri says you should make sure that hair is at least 1/8 inches long before waxing. Press strips in the same direction of hair growth and zip off immediately in the opposite direction. "Speed counts! Always remove strips in one quick, swift motion — by pulling the strip back along itself, staying parallel to your body," says Moayeri.
If you're sick of waiting around for wax to warm, try a sugar paste solution that doesn't require heat.
Want to refresh your summer style? Stay cool with 30 days of fashion and beauty ideas.