This year's French Open ended with an injury and an early exit for Serena Williams, but when she first hit the clay courts, she looked like a champion as stepped out in a sleek black catsuit.
The 23-time Grand Slam winner's look made headlines and left her feeling like "a warrior" and "a superhero." However next year, she'll have to find some other inspiring garment.
French Open officials have banned her bold look, and now Williams — as well her several of her supportive peers — has responded.
French Tennis Federation President Bernard Giudicelli recently told Tennis Magazine that a new dress code would be implemented at the event in the future.
"I think that sometimes we've gone too far," he said. As for the catsuit in question, Giudicelli added, "(It) will no longer be accepted. One must respect the game and the players."
The implication that Williams disrespected anyone, much less the game itself, by donning the formfitting design stirred controversy and backlash from her fans, but the 36-year-old tennis superstar has decided to take it all in stride.
"I think that, obviously, the Grand Slams have a right to do what they want to do," Williams told reporters just before the Arthur Ashe Kids' Day event at the U.S. Open over the weekend.
The catsuit Williams wore wasn't simply a fashion statement. It also served an important and practical purpose.
After giving birth to daughter Olympia last year, the new mom suffered from dangerous blood clots, and the tight design was meant to help with blood circulation.
"I feel like if and when, or if they know that some things are for health reasons, then there's no way that they wouldn't be okay with it," Williams said of the French Open dress code to come. "So I think it's fine. The president of the French Federation, he's been really amazing. He's been so easy to talk to. My whole team is basically French, so, yeah, we have a wonderful relationship."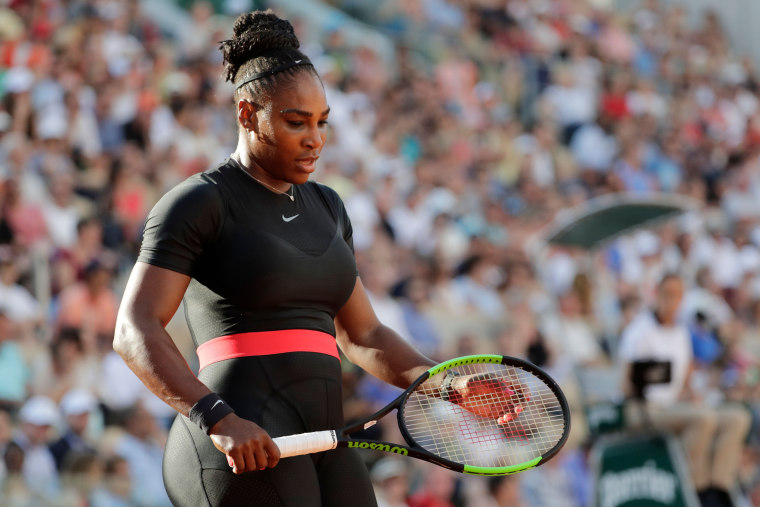 But not everyone is giving the French Federation the benefit of the doubt there. Some of the sport's best players past and present, including tennis legend Billie Jean King, are taking a strong stance in support of Williams — whatever she wears.
"The policing of women's bodies must end," King wrote. "The 'respect' that's needed is for the exceptional talent (Serena Williams) brings to the game. Criticizing what she wears to work is where the true disrespect lies."
But it was Nike, the company behind the catsuit and behind a lucrative sponsorship deal with Williams, that had what may be the best response of all.
"You can take the superhero out of her costume, but you can never take away her superpowers," the company tweeted.