Sequins for daytime? Yes, please!
If you presume that these small, shiny appliques only belong to the night — and a fancy one at that — it's time to think again. Sequins are not limited to New Year's Eve, cocktail parties or beauty pageants these days.
"It's such a fashion myth that you can't wear them for daytime," style expert Lilliana Vazquez told Hoda Kotb and Jenna Bush Hager on TODAY.
She showed us how it's done with four fabulous looks.
When trying this at home, though, remember her key rules: Don't wear all black because that is more of a true evening look, and keep the rest of your outfit relaxed and casual when wearing the shine of sequins by day.
Here's how to wear sequins to ...
The office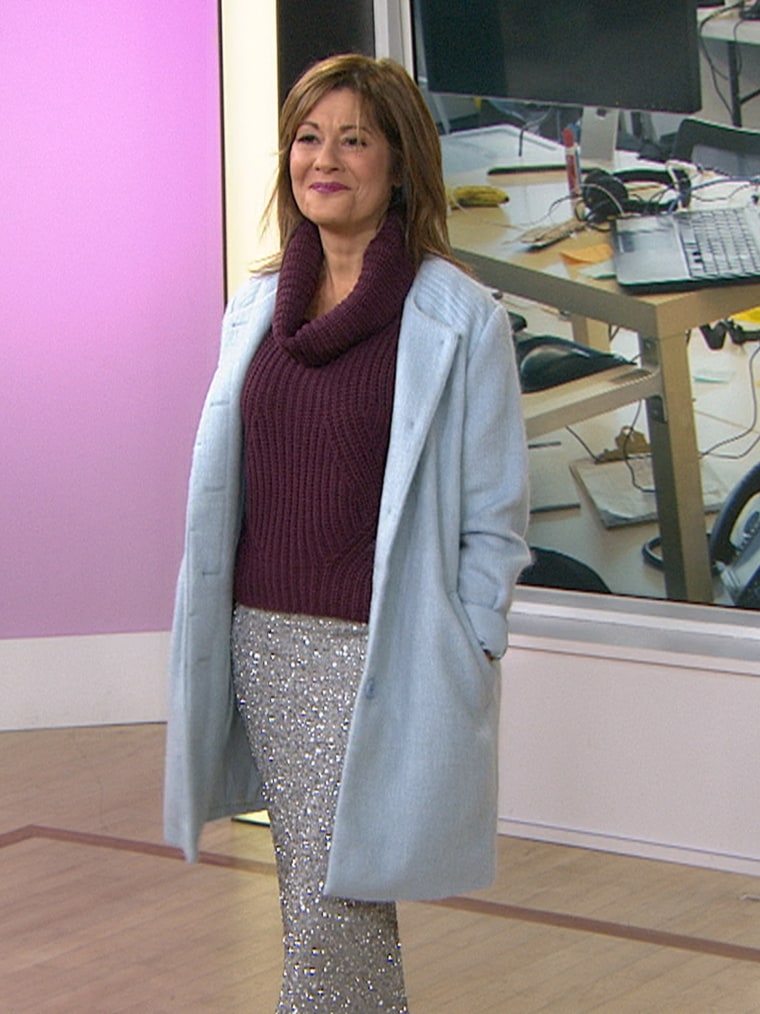 The sequin piece that can take you to work (and out on the town afterward) is the midi skirt. This look features a light silvery-gray skirt paired with casual staples like a burgundy chunky sweater and a pale blue coat.
"It's a metallic, but it's a soft metallic, so it's not too shiny," Vazquez said of the midi.
The other way this outfit reads daytime is the shoe. "The key here is doing it with a flat and not a heel, so it's workplace-appropriate," she said, adding that you can swap out the safe shoe and go for some height for the evening cocktail hour.
Game day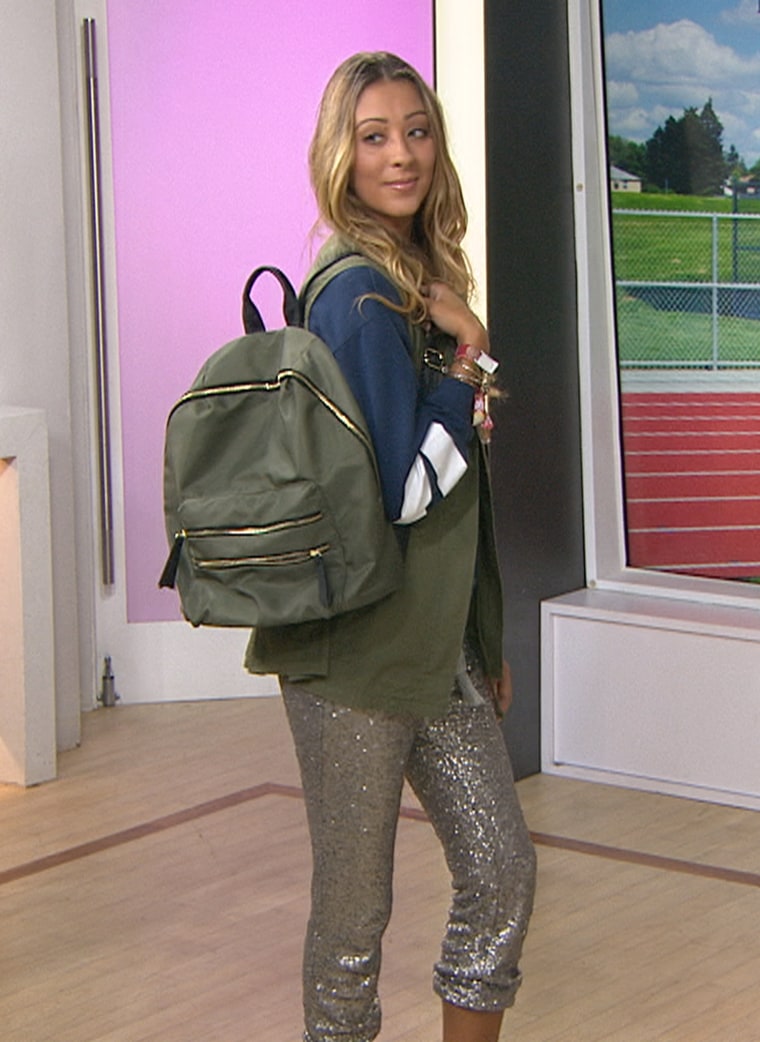 Suiting up in sequins may not be what you're used to wearing to a sporting event, but here's an outfit that wins. The look: Sequin track pants mixed with easy basics like a sweatshirt, an of-the-moment cargo vest, a backpack and sleek all-white sneaks.
"I love this because athleisure is a huge trend right now so you keep seeing these track pants, but these are sequin track pants," Vazquez said. "What's cool about them is they look just as good with sneakers as they do with a heel."
Though creating this look was a bit of a challenge, she pulled it off.
"The whole look to me is something you can wear to a football game or a baseball game, but still feel really feminine," Vazquez said.
Fall fun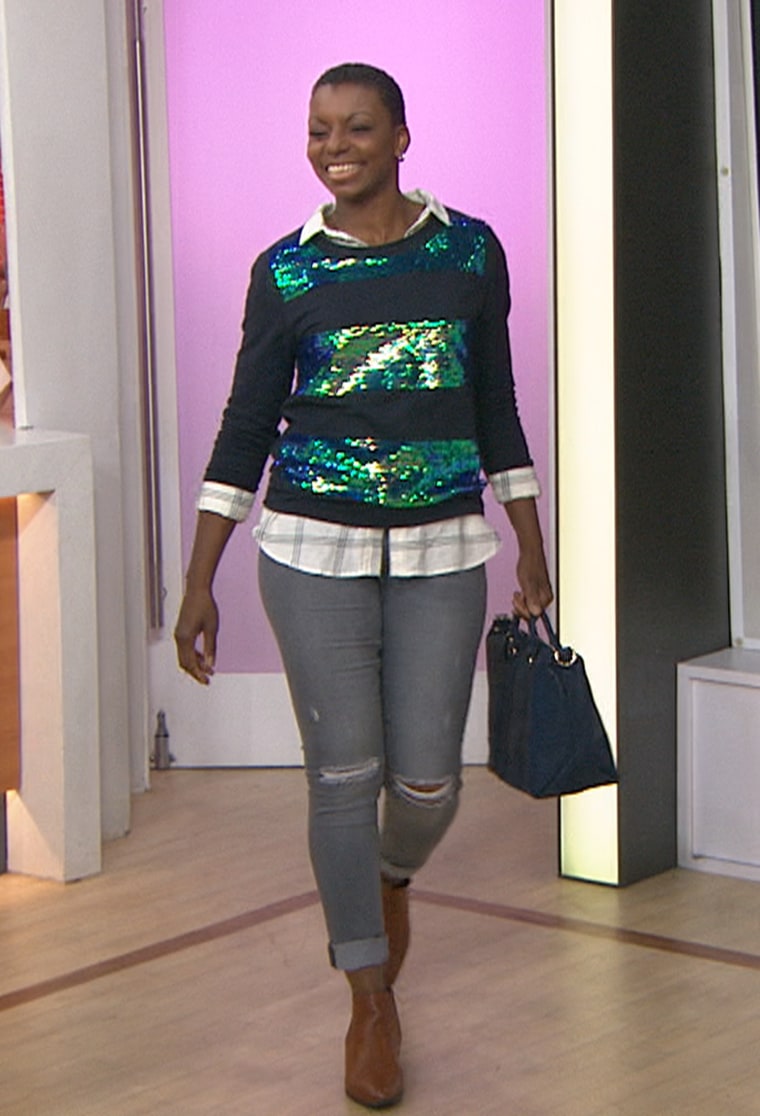 For a trip to the apple orchard or pumpkin patch, make your sequin statement through a sweatshirt. The shine here comes in wide bands of sequins across the top, which is worn with gray jeans and the low-cut Chelsea boot.
"What I love about this is it's all about the sequin detail," Vazquez said. "The whole thing isn't sequins _ it's just the stripes."
Daytime date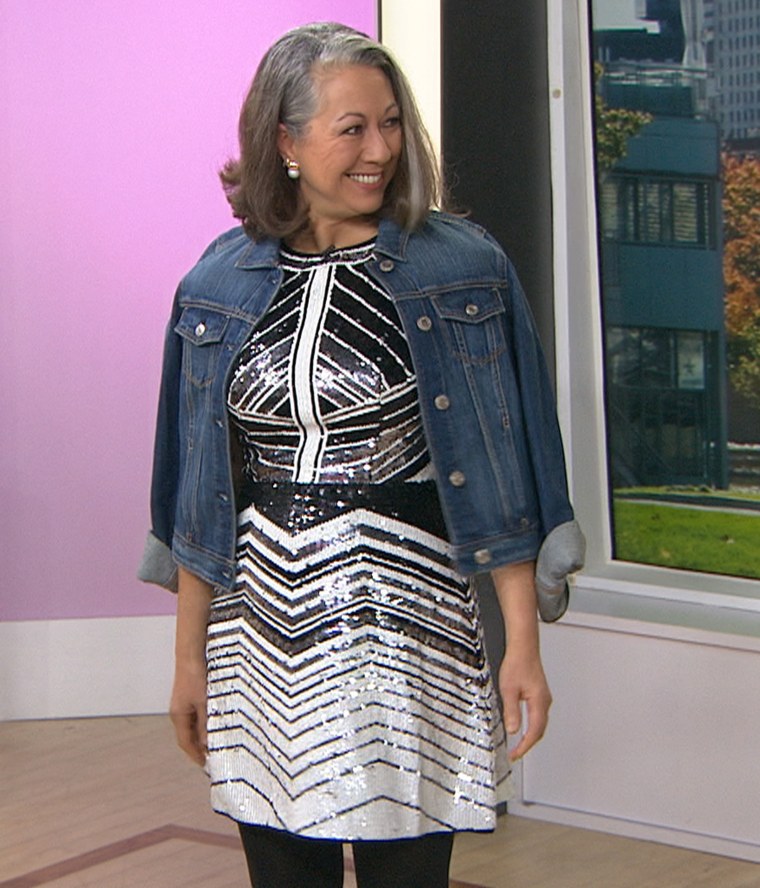 Who says all the fun has to happen at night? For a rendezvous while the sun is still shining, try a sequin dress. This outfit features a dress with yes, black, but other colors mixed in as well, like silver and white. Keep the look grounded for day by topping it off with a denim jacket and slipping into flats.
"It's really just about what you're pairing it with," Vazquez said, adding: "If you do it the right way, sequins can be one of the most versatile things in your closet."
TODAY.com contributor Lisa A. Flam is a news and lifestyles reporter in New York. Follow her on Twitter.