A woman made headlines this week when she sued a Sephora store in California, claiming she had contracted an HSV-1 infection, which can cause oral herpes, from a lipstick tester at the shop.
The case is still pending, but it made us wonder: Is it ever safe to use those sample lip balms, eye shadows and blushes that look so tempting as you wander the aisles of your favorite beauty store?
In a word? Never, says Dr. Debra Jaliman, a dermatologist based in New York City.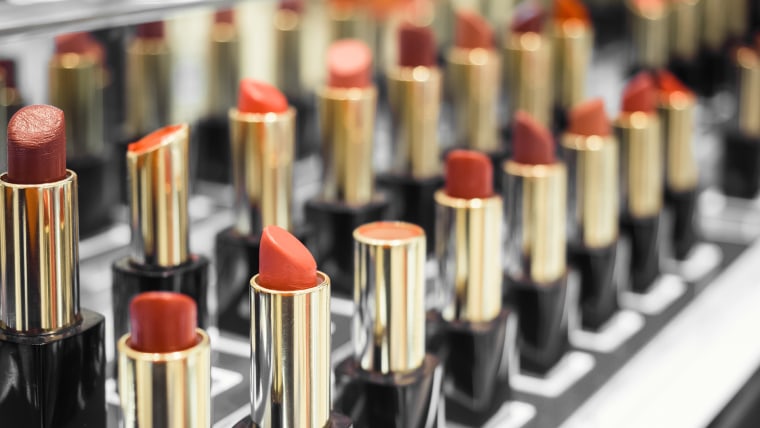 "You can get infectious diseases from using testers in makeup stores," she told TODAY Style in an email. "I don't ever recommend it."
Dr. Whitney Bowe, another NYC-based dermatologist, agrees. She warns that department store makeup testers have been found to harbor all kinds of nasty bacteria, including strep, E. coli and staph, which can cause a skin infection called impetigo.
"You never know which makeup products can become contaminated with germs (or) bacteria as we all harbor bacteria on our skin," Bowe told TODAY Style in an email. "Never share anything that comes into direct contact with another person's skin or mucus membranes."
Even if you use a disposable applicator, the makeup itself could still be harboring bacteria if someone with an infection double-dipped their applicator, or coughed or sneezed over the makeup. And since "viruses can live on inanimate products," it's best to play it safe and not dip in at all, Bowe says.
Sephora declined to comment on the specific hygiene practices they follow surrounding makeup testers, though the company told TODAY Style in an email that "the health and safety of our clients is our foremost priority. We take product hygiene very seriously and we are dedicated to following best practices in our stores."
Beauty stores undoubtedly try to keep their makeup samples clean and bacteria free. But keeping makeup truly germ-free takes a lot of work, says Lorin Cole, a celebrity makeup artist and author of "The Complete Book of Makeup."
As a professional makeup artist, she has to use the same lipsticks, blushes and mascaras on multiple clients. She follows a rigorous hygiene process to ensure that her applicators are fresh and clean for each new face.
"With brushes, I bring them home, I wash them with dish detergent, not once, but twice," she told TODAY Style. "Then … I use the alcohol spray, and I wipe them off and I rinse them again. I am ultra-careful."
Cole uses disposable wands to apply mascara, and she makes sure to never touch a used applicator back on the original makeup container, whether it's lipstick, eye shadow or foundation.
"Never, ever double dip," she said. "That's a given."
Employees at beauty stores may be keeping an eye out for double-dippers, but some contamination is bound to slip through the cracks. And, chances are, the average makeup shopper doesn't have a way to follow Cole's multi-step hygiene practice right there in the store aisle. So, if you want to be 100 percent safe, just step away from those testers.
The same warning goes for sharing makeup among friends, Bowe says. However, if you absolutely have to share makeup, she suggests some steps to at least reduce the risk of infection:
"Spray a tissue with makeup-sanitizing spray or rubbing alcohol, then wipe down the lipstick. And use a Q-tip to apply."
"Wipe all metal tools and products — such as tweezers, eyelash curlers and eyebrow scissors — down with alcohol whenever possible."
"Use an antibacterial wipe on the tip of any foundations or creams that come with a pump delivery mechanism before and after using."
"Always sharpen any and all pencils (eyeliner, lip liner, brow pencil, highlighter crayon, etc.) prior to using … removing a few layers (keeps) the germs away from your face."
Still, the no-sharing rule seems safest, whether at home or at the beauty store. Long story short: Don't put any makeup that has touched another person's face — directly or indirectly — onto your own face!