It's been a love affair often deferred for Melissa McMillin, 21, and Jeremy Gebhardt, 22, who have found themselves separated for six months at a time while he served his country in Iraq and Afghanistan.
So the couple's exchange of vows in front of friends and family — and millions more viewing at home — made for perhaps the most poignant ceremony in the 11-year history of TODAY Throws a Wedding, the annual event in which viewers select a couple to be married live on television's most popular morning show, then plan all the details for them.
Following the ceremony on Rockefeller Plaza Thursday, Jeremy celebrated the woman who waited for him while he was often 7,000 miles away, serving in the U.S. Air Force as a senior airman.
"It's been such a long time coming," Jeremy told Matt Lauer, Meredith Vieira and Al Roker on the plaza. "Melissa deserved this more than anyone in the world. I'm so happy that she was able to share this with me and everyone here. It's beautiful."
Added his bride: "I'm so excited; it's about time! It's been so long."
Long road to the aisleIndeed, it's been a long, winding and sometimes rocky road to the couple's wedding day. They met in high school in their hometown of Columbia, Mo., in January 2007. Jeremy was enthralled with Melissa, but his friends told him he didn't stand a chance with her. But after "two months of constant badgering," Jeremy says, Melissa finally agreed to a date.
Romance blossomed, but duty also called. A military tour of Iraq kept their relationship relegated to Skype phone conferences while he served from October 2008 to April 2009. When he returned to the States, Jeremy asked for Melissa's hand — but then he was sent to Afghanistan this past March for another six-month tour.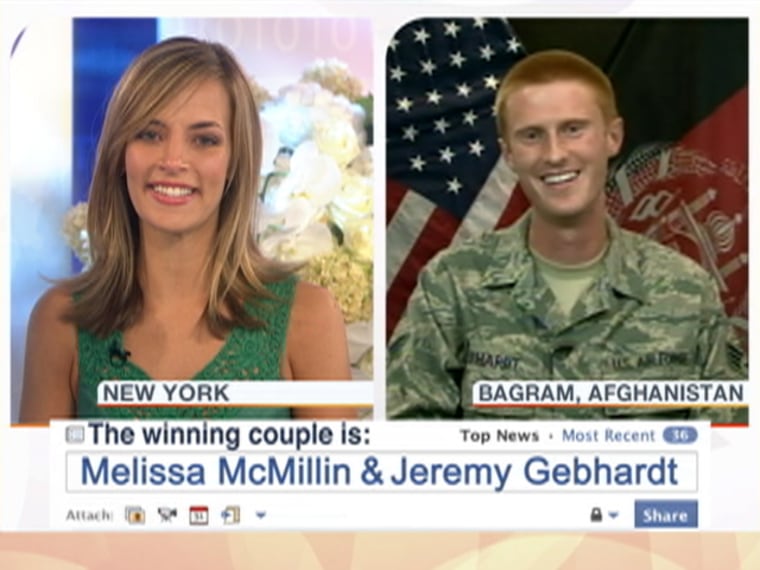 Meanwhile, Melissa, who turns 22 on Friday, kept the home fires burning while studying to be a nurse at the University of Missouri. She did not know that Jeremy threw his hat in the ring from Afghanistan, via Facebook, for them to be selected for the TODAY wedding.
They won by a landslide, and on Thursday the TODAY anchors endorsed the viewers' choice. In toasting the couple, Al Roker raised a glass and said, "Melissa, you are studying to be a nurse, which shows you care about compassion and kindness. And Jeremy, with your service to our country, you've showed that you put that above all else, and for that we thank you."
Matt Lauer added: "What better qualities could two people have as they enter into marriage? So we raise a glass and toast you on the path you've taken and the road that lies ahead."
Wet outside, warm inside
Skies were rainy in New York City as the ceremony began at 8:30 a.m., but a comfortable tent sheltered the celebrants. Senior Airman Gebhardt strolled down the aisle in his Air Force best, followed by his parents, Cindy and Del.
Melissa's mother, escorted Melissa's brothers Chris and Brett, then made her way down the aisle, followed by the bridesmaids and groomsmen. Then Melissa, looking stunning in the Paloma Blanca wedding gown TODAY viewers selected for her, walked down the aisle on the arm of her father, Steve.
The Rev. Dr. Steve Cox greeted the couple, and drew smiles, laughs and more than a few tears when he described how the couple reached far beyond their dreams in finding each other: "When you were younger, you may have dreamed of a person who was just the right height, or had just the right hair color," he said. "You may have hoped for a great athlete or elegant dancer. Then, you met each other, and you cast those dreams aside because they didn't come close to matching what you already had.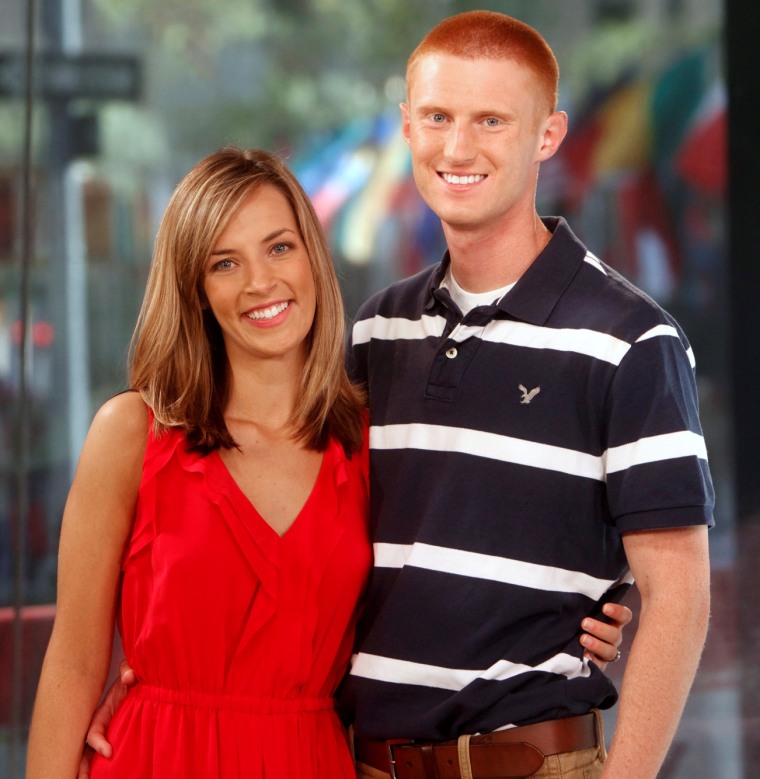 "It's just as well, because it is likely that whatever you have dreamed about marriage will never begin to measure up to what you are about to encounter."
The couple then exchanged vows and rings — Jeremy had a bit of trouble slipping the Neil Lane wedding ring on Melissa's trembling finger — and became man and wife. As a string quartet played the New York-centric Jay-Z/Alicia Keys hit "Empire State of Mind," they took their first walk as man and wife before 85 cheering friends and family members.
Thoroughly modern wedding
It was a thoroughly modern wedding, in keeping with this year's TODAY Throws a Wedding theme of "Modern Love" — with TODAY partnering with Facebook to allow hopefuls to apply via the social network. The idea was a hit: In one week alone, TODAY logged 150,000 votes. Viewers not only selected the lucky couple, but also the rings, wedding dress, tux, reception venue, bridesmaids' attire, cake and honeymoon destination.
In addition, TODAY Throws a Wedding sponsor Chevrolet gave the couple a brand-new Equinox LTX, and viewers voted to send the couple off for a luxurious seven-day vacation to a private villa in the Turks and Caicos, complete with a private butler.
Melissa beamed when she opened an envelope on the plaza telling her where she and her new hubby were headed. "We're so excited! We can't wait to go to a beach."
Still, once again, it's a dream honeymoon deferred. Jeremy is still serving in the Air Force, currently stationed in Anchorage, Alaska. They plan to wait until November to go on their honeymoon, when Melissa will be on semester break from college.
Jeremy ends his military service in the spring, around the same time Melissa graduates with her nursing degree. The couple will make their home in Columbia, where Gebhardt plans to enroll at the University of Missouri to study biology.
A reception to rememberIf the wedding itself was traditional and as intimate as, well, a nationally televised wedding could be, Melissa and Jeremy's wedding reception was the height of Manhattan glitz and glamour.
After Jeremy made a quick change out of his military dress to the Kenneth Cole tux TODAY viewers had selected for him, the couple traveled crosstown to the Hudson Terrace, one of the most elegant wedding spots in the U.S., with spectacular views of the Hudson River.
Treated like celebrities, Melissa and Jeremy had the renowned Colin Cowie as their wedding planner. Cowie, who has written five best-selling books on planning the perfect wedding, is known as the party planner to the stars, with a client list that includes Jerry Seinfeld, Oprah Winfrey, Nicole Kidman and Elton John.
Cowie gave Melissa and Jeremy the star treatment as well. Reception cocktails included peach Bellinis, strawberry mimosas, Bloody Marys and coffee martinis.
Cowie also thought modern when it came to the wedding service. "We made small changes to update the classic wedding look and bring it into modern day, while maintaining the classic and traditional touches," he told NBC. "We chose a timeless color palette so that 20 years down the road, you don't look back and say, 'What was I thinking?' "
Take a look at the young couple's dream wedding, gorgeously planned by TODAY viewers.
Cowie eschewed traditional round china for a more modern square design, and matched it with square-shaped glassware, which he said is all the rage. It surely wowed the bride and groom as they entered the reception to their guests' cheers. "We couldn't imagine anything better than this — we're so excited!" Melissa told TODAY's Natalie Morales.
Guest mingled with the happy couple while nibbling hors d'oeuvres, fruit salad and chocolate mousse laced with coffee, along with goat cheese and fruit tartlets.
After the lighting of wedding candles, Melissa and Jeremy took to the dance floor for their first dance as husband and wife. They were serenaded by rising pop-folk artist Joshua Radin, who performed his original compostion "You Got What I Need" for the couple.
Speaking with Al Roker, Radin — who recently scored a No. 1 iTunes hit with "Streetlight" — said he wrote the song in London while the woman he loved was thousands of miles away in New York City. Melissa noted the song reflected her own situation with Jeremy in a very profound way: "It was the perfect song for us."
After the dance, Melissa said it seemed surreal to hold Jeremy in her arms and sway to the song, especially after all the couple have been through to reach their wedding day. "We were thinking about how we started from going to prom together on our first date, and now here we are, we're married," she said. "It was crazy; it was like a flashback and then reality."
After the cocktail hour in the lower section of Hudson Terrace, the new bride and groom and their guests headed upstairs for the formal wedding meal. Executive chef Thomas Besnard kept things light, serving smoked salmon with caviar, Swiss cheese and prosciutto with truffled eggs and frisee salad.
Following the brunch meal, Melissa and Jeremy cut the wedding cake, a four-tiered wonder that had a little something for everyone: alternating layers served up four different flavors, from spice cake and chocolate cake to two varieties of vanilla.
Summing up, Melissa said that she and Jeremy did their best to remain calm during a wedding and reception that had considerably more hoopla than they would have ever had otherwise, and she thanked all of those who voted for the couple and planned their wedding.
"We just want to thank everybody for being so invested in us; this has been such a wonderful opportunity," she said.