When it comes to women who make us laugh, there are four knee-slapping, ghost-busting ladies who come to mind. That's why it seems just perfect that Melissa McCarthy, Kristen Wiig, Kate McKinnon and Leslie Jones appear on the cover of Elle magazine's first-ever "Women in Comedy" issue.
The magazine debuted a sneak peek of this special edition this week, nearly one month before the release of the new "Ghostbusters" movie. The leading ladies ditched their khaki jumpsuits and went full-on glam for the fashion magazine, including glitzy dresses, bustiers and even a few shoulder pads — a likely nod to the 1980's fashion in the original film.
Speaking of which, there's been skepticism over Paul Feig's female-led reboot of the classic. The remake comes 32 years after the original with some saying it just can't meet expectations.
But despite the criticism, it's easily become one of the most talked about remakes and its leads are proud to stand by their work — as well as female comedians and multifaceted characters in general.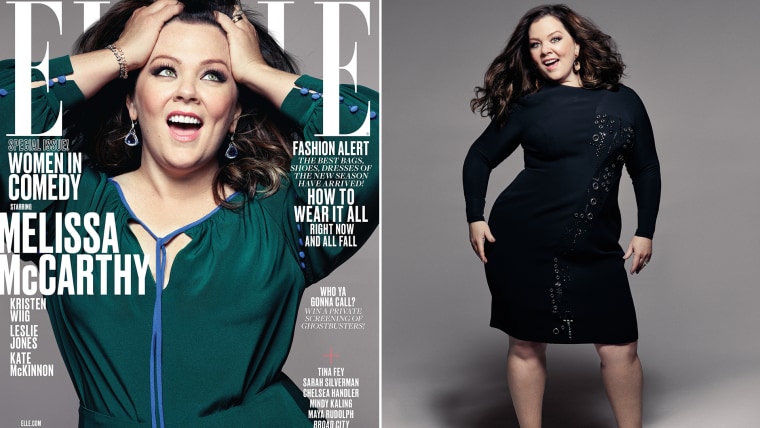 RELATED: Melissa McCarthy fires back at 'Ghostbusters' haters with perfect comeback
"I have to represent the woman I'm getting to be. Even if she's fictitious, she's always real to me: three-dimensional, flawed, loving, screwed-up, as real women are," McCarthy told long-time friend and shoe designer Brian Atwood, who conducted her Elle interview.
McCarthy, along with comedy heavy-hitter Kristen Wiig and "SNL" stars Kate McKinnon and Leslie Jones are as bold as ever in the July issue.
McKinnon, who's best known for her impressions of Ellen Degeneres and Justin Bieber, shows off her glamorous side by posing in a long, pillowy white fur coat that sweeps off her shoulder. But don't think that means she's lost her comedy edge.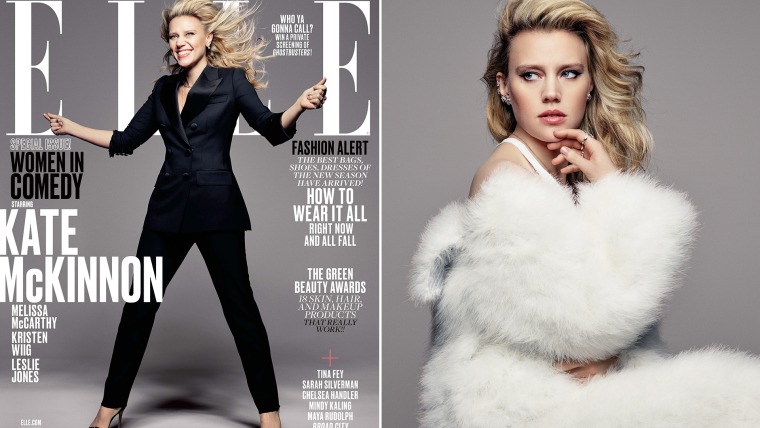 "I came to a reckoning that [pretending to be other people] is in fact such a real, huge chunk of the way I communicate. I thought it was something I was putting on to disguise something else, but it's not." So, what she's saying is that in real life McKinnon is, in fact, Justin Bieber?, Elle writer Lizzy Goodman penned. "That is what I am telling you, yes."
RELATED: "Ghostbusters" superfan Al Roker to make cameo in new movie
Jones, whose hilarity often causes her coworkers to break character into laughter, rocks spiky tresses and pretty floral prints while sharing her self-confidence in an interview with Ben Dickinson.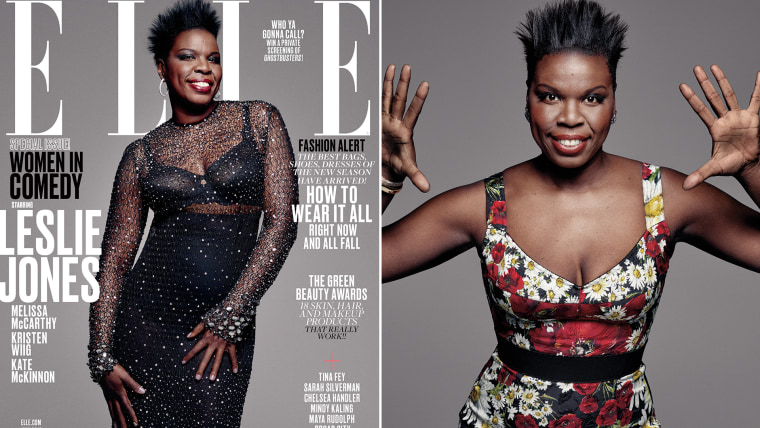 "I just knew that I was funny, and I knew that it was just a matter of time. I didn't know what was going to actually happen — this is definitely way bigger than I thought — but I knew there was no way I was going to be that funny and nobody was going to notice it," she said in Elle.
RELATED: "Ghostbusters" gals reveal their wackiest jobs (one involves Scientology)
Meanwhile, Wiig sports a denim patchwork shirt and over-the-knee boots — perhaps a reference to the workwear jumpsuit she'll sport in the movie. Her famous interviewer is none other than comedy legend Will Ferrell.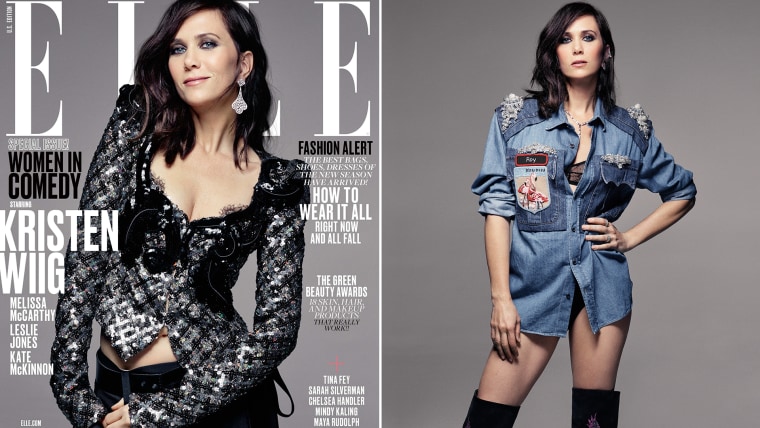 "I was scared that I was going to freeze or swear or pass out," she told Ferrell of her first "Saturday Night Live" sketch.
The July issue hits newsstands June 21, but if you can't get hold of the issue for some mysterious reason ...
... you know who to call.