When Erika Booth's 12-year-old daughter puts on her school uniform in the morning, she has three options: a skirt, a "skort" or a jumper, a kind of sleeveless dress worn over a blouse.
One thing she definitely cannot wear? Pants.
Her school, Charter Day School in Leland, North Carolina, prohibits female students from wearing pants or shorts — a policy that an ongoing lawsuit claims is illegal.
Erika Booth, who asked that her daughter be referred to by her initials, I.B., is suing Charter Day School along with two other families in an effort to force the school to change its uniform policy.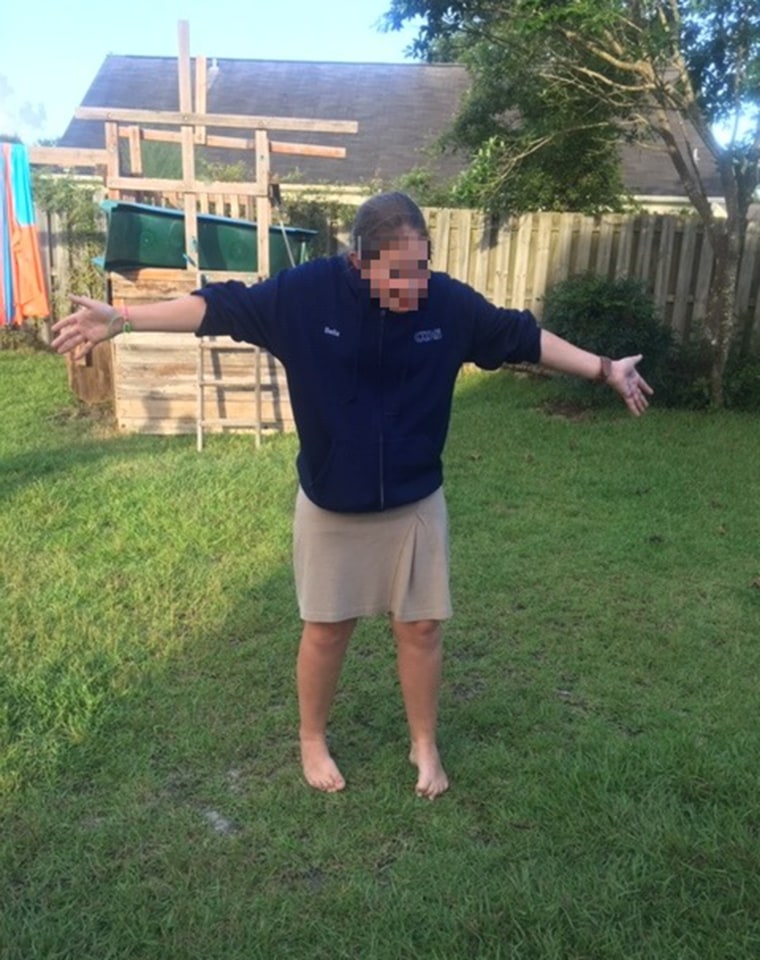 Booth joined the lawsuit after another mom, Bonnie Peltier, sued the school in 2016 with the help of the American Civil Liberties Union of North Carolina.
"Once I found out there was a lawsuit, I was delighted," Booth told TODAY Style. "I felt like the rule was unfair to girls all along. When my daughter … found out she had to wear skirts the first day of kindergarten, she cried."
Booth's daughter, now in the seventh grade, has complied with the school's uniform policy over the years, but Booth says that wearing skirts has restricted I.B.'s movements and made her uncomfortable during cold weather.
"It's impractical to wear a skirt," Booth said. "They can't run, they can't play, they can't flip upside down. The clothing is simply not as durable. They're told that they can wear leggings, and any woman who has ever worn leggings can tell you leggings are not pants. When it's 14 degrees in the morning in January ... they're not pants. They're not."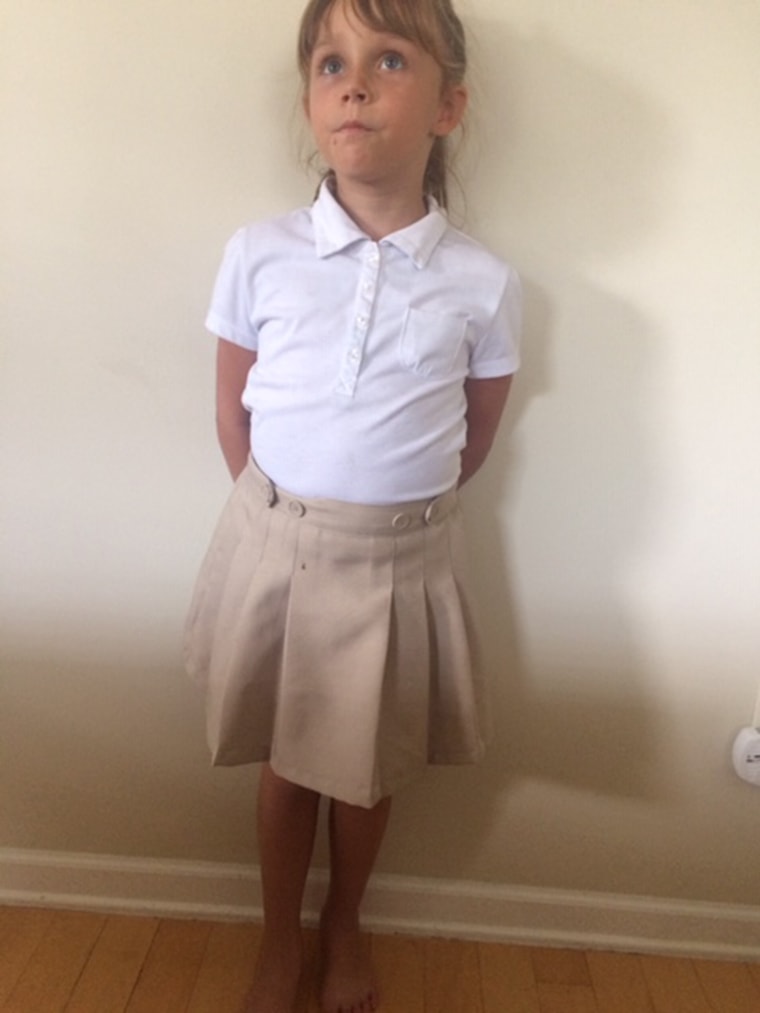 The skirts-only rule also has also affected girls inside the classroom. According to the lawsuit, when I.B. was in kindergarten and first grade, teachers encouraged her and other girls to "sit like a princess" with their legs tucked to one side, instead of sitting cross-legged like the boys.
There are a few exceptions to Charter Day's no-pants rule. Female students are allowed to wear pants or shorts one day per week when they have physical education classes, as well as during certain field trips and spirit days.
For Booth, those exceptions to the rule only perpetuate the gender double standard.
"For PE, which is one day a week, even they (the school) admit that a skirt is impractical … So basically they're not allowed to be athletic" except during specially sanctioned times, she said.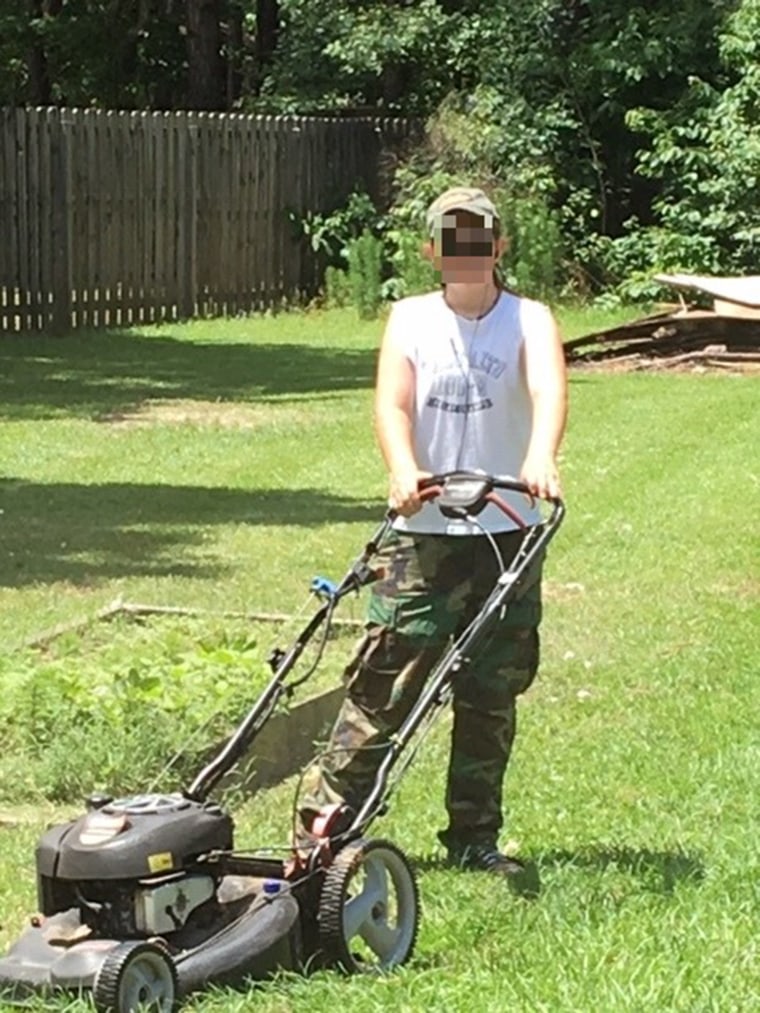 Charter Day is hardly the first school to come under fire for a controversial dress code policy, but their skirts-only rule is "definitely an outlier," Galen Sherwin, an ACLU attorney who is involved in the case, told TODAY Style.
"This is definitely an extreme case," she said. "Certainly none of the schools in the local area have a similar requirement, including the Catholic schools."
Charter Day School claims their uniform policy instills "chivalry" and "traditional values" in students. Baker Mitchell, founder of the Roger Bacon Academy, the organization that runs Charter Day School, explained the rationale for the policy in a 2015 email to parent Bonnie Peltier.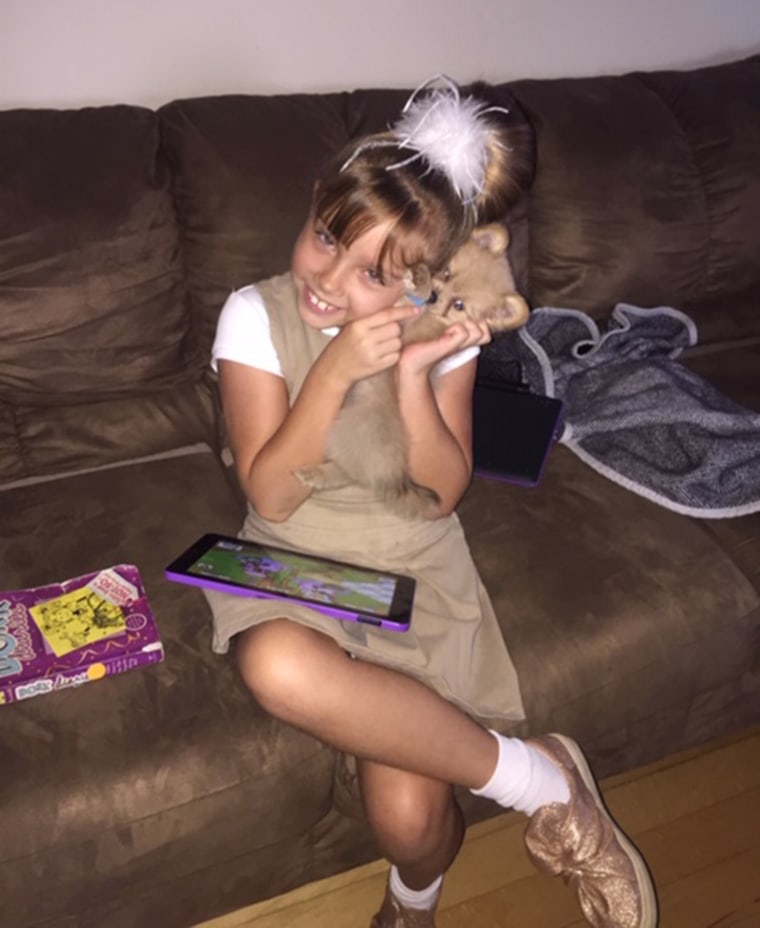 "Bullying and sexual harassment are current topics of concern almost everywhere we look," Mitchell wrote. "Teen pregnancies and casual sex receive concerned attention in most communities. Thus, the uniform policy seeks to establish an environment in which our young men and women treat one another with mutual respect."
According to the lawsuit, a school office employee also said that for girls, skirts present a more "professional image" than pants.
Booth calls that "nonsense."
"Women wear pants all the time. I do in my job," Booth, who is a paramedic, told TODAY. "I wear a uniform for my job and it looks just like the uniform that men wear. … Women look professional in pants. I set that example for my daughter every day."
TODAY reached out to Mitchell and other school officials for comment. Mitchell declined to comment on the pending case. A lawyer for the school, W. Ellis Boyle, also declined to comment, but forwarded a 2017 memorandum in support of the school's position.
From a legal standpoint, the school argues that as a charter school, it does not have to comply with a federal law called Title IX that protects people from sex discrimination in education programs that receive federal funds.
According to the ACLU, this argument doesn't hold water.
"Charter schools are treated as public schools under North Carolina law," Sherwin told TODAY. "When you're a public school and you accept public dollars, you have to play by public rules. The school has of course taken a different position on that, and seems to believe that their status as a charter school exempts them from the obligation of civil rights law. And that is not the law."
The school has also suggested that if parents don't like the uniform policy, they can switch schools.
"If Ms. Peltier would like her daughter to be able to wear pants or shorts to school, she is free to send her daughter to a non-charter public school," George Fletcher, a lawyer representing the school, wrote in a 2015 letter available on the school's website. "It is not as though she was tricked into sending her daughter to CDS."
Booth says she enrolled her children in Charter Day School because it offers educational benefits that aren't available in other schools in the area, and said it would be a real hardship to withdraw her daughter.
Besides, Sherwin says that even if parents have other school choices, Charter Day still has to follow the law.
"The fact that this is a school of choice does not exempt the school from complying with civil rights laws," Sherwin said. "If it did, then there would be no force to any of our civil rights laws. Certainly at the college level, it's always voluntary. Students can go anywhere. So, the fact that you can choose which school you attend does not mean that the school isn't required to comply with the constitution or Title IX."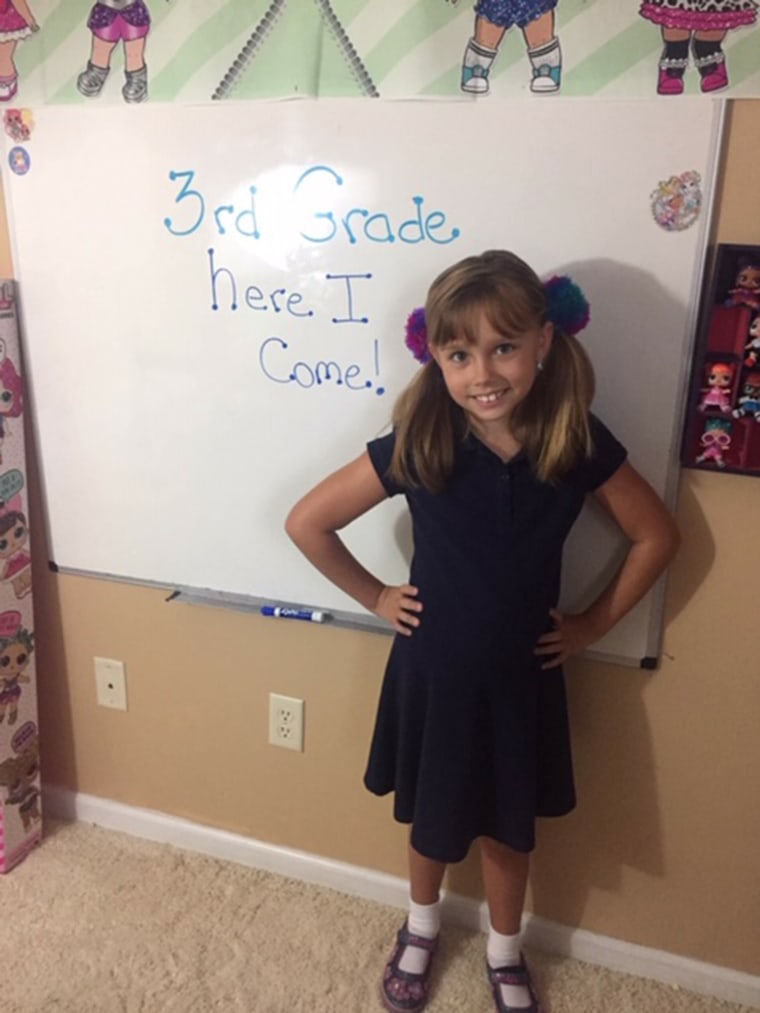 Now, both sides in the case are waiting for a court to rule on the matter. It's an unpredictable process, and the case could be resolved soon or it could drag on for several more months, Sherwin says.
In the meantime, Booth's daughter continues to wear skirts to school. She will graduate from Charter Day in about a year-and-a-half, so even if she and the other families win the lawsuit, she will not have much chance to benefit from any updated uniform policy.
But at this point, Booth says her daughter is fighting not only for her own rights, but for the rights of future students.
"(My daughter) is now actually quite invested in the outcome of this," she said. "She understands what is at stake and what it really means, and that she may not benefit directly personally by this, but all of the girls after her will."
She added that this experience has been a valuable lesson for her daughter in civic engagement.
"When you're fighting for your rights, it's a long game. It's not short. It's not easy," she said. "It's persistence that makes this happen ... and she understands that."