A Wisconsin high school is mandating that any students who wish to wear a dress at next month's homecoming dance must submit pictures of themselves wearing the attire for approval in advance.
The Pewaukee High School dress code, which was implemented in 2015, has drawn criticism for promoting body-shaming and being discriminatory toward female students.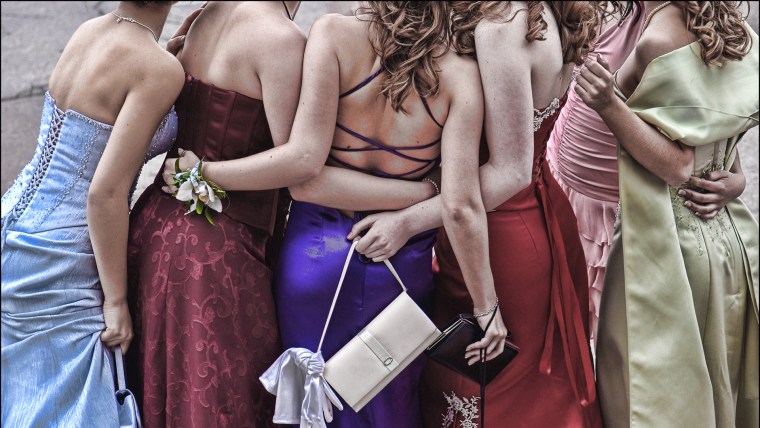 "The fact that we had to send a photo of ourselves in our dresses before we could purchase a ticket to any dance was unneeded and intensely uncomfortable,'' former Pewaukee student Jackie Henderson wrote on Facebook. "Sending a front AND BACK photo is invading privacy and actually kind of embarrassing."
"It's really just a practical process that was put in place to benefit students," Pewaukee School District Superintendent Mike Cady told TODAY. "As opposed to dealing with them at the door of a dance and sending some home to change, this practice was put in place so that it could be handled in a sensitive, proactive manner, and they can attend a dance confident that they are complying with the rules."
The pictures are evaluated by female administrators only and must be approved before students can purchase tickets to homecoming or prom, Cady said. He disagreed that this practice could be unnerving to the students.
"My question would be, 'Isn't everybody going to see these students in their dresses at the dance anyway?''' Cady said. "They're not sending a picture of anything they wouldn't be seen in at the dance."
Sending the photos allows the school to deal with issues of appropriateness discreetly, rather than publicly denying a student entry to a dance due to inappropriate dress, Cady said. Some parents see it as a lack of trust.
"They're being told we can't trust you to make a good decision, so we'll make that decision for you," Rebecca Sheperd, a mother of a female freshman student, told the Milwaukee Journal-Sentinel.
Cady disputed that the photo requirement is the school micromanaging an issue that should be left up to parents.
"I wouldn't see it that way,'' he said. "I think it's just another opportunity for us and parents to work together on this issue. Sometimes a parent's perceptions of what the rules are may be different from what the school's expectations are, so this is a way we can be all on the same page in advance of the event."
The dress code, particularly the photo approvals, targets female students more than their male counterparts.
"I've had questions that this seems to be a policy to be more pointed at girls, but the fact of the matter is that in the past when we've had to send kids home, it's been because of dresses."
The Pewaukee dress code also bans tops with spaghetti straps, blouses that do not cover the midriff and shorts that do not reach midthigh.
Dress code controversies have been an ongoing issue at schools throughout the country, from disputes over dress length to restrictions on braided extensions. One Illinois high school went in the other direction, relaxing its dress code to promote body positivity.
Follow TODAY.com writer Scott Stump on Twitter.