TODAY is throwing the wedding of a lifetime!
In honor of the March release of "My Big Fat Greek Wedding 2," we've partnered with our sister company, Universal Pictures, to throw one "big fat" celebration. And last Friday, we announced the winning couple — Kaitlin Roseman and John West!
As promised, YOU get to decide every aspect of their wedding — from the dresses, to the rings, to the cake, to the flowers and more.
RELATED: Which welcome sign should our TODAY Wedding couple display? Vote now!
So, let's kick it off with a major decision: the bride's wedding dress and the groom's tuxedo!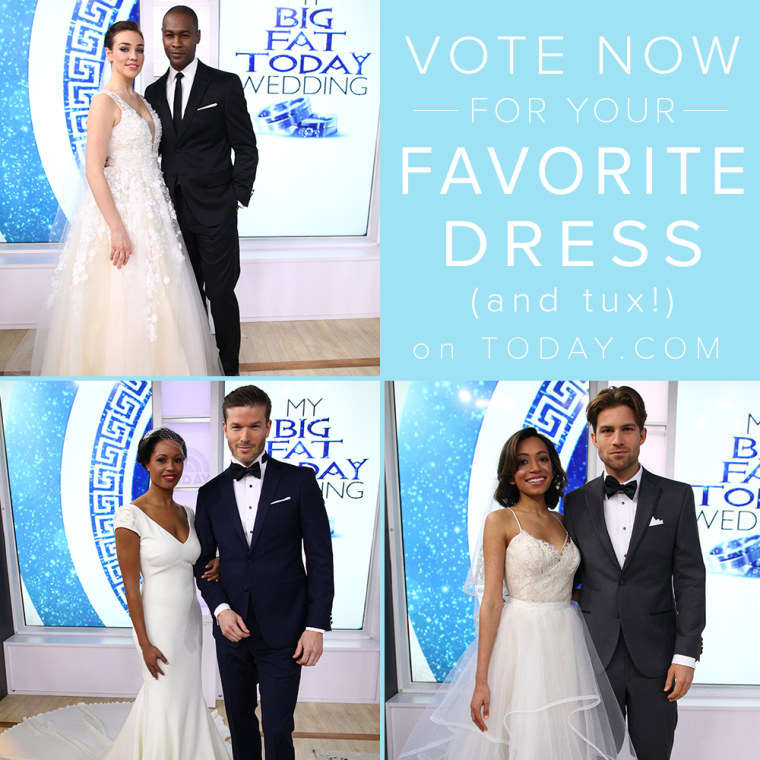 "Five years ago, [if] we were talking about trends it would've been strapless, strapless and more strapless. In 2016, you have every option in the world," said Mara Urshel of Kleinfeld Bridal. Somehow, we narrowed it down to three trendy, yet timeless looks.
Take a look at the three pairs of contenders — chosen by Style Me Pretty founder Abby Larson — and cast a vote for your favorite.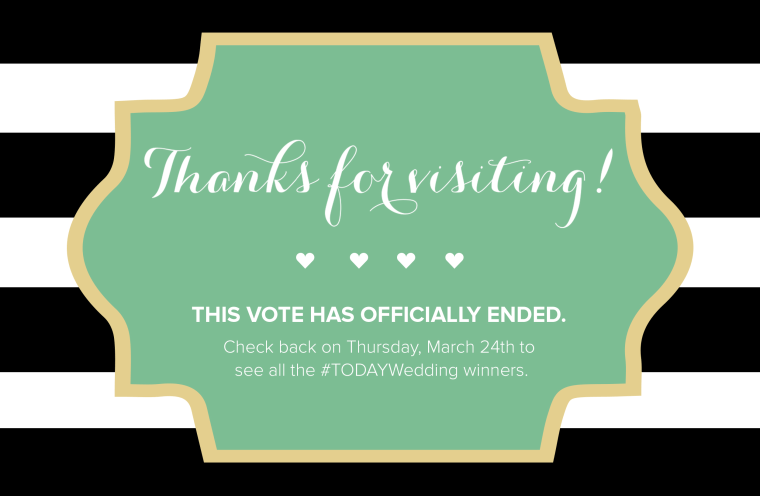 RELATED: America says 'I do!' Meet the winning couple of TODAY's Wedding
And be sure to tune in on March 24 to see which design makes it to the big day!
1. Timeless twist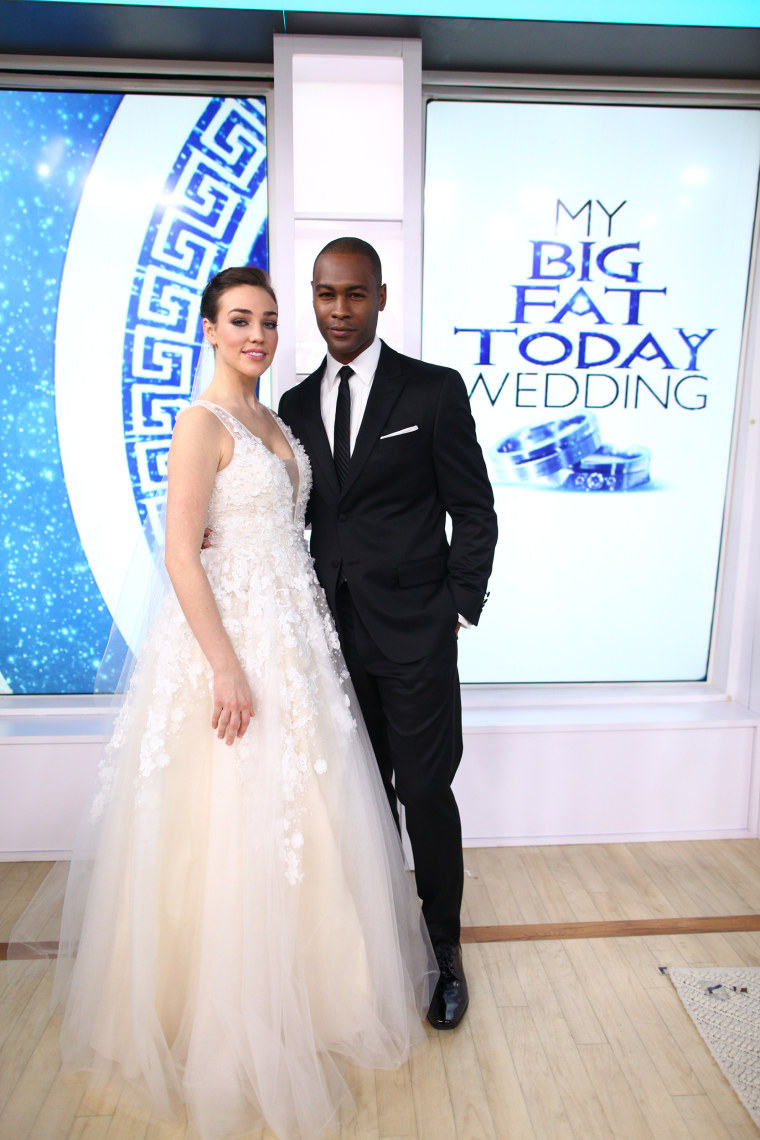 Bride: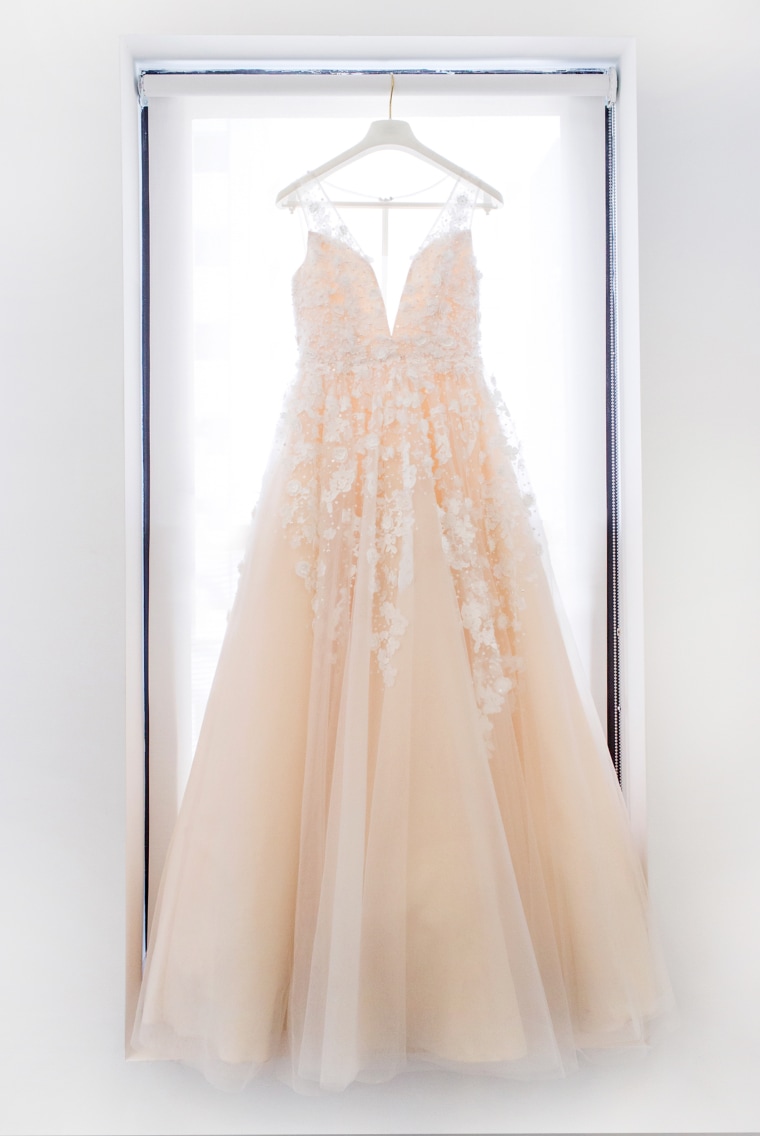 It's pronounced "beholden" — and spelled as such, just without all the vowels. This is Anthropologie's bridal line and it's beautiful. The Ariane gown is "traditional with an ethereal, utterly romantic twist," Larson told TODAY over email. We also love the price point at just $1400.
Not to mention, "the biggest trend gracing the runways this season were these 3-D floral appliques," Larson pointed out. This gown also features a plunging V-neckline a trendy illusion top. Last but not least, this gorgeous ball skirt is all glam.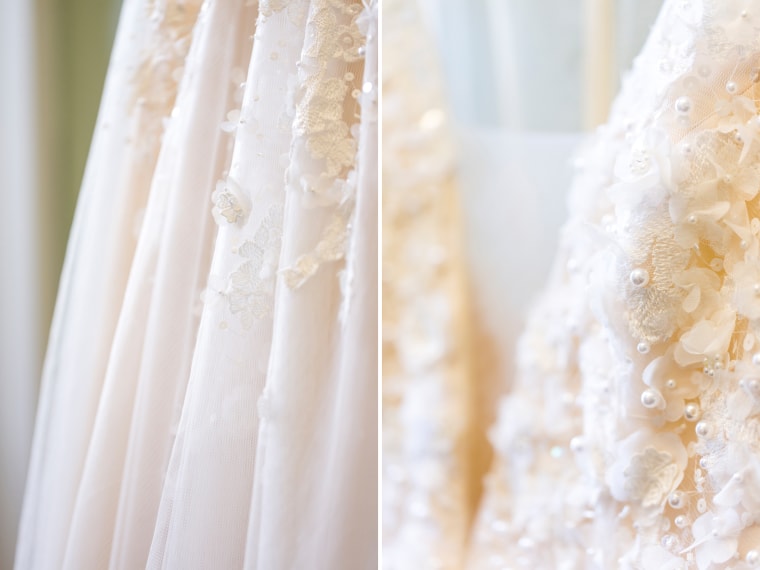 RELATED: 'My Big Fat Greek Wedding 2' stars reunite and reminisce on TODAY
Groom:
Joseph Abboud Black Tux with Tie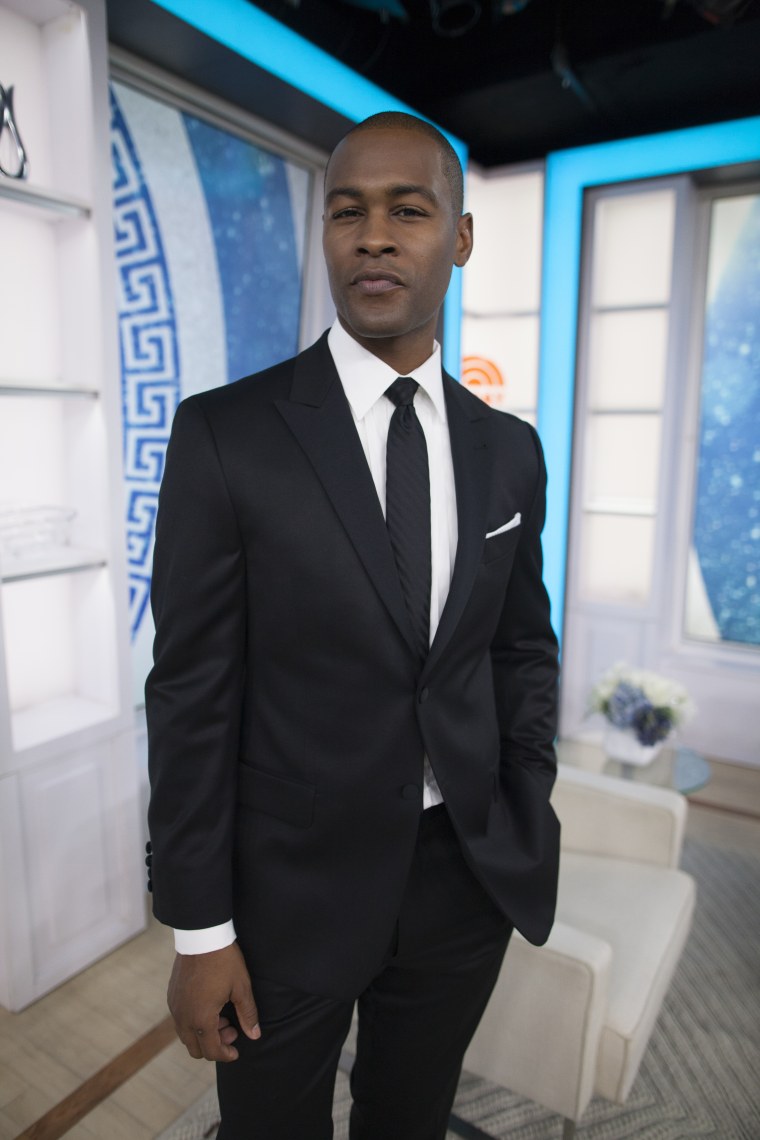 How can you go wrong with a classic black tuxedo? "It's timeless, classic and will never go out of style. It looks great against the bride," Larson said.
This is a Joseph Abboud for Men's Wearhouse tux updated with a classic black tie in lieu of a bow tie. And a tip for grooms out there: It's all about the tailoring to make you look top notch!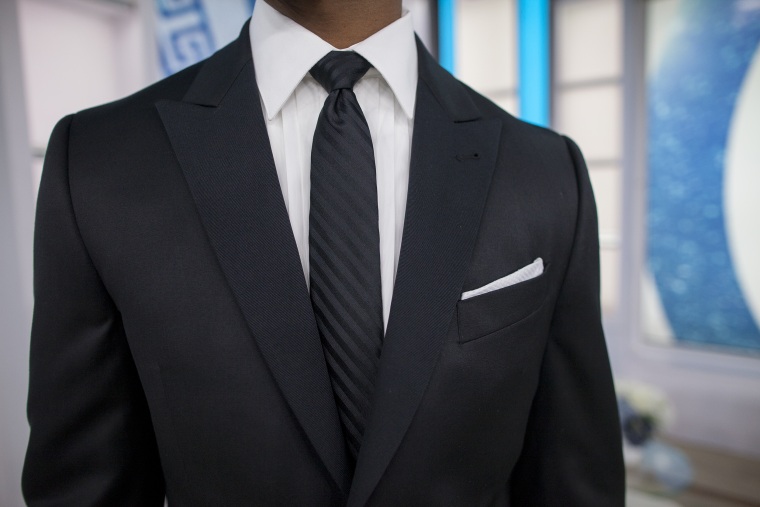 2. Elegant affair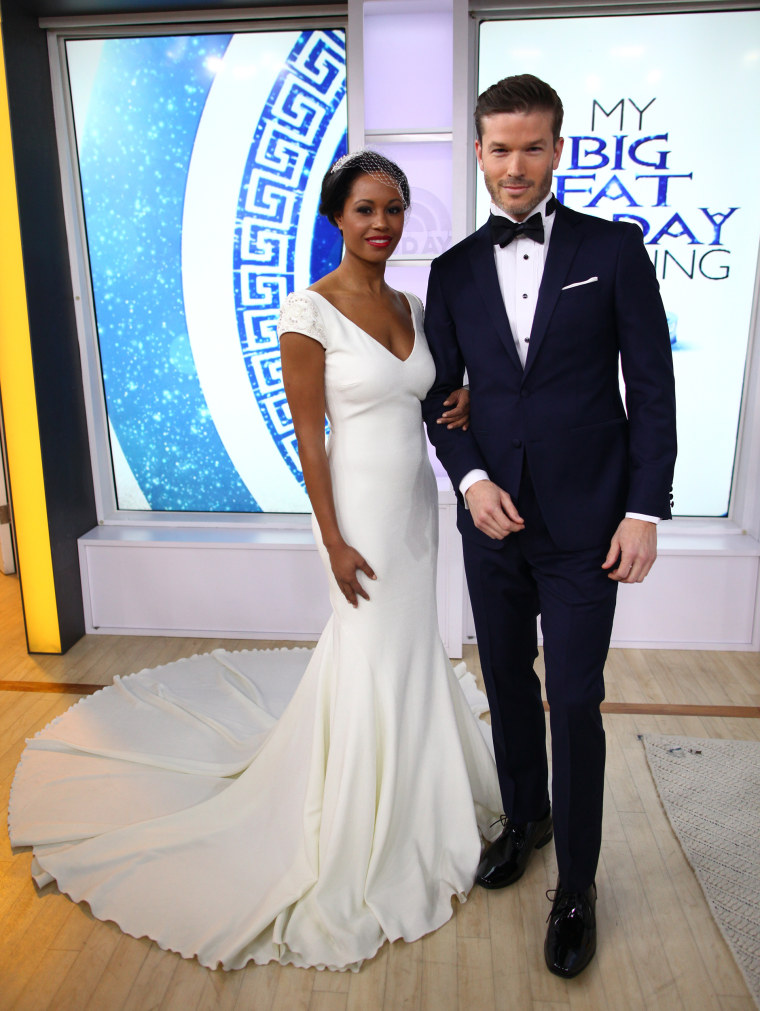 Bride: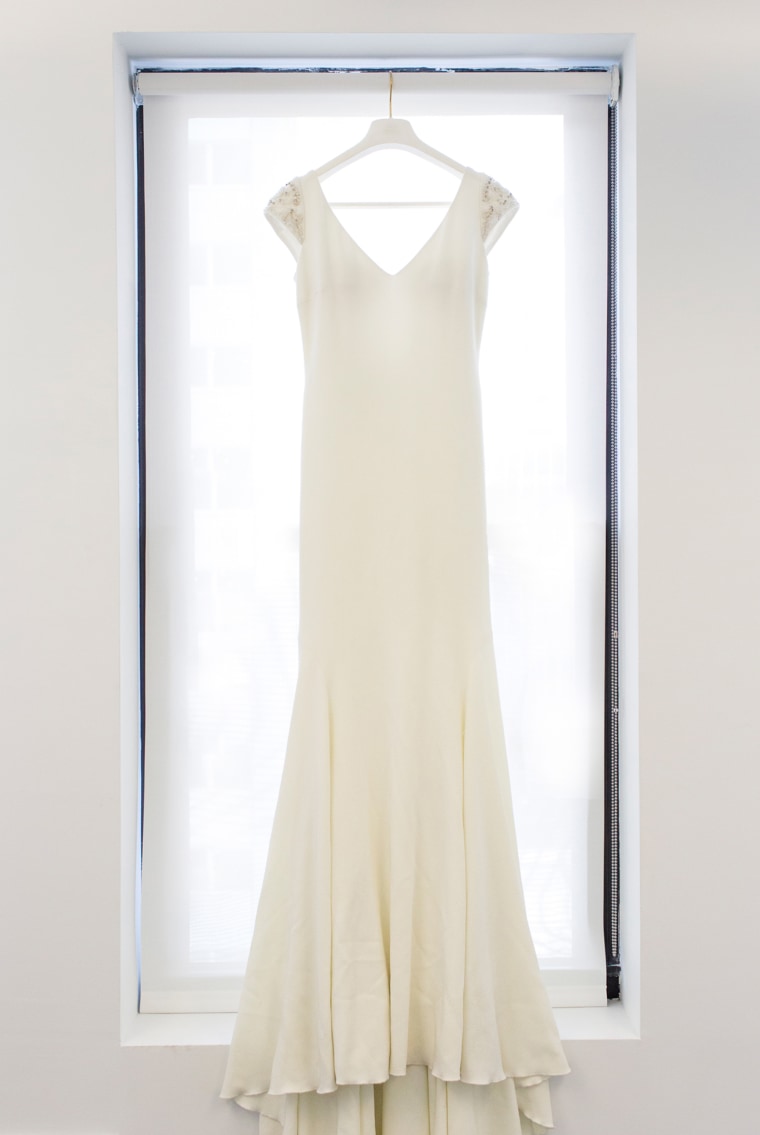 This dress is the very definition of sophistication and grace. "It's a mermaid gown in a soft white crepe fabric and it highlights the deep, plunging V-back trend, that is so hot right now," Larson explained.
The gemstone-embellished sleeves are also incredibly on-trend and add a bit of bling without overwhelming the silhouette of the gown (or the bride). Understated elegance is the name of the game with this look, while it's art deco flair adds a Gatsby-esque element.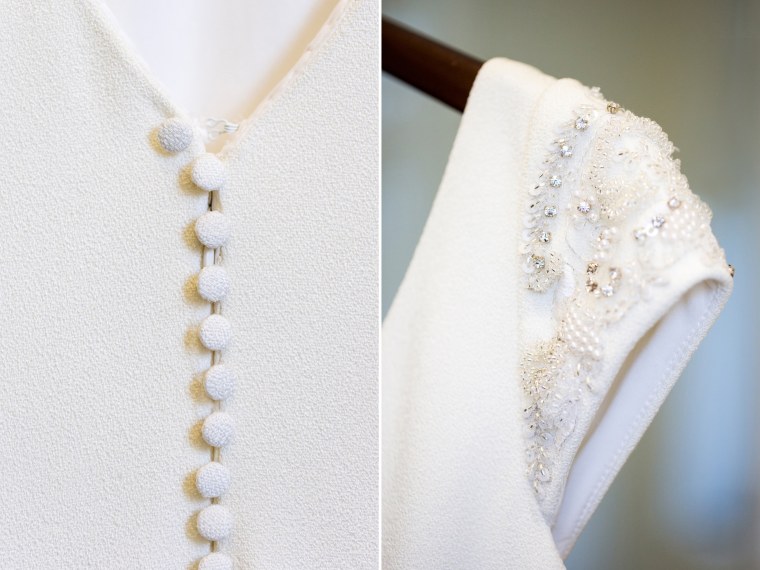 RELATED: 21 things I wish I knew before buying my wedding dress
Groom: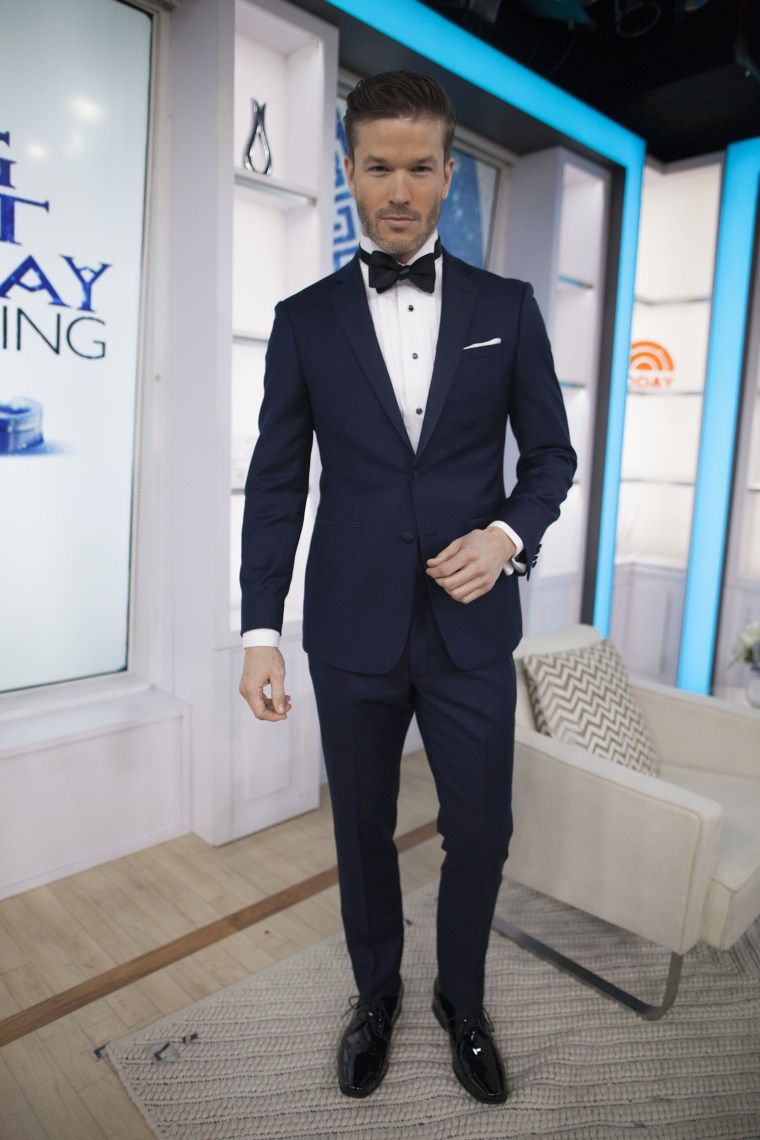 "If anyone was watching the Oscars a few weeks ago, you'll know that navy is the 'it' color when it comes to men's formalwear," Larson said. And this navy tux by Calvin Klein for Men's Warehouse is so incredibly sophisticated. Its super slim fit is very flattering and features grosgrain detailing along the pockets and pants. Think a modern tuxedo in an extreme slim fit perfectly matched to the gorgeous, Gatsby-inspired bride.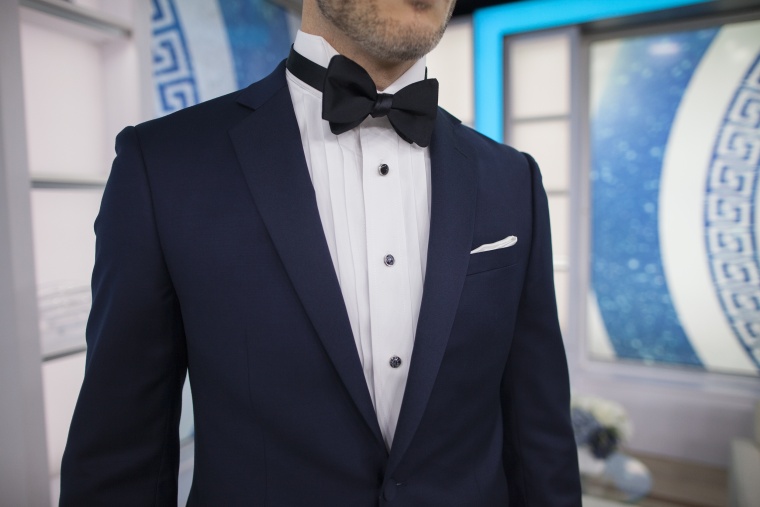 3. Sexy switch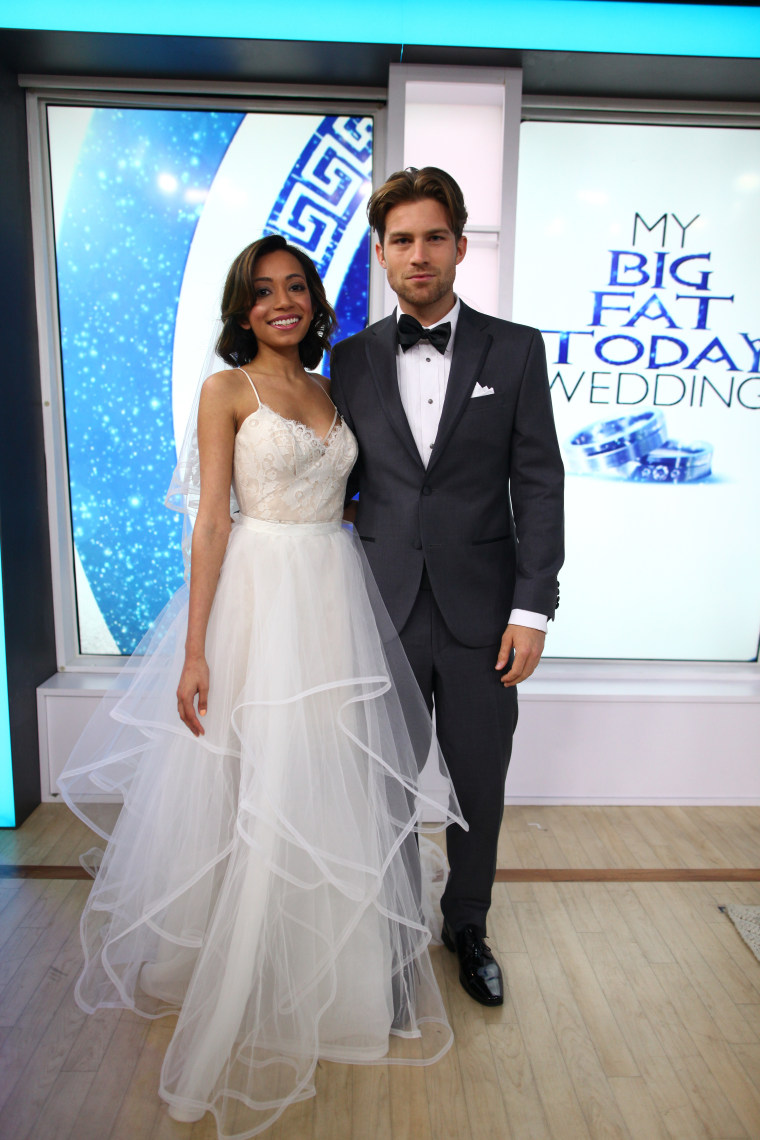 Bride: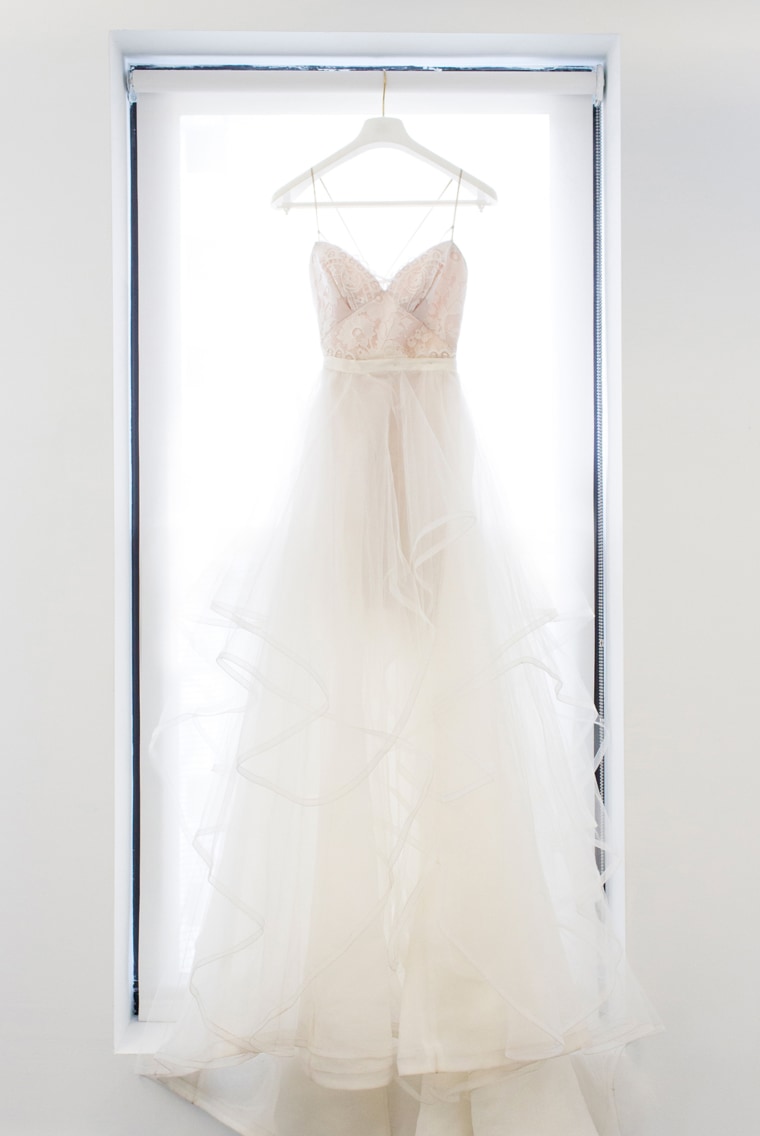 This last gown is a total showstopper. Designed by Hayley Paige for JLM Couture, it features a lace bodice in a gorgeous blush tone (a color that is incredibly chic and making a huge statement in modern weddings) with a tulle skirt that is both whimsical and feminine.
The best part? "This skirt is actually detachable," Larson explained. "Underneath is a fabulous mini lace dress!" That sounds just about perfect for dancing the night away at the reception!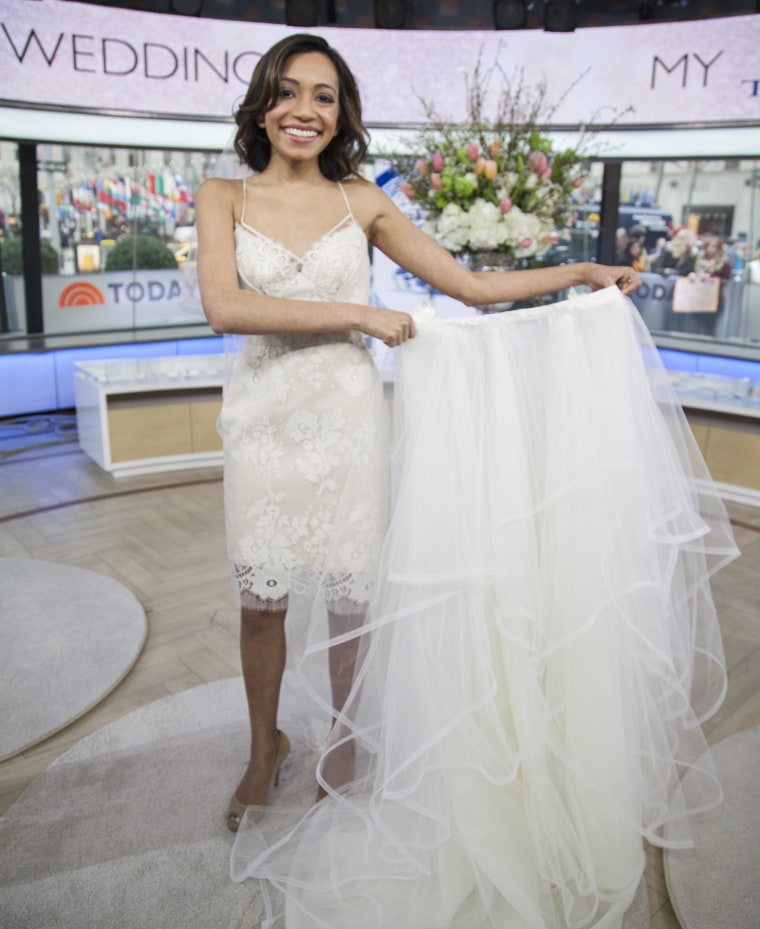 Groom:
Black by Vera Wang - Gray tuxedo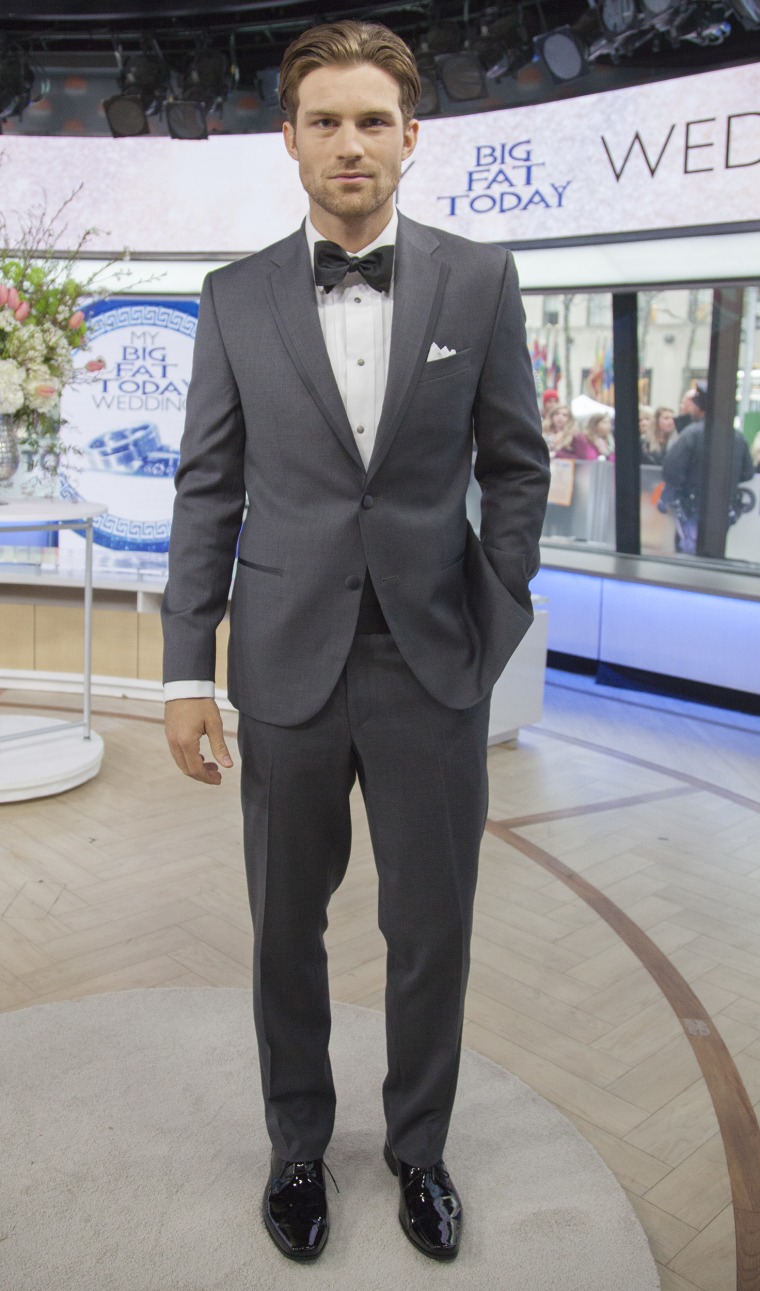 "I love the idea of a gray tuxedo. It's a little bit uptown, and still a little bit downtown in one gorgeous package," Larson said. This tux is from Black by Vera Wang and has a satin edge on a notch lapel, which brings a sense of formality to a more casual color palette. The satin edge continues down the side of the pant leg as well, making it very handsome indeed.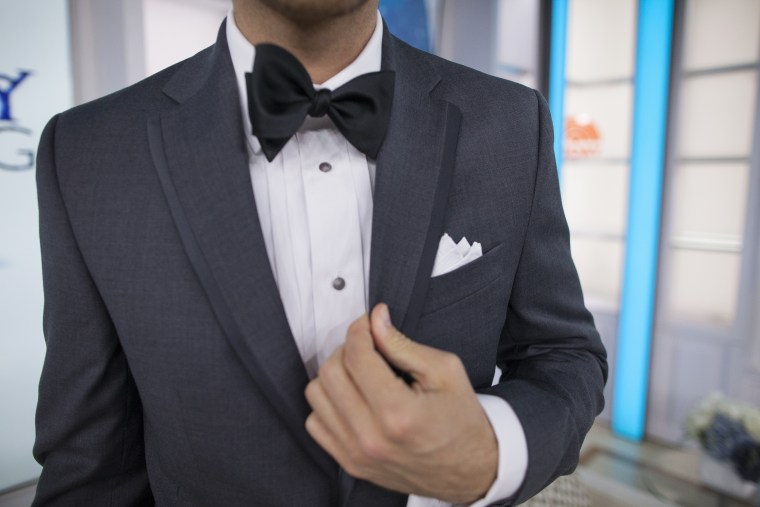 Love looking at wedding dresses? We have more than 150 ideas at Pinterest.com/TODAYShow.