No matter your hair type, you've probably been traumatized by tangles that seem nearly impossible to get out.
Hair knots have no age limit and struggling to brush them out certainly doesn't get any better. With summer upon us and tangles getting worse with each dip in the pool or ocean, TODAY Style turned to professional hair experts to uncover the best tricks of the trade. And if you have little ones at home, scroll to the bottom for kid-specific ideas.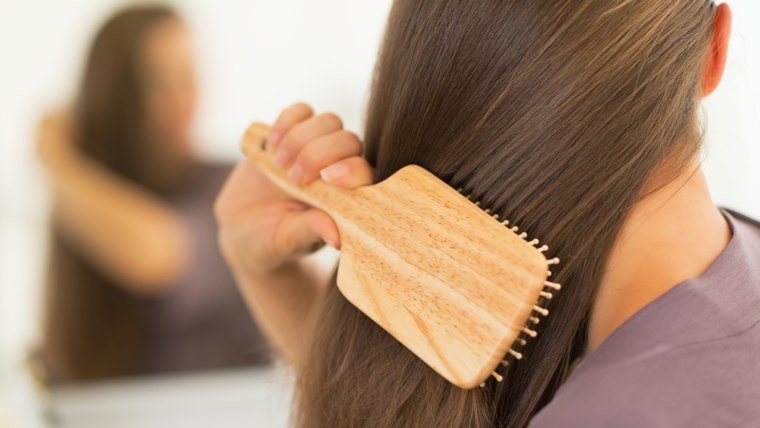 1. Brush your hair before you wash it.
"The best way to avoid tangles and knots is to brush your hair out before you wash it. Go in sections, starting from the bottom where the most knots and tangles are, and work your way up," says celebrity hairstylist Marc Mena, whose clients include Mindy Kaling and Mary-Louise Parker.
Mena also recommends using a Mason Pearson brush since its soft bristles don't rip hair.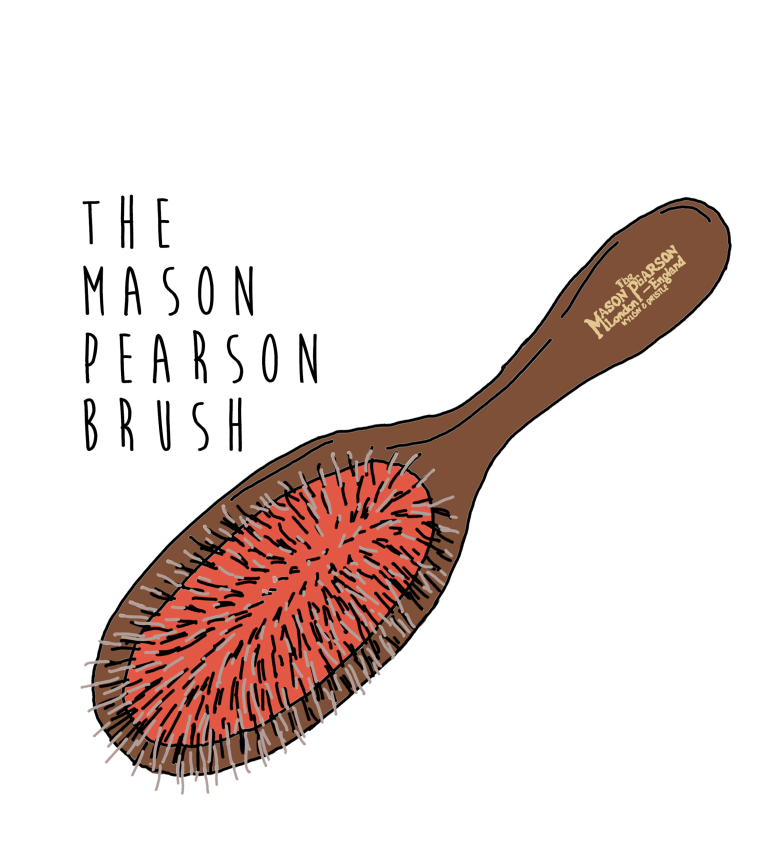 RELATED: Using the wrong hairbrush? Find your perfect match with this guide
2. Try using conditioner before you shampoo.
"If your hair tends to get really tangled in the shower, put conditioner on the ends first and comb through with a wide-toothed comb," says Mena. "Leave the conditioner on the ends and then apply shampoo to just the scalp and rinse out both the shampoo and conditioner together."
Plus, he adds, "shampoos can be drying and can strip too many oils out of the hair that we need."
3. Always comb in an upward motion.
Just because it's always been done one way, doesn't mean it's the right way. Simply changing the direction in which you comb your hair could make a big difference.
"Always comb your hair from the neck upward," says celebrity hairstylist Wendy Iles, whose clients include Heidi Klum, Alessandra Ambrosio and Diane Kruger. "Never pull a comb from the top sections to the nape. This adds stress on the hair."
4. Start the process in the shower.
Iles recommends using a sulfate-free shampoo as they are often less harsh on the hair, helping prevent knots from forming in the first place.
"Detangling hair really starts in the shower," adds celebrity hairstylist DJ Quintero, who is the "mane" man of stars like Katie Holmes and Sarah Jessica Parker.
He suggests combing the hair in the shower by starting at the ends and working your way up towards the roots. However, he cautions, wet hair tends to be more fragile, so be cautious of how hard you brush.
5. Be aware of how you sleep.
Put your hair in a loose ponytail on top of your head before hitting the pillow, recommends Quintero. He is also a fan of silk pillowcases, which are said to reduce frizz.
6. Your tangles might be sending you a message.
"When your hair gets tangled in knots, it's a sure indicator that your hair is dehydrated and ultra-dry," says Christyn Nawrot, a national educator for PHYTO. "Keep a leave-in nourishing cream handy that is specially designed to replace the lost moisture and lipids to your thirsty locks"
RELATED: How to sleep on wet hair and wake up gorgeous
7. Make sure there's a method to your shampooing madness.
"If your hair has a tendency to tangle, make sure to use your fingertips in a gentle motion when you are lathering to work the shampoo from the scalp down the hair shaft," explains Nawrot.
JB Shelton, of Bosley Professional Strength hair products, warns that scrubbing the ends of the hair causes not only tangles, but dryness that can lead to even more knots in the future.
8. The sun can be a problem.
All of the outdoor activities and time in the sun can be extremely drying on hair. To avoid this, Nawrot suggests using a facial sunscreen on your hair and scalp.
9. Protect your hair before jumping in the pool.
"The pool water that we all will be thoroughly enjoying this summer is filled with chemicals that can dry out your hair and possibly fade your color — the most susceptible are highlighted blondes," says Gianni Tuozzoli, a stylist at Frederic Fekkai in New York City.
"The best way to combat this is to apply a deep conditioner before going into the water," he explains.
RELATED: 29 drugstore hair products celebrity stylists and colorists swear by
10. Sometimes, you have to ditch the brush.
Celebrity hairstylist Giannandrea, whose clients include Christina Aguilera, Emma Roberts, Reese Witherspoon and Gwyneth Paltrow, suggests simply using your fingers to get the job done. He recommends using your index fingers and separating the larger, more painful knots before reaching for a comb or brush.
11. Braids and ballerina buns are your friends ...
Giannandrea suggests wearing hair in either braids or buns to avoid knots if you plan on taking a dip in the pool. Try using a cloth elastic band, he adds, as it's less damaging to the hair.
12. ... but skip the messy bun.
Shelton agrees that it's a good idea to wear hair back before getting it wet, but warns that a messy bun will only mat the hair, making knots even more of a struggle.
13. That cool air button on your blowdryer can help.
"When you're styling your hair, add a cool burst of air to close the cuticle, which will make your hair much healthier and create a smooth finish," says celebrity hairstylist Sarah Potempa, who also created The Beachwaver hair tool.
RELATED: Still shampooing everyday? 9 steps to get you on a better routine
14. Beware: Your color could be the culprit.
"The way you color your hair can effect how tangled it gets. Make sure to talk to your colorist about adding a gloss or a toner that adds moisture to the hair instead of drying it out," says Potempa.
15. It's all about the tools.
"I like the Wet brush or Wet comb brand because they are perfect for in-shower brushes — they are made of a plastic resin material that does not deteriorate when wet," says Nawrot.
Shelton is also a fan of the Wet brush. "It has flexible bristles that aren't too close together. It basically smooths the tangles out instead of catching and tearing them out," she explains.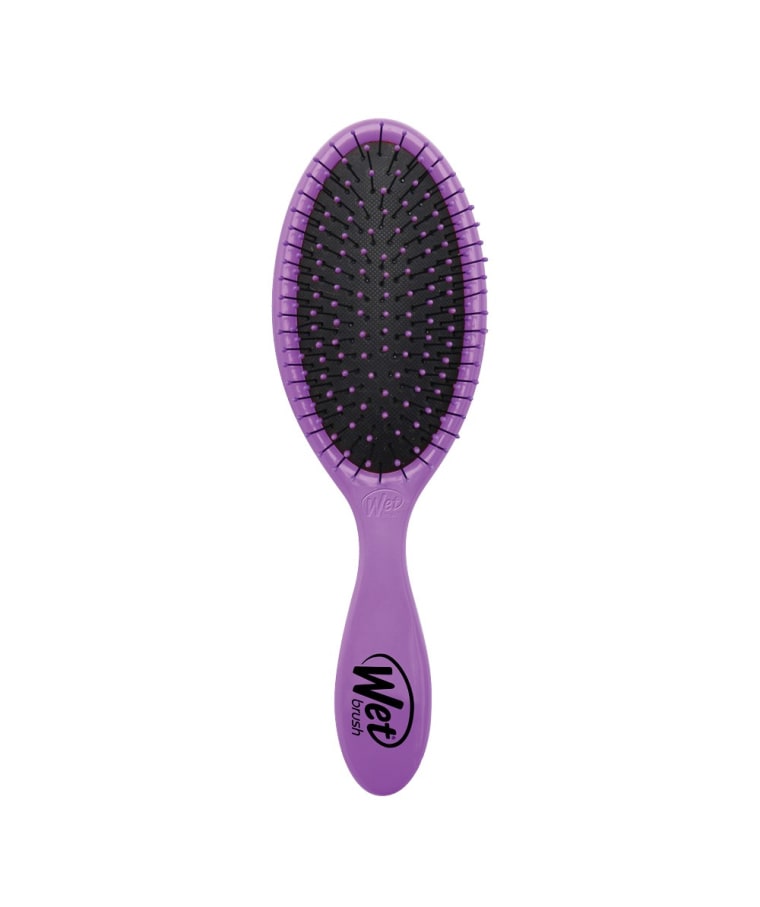 Original Detangler, $8.99, Wet brush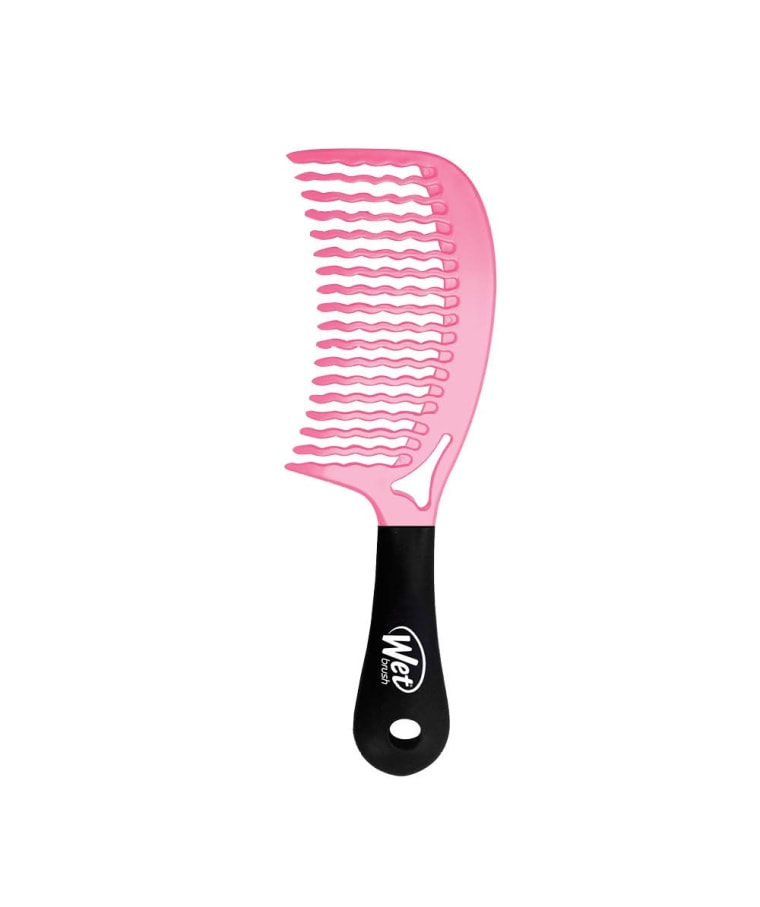 Detangling Comb, $4.99, Wet brush
Quintero is a fan of the Tangle Teezer for its easy-to-grip design and far-spread bristles, but adds that a wide-toothed comb can often work just as well.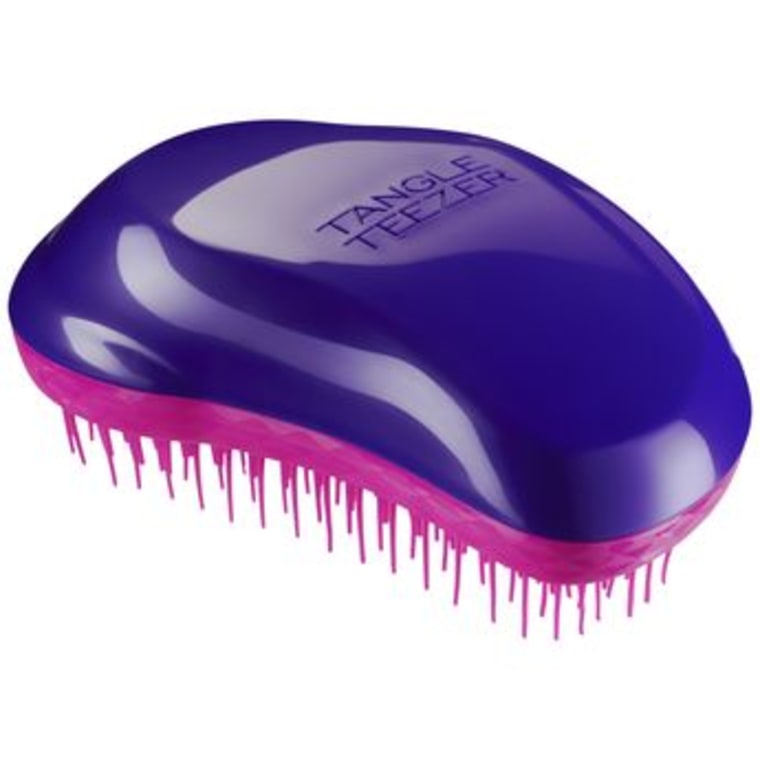 Tangle Teezer Detangle Brush, $14.99, Sally Beauty

RickyCare ARGAN+ Extra Wide Comb, $2.99, Ricky's NYC
RELATED: How often should you clean your hair brush — and the right way to do it
16. Shop in the kids section for detanglers.
Both Mena and Quintero recommend using Johnson's No More Tangles Detangler Spray to get out tough knots for kids and adults alike.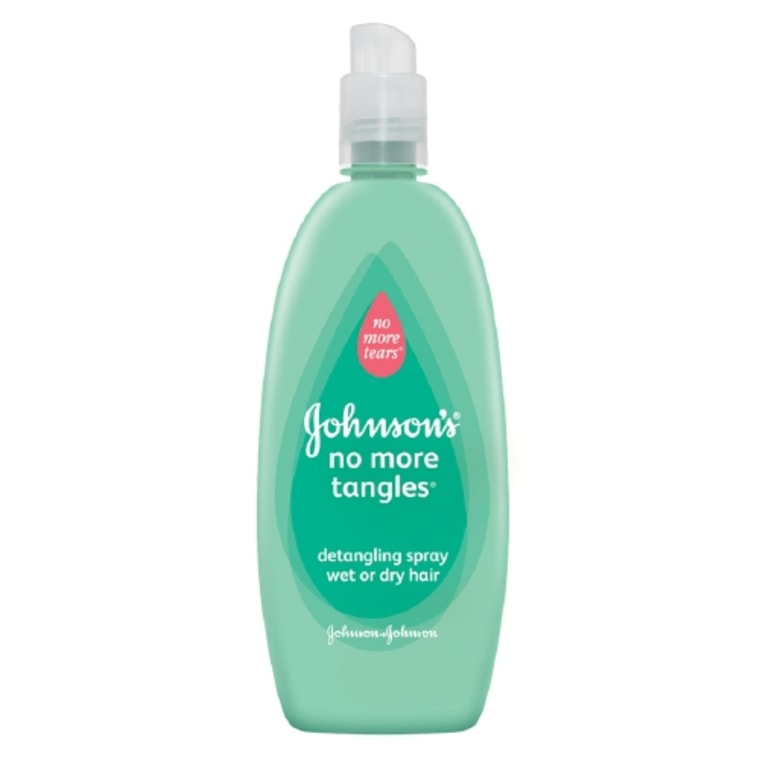 Jonhson's No More Tangles Detangler Spray, $3.69, drugstore.com
Quintero also likes L'Oreal Kids Tangle Tamer as well as It's a 10 Miracle Leave-In Product.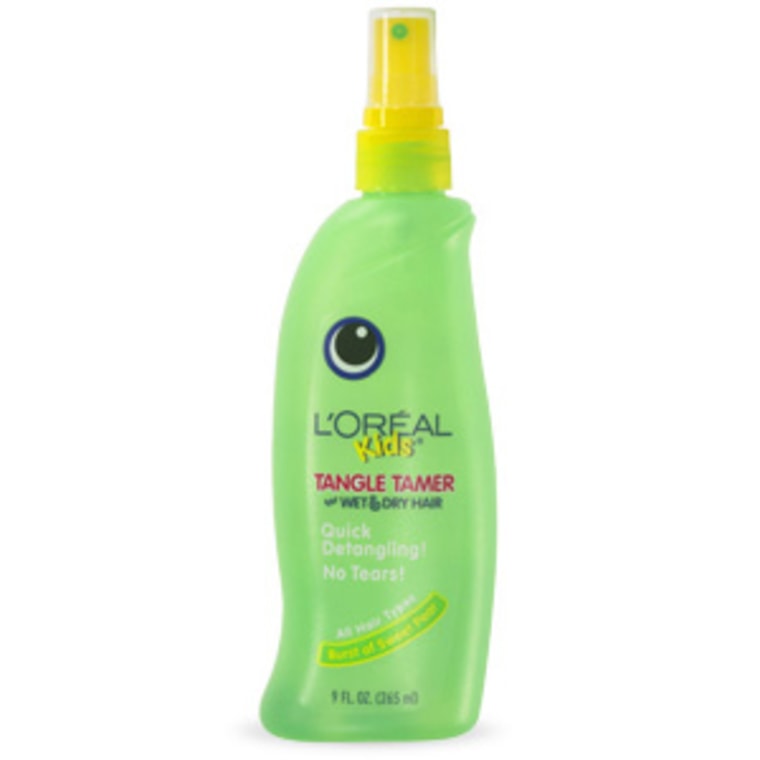 L'Oréal Kids Burst of Sweet Pear Tangle Tamer for All Hair Types, $3.49, L'oreal Paris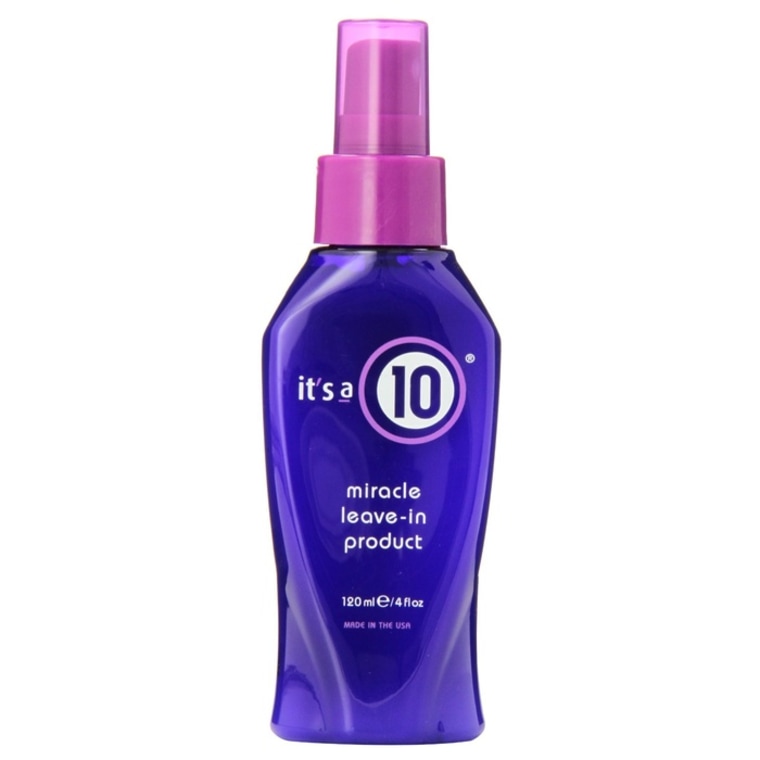 It's A 10 Miracle Leave-In Product, $18.00, ULTA
If you don't have a detangler handy, coconut oil can do the trick, said Quintero.
RELATED: Argan, coconut and almond, oh my! A beginner's guide to beauty oils
Speaking of kids, every parent knows the struggle of taming tangles and knots on little ones. To help moms and dads maintain their sanity, TODAY Style spoke with Cozy Friedman, founder of Cozy's Cuts for Kids salons and the So Cozy hair product line, to get her best advice.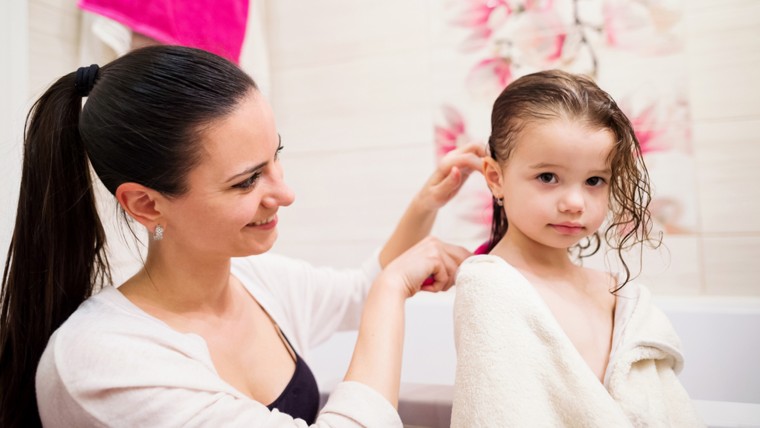 17. Pull hair back before running around.
Before kids hit the playground or go out to participate in sports, pull the hair back into a ponytail or other 'do. This will prevent it from getting all knotted as they are running around.
18. Use products that fit your child's hair texture.
It's important to know and understand the type of hair your child has, noted Friedman. For example, those with curly hair tend to get a lot more tangles, so hydrating products can help.
19. Detangling can be E-A-S-Y
Friedman tells parents to follow this acronym when detangling their child's hair: E-A-S-Y.
E — Entertain: Friedman recommends giving kids a distraction like a toy, book or tablet before starting the process.
A — Arrange: Section the hair into organized pieces to make the process easier. Start with a vertical part down the center and then make a horizontal part in the middle. Put a clip in to hold each piece and work through section by section. Begin combing an inch or two from the bottom and be sure to hold the hair as you brush so that it doesn't tug at the roots where it's painful.
S — Spray: Invest in a good detangler that has a leave-in conditioner. This will prevent the hair from feeling sticky or soapy at the end.
Y — Yay: Once you're done, be sure to celebrate!