Half-up hairstyles are an incredibly fun way to switch things up. You get to maintain the sexy length and movement and still keep hair off your face — it's a win-win!
"These styles give you the best of both worlds: a more formal look than just styling your hair down, yet still casual enough to keep you hair out of your face and not feel too over the top," says beauty expert Amanda Diedrich, the founder and CEO of Blohaute. "For summer, the modern half-updos are consisting of a lot of textured top knots, lived in waves and tons of overly stretched out braids."
Diedrich says the modern half-up, is all about keeping it simple with the philosophy that less is more. That means falling curls aren't a bad thing — "lived in waves are big this summer!" — and flyaways are totally OK — "It's all about texture!"
Here's how to get this perfect summer style!
Classic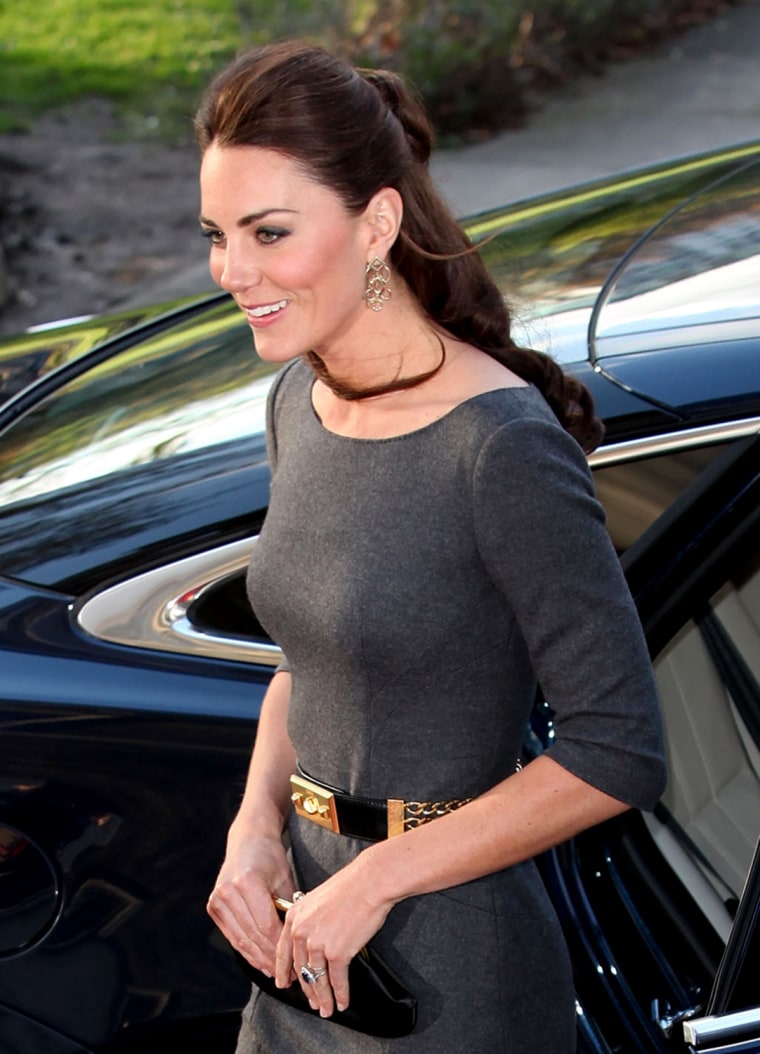 Celebrity hairstylist Charles Ifergan shares some easy steps to try this look on your own. Curl the whole head with a very large curling iron to create a soft wave. Start by teasing the hair in the front from the ears up, and then gently slick back your hair. (Do not remove too much of the teasing, Ifergan suggests.) Take half of the hair back and pin with bobby pins. Then twist the piece into a soft bun and pin again. Leave the rest soft and wavy — it's that easy.
Softly pinned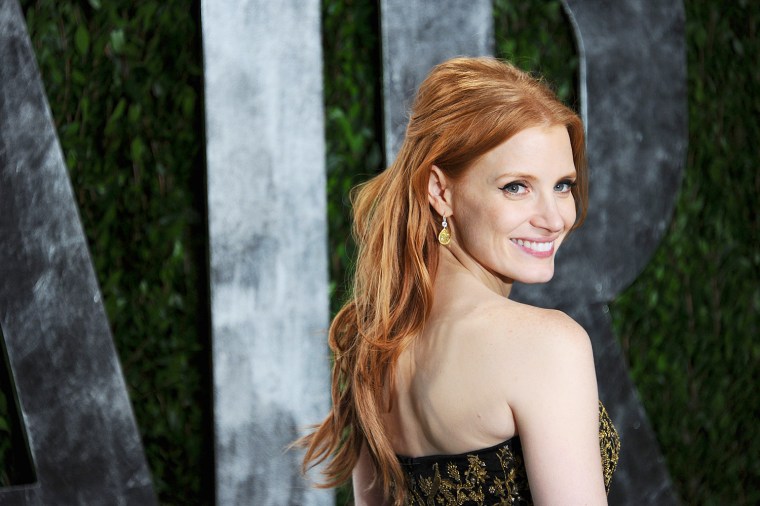 Steph Brinkerhoff of Latest-Hairstyles.com says this style will give a nice shape that flows as if it were all down. Start by creating a middle part and curling your hair a bit, adding spray wax for more texture. Tease the back to create lift. Then from the crown, move your fingers down the part to about the half-way point. Gather a good chunk of hair and pin around ear level, inserting the bobby pins up into the hair to push the hair up and add more body. "Softly pinned hair will work with any face shape and any hair type. Since it is so natural looking, it's an easy look to achieve," says Brinkerhoff.
Elegant and modern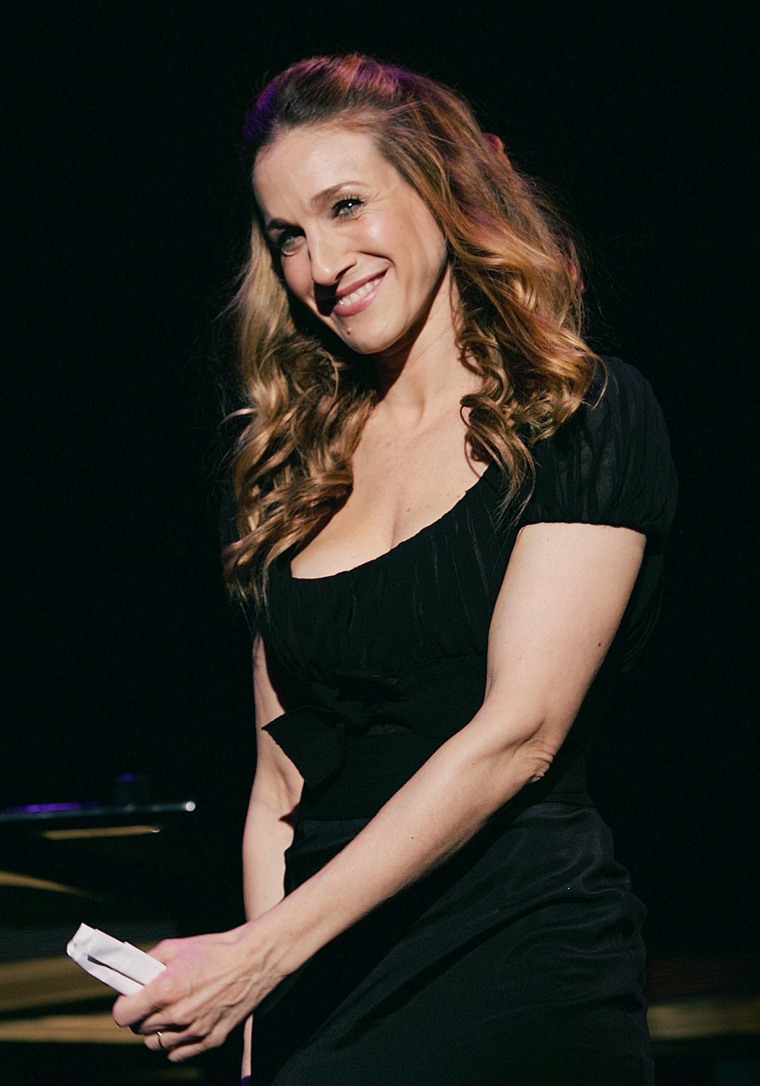 No one wears half-updos quite like Sarah Jessica Parker. "SJP has beautiful, full curly hair. A half-updo can help showcase her beautiful curls without overpowering her delicate features," says Penny James, a hairstylist who has worked with Parker in the past.
Read more: See Sarah Jessica Parker as the new face for a classic denim brand
The key to achieving a modern half-updo is volume, so start with a treatment spray to provide lift and volume at the roots and protect against UV and heat damage, says James. Then pull your hair off your face as if pulling into a high ponytail.
Rather than picking up the back sections, section off pieces on either side of you face and allow to drop. Tie the remaining piece with a hair band, then wrap hair around the band and pin, says James. Finish with a large curling iron to create soft curls that frame the face. This look is easy to do and always looks stunning!
Half-faux hawk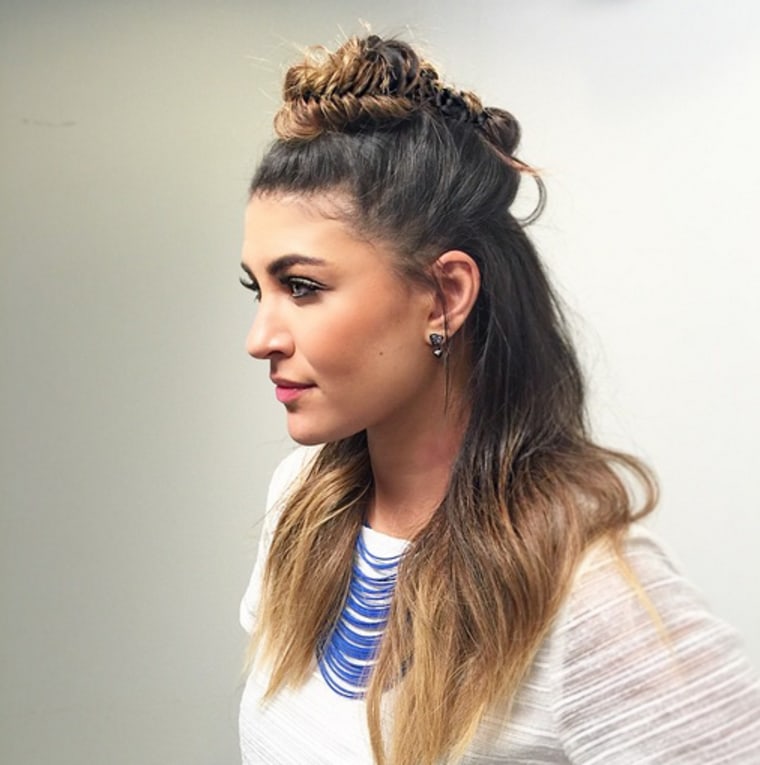 Celebrity hairstylist Sarah Potempa recently created this look on actress Jessica Szohr and explained her method to TODAY.com.
Start by pulling your hair half up and separating that hair into three sections. Prep the hair with a dry shampoo to add texture. Starting at the back of the crown, create two knotted braids and two smaller classic braids. Twist and pin around each other to create a "faux hawk." Lastly, create a fishtail braid in the front and wrap around the rest to create the "top knot" look.
Samurai half-bun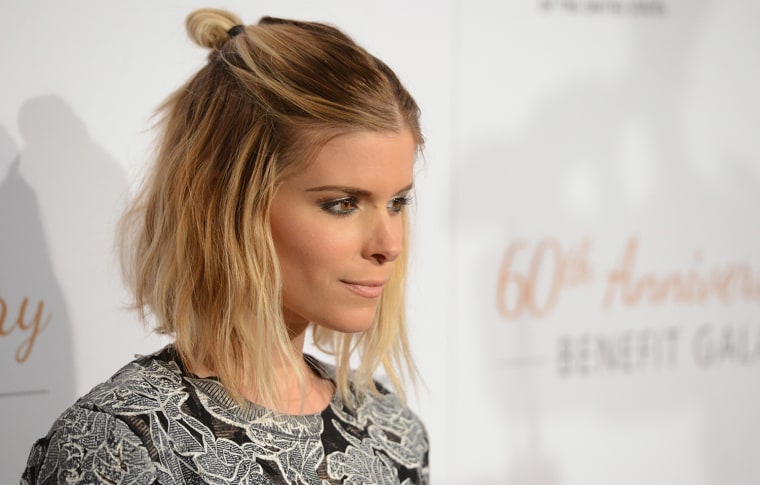 "The samurai isn't just for dudes," says Gina Capano of The Luxebar, citing long-haired celebrities like Jared Leto, Brad Pitt and Chris Hemsworth. "It's a great 'I'm trying, but I'm not trying' type of look and its super easy."
Capano adds that you'll need long-enough hair that you'll want to detangle in advance. Then work your favorite styling or texturizing cream through the hair. Divide about a quarter of your hair from the top and pull it back tautly (the lower half can just hang).
"Here's the fun part: The more traditional samurai would take the pulled back hair and simply twist it into a rope and roll it into a circle, but you can customize your look however you see fit," Capano says. "Create a ballerina bun, a bow tie, tie it high or lower — it's your call!"
Country twist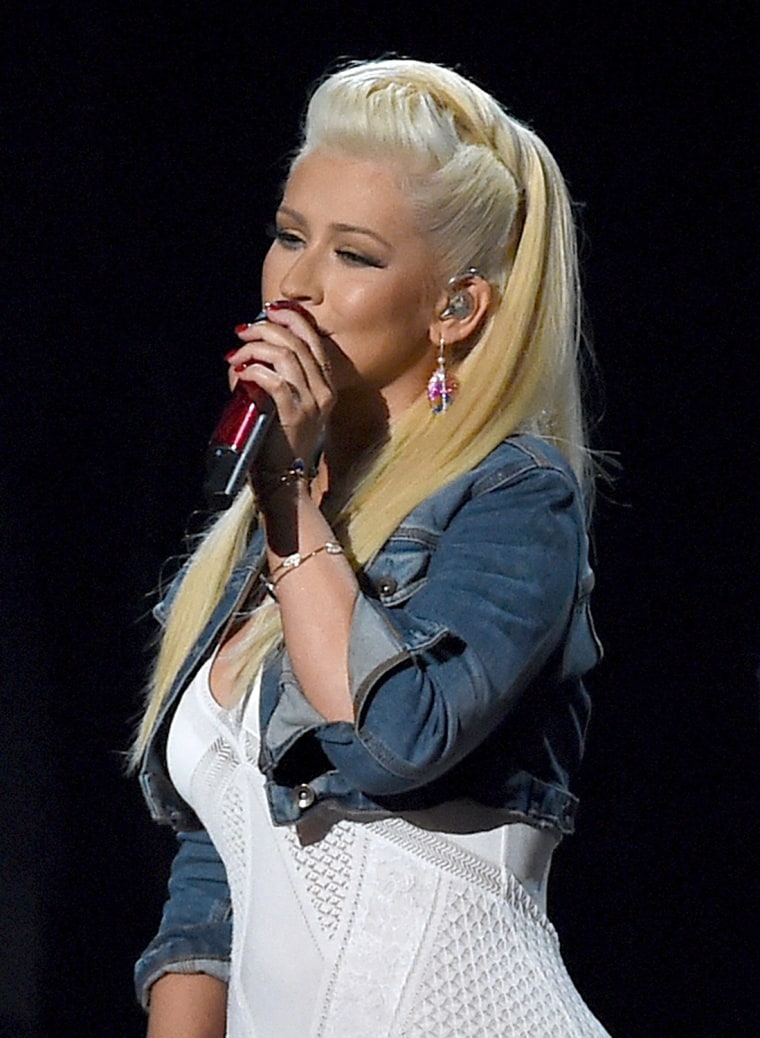 Giannandrea Marongiu, the creative director of Macadamia Professional International, styled Christina Aguilera on "The Voice" and created this amazing modern half-updo for the ACM Awards. To recreate this style, Marongiu says to start by applying a volumizing product to wet hair from roots to ends. Blow dry sections with a large round brush to amplify volume. Once dry, backcomb the front of the crown and secure with a clip.
Brush the sides (only the sides!) into a ponytail on the top of the head and tie with an elastic. Next, take the remaining top piece and insert into the ponytail (or use an extension if you prefer). Wrap a small piece from the ponytail around the elastic and use small bobby pins to hold the hair in place. Spray a firm-hold hairspray around the base of the ponytail to set the hair.
Rub one pump of finishing oil between hands, then run hands over the sides and down the length of the ponytail for a sleek and polished look.
Headband braid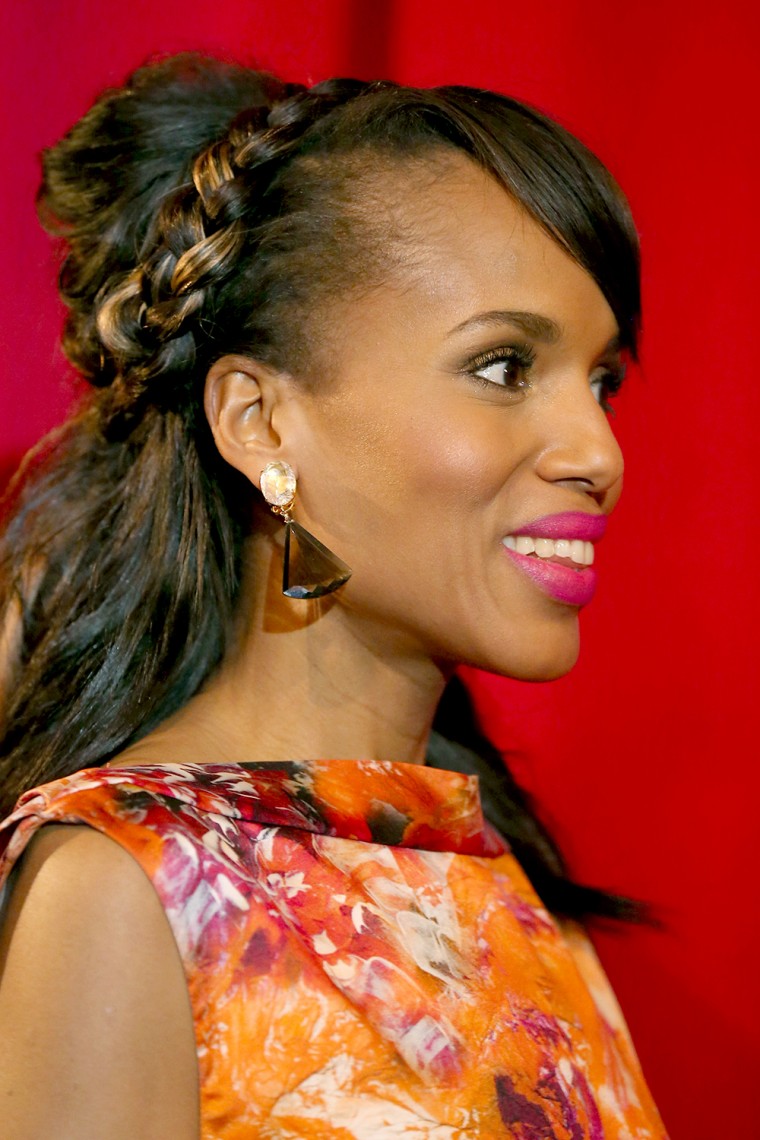 "This style is the perfect balance between casual and put together," says celebrity hairstylist Nick Arrojo, who adds that leaving it "perfectly imperfect" will keep it looking modern.
First, Arrojo says to part hair across center of head, ear to ear. Pulse a dry shampoo into the crown of your head and backcomb for height, then secure half of your hair messily with bobby pins. Next, from the middle-front create a deep side part, separate a section and make a three-strand braid. Pull up and over the head and make a braided headband, says Arrojo. Secure with bobby pins. Swoosh the front and sides as you like them — but nothing too perfect! — and mist with holding spray.
Rocker braids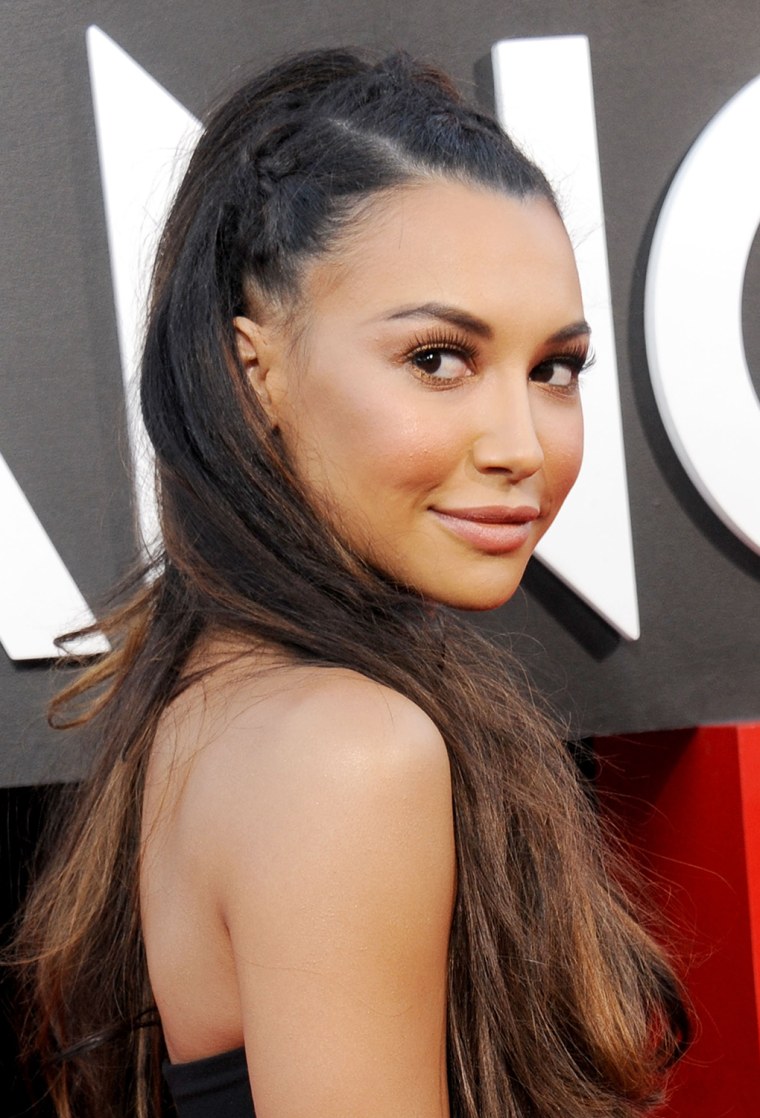 Many stars are rocking the tough-girl braids. To create the look on yourself, Ifergan says to section hair on top of the head into three even sections. Tightly braid each (either French, Dutch or whichever style you prefer) and tease the rest of the head. Combine each braided section into a half-ponytail and leave the rest of the hair loose! If you want to mix it up, add a couple of small braids into the rest of the hair.