A sweatshirt has been removed from the clothing site Revolve following public outrage over its "toxic" and "fat-phobic" message.
The sweatshirt in question, designed by the Los Angeles-based label LPA, is emblazoned with the quote, "Being fat is not beautiful, it's an excuse."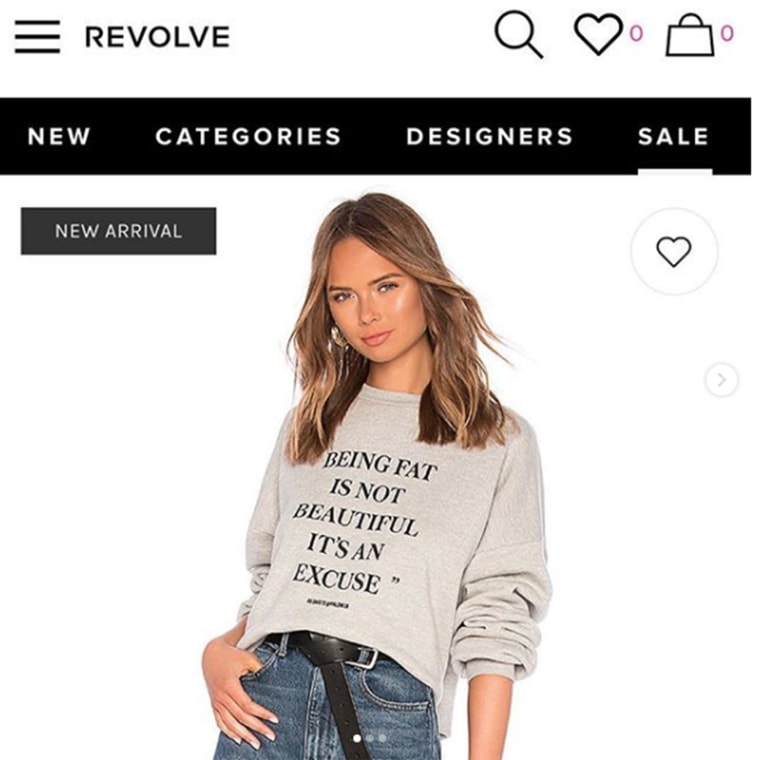 A photo of a slim model wearing the controversial sweatshirt quickly went viral after appearing on Revolve's website on Wednesday.
Many people, including model and body positivity activist Tess Holliday, blasted the sweatshirt on Twitter.
Florence Given, a London-based artist and activist, was one of the first people to call attention to the sweatshirt on Instagram. Given, 19, demanded that Revolve discontinue the sweatshirt — and the brand listened.
Revolve quickly removed the sweatshirt from its website and within hours, LPA announced that the design had been pulled altogether.
"It's been cancelled!" Given wrote on Instagram. "We did this!!!"
Here's the twist: The sweatshirt was actually meant to send an empowering message about cyberbullying, according to Revolve.
It was part of a collection of sweatshirts highlighting real, cruel comments made by online trolls to five influential models and actresses: Lena Dunham, Emily Ratajkowski, Cara Delevingne, Suki Waterhouse and Paloma Elsesser.
Proceeds from the sweatshirts were set to be donated to Girls Write Now, a charity that empowers young women through writing.
"The capsule collection … was set to debut tomorrow as a direct commentary on the modern day 'normality' of cyberbullying and the shared desire to create a community for those most affected by the epidemic," a Revolve spokesperson said in an email to TODAY Style.
"We know the quotes within the collaboration were shocking, which was entirely the point," LPA added in a public statement on Instagram. "To spotlight how we've normalized the way we bully and speak negatively to one another via the internet."
Online bullying is undoubtedly a serious problem for women (case in point: a writer who covered this sweatshirt controversy for Fashionista was herself cruelly trolled on Twitter for speaking out), but many felt the sweatshirts missed the mark.
The sweatshirts included an "As said to … " attribution line to show that these were real quotes from online trolls — but the text was so tiny, it was barely legible in the product photos. Instead, only the bullies' mean comments were easily visible.
"What was conceived as a statement on today's internet culture and its treatment of women has gone terribly wrong," LPA wrote on Instagram.
Both LPA and Revolve said that although the sweatshirts have been pulled, they will still be making donations to the charity Girls Write Now.
While many fans praised LPA and Revolve's decision to pull the sweatshirts, many people also said this latest scandal was part of a larger, ongoing problem with size discrimination.
"I am glad they pulled the line of sweatshirts, but that doesn't meant that Revolve is relieved of its inherent fat phobia," Florence Given, the activist who originally urged Revolve to pull the sweatshirts, told TODAY Style in an email.
She criticized Revolve for not offering more inclusive sizes and for displaying the sweatshirt in question on a thin model.
"Selling designs meant to 'empower' bigger girls when anyone above a size 12 wouldn't have been able to even fit inside one just says that ONLY skinny women would have been wearing these," she said. "To see a skinny woman wearing 'Being fat isn't beautiful, it's an excuse,' is inexcusable."
Tess Holliday made a similar point on Twitter.
And Lena Dunham herself criticized the sweatshirt collection, saying it wasn't what she had signed up for when she joined the project.
"Without consulting me or any of the women involved, Revolve presented the sweatshirts on thin white women, never thinking about the fact that difference and individuality is what gets you punished on the Internet, or that lack of diversity in representation is a huge part of the problem (in fact, the problem itself)," Dunham wrote in a statement on Instagram.
"As a result, I cannot support this collaboration or lend my name to it in any way," she continued. "I am deeply disappointed in Revolve's handling of a sensitive topic."
Revolve apologized for displaying the sweatshirt on a skinny model, saying in their statement to TODAY Style that they had "regrettably featured one of the pieces on a model (whose) size was not reflective of the piece's commentary on body positivity."
Now, the company seems focused on making amends, with the spokesperson telling TODAY Style, "We at Revolve sincerely apologize to all those involved — particularly Lena, Emily, Cara, Suki and Paloma — our loyal customers, and the community as a whole for this error."