What do Van Morrison, Beyonce, Queen and Stevie Wonder have in common?
Well, they're arguably some of the greatest artists and bands of all time ... and it'd appear that many brides agree. Along with the likes of Justin Timberlake, The Rolling Stones, Frank Sinatra and Elvis Presley, they all appear on the "ultimate wedding playlist" created by poll analysis website FiveThirtyEight.
RELATED: Not your parents' wedding: The new do's and don'ts for modern wedding guests
In early May, pollster and general editor of the data-driven website Walt Hickey asked readers to send him their wedding reception playlists, resulting in 163 playlists with 9,281 songs (3,358 unique songs).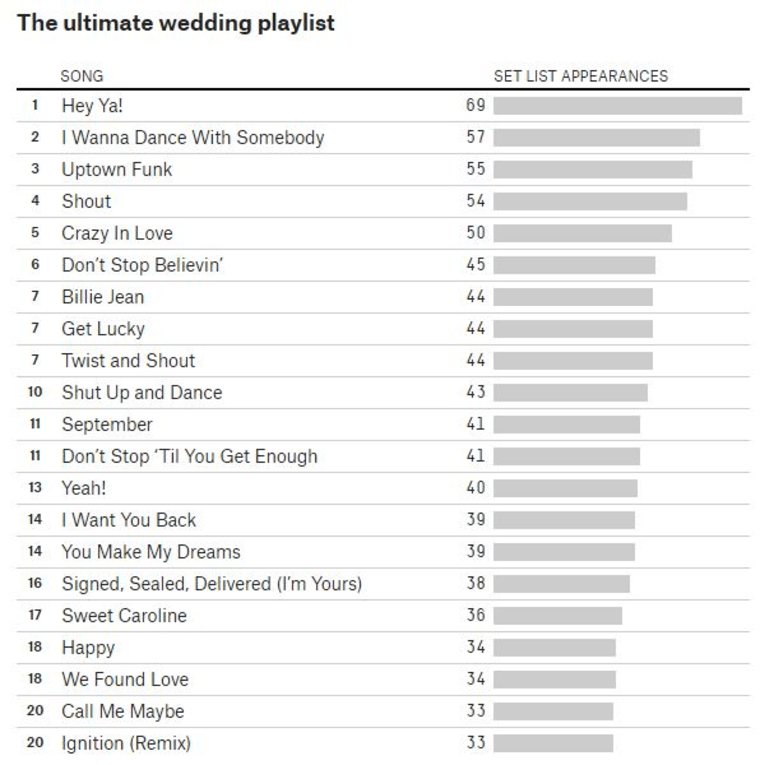 Based on the data he was able to cull from those lists, as well as the overlap between them, Hickey figured out which songs and artists were the "ultimate" (implicitly defined as "most commonly requested or played") choices for modern brides and grooms.
Some of the highlights: Carly Rae Jepsen's earworm hit "Call Me Maybe," Whitney Houston's classic "I Wanna Dance With Somebody" and Journey's ever-beloved "Don't Stop Believin'."
As for artist count, Michael Jackson made an appearance 202 times (more than any other artist), and that doesn't even account for The Jackson Five's No. 9 spot on the list. The Beatles made 120 appearances, just beneath Queen Bey's 130. And Stevie Wonder followed with 108 appearances.
Clearly, it's not just about the hits of today. The "emphatic recommendations" of family and friends make an appearance, too, creating what Hickey terms a "funky" distribution of songs from dozens of decades represented.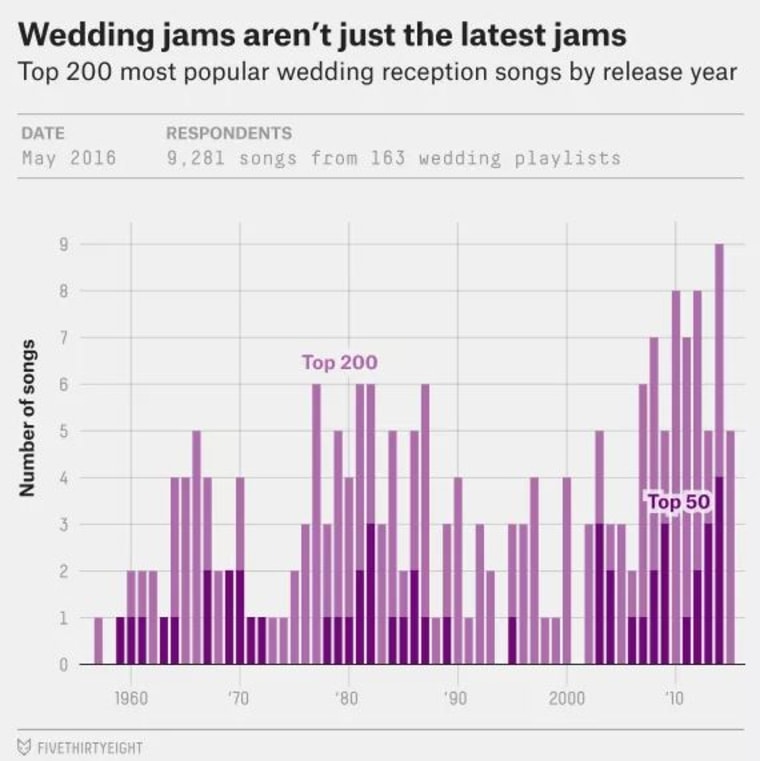 RELATED: Frank Sinatra, giant bubbles, and dancing: Yep, this proposal rivals the movies
"Everyone at the wedding — the couple, their parents, their parents' parents — gets a few songs from when they were in their late teens and early 20s," he writes, meaning the hit songs of yesterday and today eventually find their way into the wedding playlist.
It all comes down to Western wedding superstitions and traditions, of course.
"As the old saying goes, "something old, something new, something borrowed, to the window, to the wall, 'til the sweat ... [redacted]," or some crap like that."
Here are the top five, for your listening pleasure:
1. "Hey Ya!" - Outkast
2. "I Wanna Dance with Somebody" - Whitney Houston
3. "Uptown Funk" - Mark Ronson ft. Bruno Mars
4. "Shout" - Otis Day and the Knights
5. "Crazy in Love" - Beyonce