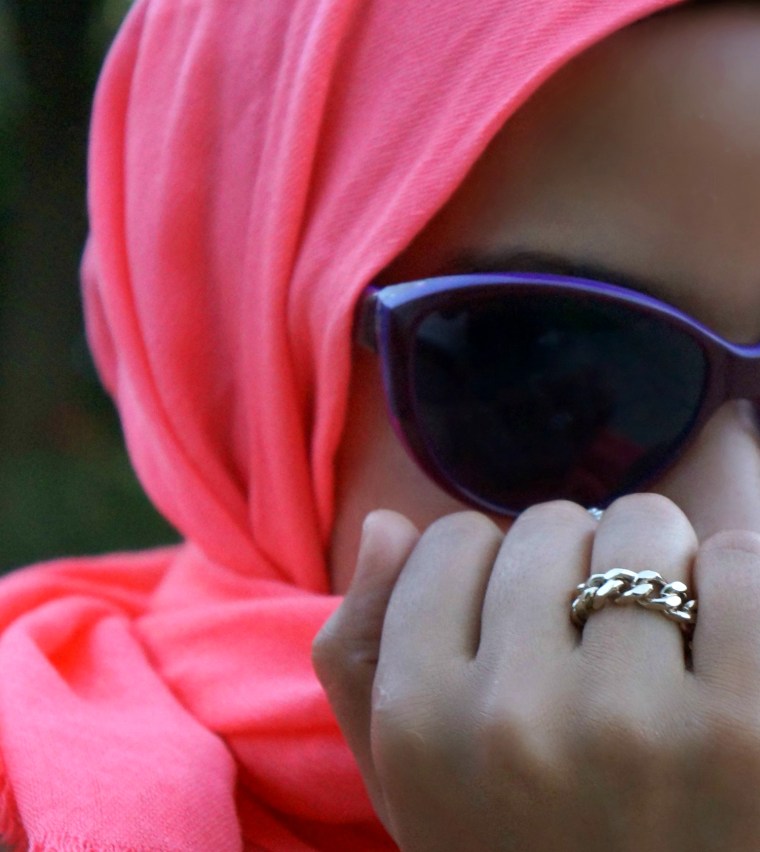 For observant religious women in America who want to follow the latest fashion trends, there is a dilemma about how to look haute without being too "hot." A growing crop of bloggers answer that call, offering tips on how to take current looks and modify them to adhere to modest standards.

"As someone who loves fashion, I wanted to figure out the balance of being able to live in the real world and look beautiful and be feminine and still keep to my traditions," said Sharon Langert, 45, an Orthodox Jewish woman from Lakewood, N.J., who writes about fashion and lifestyle topics at Fashion-isha. 
A few years ago, Langert designed a line of modest clothing that was sold in boutiques in Brooklyn, but she found it was too much work while raising her family of five. After Googling "how to start a blog," Fashion-isha was born. It now has about 30,000 hits a month, she said, while on Facebook she has more than 6,000 followers and about 4,000 on Instagram.
Similarly, Asma P. started her blog — The Haute Muslimah — in 2009. The site gets about 50,000 page views a month, she said, and through Facebook and Twitter she gets about 200,000. "I write a little bit more about what's on trend," she said, adding, "how to be modest and look trendy or stylish or chic or sophisticated or punk, whatever look you're going for."
With an American mother and Pakistani-born father, Asma (who does not identify herself fully on her site) blogs from her home in Texas where she is married with two children. Now in her late 20s, her lifelong interest in fashion inspired the blog, which is part of the Lucky magazine blogger network. "It's evolved into this," she said. "It's a lot larger thing than I ever expected."
In the Mormon community, there are countless "mommy fashion blogs" about how to look good and still be modest. One of those is Elle Apparel by Leanne Barlow, who also sells clothes she designs at LeanneBarlow.com.
Looking to save a little money while her husband was in law school, she made her own skirt inspired by a design she saw at Anthropologie. "This was before Pinterest," Barlow said. "I didn't want to wear something that looked like I had made it."
Instead, she wore it to church and received lots of compliments. "It was an amazing feeling that I had made this article of clothing myself and it's exactly what I want it to look like and it fits me."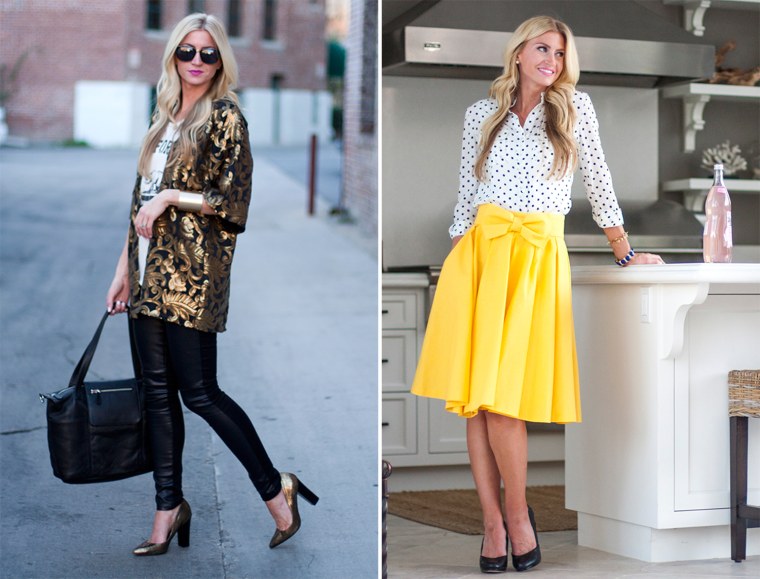 She started Elle Apparel as a way to keep track of things she'd made, then traffic exploded with the advent of Pinterest and questions from readers about how to get the same looks. Her blog includes tutorials on how to make clothes.
"I'm drawn to that feminine style," she said, adding that she can look at a dress at Nordstrom and see how to make it appropriate by adding sleeves or length. "My whole goal is for the person to think, 'Oh, that's a cute dress,' not 'Oh, that's a cute, modest dress.'"
Asma offers practical tips on how to be trendy. "You can take this outfit from a Muslim brand and pair it with all of these regular other labels — H&M pants or an Ann Taylor shirt ... My goal is to show you can be a strong Muslim woman and be stylish."
Similarly, Langert highlights ways to incorporate high style into modest looks. For example, instead of a low-cut crop top, she'll feature a celebrity like Julia Roberts who wore one over a button-down shirt.
"If she's doing it, it's not an ugly look," she said. "Let's figure out a way to wear the trends and look beautiful and not show off our bodies. Let's figure out a way to figure out the trends and look beautiful. It's all about positivity, not about 'you can't do this.'
"You're a beautiful person. You do so much in the world. You deserve to get dressed, respect yourself, look gorgeous. It's not about hiding or being drab. It's really the opposite. Wear the trends, let's make them work."
Express yourself
All of the women who spoke with TODAY.com said their first priority is to be true to their faith and then to be confident about how they look.
"I'm not your typical Orthodox woman," Langert said. "I'm not super strict when it comes to the actual laws of modesty. The point is that this is a hard thing to do. We live in the world. We're women, we still want to keep our morals to the point of our religion."
Dressing modestly "should be considered a positive — it's there to enhance your inner beauty. It's not about a body."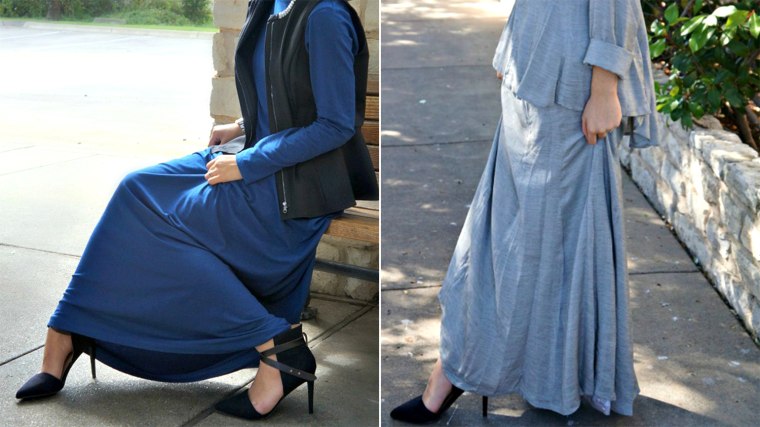 The Haute Muslimah stands out among Muslim fashion blogs in that Asma doesn't focus solely on hijabs — traditional headscarves that women wear. She noted that there are wide interpretations of modesty, as some wear mini-skirts while others are completely covered. But she doesn't judge them. "I don't care what you wear," she said.
"What I wear is 100 percent what I believe I should be wearing as a Muslim," she said. "My first goal is to be dressed modestly as a Muslim, then I add in the fashion and the style."
Barlow, a 28-year-old mother of two, said blogging and selling clothes has allowed her to have a career that she enjoys while still being home in Pasadena, Calif., with her boys. Her creations, especially a midi-skirt that is "totally modest and also on trend," are big sellers.
"You can still have this great style and not dress immodestly," Barlow said. "I also like that it's a cute style and it's a classy style and that's the focus, not so much because I have to dress modestly this is what I came up with."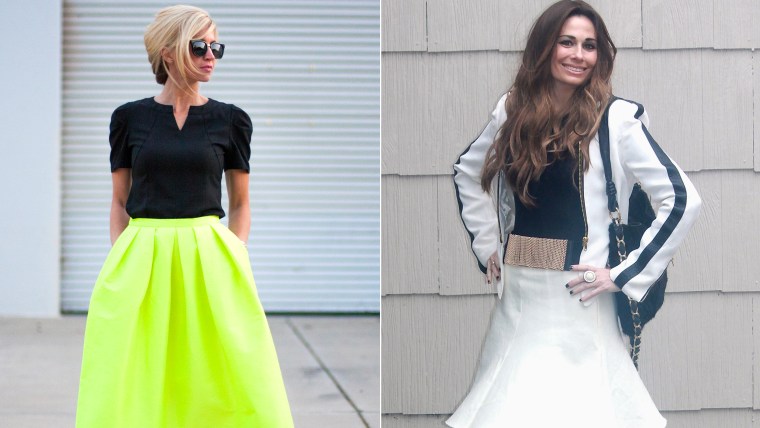 Each of the bloggers noted that their online audience includes women of other faiths, as well as those who are looking for fashionable clothes that are conservative enough to wear to work.
But that doesn't mean that the fashion world is accustomed to religious women. Asma attended a small Valentino party — about 50 people — and was the only one wearing a hijab. "I could just read it in their faces," she said. "They look so confused. Then they talk to me. I've realized that a lot of people in the community haven't really met a Muslim, or if they have, they hadn't known it."
Barlow said that times have changed since she was younger and it's now easier to emulate celebrity fashion.
"I think that teenagers today are in a really good spot because there are so many cute clothes that are modest. They don't look like they just tacked on sleeves there because they needed to. It's great to encourage younger girls to dress classy, dress feminine."
For Langert, who donated a kidney to a stranger a few years ago, Fashion-isha is another way to give to others.
"My goal in life is also to really make a difference and do positive things every day," she said, adding, "I just feel it's important to try to give back to the world."