There's nothing quite as relaxing as a great massage in a blissful atmosphere. But that zen-like state can often be interrupted with moments of confusion when questions arise like: What's the appropriate clothing to wear? What's the proper etiquette in the steam room? And how much is an adequate tip?
TODAY Style asked leading spa experts to shed light on top questions so that nothing will interfere with this special-occasion treat.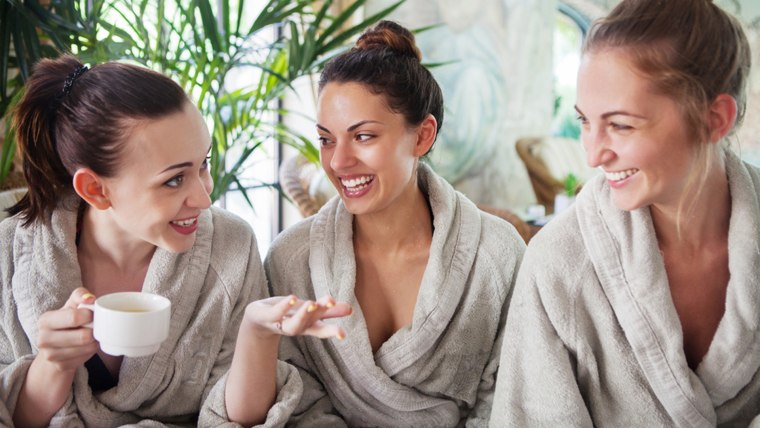 How much should you tip for a massage?
What customers do: The vast majority of people automatically tip 20 percent of the service fee, said Laura Benge, national spa director at Exhale. If you purchase a series of massages or a deal from a discount site, you should still tip on the original price — and most people realize that.
What spa staff wants you to do: Masseuses appreciate a 20 percent tip and like it even more if given in cash. That's because if you tip on your credit card, most spas will pay that tip out with the therapist's weekly or biweekly paycheck. If you tip in cash, the therapist gets to take it home that very same day, said Benge. If you're tipping with cash in a provided envelope, it's always best to write the therapist's full name and note that it's from you in case there is more than one person with the same name at the spa. If a casual spa doesn't have tipping envelopes at the register, you can discreetly hand the cash tip to your therapist with a quick, "thank you!"
What about a private practitioner?
Tips are industry standard for masseuses, so unless a self-employed therapist specifically tells you their rate is all-inclusive, you should assume a 20 percent tip in any situation, said Benge.
Do I tip at all-inclusive resorts?
All-inclusive spa destinations, like Canyon Ranch or travel resorts, would employ the same no-tip policy on all services, including the spa. This is basically the only exception where you wouldn't tip on a massage.
The big question: Do you leave your underwear on or take it off?
"These days, most people choose to experience massage and body treatments in the nude," said Laura Hittleman, corporate beauty services director at Canyon Ranch. Any reputable spa will have therapists trained to conduct proper draping procedures, to ensure you're appropriately covered at all times as they move from one body part to the next. What's most important to your therapist, however, is that you're comfortable. If you feel more relaxed wearing your underwear, by all means, do so. Your therapist should have no problem working around it, both experts agreed.
When should you use the steam room and what are you supposed to bring in with you?
Arriving early enough to use the steam room before your massage is ideal, as the heat and steam helps loosen up muscles and tension, perfectly prepping the body for massage, said Benge. Many spas, including Exhale and Canyon Ranch, offer aromatherapy in steam rooms, where scents like eucalyptus help signal the brain to relax on a deeper level.
If you don't have enough time to steam beforehand, you can certainly still steam afterward to enjoy the benefits. And you can always use steam rooms in a spa whether or not you're getting a massage. "It's a great way to unwind at the end of the day or relieve sore muscles after a hard workout," said Hittleman. If you're sweaty from a workout, just be sure to cool down for five to 10 minutes first and limit your maximum time to 20 to 30 minutes, which can be broken up into shifts.
The ideal way to experience a steam room is in the nude, but you should always take a towel to sit on for hygienic reasons. "Benefits of steam include increased blood flow and circulation, reduction of stress and tension and clearing skin by softening and removing impurities — if you have clothing on, it's just another barrier between you and the steam," explained Hittleman.
However, your comfort always comes first — so if going naked makes you feel embarrassed or self-conscious, it's totally fine to enjoy the steam room with a towel wrapped around your torso, said Benge.
What do clients do at spas that drive staff nuts?
What people do: Many clients don't give themselves enough time to get in and settled before their service. "Arriving just a few minutes before the massage leads to a chaotic energy that often doesn't allow the guest to fully enjoy the experience," said Benge. Some people come to their appointment stinky or sweaty without cleaning up first. And when some aren't pleased with a massage, they take to Yelp or social media with complaints without voicing preferences during the actual service.
What staff wants you to do: Give yourself a bit more time beforehand than you think you'll need to fill out any necessary forms and enjoy amenities like the steam room or tea in the relaxation lounge. Rinsing off (or freshening up with wipes) right before your massage is always appreciated by therapists and especially so if you've just come from a workout, both experts said. And whether it's massage pressure, room temperature or the type of music playing, they also urge clients to speak up during service.
Massage pressure is the most important element of your experience, they agreed, so know that it's totally fine to voice your preference as many times as necessary as you progress. Certain body parts may need more or less pressure than others. The point is for you to fully enjoy your experience and these type of requests should be happily accommodated.
Should I wash all of that massage oil off afterward?
Most people want to rid themselves of any greasy feeling or oil right away, but washing off essential oils and lotions immediately lessens the benefits. "It's best to wait at least a couple of hours until you shower," Benge said.
What if I have more than one service scheduled? What should go first?
The only time order matters is when a facial or other face treatment is involved. In that case, it's recommended to get the massage first followed by the facial, as you'll lie face down at some point during the massage, said Benge. Aside from that, you can generally book spa treatments in whatever order you prefer.