There were so many fabulous looks on the Emmys red carpet Sunday night!
Since I can't stop talking about some of the fabulous fashion from TV's big night, I decided to have some fun, get creative and re-imagine what some of the hottest outfits of the night could look like with little tweaks or additions.
Go sleek: Reese Witherspoon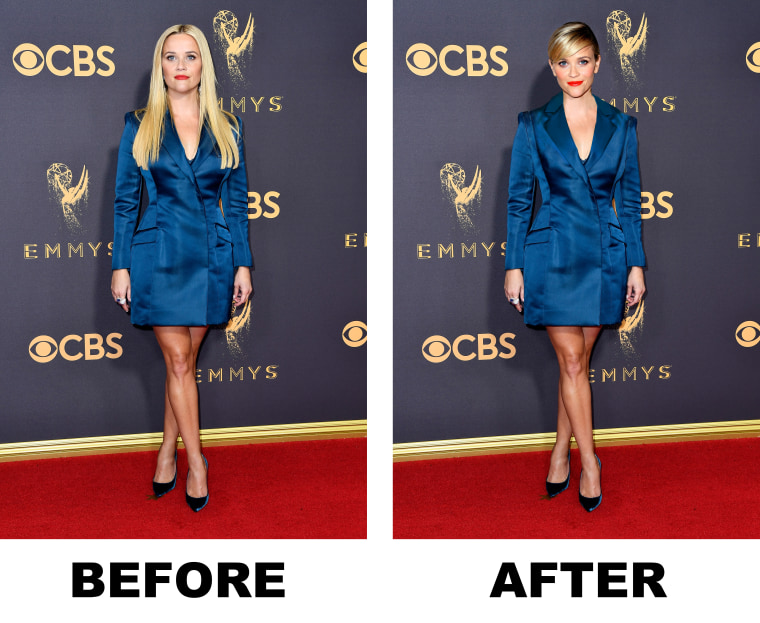 I love that Reese took a risk with this menswear-inspired Stella McCartney mini dress. The jewel-toned tailored jacket makes a strong statement, and could look fabulous with either a sleek updo or pulled back ponytail. Pulling the hair up would emphasize the powerful look even more.
Belt it: Mandy Moore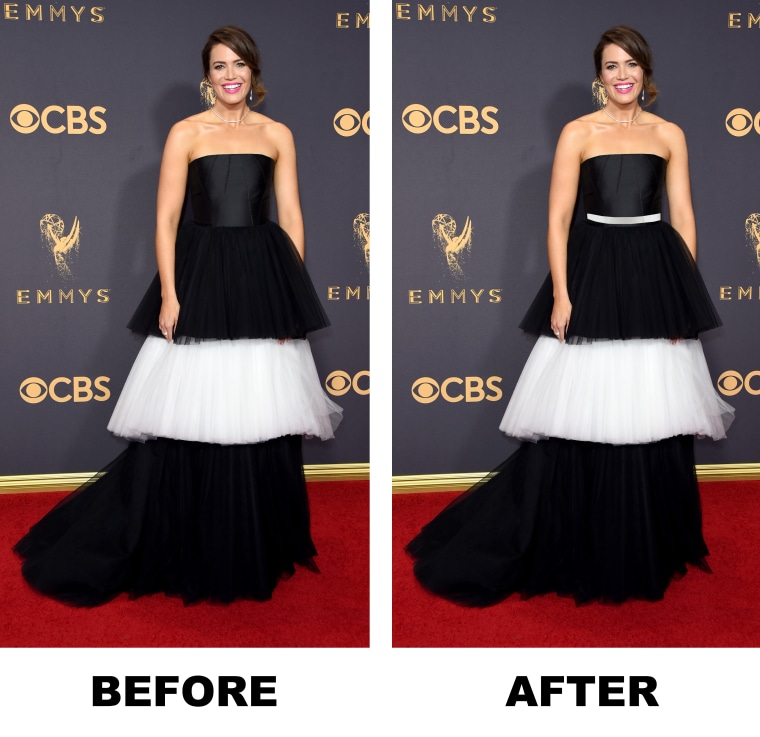 This tiered Carolina Herrera dress is beautiful, but the black-and-white contrast can pull your eye down. When you have contrast like this on the bottom, try adding a waist-high belt to bring contrast to the top half of the look and draw the eye upward.
Portion play: Laura Dern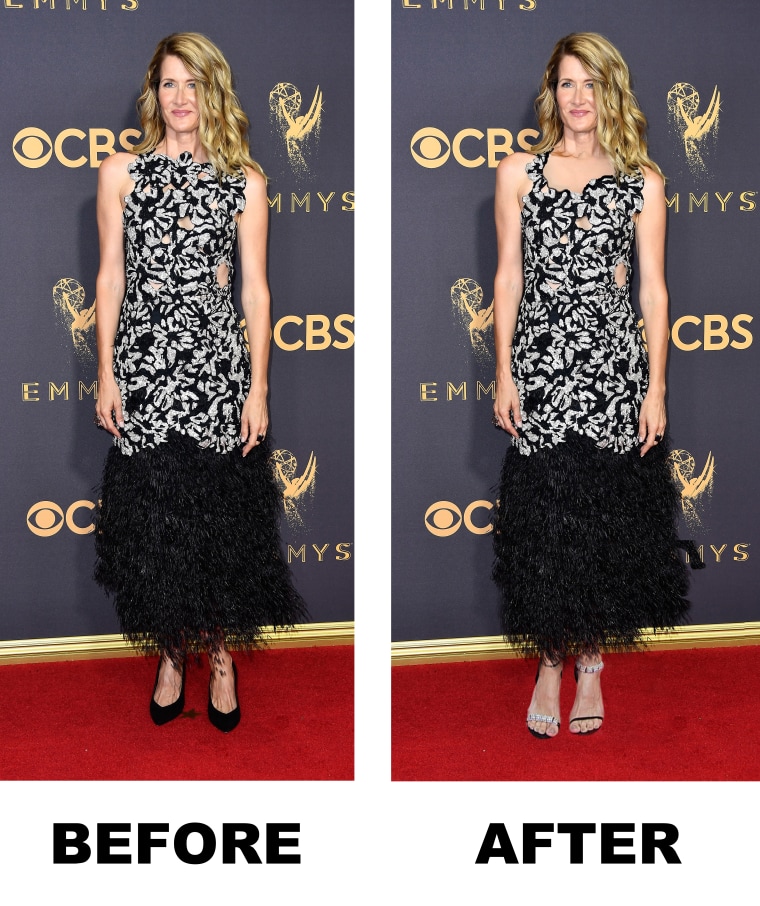 Laura Dern stepped out in a glamorous, feathered Proenza Schouler design. The runway version of this dress featured a midsection cutout that showed a little more skin to help balance the longer hem. Dern decided to wear the dress, but cover up that middle cutout. Small elements can make a big impact, so I shifted the opening up to her neckline, and swapped her pumps for a strappy shoe style to visually lighten the look on her frame.
Be bright: Sofia Vergara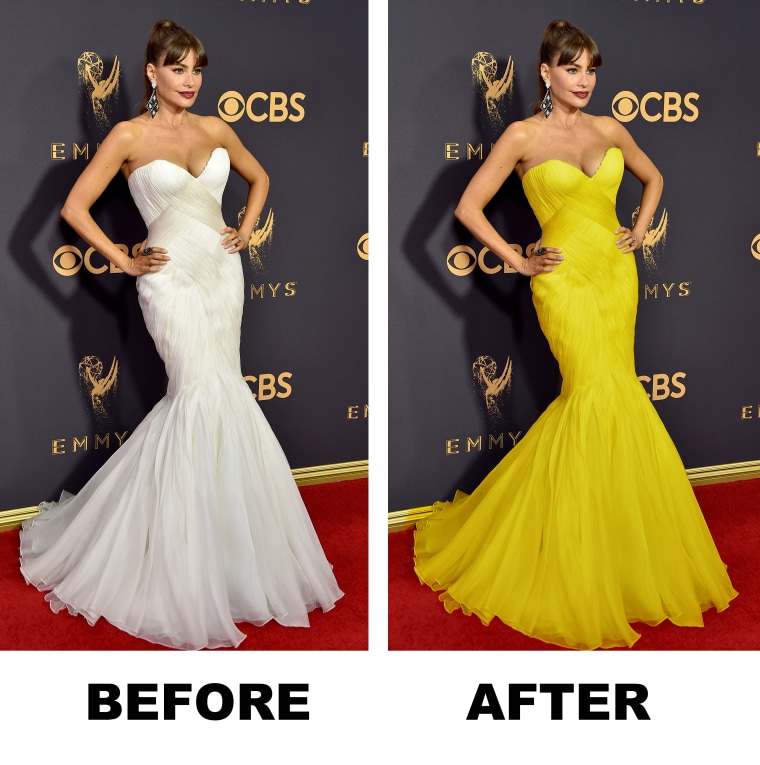 If there was ever a fall season to be bold with color, this is it. Sofia Vergara is stunning and looked incredible in her stark white Mark Zunino dress, but I thought it might be fun to see her in a zesty yellow shade instead. The color would make a fun pop on the red carpet and complement her complexion.
Neckline note: Shailene Woodley
A plunging neckline can be sexy and beautiful, as seen here on Shailene Woodley in this gorgeous green Ralph Lauren gown. Since it can also be the focal point of a dress, you can try adding a long drop or tassel pendant to center your frame and offer the modest illusion of pulling the opening together.
With or without: Julianne Hough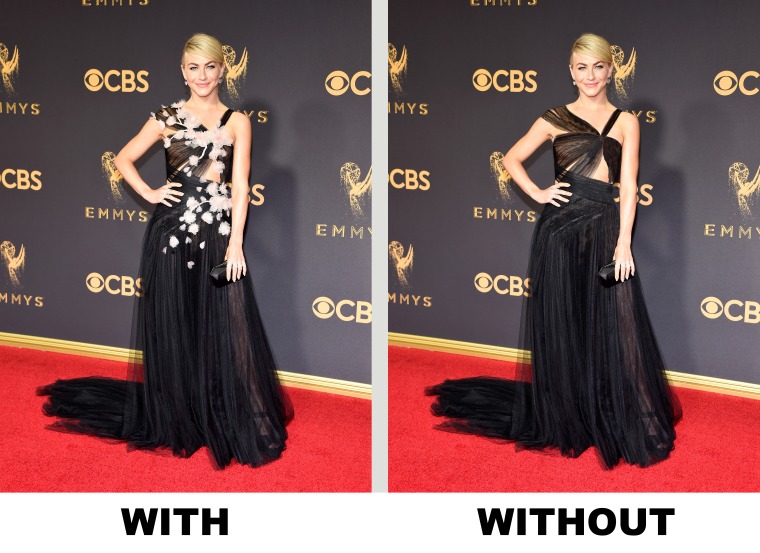 It's amazing what a difference appliqués can make! Julianne Hough is adorable in her Marchesa gown and I love her fashion choices. Just for fun, I thought it would be interesting to see what the dress would look like without the pink petals. It completely shifts the tone from soft to edgy and is a great example of what you could do with something you already own. It's often easy to add or remove embellishments to try a different look.