Newlyweds Dominic Engels and Morgan Marinell are the first to admit that their relationship, which began just one year ago, was something of a whirlwind romance. 
But theirs is not your typical whirlwind. The now husband and wife initially met on a soccer field in Florida before either had even turned 10 years old. After that, however, they promptly ignored each another for the next two decades.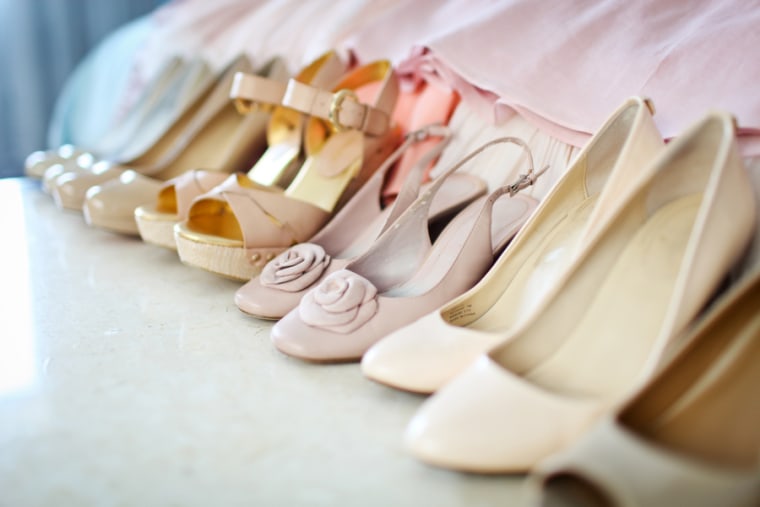 "My sister and Morgan played soccer together since they were 7 years old," Dominic explains. "But I'm a couple years older, so I was always on the sidelines or on the field myself."
"Because we were younger, I didn't really look at Dominic that way and he didn't look at me like that," Morgan says. "I was his sister's friend. We both went our separate ways and then we reunited."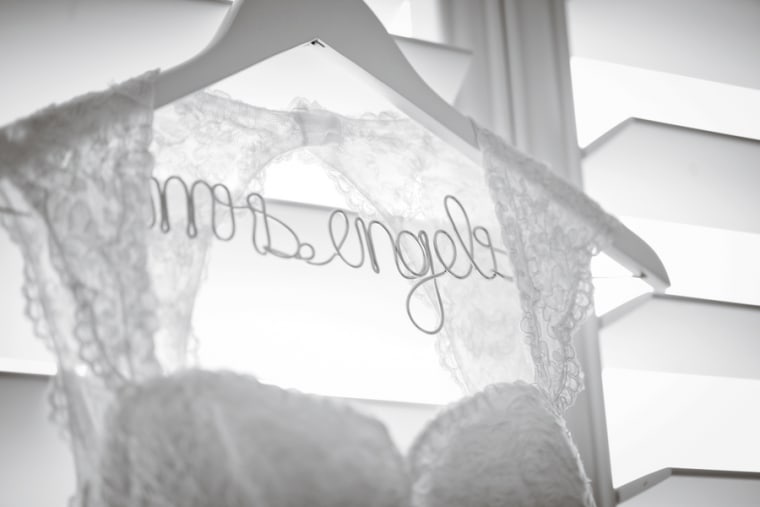 Dominic, who currently runs his family's stained glass business, was enjoying a beer with friends when Morgan approached him. But since she was no longer a little girl with frizzy hair, he had no idea who she was.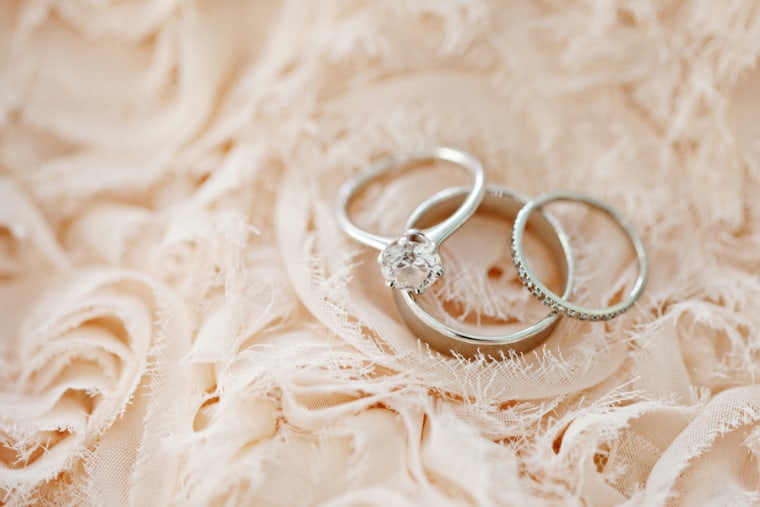 "I didn't tell him I was his sister's friend growing up," Morgan says. Instead, she played the part of the friendly stranger.
Mercifully, Morgan didn't keep Dominic in the dark for too long. "It hit me after some small talk," Dominic admits. But he couldn't quite work up the courage to get her number. Instead, he tracked her down on Facebook.
They ended up going on a date to a local restaurant, where they held their rehearsal dinner shortly thereafter. "We moved pretty quickly," he happily confesses.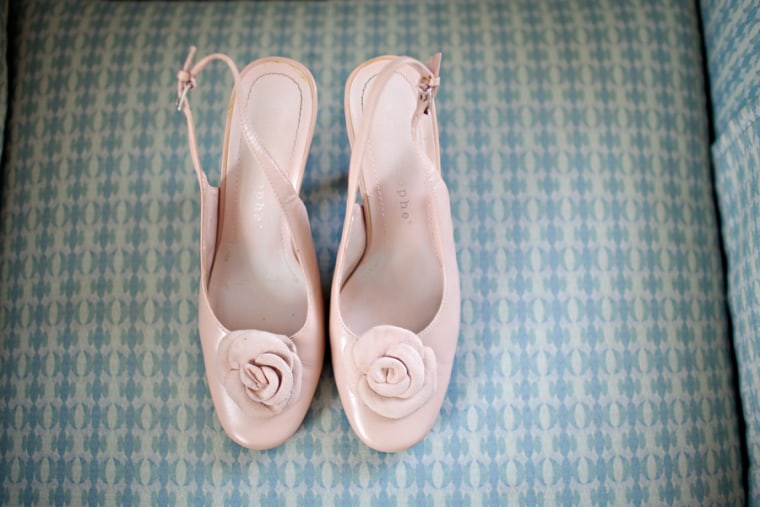 Morgan clarifies: "Basically, we were dating for three months before he asked me to marry him."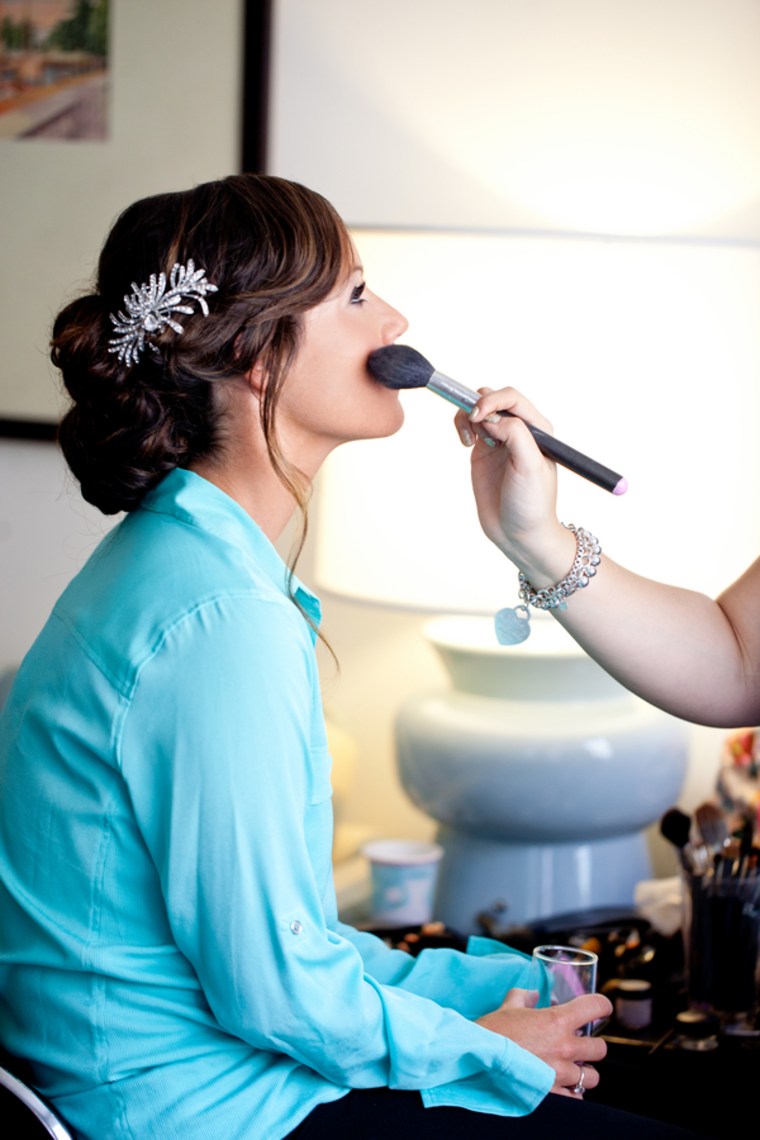 Morgan knew Dominic was the man she wanted to spend the rest of her life with well before he'd popped the question. In fact, she says, she knew a month and a half into the relationship.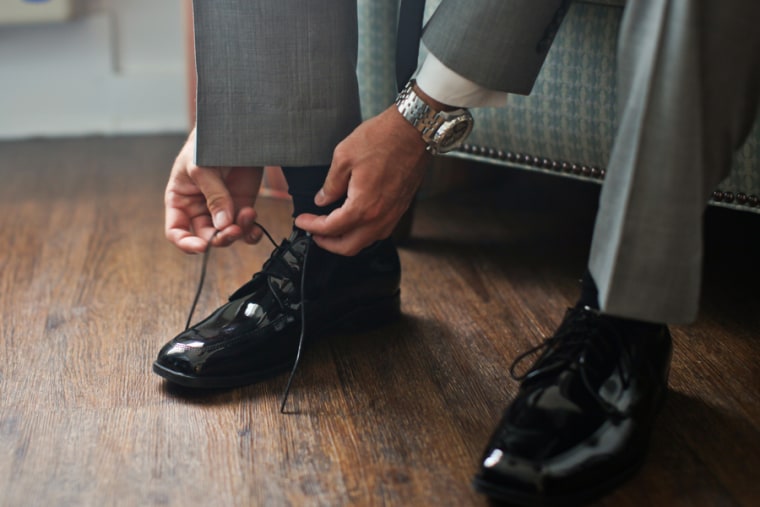 "For me, it happened at Disney World," Morgan admits. "I know it's cliché, but I don't care. All the magic happens at Disney World. We were watching the fireworks and I was just like, 'This is it.' I knew from that trip on."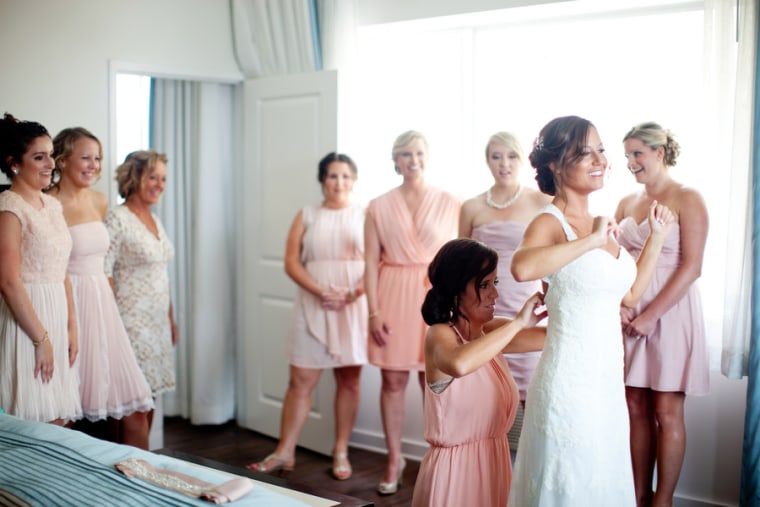 Morgan notes that falling head over heels for Dominic was a very special circumstance: "It was a lot easier because we knew each other's families. We'd basically grown up together. I'd had sleepovers with his sister."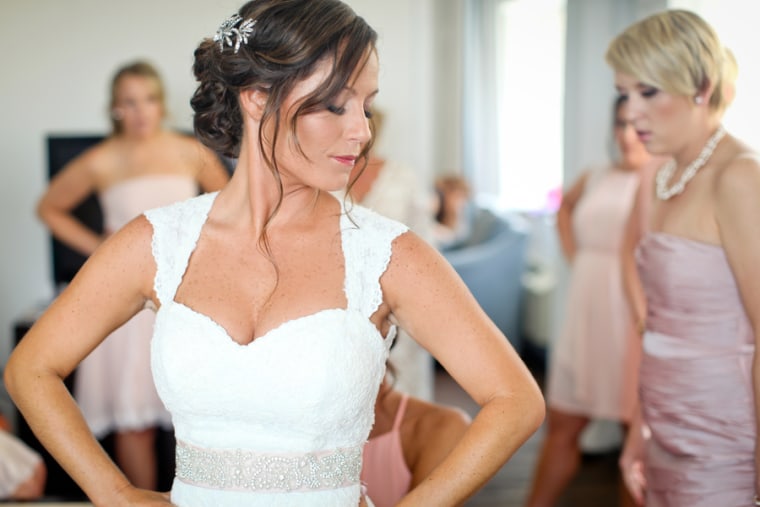 "Everything just clicked," says Dominic. "Our personalities really came together. She's an easygoing person and I'm more the opposite. We have a lot of similarities and, yet, we also have a lot of differences that make us work."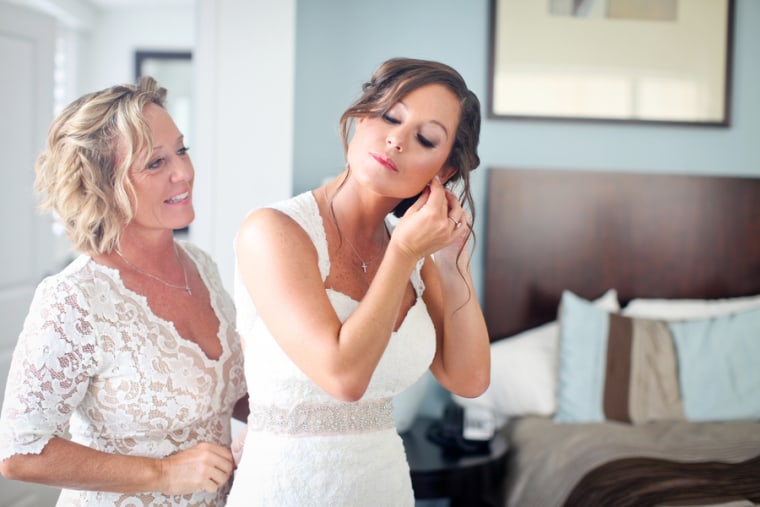 He proposed one November evening, after a home-cooked dinner of spaghetti as the Jeopardy credits rolled on TV. Morgan was in her PJs. Dominic simply couldn't wait.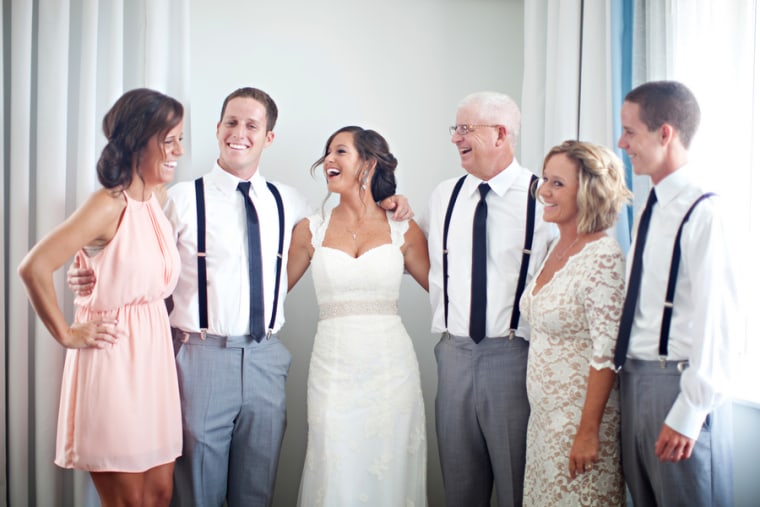 "I'm usually pretty decisive," he said. "So once I've made up my mind I'm like, 'Alright, let's go.' Everything was pretty quick."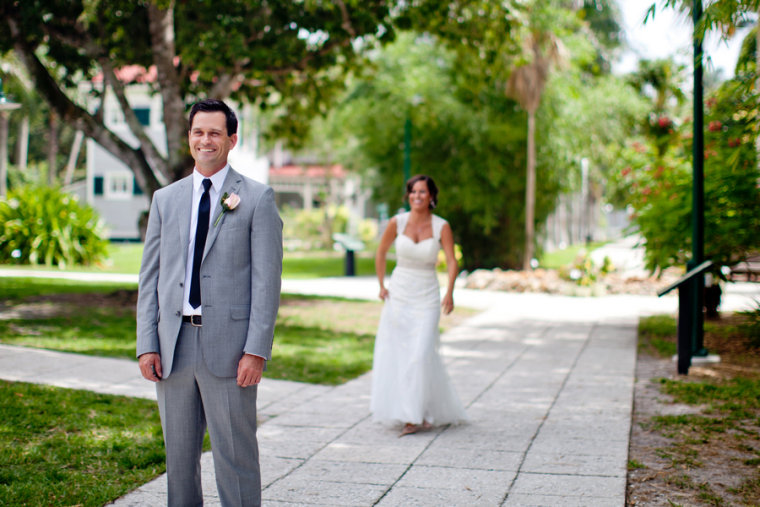 That's not to imply that there wasn't planning involved — on top of a ring and the home-cooked meal, he'd also made Morgan a sweet photo album to go with his proposal.
"I wanted to have a special moment, not in a public place," Dominic says. "One of the first concerts we went to together was Brad Paisley, so I wrote out the lyrics in the photo book to one of his songs, along with photos of our relationship — our short relationship — and on one of the pages I changed the lyrics."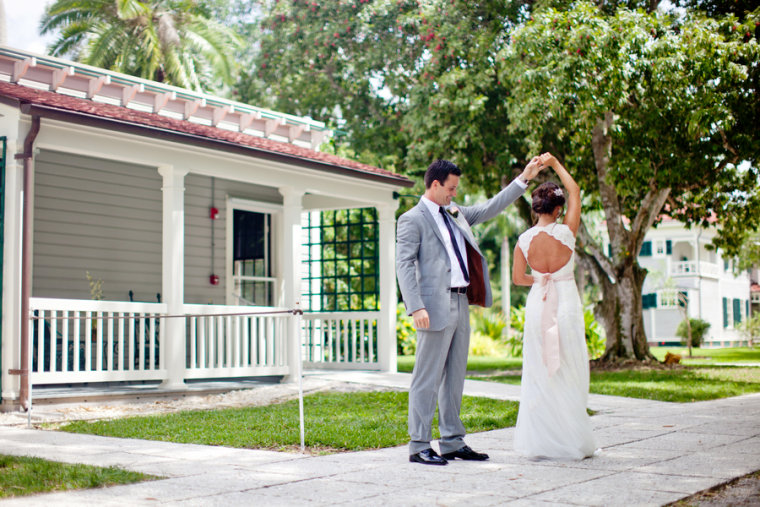 That was the page that introduced the next chapter of their relationship: husband and wife. "As she got closer I brought out a platter of chips — she loves chips — and on top of the salsa was the ring."
"I have the palate of a 5-year-old," Morgan laughs. "He brought out the ring box on a platter of nachos."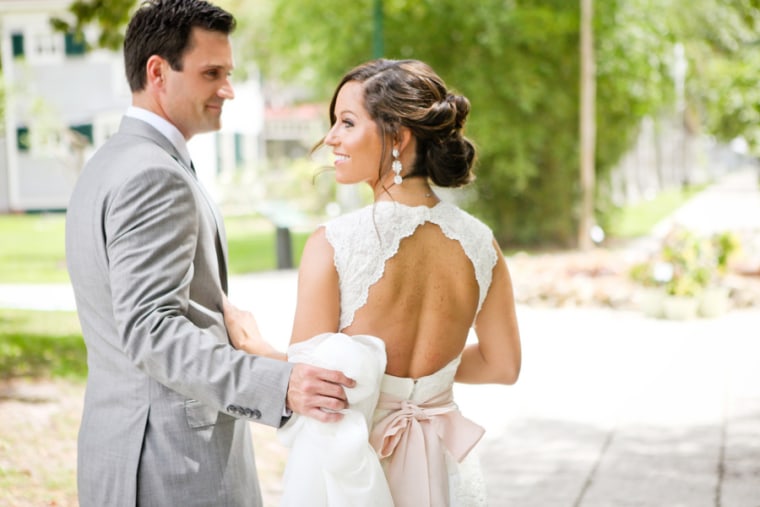 And so the couple, who had gone on their first date over Labor Day weekend of 2012, got engaged just before Thanksgiving, and were married on June 8th, 2013 in their hometown of Fort Myers, Florida at the historic Edison & Ford Winter Estates.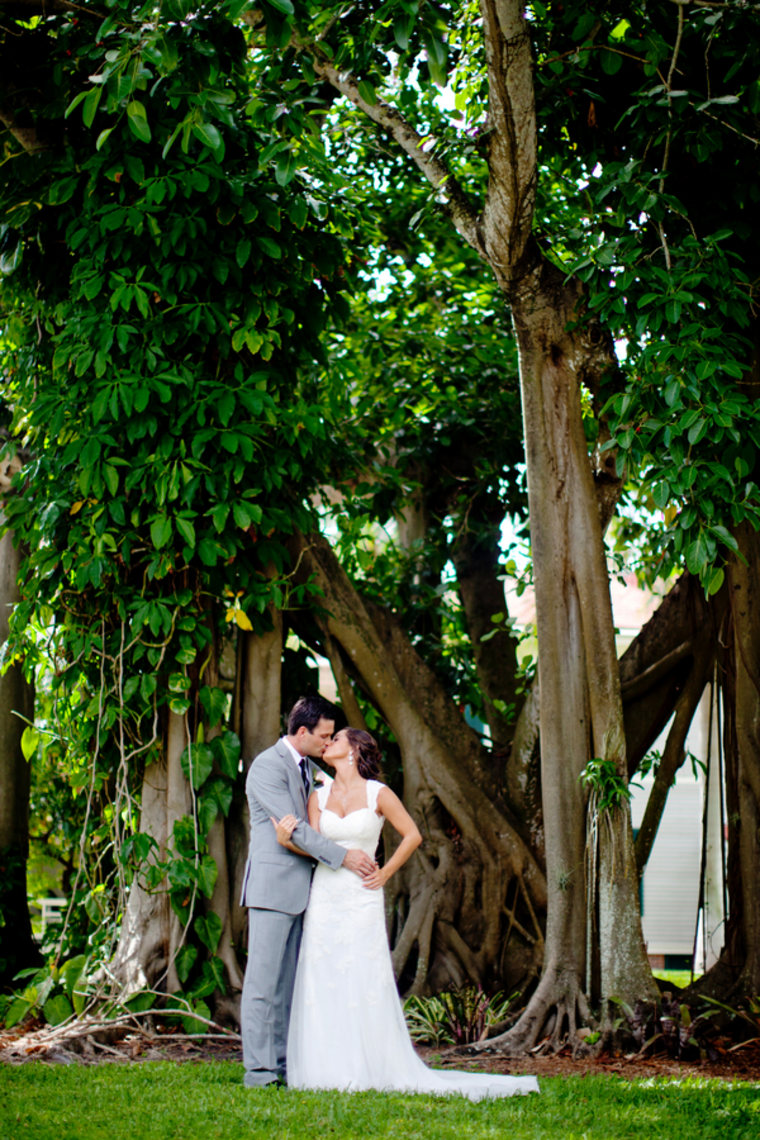 After all, when it's right, why wait? "He's 30, I'm 28," Morgan says. "There was no reason to delay it." Plus, the wedding had to be in the summer so that Morgan, a schoolteacher, wouldn't need to take off of work.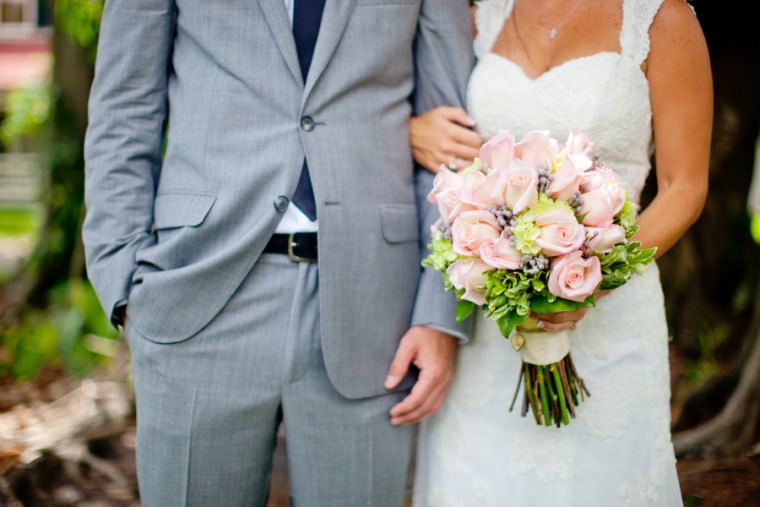 After they picked the venue — a place Dominic had always loved — it was time for Morgan to find a dress.
"I went to David's Bridal and told them I wanted a dress appropriate for the venue," she says, of the vintage feel she was going for. "I really liked the dress's keyhole back, but my mom and my sister had to talk me into it. I had something else pictured in my head, but it just really fit the venue perfectly."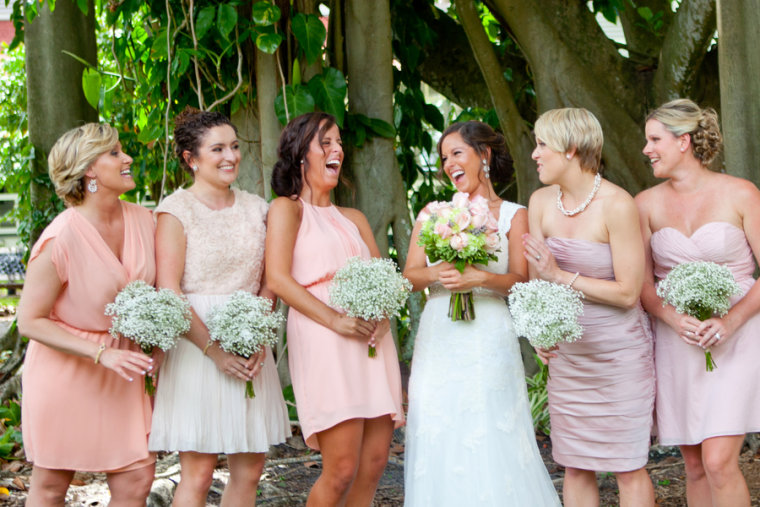 From there, as far as inspiration was concerned, it was Pinterest galore. "Pinterest and my sister," the bride notes. And the couple enlisted loads of help. "A lot of the décor was stuff that we had made and that we had our friends put up that day. Everything was DIY, from the floral arrangements to the chalkboard list that had all of our attendees names on it, to the guest book."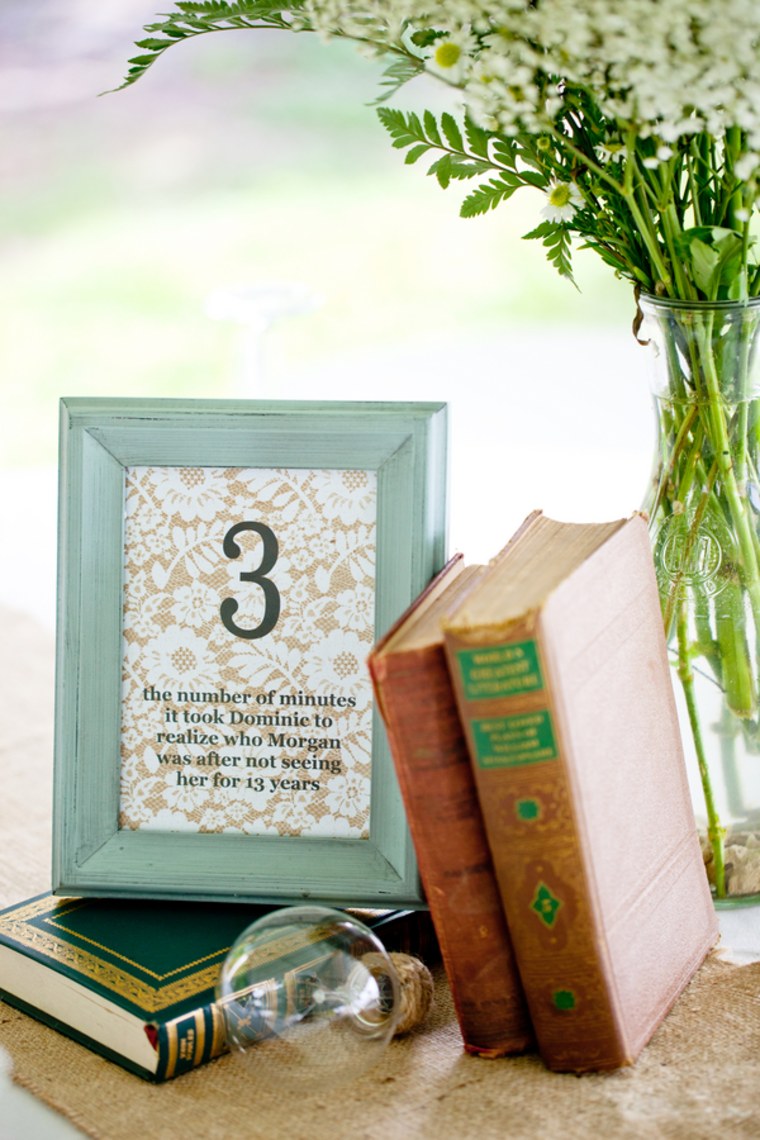 The couple collected worn, hardcover books at local thrift shops, but Morgan's favorite touch were the table numbers, each of which had been assigned a significant meaning. "My favorite was number 7. Growing up, we both played soccer — I played in college and Dominic was really good as well — and we were both number 7."
"I had these two red leather couches that had been in my apartment," Dominic recalled. "That was number 2— the number of couches I'll be getting rid of before Morgan moves in."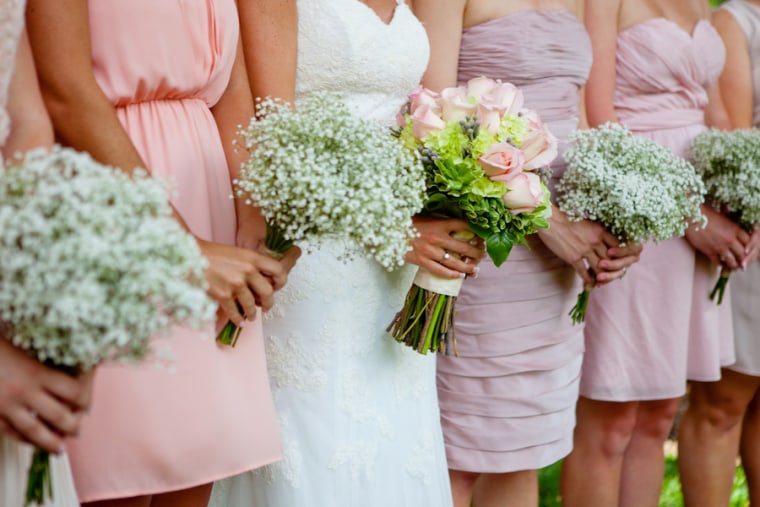 Once the details were in place and the wheels set in motion, the main focus became their 110 guests.
"We knew it was going to be hot and miserable," Morgan said. "So I texted everyone and said, 'Every single person that comes to our wedding, feel free to wear shorts and flip flops.'"
And, with that, tradition was thrown out the window and the big surprises began.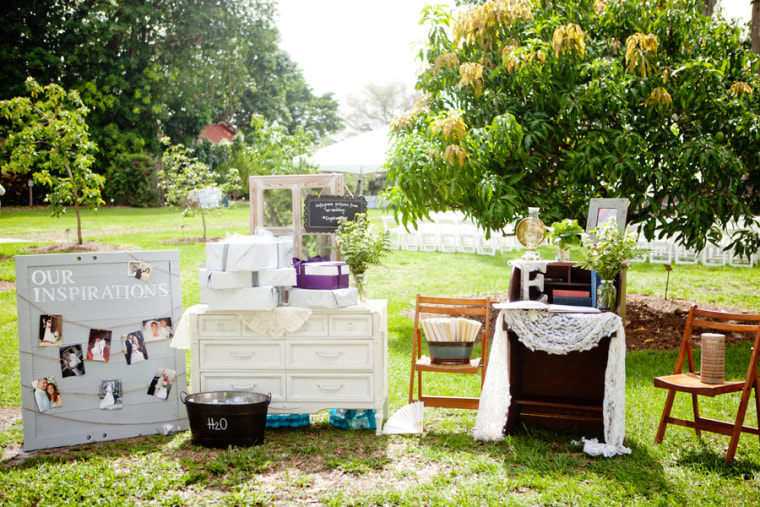 "We did our own thing," Morgan says. "Like, in order for our guests to be released to go to the buffet line, they had to sing a song that they were given by the DJ to Dominic and me."
"Her parents' table actually changed the song and the DJ sat them back down," Dominic remembered. "It was hysterical and it loosened everyone up."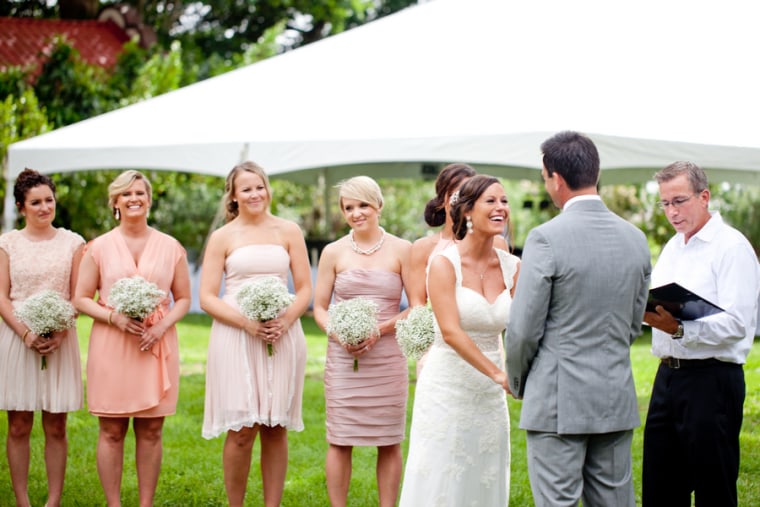 If the guests hadn't seen that coming, they'd at least been given a glimpse of the party to come with the bride and groom's first dance.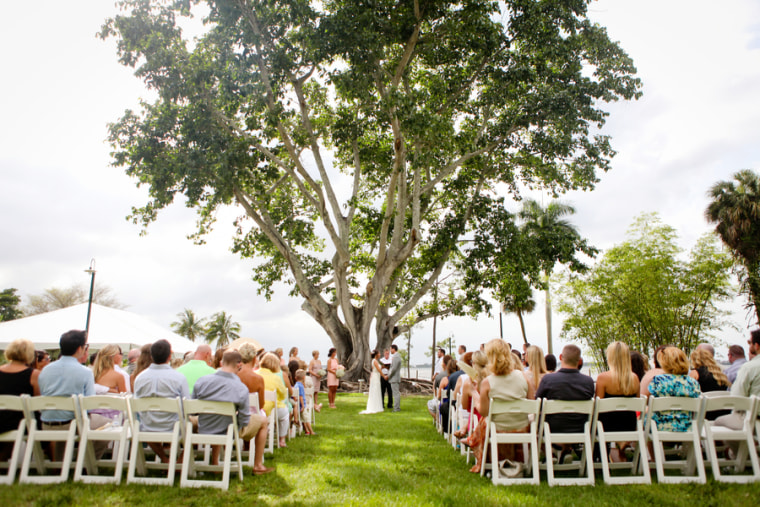 "We were dancing to a Garth Brooks song and, halfway through, my best man put on a unicorn mask and was dancing up on us. Everyone thought he was ruining the moment. Then, all of the sudden, the Harlem Shake starts playing. That got people on the dance floor."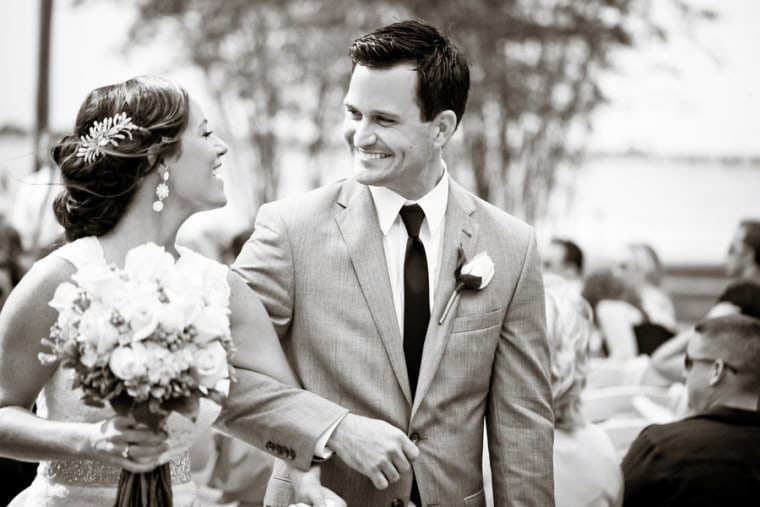 As for what surprised the bride and groom most, though, it was how nervous Dominic became during the ceremony. "I wasn't expecting him to be so nervous as were reciting our vows," says Morgan. "He was literally shaking."
Dominic doesn't deny it: "I screwed up several times during the ceremony."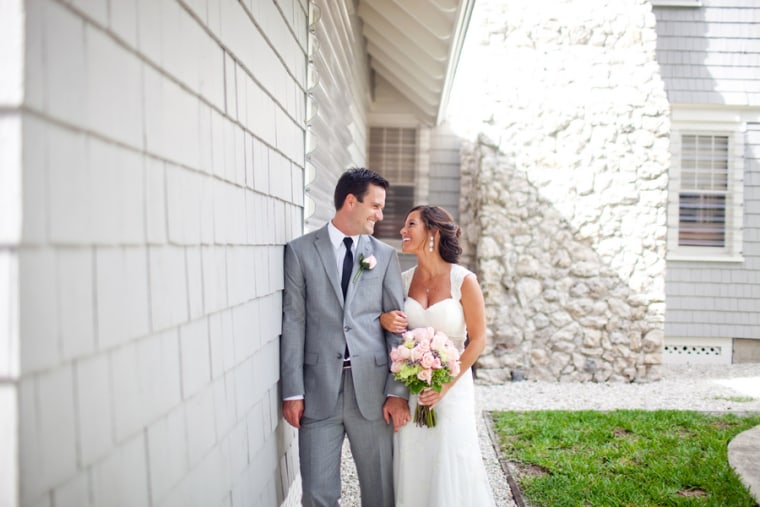 But they made it through, and the reception was full of dancing, with folks playing Wiffle Ball and volleyball on the lawn. As the party wound down, the couple hopped in a rented Model-T and headed back to the hotel. They'd need a good night sleep to prepare for their next quick move.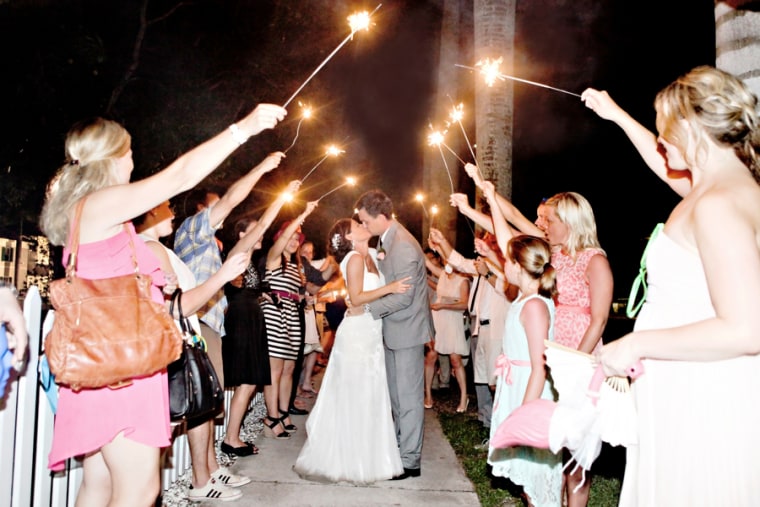 "We got married that Saturday, went on our honeymoon on Monday, came back on Sunday and closed on our new house, a fixer-upper, on Wednesday," Dominic says. 
They've been renovating the fixer-upper ever since, though it's looking like the hard work is just about over. And they've even begun decorating — their wedding table numbers now hang in the hallway.
All photos submitted by Maria Glassford Photography. Want to submit a real wedding? Send us your story, your contact information, and a link to your photos here.
Check out more of TODAY's featured Real Weddings here.