Angie Pontani and Brian Newman like to refer to the time they knew they were meant for each other as their "second first date."
The two met at work seven or so years ago, but not in a typical office set-up: Angie, 37, is a well-known burlesque dancer based in New York City and Brian, 32, played the trumpet in her band. After getting to know one another for a number of years, Brian finally worked up the nerve to ask her to a New York Mets game.
"We went on a date but I didn't know it was a date," Angie said. "I thought it was a friend date. After, I was like thanks, I'll see ya around!"
What's that saying? You can't hurry love?
Fast forward four years, and Brian decided to try again. That's when the magical "second first date" happened.
"I knew that day I was going to marry her," Brian said.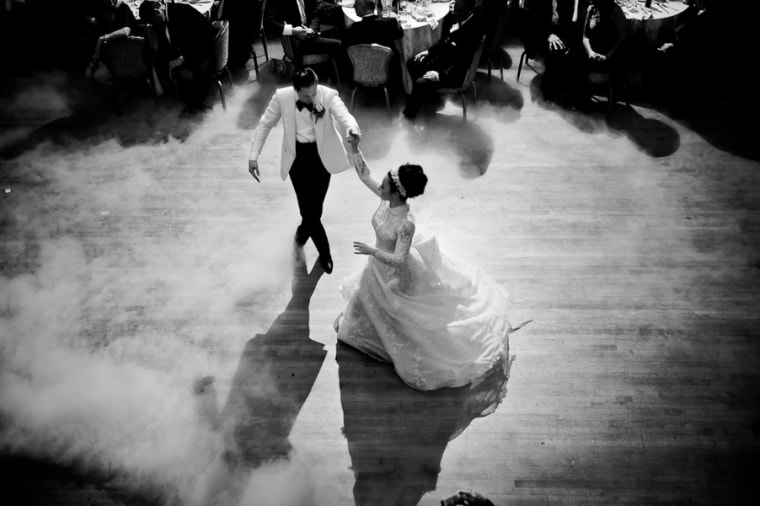 And apparently, despite the lengthy pause in their relationship, the feeling was mutual. "I honestly realized [Brian was the one] when I got home from our second first date," Angie said. "I thought, how did I not realize this the first time around?"
They bonded over their love of the '40s and 50's, vintage culture, and of course their shared work. She even asked him to come to her little sister's wedding happening the following week, where Brian passed the ultimate test: "My father liked him - that never happens!"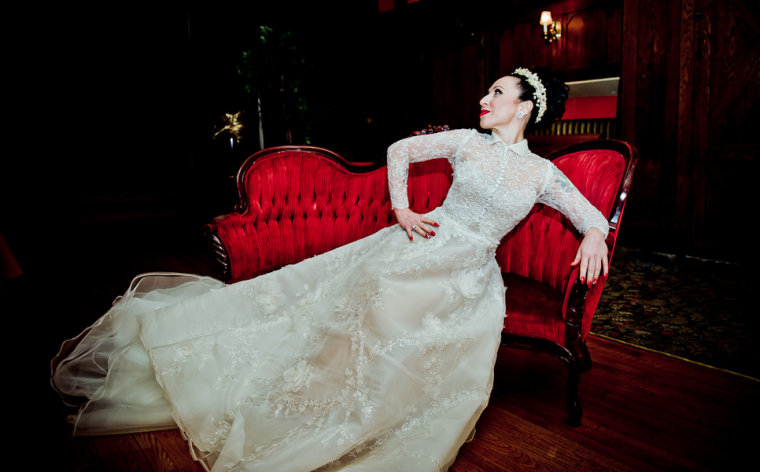 Things sped up dramatically, and in three months they were engaged. While Brian is, in Angie's words, "handsome, dashing, dapper," he wasn't as good at hiding his nerves about popping the question.
"I was kind of expecting [the proposal] because he was acting a little nervous and jumpy," she says. "I called him to say I was running late and that maybe we shouldn't go out and he was like 'I'll wait as long as you want!'"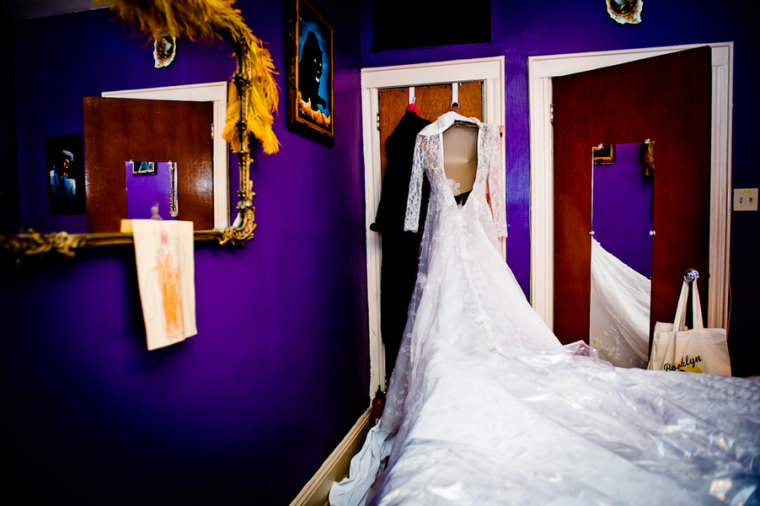 After dinner at one of their favorite Italian restaurants, Angie turned around to find Brian down on one knee. Everyone on the street starting clapping, and the answer was obviously a resounding "yes!"
Angie and Brian were married on February 16 of this year at Brooklyn's Grand Prospect Hall with 350 of their friends and family members on hand. Despite working in show business, the two are very much into tradition, and had a traditional ceremony in the atrium of the hall.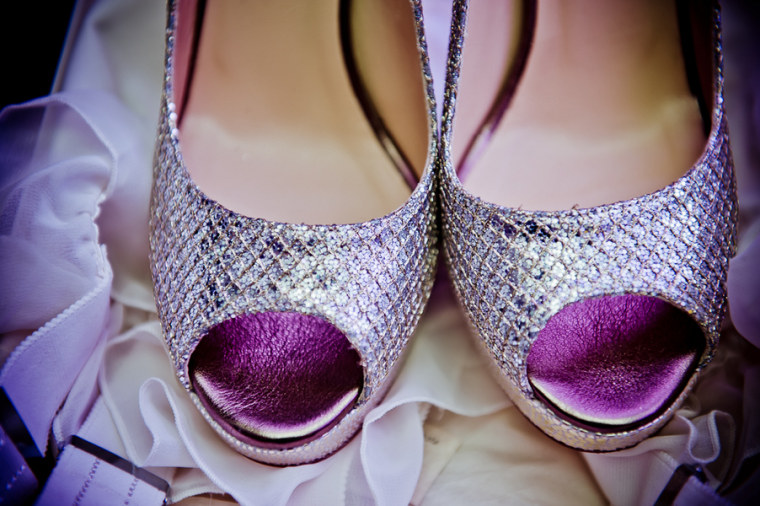 But of course, their big day was also full of flair.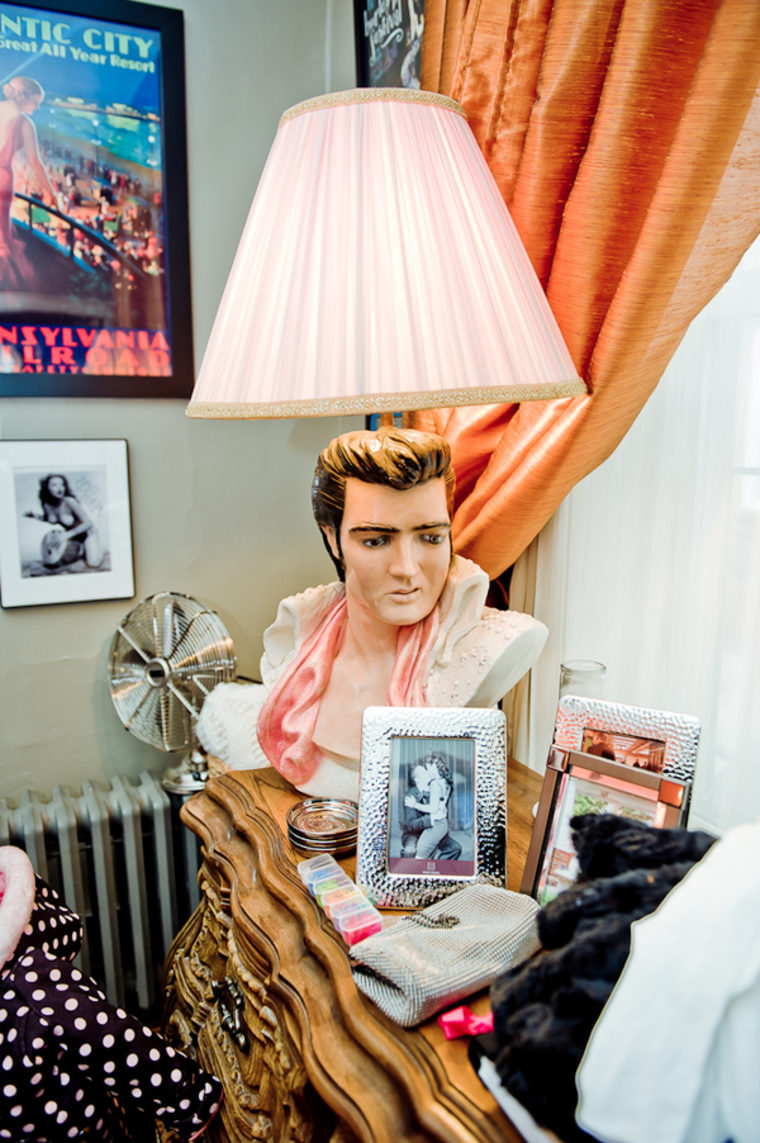 A friend of Angie's is a set designer – "I call him the glitter god," she said – and created a custom backdrop in front of which they were wed. There was also a red runner and a statue of St. Rita, the patron saint of Angie's family.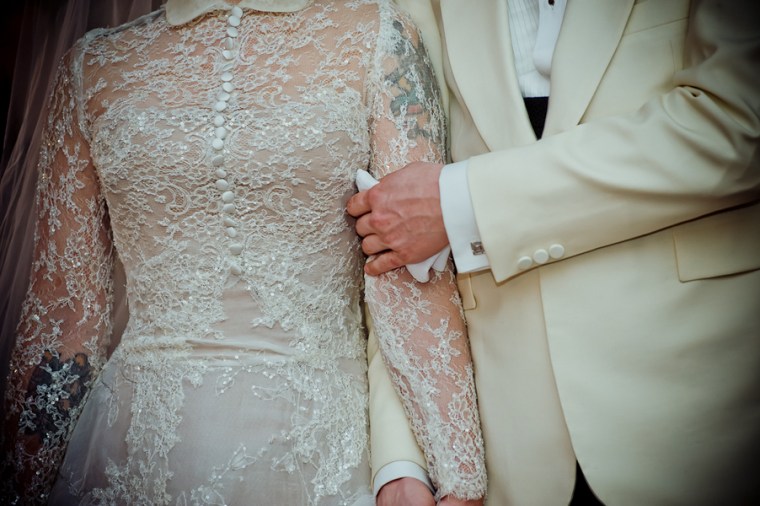 For the ceremony, Angie wore a glass-beaded, floor-length ivory gown by Elie Saab, similar to Grace Kelly's dress when she married the Prince of Monaco, and Brian wore a custom bone-colored jacket and black pants, inspired by Humphrey Bogart in Casablanca.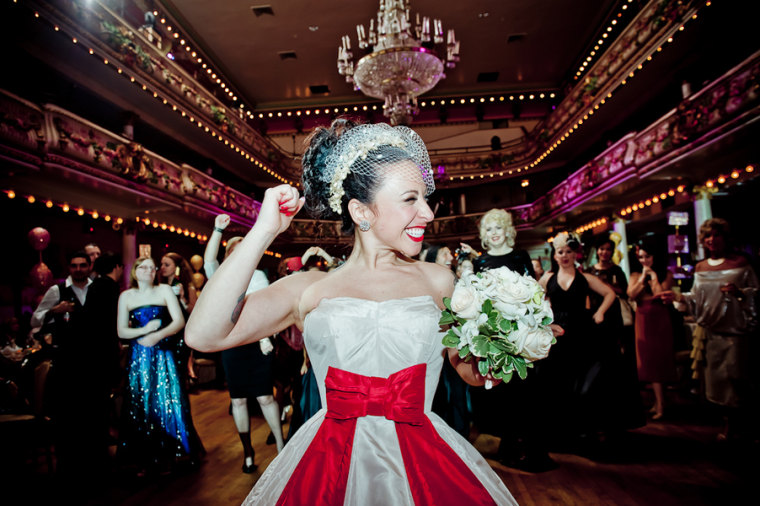 After the "I Do's" were exchanged it was time to party. And party they did.
The reception was hosted in the grand hall and guests were treated to the music of a 17 piece big band, comprised of Brian's musician friends. The groom was even put to work at his own wedding and joined them for a few songs!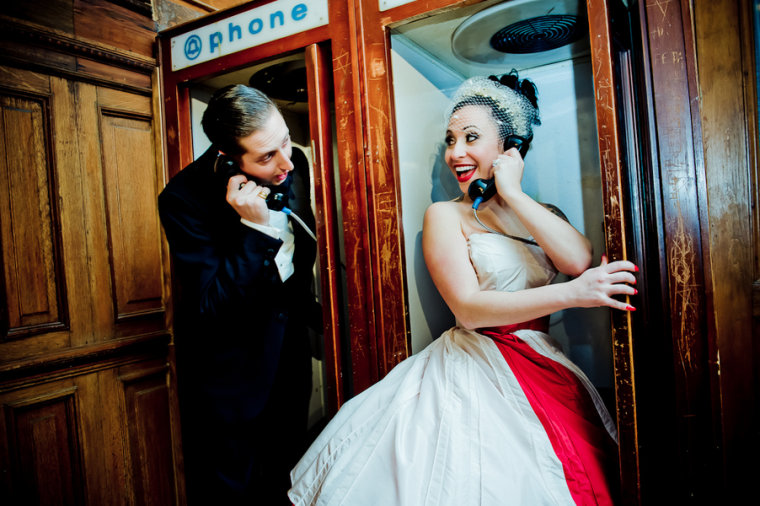 In true performer fashion, the bride and groom both did costume changes between the first and second acts. After the ceremony, Angie donned a playful ivory and red custom gown by her costume designer Garo Sparo, and Brian switched to a black jacket so he wouldn't ruin the first one. (Smart!)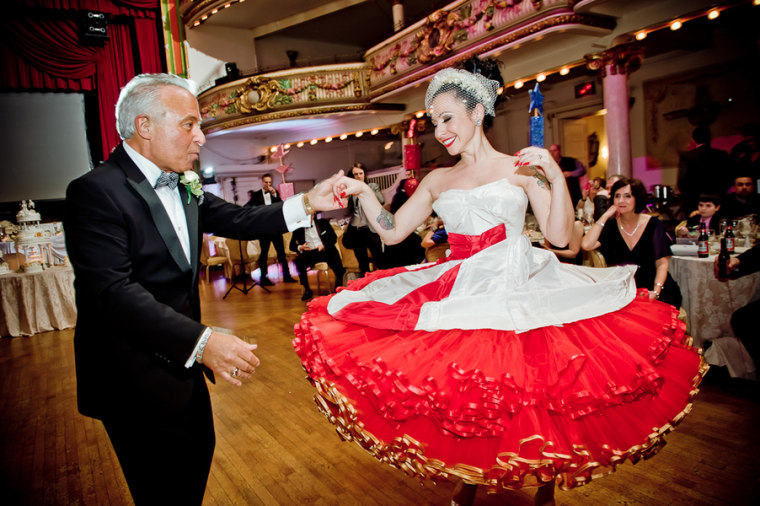 The couple and their guests danced the night away to 40's and 50's jazz and eventually Angie's DJ cousin took over. 
While celebrating, guests dined on wedding cake: a gigantic pillared vanilla buttercream that the couple says was "directly inspired by The Godfather."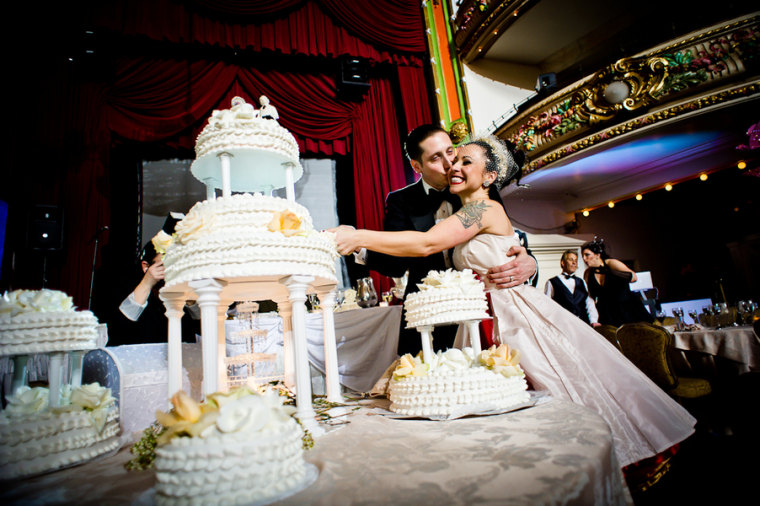 And proving just how much in sync they are, the highlight of the magical day was the same for both Angie and Brian: Watching their families give speeches.
"It was really beautiful to see everybody up there," Angie said. "It was the only moment when we were sitting together. Looking at our mothers, and nephews, and fathers talking, you could feel the love in the room. It was like a big bright light shooting up in the sky that night."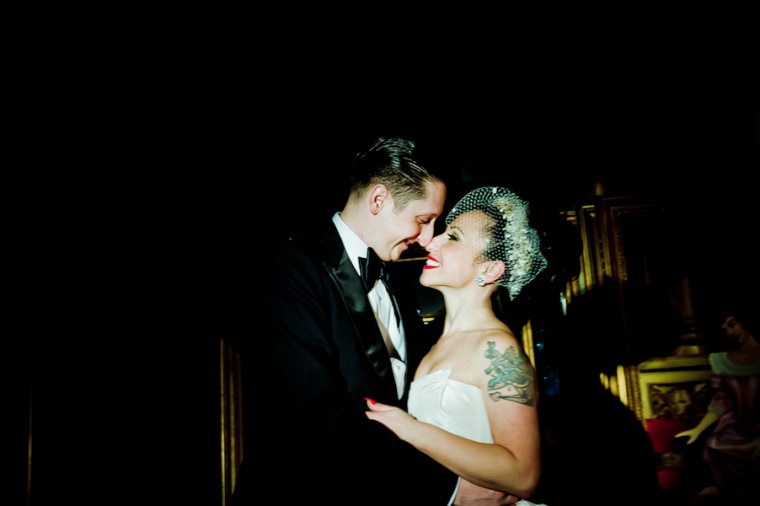 The colorful day of merriment finally came to a close, and the happy couple is busy as ever, but they always make sure to set aside time for each other.
"We have an unconventional lifestyle where we travel and we're constantly on the road," Angie said. "We make a special effort to spend quality time. Sometimes we just sit home on a weeknight and spin old records and dance around the house."
See more photos from their big day: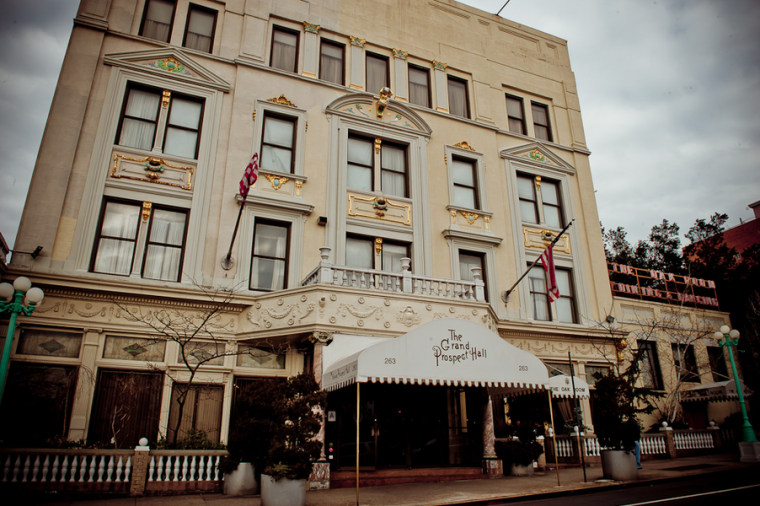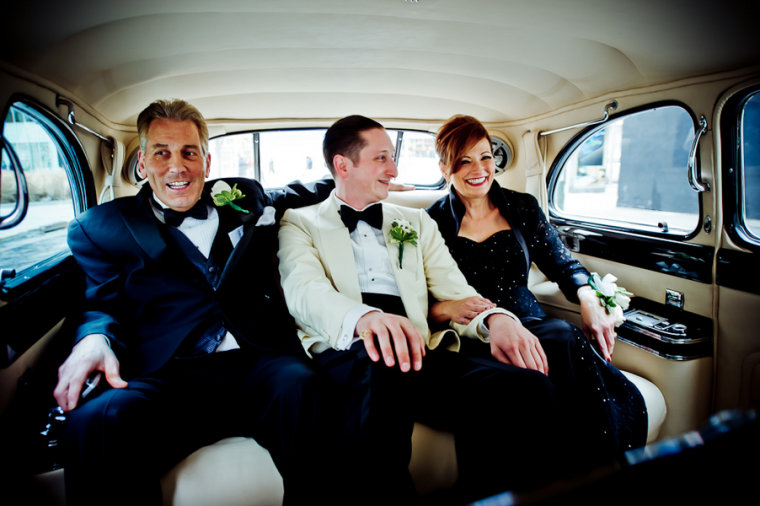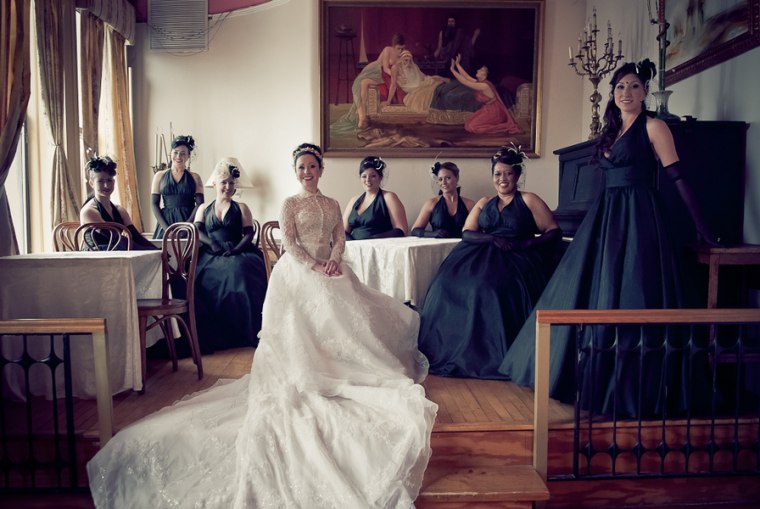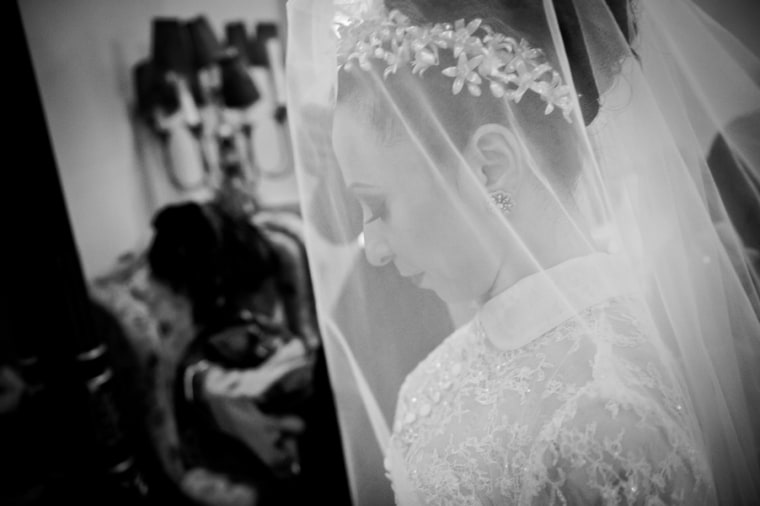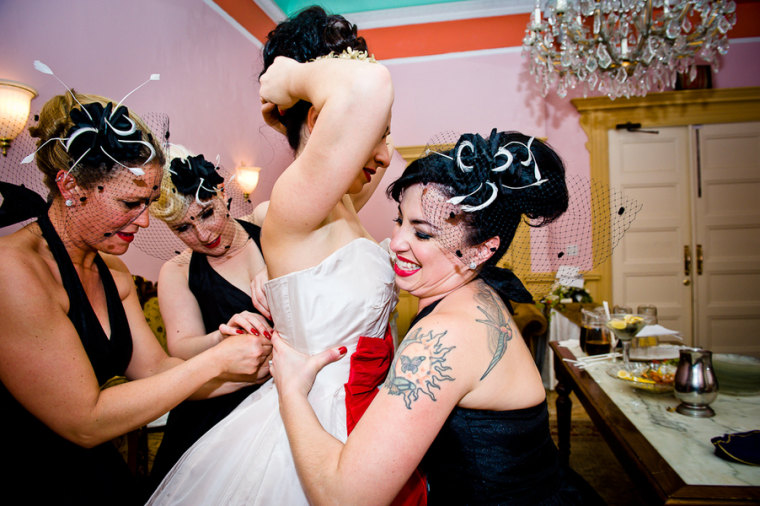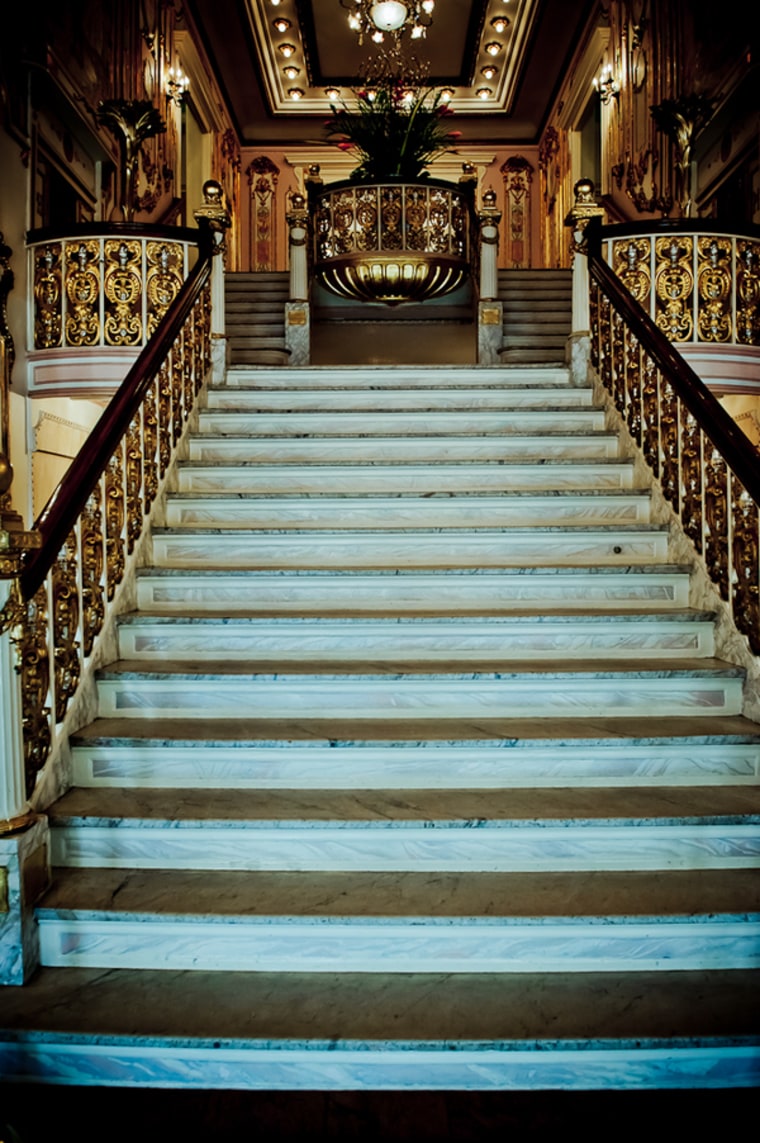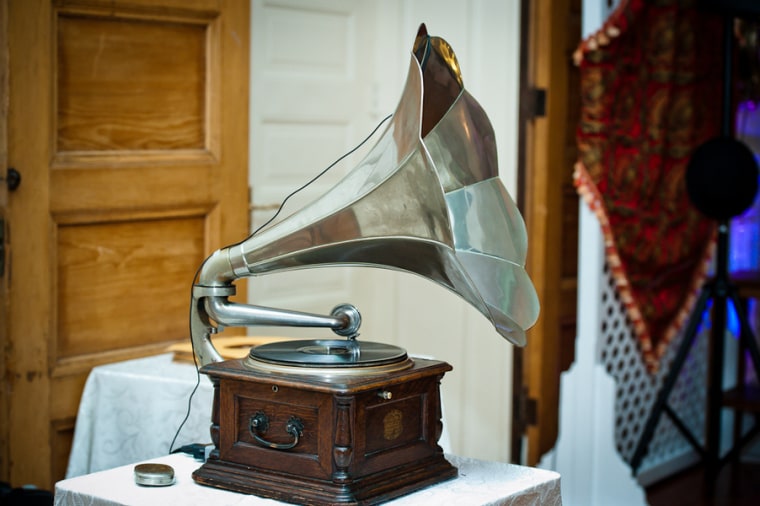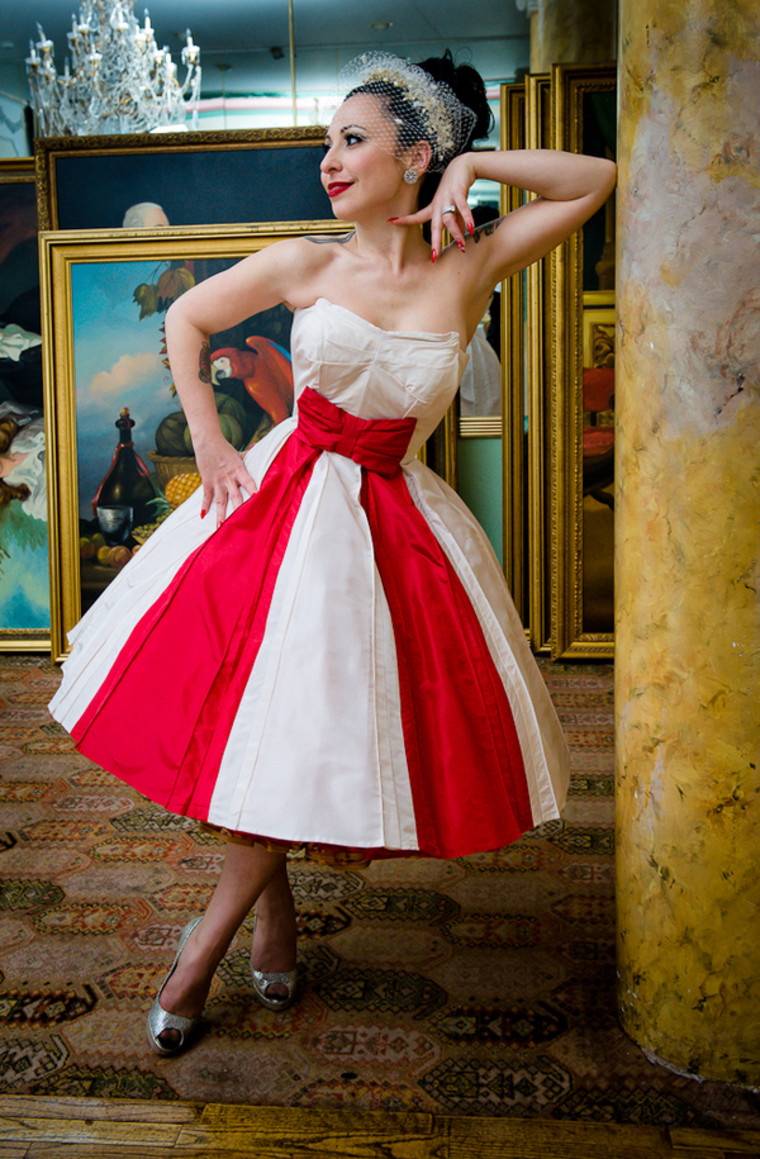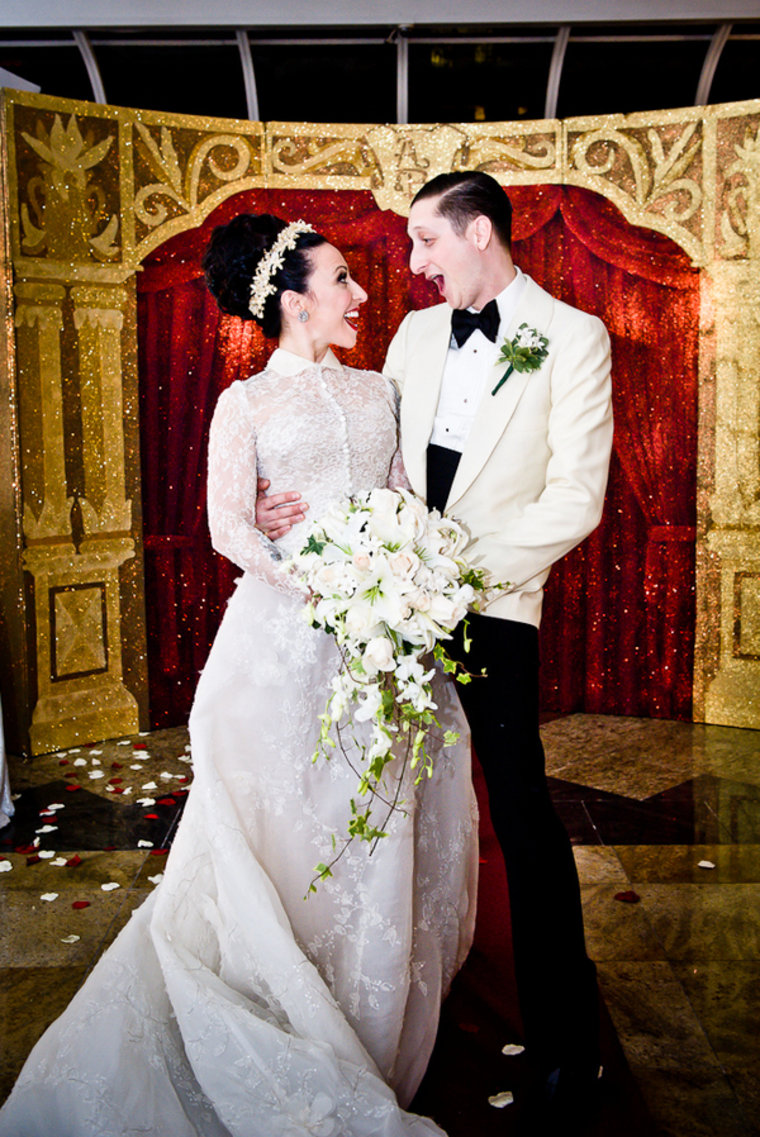 All photographs provided by Kristin Chalmers Photography.